| | |
| --- | --- |
| | Duke's Page |

Fern Hill Duke of Wellington SR581829/02 ("Duke")
Sire: GMH HRCH UH Tidewaters Weekend Gladiator Can/Am CD WCX MH, CCA OS ("Drake")
Dam: Fern Hill Pennyroyal CDX JH NAP RE CGC TDI SR262975/06 ("Penny")
Born August 31, 2009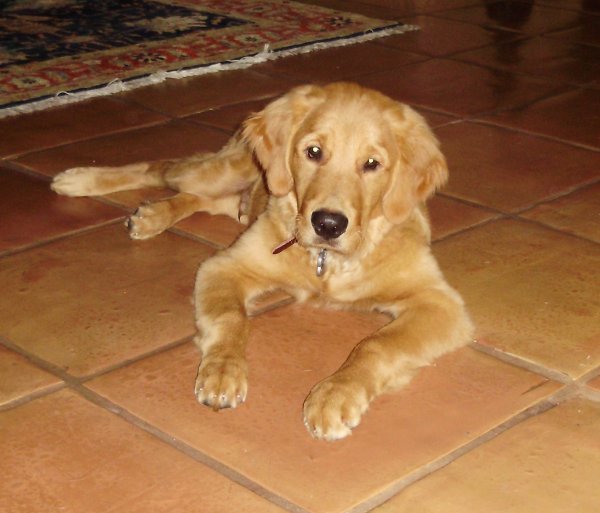 Duke at 4 1/2 months, January 2010
Born about 15 minutes after his brother Merlin, Duke was another heavyweight. He has no white and will be a medium red. He was a little quieter than some of the others early on, but woke up at about three weeks and hasn't stopped since. He was determined and crafty in getting his share (and more) of the food. He was one of the waggiest-tailed and more active puppies in the lot. He was a wonderful 'follower' in the yard, and except for short stops to pick up leaves, almost heeled even before he left home. In addition, he won the round-robin pheasant wing tournament as the birdiest puppy in the litter. Duke now lives with Nina Aversano and Larry Boudria, along with his uncle Jake. He spends half the time in Florida (winters!) and the remainder of the year in New Jersey. Duke is working on Rally and Obedience with Larry. Great situation for a great pup!
News About Duke
January 24, 2010: Duke is growing like a weed and he is just an absolute delight. He is willing, loving and smart. He responds well to training and really enjoys it. Larry has made a unique connection with Duke and that has been a very wonderful thing for his mind and spirit. Sadly, we put Rascal to sleep on Monday night. [He had liver cancer]. It was time and it was very peaceful. We know he loved the puppy and he rallied for a couple of weeks and enjoyed all the actively and energy that the pup generated. Having Duke and the other boys has eased the pain but Rascal will be missed. He was a really great guy!

Duke goes everywhere with Larry. He is really his sidekick. Duke particularly likes going for rides in the golf cart when Larry goes to hit practice balls. He gets a ton of attention from all the golfers and he enjoys it. I am told that he is quite the gentleman and understands that he needs to maintain a certain decorum around the links!!

Duke in a peaceful moment

Duke surrounds his food!

Duke with his Uncle Jake

Duke and Larry

Duke with Rascal
January 16, 2010: Just a note to give you a quick update on how Duke is progressing. He is enjoying life in the Florida sunshine and he is quite popular with everyone. Larry has fallen madly in love with him and he with Larry. He goes everywhere with Larry, and Duke is getting plenty of socialization. In fact, Larry had him at our country club on Thursday and the teaching professional fell in love with him and wanted to know where we got him. I gave him your telephone number so you might be getting a call from him. He currently has two labs but wants to get a golden, and when he saw Duke he was very eager to make contact with you.

We can't thank you enough for our wonderful guys. Jake and Duke have added so much to our lives and we really enjoy them. Baby (our rescue) has become like Duke's big brother. He plays endlessly with him and he watches over him. Baby continues to come out of his shell and having Duke has really helped him as well. Duke is quite the tough guy with Baby. He's more afraid of Jake but really bounces all over Baby. Baby is a sweet and sensitive animal and I guess he realizes that this little guy is just a puppy. So, all is going well here and I got the camera working and will get some fun photos to you soon.
January 8, 2010: Duke is absolutely amazing! He is loving, funny, full of spunk, and just a joy to have around. Duke and Baby...our rescue...who was at first aggressive... are now becoming great friends. They play for hours together. Jake is wonderful with Duke but he sort of stand off on the sideline and lets the two of them play like maniacs together. Duke is one tough cookie! Larry takes Duke everywhere with him and he is just like a proud Papa. He is planning to take him golfing soon. Now that should be something to see! Maybe, I will take a couple of photos of Duke on the golf cart!! This pup is very smart and willing. He isn't a Velcro dog...he is affectionate...self confident and really very smart. Duke met with his new trainer today and we are arranging some sessions. She was falling all over him...she trains dogs for the Seeing Eye and she was just thrilled with him and his temperament and intelligence. He is going to do a group session beginning in a couple of weeks with 7 other puppies. He will also have some private lessons as well. So...we are off and running. Lots of good things with our little munchkin!! I can't thank you enough for this wonderful little pup. We all love him and he and Larry are already bonding in a very special way. Rascal is doing so much better...he seems to have come back to life. I know that it won't be for long but he is rallying and he is enjoying this great little guy for whatever time he has left. What a blessing!
January 7, 2010: Our trip home to Florida was uneventful and long! Duke slept the entire way and didn't make a sound. I suspect he was a bit overwhelmed by everything. We stopped a few times and he was great...we got home about 10 PM. Rascal (our 13 year old) was so animated and eager when he met the pup...Baby (our rescue) was a bit aggressive but we are working through that and Jake...well, ...."let's play"! They have already been out in the yard running around like maniacs and playing. Jake is making it clear that he is the boss...we will see how long that last...but for now, Duke is going along with it. We are gradually socializing Baby and Duke. That will be fine but it will take a few days of slowly getting them together. So, for now, they are all doing well. I was worried that he might have a difficult time adjusting but he seems happy, lively, mischievous and generally just fine. He ate his breakfast, did all his business and is playing madly with Jake. He is outgoing and full of energy. He will get a lot of socialization and physical activity with us. All of which I think will help him develop into a terrific young dog. So far he seems very charming.
December 2009: Duke at 3 1/2 months
| | |
| --- | --- |
| | Left, looking goofy. Above, playing with big toy. |
Baby Pictures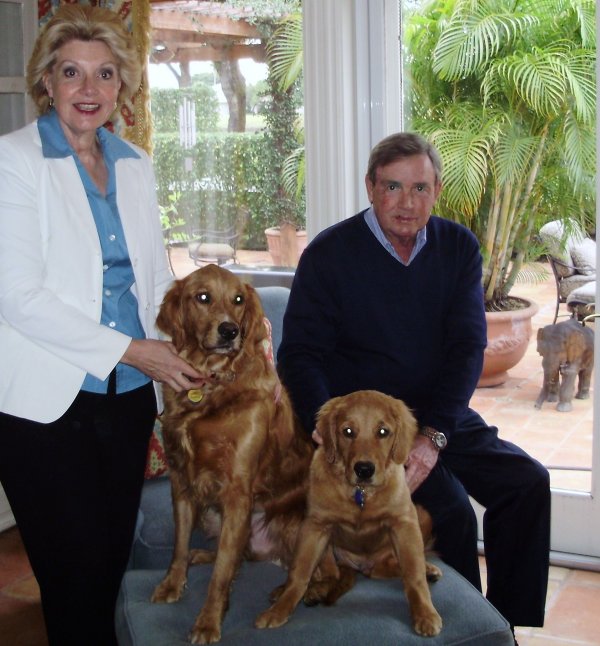 Duke with his new owners Larry Boudria and Nina Aversano-Boudria at their Florida home. The bigger dog in the picture is Duke's uncle Fern Hill Shakin' Jake.

Yellow Boy, 10/14/09

Yellow Boy, 10/14/09

Yellow Boy at 6 weeks, 10/11/09

Yellow Boy, 10/10/09

Yellow Boy, 5 weeks, 10/04/09

Yellow Boy, 4 weeks, 9/28/09

Yellow Boy, 3 weeks, 9/20/09

Yellow Boy, 2 weeks, 9/14/09

One Week Portrait, 9/7/09

Day old portrait, 9/1/09

254 Babbs Road, Lenoir City, TN 37771
Tel: 865-717-1019 || E-Mail:
This site &copy 2001-2010 by Fern Hill Farm All rights reserved.
Revised January 25, 2010