| | |
| --- | --- |
| | Ryman's Page |

Fern Hill Sunrise at the Ryman MH WCX SR581829/11 ("Ryman")
Sire: GMH HRCH UH Tidewaters Weekend Gladiator Can/Am CD WCX MH, CCA OS ("Drake")
Dam: Fern Hill Pennyroyal CDX, JH, RE, TDI, CGC SR262975/06 ("Penny")
Born August 31, 2009
Height: 25.5" Weight: 80 pounds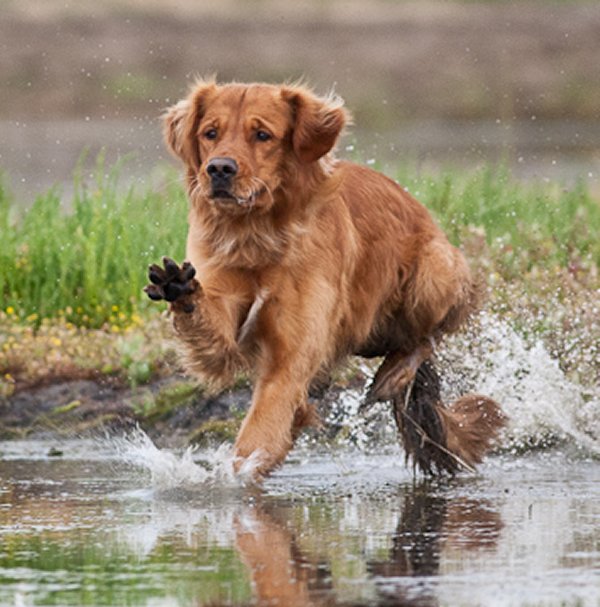 Ryman, April 2012
Ryman was the last puppy born and one of the three biggest. By the time the puppies started going to their new homes, he was second largest overall. He had a small white spot on his forehead (now vanished) and some white on his chest like his Daddy. He was always one of the visitors' favorites because of his regal attitude -- and he was always very photogenic! Ryman now lives near Oakland, California, where his owner Ardith Osborn is training and competing with him in hunt tests. He's doing very well, and enjoying life with his 'big buddy' Henley (another Golden male) and several cats. He was the first of Penny's puppies to title, earning his WC on June 5, 2010 at barely 9 months of age. He earned his Junior Hunter title in March 2011, his WCX on June 5, 2011, his Senior Title on March 10, 2012, and his Master Hunter on September 8, 2013. He is a highly trainable, cooperative dog with keen intelligence, high retrieving drive, and a sweet and loving personality. Ardith is doing all the training and handling herself and this is her first Master dog, so his accomplishments are even more impressive! After a rough start where he ate chewed/ ate everything that wasn't nailed down (and some stuff that was!) he is now a very satisfactory housepet as well as a top notch working dog.

Ryman has passed all his clearances and is now available at stud for approved bitches. His first litters we born in 2012 and 2014 out of two very talented field line girls, and his puppies are already doing well! For more information, see our Studs page and contact Ardith directly.

Ryman qualified for the 2014 Master National Hunt Test, with 6 additional Master passes during fall 2013 and spring 2014. This is a huge accomplishment; he was one of only about 60 Golden Retriever males to qualify. I was very excited to visit with Ryman and Ardith in the spring of 2014, and also to see his second litter of puppies. It's so much fun to see the dogs again as adults!

Clearances

CHIC #78277
Hips: Good (OFA GR-104172G24M-VPI)
Elbows: NORMAL (OFA GR-EL25202M24-VPI)
Heart clearance: NORMAL (OFA GR-CA21243/28M/C-VPI)
Eyes clearance: NORMAL (CERF GR357192/2012; GR-EYE2449/50M-VPI)
PRA-prcd (Progressive Retinal Atrophy): CLEAR (Optigen accession #12-1297)
PRA-1 (Progressive Retinal Atrophy, type 1): CLEAR (Optigen accession #12-1297)
Icthyosis: CLEAR (Optigen accession #12-1297)





News About Ryman
September 8, 2013: Yes, we did it. We titled today -- Master Hunter! The test conditions were brutal with the heat at over 100 on both days. I will tell you all about the test later. I'm still unpacking the car and continuing to deal with the heat. Everyone is amazed at Ryman's work. Oh, and little Angel is making name for herself as well. I'll tell you all about her later. Thank you Karen. I am so grateful I got this dog from you. He is truly a once in a lifetime dog. More later!
April 12, 2012: I have attached several recent photos of Ryman. He is most impressive, I think, and I always get lots of compliments on him from people. His puppies are due on April 21, Saturday after this coming Saturday. I'm really excited. I won't be able to see them though until test day. I will be helping with the testing so I'll have to wait because they want them tested by strangers. I will see photos, I'm sure, and will send them on to you. Yes, Hilfy is going to be a great-grandma!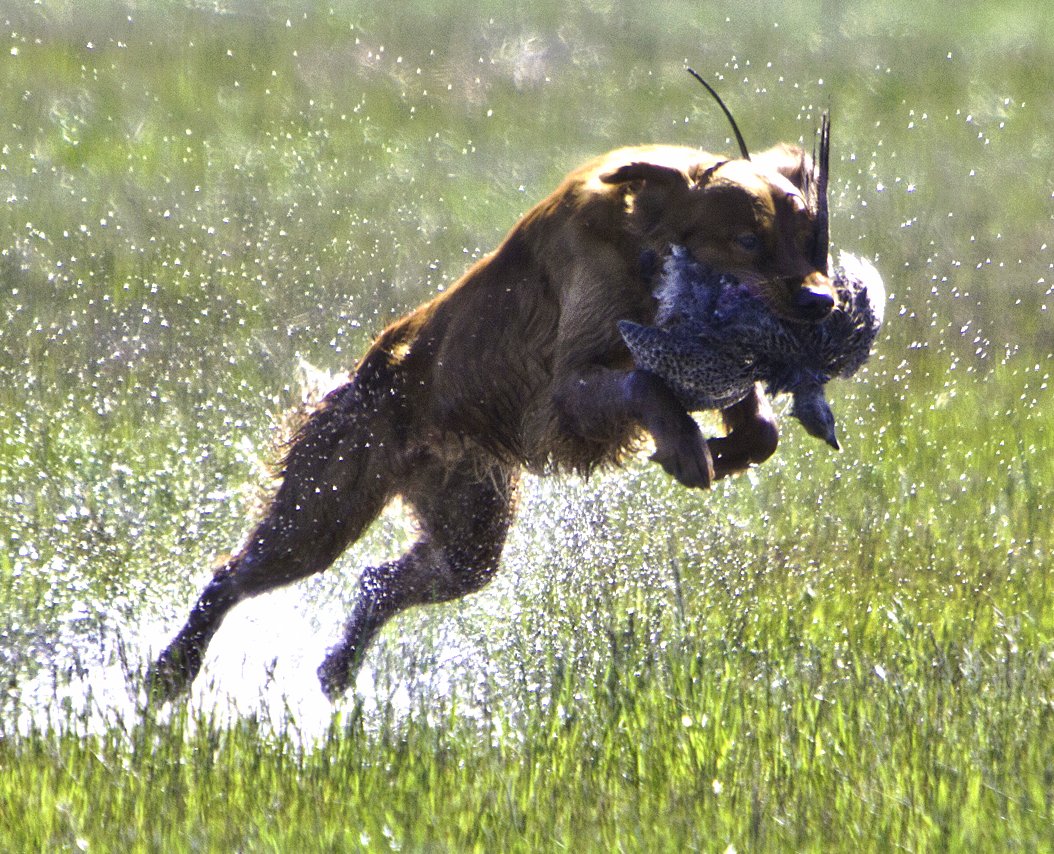 Ryman catching air, 4/15/12



March 10, 2012: Ryman qualified for his Senior Hunter title today at Monterey Bay Hunt Test in Los Banos. We did it! He went 4 for 4 in grand style. Today's test was the perfect test to close out his senior run. The test was fair and doable. No tricks, no stress. His honor was spectacular.





February 20, 2012: Just a quick note. I'm off to have Ryman bred to Ember today. It's a 3 hour drive up and then back again. Add that to our 6 hour drive yesterday for the hunt test and tomorow at work I will be worth about nothing. I'll update you on all the details of both events later. Ryman qualified for his 3rd senior hunter leg yesterday. We are 3 for 3 and hoping to go 4 for 4. I have to say it was the hardest senior I have ever seen. Many folks were not happy. It was all about control and Ryman was one of the first dogs to actually complete the test. It was another barn burner though. His control is excellent in training; a hunt test is a very different story. But I am thrilled and people are all very impressed with him. We have a pro trainer here in our our area who hates Goldens who admitted to me yesterday that he really likes Ryman. Oh my! What is this world coming to?





June 6, 2011: Ryman earned his WCX yesterday! Raining again, of course. I have to say that out of all the participants, I got the biggest bang for my buck. Our performance was just one clown short of a circus, but we did it. Actually, according to the judge, Ryman did very well especially in light of what he was put up against. Let me explain.

Our land series was a typical triple WCX setup. Flyer to the left. So on our very first land series, in addition to the fact that I forgot my whistle, we had a no bird. Ryman is not used to no birds and didn't take this news well at all. We waited a few dogs and tried again. This time he had a controlled break on the flyer which is okay, then retrieved his second bird and as we faced the third, the gunner all dressed in white stood up and started moving around and talking on the phone. I was afraid to send Ryman for fear that he would just run up to the gunner to see what was happening. I asked the judge what was going on and Ryman, evidently as confused as I was, took off for the middle bird again. I yelled no and called him back in. Everyone was just kind of startled by the whole thing and I turned and asked the judge for a rerun. It was granted so off we went to wait for a few more dogs to try again. So on our third try, he nailed his flyer, had a few seconds short hunt on his second bird and nailed his third. All was well. Except that he was creeping and I couldn't really do anything about it.

We moved to water in the afternoon. Again, it was a very typical WCX water double. So we come to the line and Ryman is all amped up for his flyer and..............we get a no bird. AAAUUUGGHHHH! You've got to be kidding me. Another no bird, with this dog? Heaven help me. The gallery were all collectively shaking their heads. So we went off to wait for our next try. We get to the line and the judge tells me, now you keep that dog in line. He has seen 4 flyers go down and only been able to get 1. He's done a nice job so far so please don't let him break on the honor. Well that was my biggest worry as well. So everything goes off without a hitch on the double. He did a picture perfect job (except for the creeping). I was stern with him on the honor. When the working dog's first bird went off Ryman shot out about 3 feet in front of me. I couldn't say a thing. When the working dog's second bird went off he shot out about another 3 feet. Now he is about 6 or so feet away from me and has positioned himself practically in front of the working dog, but he did not interfere with the working dog. The judge released the working dog and Ryman popped up, BUT DID NOT MOVE FORWARD!!!!!!!!! When the working dog hit the water the judge released us to everyone's great relief. So we did it! Everyone was very excited for us and we got a big round of applause at the ribbon ceremony. The judge said he deserved it because of all the trials and tribulations he had gone through. I have to say that today it seems pretty exciting. Yesterday - not so much.

We will be working on steadiness with Cheryl. He is pretty steady in practice but when you throw in a couple of shotguns and some live flyers, well, you just can't replicate that kind of excitement in training.

I forgot to add a couple of important flub ups during our oh so exciting honor at the WCX. After all we had been through that day, we finally get to the honor point. The judge gets us in place and all of sudden, they decide to rebird. So we wait and wait and wait. Finally they rebird and then realize that Ryman is the last dog and they need a bye dog. So they had to go round up a bye dog. Now that I think about it, he did a great job on the honor!





May 29, 2011: Ryman's training yesterday was stellar. I think we are ready for WCX. Since I retired Henley I resumed privates with Cheryl for Ryman. It will be really good for him.





May 22, 2011: Yes, Ryman has had pheasants before. No problem - loves them. He did really great yesterday on his swim by. Its so nice that he is so easy to teach. He trys really hard to be good and do things right. Good boy, Ryman!





April 28, 2011: We have a pheasant flyer day coming up. Will let you know how that goes. I'm teaching Ryman swim-by right now. He is getting it pretty well. He's so darn smart sometimes I can't believe how lucky I am to have him. He really is a perfect dog for a full-time worker, part-time trainer to have. He is having fun with our new kitty. She wasn't used to dogs when I brought her home but she is finding Ryman quite a fun guy to hang out and play with.





March 26, 2011: Well we did it! In a wind driven California torrential and freezing cold rain storm, Ryman completed his fourth leg for his JH. He ran four for four to title. All was not rosy however. On his land series he pretty much nailed both birds. He may have been 3 feet off his flyer. On the water series, however, things were a little different. On his live shot flyer he went out directly to the bird, flat out nailed it but the darn thing was still alive and he evidently wasn't so sure what to do. So he picked it up and carried it in a few feet and then dropped it. He began to come in without the bird and for some reason looked at me standing there and sat down. He basically popped on me. Now Cheryl would kill me if I handled him on a pop because it would only encourage future popping so I hollered out to him to fetch. He ran over to the bird and looked at me again. I yelled fetch it up and he did and came back in all proud of himself. The judge thought he didn't want to pick it up because it was still too alive. He has had live shackled birds so I'm not sure what happened. Maybe the duck snapped at him or something. It was hard to see in all that rain. Interestingly, they began sluicing the birds after his run. Then on the dead bird of the water series which was the hardest, he pretty much nailed it. I wasn't sure what the judges were going to do about him but obviously they carried him and we titled. Ryman is on his way to the WCX in June and senior hopefully in the fall.





March 6, 2011: I have the most recent picture of Ryman here but I really can't tell much about his conformation. It does show his intensity and desire to be sure. Been quite a time around here lately. I took Ryman to the Norcal Flyer Day yesterday and ran him in the Senior set up. He was absolutely steady on all his birds and his honor which was of course, close to the flyer station, and did a great job on his blind. Rosita Wraith was very impressed. It's not easy to impress Rosita after all the years she has put into the sport so I was really pleased to hear her compliment him. She complimented me on my handling too and that has never happened before. I guess I'm moving on up! Yesterday's set up involved the dogs having to go past the flyer station to retrieve the blind that was between the marks (that's pretty much a Master set up). Most of the young dogs had a very difficult time with this since they just had a nice warm bird on the flyer station and wanted to return for more. Not Ryman, he was honest as the day is long and lined his blind, flying past the flyer station without a problem. Unfortunately I had a depth perception problem and stopped him about 2 feet short of the blind and called him in thinking it was 2 feet closer. Rosita said no, it was 2 feet further back so I gave him the cast and he was on it. Had I not had a depth perception problem he would have lined it. Rosita gave Ryman a 10 and me a 0 on the blind, but I got the compliment on the marks anyway. He is just simply a remarkable dog. I keep thanking Henley for letting me learn all this stuff at his expense. He says, "you're welcome, sloppy kisses, sloppy kisses."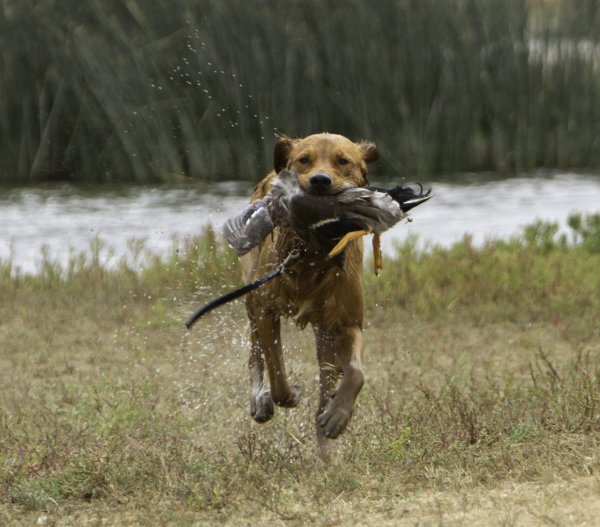 February 19, 2011: I have not so great news. Not about Ryman, he's fine. I had to scratch him from the junior test today because my beloved Henley "stepped on a pop top and blew out his flip flop". I was throwing the tennis ball up the hill for him last week and as he began to retrieve I saw him spin and freeze. I swear I saw him wince in pain. I knew it was bad. Off to the vet we went. He tore his CCL and Meniscus and had TPLO surgery yesterday. I was very ambitious in thinking I could take him with me to the hunt test, that is until I saw him. Although I did all the research and knew exactly what was going on I was still taken back when I saw Henley. This was a much bigger deal than I thought so I scratched Ryman and decided to let everyone rest up at home today. The surgery went well. Of course, I am disappointed because Henley will have to retire one month before his first Master test. I worked religiously every weekend for seven years to get this done as well as drills in the road during the week so it really is a bummer for me. The most important thing is that Henley heals and I know he will enjoy just being a dog. I'm not sure a dog like Ryman would take to having to retire early. But Henley will probably be okay with it. He does loves his birds and I figure he can do itty bitty retrieves and parade around with his prize for all to see. He really does love to parade around and now there is no reason not to let him. I guess there is good news for Ryman though in that I will have a lot more time to work him. He will enjoy that, I know. I will run Ryman at the Norcal test in March to try for that last leg. Henley should be more comfortable by then.
January 29, 2011: Ryman is doing well. He is developing into a quite handsome young man. I'll try to get some current pictures of him. He has not filled out yet so still appears to be all thin and leggy. He is staying at around 80 pounds, thank goodness. I tell you though, if he wants to do something or go somewhere, he's going to do it. He is strong beyond words. If Ryman decides he's going to kiss you, you will be kissed. He continues to be sweet and smart. I'm working him on Senior set ups and blinds. Everyone is always amazed at how well he does given his youth and the fact that he can only train on weekends. He's super smart. Even Cheryl thinks so. I'm entering him in the Monterey Bay Hunt Test at Los Banos for their February 19 test. Hopefully we will pick up that last Junior leg. I will then put a little more effort into Henley and I am hoping to enter him in his first Master in March. I'm thinking Ryman will be ready or very close to ready for Senior by the fall hunt test season. He continues to be unreliable in his indiscriminate eating but he is getting better. He ate about half a tennis ball a few weeks ago. I made him vomit it up. Let's see, what else? Oh, he ate part of his low impact mat (you use them for your horses) that was in his kennel so that had to come out. He has no comfortable place to lie down now, I feel terrible but what else can I do? Everything I put out there he eats. He and Henley are getting along fairly well although Henley wishes Ryman would just grow up already and quit hasseling him to play. I also notice that when I let them free run together up at Denverton that they get along better. I think it must be a pack running thing or something. They both just really enjoy free running together so I always try to end our training days with about an hour's worth of run-walk time. Our weather has been awesome for a few weeks now. In the 60's with bouts of tule fog (that's the bad kind) and a few really cold days but mostly mild weather. I know everyone else is really suffering this winter so I'm glad we are here. We have rain coming in tomorrow but I will go train anyway. We usually don't let a little rain stop us.
November 28, 2010: Thought I would update you on things Ryman the terrible has eaten that I forgot to tell you about. Came home one day to find he had eaten his anti-fatigue mat. Now there is just cement and a plastic crate in the kennel. Made him vomit and got it all up without a trip to the vet. Another afternoon I was in the back yard and he was up in the bushes in his man cave and I heard crunching sounds. I called him down and removed what I believe must have been a squirrel leg and thigh. No idea how much of the squirrel he ate or even how he got it. Called the vet they said no problem. Then yesterday afternoon I came home from shopping and Ryman shot out the door and actually caught a tweety bird in his mouth. I ran out to get it from him and he growled at me. I managed to get half of it but when the growl came I decided to save my finger and let him have it but I kept yelling at him to drop. To my surprise he did drop it and allowed me to pick it up. I keep checking his poops for foreign objects but only occasionally find twigs. Boy, this guy is something. I wonder if he caught that squirrel or if it was dead and he just found it. Off to do drill work today and get him some EXERCISE!!!
November 21, 2010: Ryman qualified for his third JH leg yesterday, again with judges' profuse compliments. The weather was terrible. We had a very cold rainy storm system and the place was all muddy to the point where you could hardly walk let alone see because of the rain. We were all freezing to death. Out here freezing to death is windy rainy 40 degree weather. Our mud in a lot of California is adobe so in the summer it is hard as a rock and in the winter it is like trying to walk on hot fudge. But we made it. The land series was a short mark for the flyer but then after that you had to turn completely around to face the opposite direction to get the second bird. Most of the dogs had quite a terrible time doing this. Ryman began to have trouble but I saw him look out in the direction of the gunners who were hidden and quickly said "mark it" and he snapped to attention immediately. No hunting on either bird. The water series was a straight on in and out and then the second bird was an angled, cheaty mark. Many of the dogs cheated that one but not Ryman. He is as honest as he is big. I'm very proud of him although our line manners need improvement.

What I was really surprised on Friday at training. I just started him on pattern blinds. He had never run a cold blind but Cheryl thinks quite alot of him and told me to run a couple of blinds that the big dogs were running. I must say when Ryman was through everyone especially myself was in a state of shock. He did just as well if not better than some of the big dogs. It was really quite something. No one except Cheryl believed that those were his first two cold blinds.…
November 8, 2010: Well, we had a very successful weekend with Ryman earning two Junior Hunter legs. I was extremely proud of him on one water series because it was definitely a cheating scenario and almost all the dogs bank ran at least on the return. Ryman, who has been worked on corners, was very honest. He went straight out and came straight back. No cheating. He did have his longest hunt on that particular mark and I was fearful that he would not get it because he kept getting sucked into the area where the bag of birds and the bird boy were, but he eventually worked it out. Overall, I think his work was superior. I marshalled all day both days so never had time to check his scores but I can almost guarantee that they were all above 8. He also did a really good job on his last water series. Two difficult marks for young dogs and he nailed both of them. He's very funny. He goes to the line pretty well but once he realizes he is done and there are not going to be any more birds, that is when he pitches a fit. He just doesn't want to leave the line and we get into a little bucking bronco act before he finally calms down. His friend Kyle who is our vet tech is going to help me get him treadmill trained. I didn't have any problem with Henley because at that time, Henley was only 60 pounds and I was a few years younger and stronger. Ryman is now 80 pounds and when he decides he is getting off of that treadmill I have no power to stop him. So Kyle who is a very young, strong and tall young man has kindly agreed to help me out. I think it will work because Ryman adores him and he adores Ryman. We joke at the vet's about the two of them having a "bromance". Back to the hunt test, I got several compliments from folks on Ryman's head. You know Golden ladies all like the heads and so I was happy about that as well. I too think he has a really nice head. I will try to get a straight on shot soon if I can. Sorry no pictures from the hunt test. It was pouring rain all day yesterday and after two days working, I was just done in. Ryman's next test is November 20.
September 16, 2010: Here are a couple of recent pictures of Ryman, taken within the last couple of weeks. I weighed him at the vet last Saturday and he was 76 pounds, although still lean. I thought the head shot would give you a good feel for how his head is developing and the picture of him from the side for getting a feel for everything else. I thought you would enjoy the picture of us at the line. You can see how intense he is when focusing on his marks. This is also evident in the head shot as this was taken while he was marking. I put him up against the wall and drew a line (actually did it twice) and he measured the first time at 26 1/2 and the second time at 26. So I think we can safely say he is over 25 inches. We trained yesterday with legendary (at least out here) field trainer Warren Grimsby. He liked Ryman but told me I had better get ahold of him now because he thought he would give me trouble in the future. I took it as a compliment since the dogs that give their handlers the most trouble are usually the most highly powered and talented field dogs. He said it with a smile and a twinkle in his eye. Ryman is actually very well mannered for a dog his age. By age 1 Henley had taken me down in the field several times and by age two he broke my finger in three places. Ryman is much easier to handle than Henley ever was. Of course I am wiser and a better trainer as well. We are working on pattern blinds and baseball on water. This is the time of his training program that takes the longest because I can only get out one or two times per week. He is so talented I wish I could retire and really put the time into him but alas, someone has to pay his credit card bill!
| | |
| --- | --- |
| | |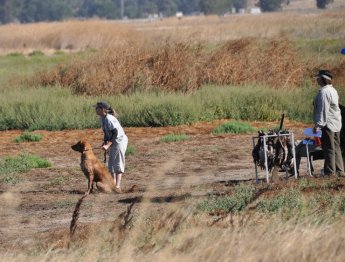 September 4, 2010: Yes, I did want a water dog. And I got one plus some! Ryman is surpassing everyone's expectations. Cheryl and I were introducing a diversion concept with a mark and a blind and he did so well that she accused me of having practiced with him beforehand. I told her no, he's just smart that way. Yes, he is a great dog. I have high hopes for him and only wish I didn't have to work. He is the kind of dog that could do an FC with the proper time and training. Will send that picture soon.
August 31, 2010: One year old today! Hard to believe that one year ago at 4:00 am I was sitting in a hotel room watching my computer only to find Penny still resting. I decided to start packing since I had to check out that morning anyway. I was too excited to sleep. A short time later, there was a message that the first one had been born. After that, it was game on. Penny delivered those puppies so fast you could barely keep up. I took a couple of pictures of Ryman this morning. He is turning into a very handsome young man. His body is still needing to catch up to his head but his head is developing very nicely. I would be interested to learn if all the puppies are tall or if Ryman just had some chromosome that went giant crazy.
June 5, 2010: Whooppeeeee!!! We did it! Ryman earned his WC title today at the Norcal Golden Retriever Club WC/WCX test at Denverton Road, Suisun, CA. We had 15 starters and 11 qualifiers. Ryman was the youngest dog at nine months. He pinned both of his water birds and delivered to hand very nicely. He also went to the line nicely as well. I was worried that I was going to be eating dirt because he is so strong but he heeled along with me amazingly well. He pinned his flyer (pheasant, his first one) and had a 3 second hunt for his memory bird. The judges were very impressed and complimented him profusely.
I had his blood work done last Wednesday and unfortunately his white cell count was rising from the week before so he is still fighting some kind of infection. He did put on a few pounds though and weights 66 pounds now. We upped his antibiotic and I have an appointment to have his blood retested again this Wednesday. I'll let you know the outcome.
This guy is going to be one great working dog Karen. Thanks for letting me have him. Below is a picture of the event.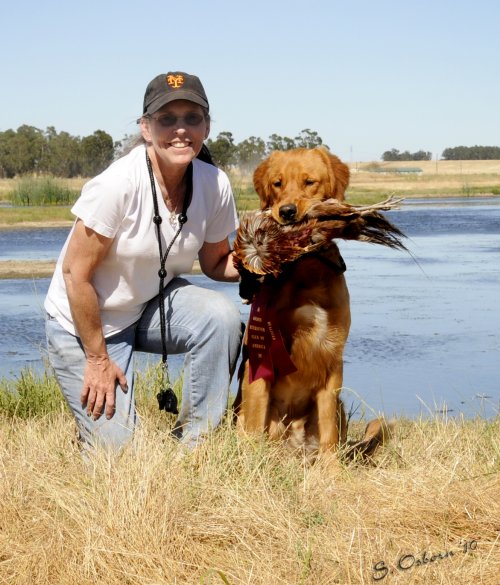 Ryman earns his WC, 6/5/10



May 30, 2010: Yesterday we were training for WC/WCX so our set up could be run for either a double or triple. Just for the heck of it after Ryman did his double, I ran the long bird as a single and then reran the whole thing as a triple. He did it! I was so proud. He is getting better, back to his old self. Ryman's WC test is next Saturday.





May 26, 2010: Wanted to let you know that Ryman is back to being himself now. Took him out and did a short back pile with him and practiced sit whistles from a distance. Then went to vet for redo on CBC. Temperature was normal but white count still high, although still going down. He will be retested again next Wednesday so I will let you know. Hopefully by then his white count will be back to normal. Everyone who encountered him (and there were lots) throughout this whole experience all, without fail, said that he was very sweet. He is a funny, sweet, smart little big dog. I believe he is on the mend.





May 24, 2010: I went home at lunchtime and the little reprobate is a bit more perky, ate two cups of food while I held the bowl. Good signs. Now as he improves, I have to put some weight on him. He is bone thin. He weighed about 65 pounds before this event and I don't know how much he lost but I am concerned if we have another episode he will not fare well at all because he has no meat on his bones. I'm upping his intake to six cups a day for a little while. I talked to my vet and we will redo the CBC on Wednesday. I'll let you know the results.





May 23, 2010: Ryman is home. The first thing he did was tear off his bandages from his IV and try to eat the gauze. Then he went outside to pee and tried to sneak off with a pine cone. What am I going to do with this guy? He is still not himself although he is much, much better. His temperature is normal but his white count is still high although less than yesterday so going down. He has metronidazole, clavamox and pepcid ac to take. He will go in Tuesday to redo the CBC for the white count. ER vet's diagnosis was severe gastroenteritis. Will keep you updated on his progress throughout the week. He is on rest only so his t raining for now will have to be put on hold. I will still work on the heeling issue with him and I'm not at all worried about his ability to mark so I'm going to consider keeping him in the WC depending of course on how he improves.





May 22, 2010: Ryman had the ultrasound and they found no obstruction so that is good news. They said his lymph nodes were swollen but that happens with puppies. His temperature was 102.3 at 10:30 this morning so going down. His white cell count is still extremely high. The ER vet thinks he is fighting an intestinal infection resulting from irritation from the foam rubber, so is ramping up the antibiotics. I am going there at 5:00 tonight to determine if I think he can come home. He will have to be pretty lively for me to make that determination. But hopefully he will begin to mend. My vets are very encouraged as is the ER vet so good news. I was afraid I was going to lose him last night and this morning. Hopefully all this for you will be just a false alarm. I'll keep you posted.





May 22, 2010: I have bad news. Ryman is not well. He got into that foam rubber from his dog bed and for a few days everything was fine. Then yesterday morning he was lethargic so off to the vet we went. He vomited and pooped foam rubber. They put him on fluids and his blood indicated a raging infection somewhere. Unfortunately you can't see foam rubber in an xray so they injected him with barium and xrayed him and pumped fluids and antibiotics into him all day. I went to see him and they thought I could take him home but I was not happy with his appearance. He was still quite lethargic so they arranged for me to take him to emergency where he spent the night. I just talked to the ER vet and he said Ryman was feeling slightly better but temp was still high and xray showed nothing. He called in our local radiology specialist who reviewed the xrays and said everything looked okay but still Ryman is not bouncing back the way he should. So the radioligist is on his way to do an untrasound and depending on what it shows possibly Ryman will be in for surgery today. I'm beside myself of course. I wanted to let you know that this is happening with him right now. Please say a prayer or whatever it is you do when things go wrong. I'll keep you posted.





May 20, 2010: I just entered Ryman in the WC coming up on June 5. I'll let you know how we do. Everyone that sees him retrieving for the first time always say WOW, what a great little dog. I understand what you say about Penny being smart and not needing so much teaching as just showing her what to do. Ryman is like that and I'm glad you said something about it because I was thinking it was a little spooky training Ryman because it's almost like he's already been doing this stuff for years. It was like that on his first long retrieve and continues to be that way today. I am having a little trouble getting him to heel with me when I turn to face the go bird on the double but I am working on that. For some reason, heeling has never been my strongest training attribute. But he is so smart and loving, eager to please. It's nice. I am looking forward to handling. He is already turning around out in the field to face me when he hears his sit whistle and knows his back pile very well. Next week I hope to start on backs with him. I think handling will be a challenge since he is so fast. I will have to really pay attention and learn when to hit the sit whistle based on how long it takes him to actually slow down, turn and stop to face me. Henley is not so fast so I will have to reengineer my timing for Ryman.
He and Peepers my kitty are sparring partners. He wants to play with her and she wants to kill him. So evidently Peepers is really mad at us because she peed all over his dog bed. I took the cover off and washed it and covered up the bed with a blanket while the cover was drying. Somehow Ryman the reprobate got under the blanket and ate the foam rubber. Oh my gosh, I thought, I hope he didn't kill himself! Well, he vomited up a lot of it and then pooped it out for the next two days. I had my vet on call and today everything seemed normal. No vomiting, no foam rubber in the poop. Then the kitty peed on the bed again. She's really mad about something.





April 29, 2010: Ryman is learning his doubles already. He actually knows his doubles, just has a hard time at the line trying to focus on the go bird. But once I get him focused, he does remember the memory bird. He picks things up very quickly, like his mom. I show him something three times and he's got it. I'm hoping that will continue through handling. He knows his back pile and "dead bird back" so we are progressing. Karen, I think you are really on to something with this field breeding stuff. So far, Ryman is a dream come true. I'm trying to get Ryman ready for hjs WC coming up in June. They are celebrating 8 months. Time flies.





April 27, 2010: Ryman continues to improve on his retrieving. Every time someone sees him run for the first time they always ask how old he is. He is quite impressive, which probably leads right back to his mommy, daughter of Speaker. He is still growing...towers over Henley now. Right now he is built very slim. I hope that as he ages, he will fill out. I'm thinking he is probably over 24 inches. I'm going to ask the chair of our CCA coming up in late May or early June if I can stop by and have him wicketed. Last time, at six months he was 23.5 inches but he has grown from there. Love him dearly no matter how tall he gets!





April 10, 2010: Ryman is finishing up his force fetch, and we will move on to the back pile soon. He's hoping to join the list of Fern Hill title holders soon.





April 1, 2010: Yes, Henley and I will move on to Master now that he has completed his Senior Hunter title. Henley is 6 years old now and I still have to work full-time so I hope we will at least get some legs before he has to retire. If we could actually get the title, I would be in seventh heaven. I think Ryman will progress more rapidly because Henley is the first dog I have taken into the more advanced levels so with Ryman my learning curve will be less and he seems to get stuff after you show him about 3 times. I took him by the vet yesterday and he weighed in at 57 pounds. After that I went to give them both baths and noticed that Ryman's left ear was very inflamed (after I was just at the vet's, of course). So I cleaned his ear with the ear stuff and am keeping an eye on it. It was not quite as red this morning but if it does not clear by itself we will be back at the vet on Saturday. He is not fussing with it at all but I keep waiting to see the head listing like they do when their ears bother them. Glad to hear that your litters so far have stopped growing around 6 months. I hope that happens with this litter as well. Ryman's legs are so long though that it looks to me like he needs to grow another 2 inches just to make his legs match his body. I'm hoping that it's an optical illusion and that he will look balanced when he fills out. Everyone that sees him for the first time says, "Wow! He's really tall, he's going to be really big!" Then they realize that he is very kissy and they all like that. In any event, he continues to do well and impresses everyone he sees. His water retrieves are spectacular!





March 25, 2010: Here are two photos of Ryman taken yesterday at our flyer day.




| | |
| --- | --- |
| | |
March 5, 2010: Ryman is doing well. He is in intermediate obedience although we missed last night due to a bout of really bad loose bowels. Had to take him to emergency because it was bloody but he is okay, waiting for results of fecal but vet said he was fine. He is on metronidazole and bland diet. I'm like you, a little loose poop doesn't bother me but last night he was not hungry and then let loose with that bloody stool so off to ER we went. This morning he is fine, ate well and is ready to continue chewing on everything he can get his little mouth on. Our training area is overrun with goose and rabbit poop so I suspect he may have picked up a bacterial something or other from that. Force fetch is going really well, Cheryl is quite impressed with our progress. He will have a chance at his first live ducks on March 21. We will shackle them to see how he reacts. If all goes well, we will then have to dispatch them for his retrieve. The duck thing still bothers me but to see your dog do what he was bred to do is like a watching a beautiful sunrise, so I just have to deal with it.
January 24, 2010: From the way you are describing Penny's retrieving style, I'm beginning to understand that Ryman's style is the same so I know where this is coming from. This is pretty much what I was hoping for knowing Speaker was granddaddy. I was also relying on the obedience on that side as well. I think he gets his cooperative demeanor not only from your side but also from Drake's side of the family. There is a story on one of the websites that he can be handled quite nicely by a 10 year old girl. That impressed me a great deal so I hope Ryman will be like his daddy in that regard. I think he will be as handsome as his daddy too. Whatever the outcome, I have a terrific, talented and very sweet doggy on my hands. He is not really a "star" at obedience but we are usually called on first to demonstrate how to do things and I can tell that he is a favorite of our trainer. I was actually dreading going to beginning because all of my other dogs were wild animals during beginning. It was always a struggle to get them in the door and settled down to learn. Ryman gets pretty excited but settles very nicely and really seems to like learning (or maybe he just likes treats). Anyway, I actually enjoy Thursday night obedience class.

We missed training last weekend, last Wednesday and again this weekend due to the rain. The dogs don't seem to mind and it gave me the chance to actually figure out the picture thing, but I am looking forward to some sunny days.
January 20, 2010:We should be out training today but it is raining buckets and everyone is pretty much doing damage control at their homes and businesses. On our last training day we ran Ryman on probably 200 yard marks (could have been longer, I'm terrible at distances but these were not weeny marks by any stretch of the imagination), his little bumpers were landing in an open area but behind cover so that he would have to push through. When he made it through the cover he would easily see his bumper. This kind of retrieve teaches a lot. It teaches to go long, push through cover, and in this case he also had to run through some pretty deep and wide puddles, etc. We did three marks this way and Cheryl's exact words when he completed all three marks were, "Boy he is really going to go somewhere!" I was quite surprised as Cheryl doesn't give praise freely unless it is warranted. She said she could see that his was a great breeding. She really likes what she is seeing out of him. Needless to say, I am more impressed every time I watch him run. It's hard for me to keep my mouth shut and not just bore everyone to death with how great he is. So we discussed the training plan for Ryman and I think we will pursue his JH, alternating JH and Derby retrieves and after he gets his JH, then put him in Derby and see if we can at least JAM. He can mark for sure, is not afraid of much and really likes to please me. The perfect recipe. I am really enjoying him.

He and Henley are really enjoying each other as well. Last week I took them out after training for a walk in the farthest end of our training grounds. It is quiet out there and Sadie and I and Henley spent many hours walking and playing back there. This was the day I discovered that I am living with a couple of little trouble makers. The walk was going very well, the dogs were running together, chasing, playing and Ryman even chased Henley into the water and found himself swimming a bit. They disappeared around the corner and when I caught up I found them both gleefully rolling in scads and scads of goose poop! They were covered and smiling from ear to ear. I tried to get them back in the water but goose poop is kinda oily and even though the poop came off the scent remained. So off to Pet Food Express we went for do it yourself baths. The next day, not yet 24 hours later I went to the top of my hill to do some yard work and they accompanied me only to find a great bare spot of nice black mud to roll in. Down the hill we do, cold water hosing this time and into the garage to dry. These kind of scenarios play themselves out over and over again with these two. For the first time since Sadie died, Henley looked at me with a big smile on his face. That made all their hijinks worthwhile. He is really enjoying Ryman and I am enjoying both of them. They are sleeping together on the landing right now. He is a bit more balanced right now but still has days when he looks pretty goofy. He is becoming the sweetest thing ever.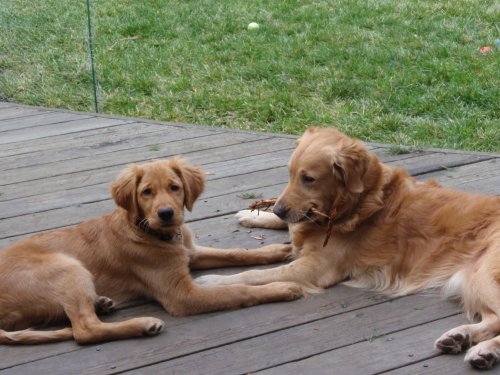 Ryman and Henley on the deck
January 4, 2010:Ryman is now 34 pounds. He put on 10 pounds in the last month. He is long and tall and lean, very lean, but all muscle according to my vet. We had a little scare with him last week that I think you should know about just in case some of the other puppy owners notice the same thing. I noticed that he was having a terrible time trying to get up and that he quit jumping up on me. So I panicked and called the vet and then the orthopedic surgeon that did Sadie's surgery. He said we could come in today for a Penn Hip to determine what was wrong. But last Wednesday I took Ryman to training as usual and had all my Golden Retriever breeder friends in attendance while Ryman was running his marks. They observed him very carefully and then we all sat around and told stories of how so and so did the exact same thing during growth spurts and never developed dysplasia. So I felt much better. They also pointed out to me that his rear legs were probably 2 inches longer than his front and that he was just completely out of balance. He had an appointment on Saturday for a rabies shot so my vet palpated him and cranked around on his hips and elbows quite virogously and was unable to get even a squeek out of him. So thank goodness, the panic is over -- he probably just pulled something. Of course I put a lot of time into locating a breeding I thought was good and put a lot of time into this breeding and flew all the way to Tennessee so why wouldn't he develop dysplasia, I thought. Thank goodness it appears that I am just over-watchful and prone to panic attacks when it comes to the health of my dogs. Ryman will start beginning obedience this Thursday so we are looking forward to that. His retrieving is coming along quite well. He is doing very long retrieves on open land. He is getting his adult teeth so we will soon approach force fetch with him. During the holidays I had 5 days off and my project for that period of time was to let Henley and Ryman play together without me hovering over them like a clucking mother hen. I'm happy to report that so far they are getting on quite well and seem to really enjoy playing with each other. Henley's favorite games are chase and keep away. Ryman is respectful of Henley and Henley seems to understand that he must be on the gentle side for now with Ryman. When necessary he gives out a low growl and Ryman snaps to right away. I am very happy that they are getting along and I hope their relationship continues to grow although I worry about Ryman during his phases of testosterone bursts. Rosita Wraith, owner of Wraith's Duncan told me when I asked her how she has 5 male dogs that they just know what to do and they work it out among themselves. So I will take her knowledge to heart and try not to worry too much. I'm sure there are a thousand other things I want to tell you about our little man but right now I can't think of anything more.
| | |
| --- | --- |
| Ryman training in the rain | Let's play! |
December 14, 2009: We had our training day yesterday with a group pot luck and doggy hunt it up for Christmas. Always very fun, good people, good dogs and great food. The dogs always enjoy the hunt it up. We each bring dog toys to contribute and then they are scattered over a large field and one by one our dogs get to go out and retrieve a special toy. They really have a great time finding their special prize.

Ryman graduates puppy school on Wednesday. I have him enrolled in beginning starting the first week of January. He did another set of really long retrieves yesterday. He is turning into what I think is going to be a great hunt test dog as well as a great companion. He is just too cute for words. He jumped up on the couch and proceeded to sit on Henley's head. I thought two things: first, this is the end and second, where is that darn camera. Henley was so patient with Ryman I could hardly believe it. They wiggled around on the couch a bit and then moved to the floor for some mouthing on each other. But then Ryman jumped on Henley's back and proceeded to try to chew on his ears. I think for Ryman this was an innocent attempt at play but what I saw was trouble coming in that Henley could have misinterpreted Ryman being on his back as a dominance move. Just as I was picking Ryman up off of Henley's back, Henley turned his head with a very angry look on his face. So I have to watch carefully as Ryman is just learning how to behave around the big dogs. But for Henley's part, I was very pleased that he was so patient with Ryman. Speaking of cameras, I don't have many pictures and I don't know how to get them from camera to computer yet but when I get that figured out I will send them.
December 10, 2009: That is interesting information you told me about Hilfy and her puppy and the confusion over who's boss. Since I have known Cheryl for so long I have trained with all of her dogs and know them well. In Henley I can see traits from his mom, dad and his great-grandmother, Button. I feel privileged to know his ancestors on his mother's side well enough to spot those types of characteristics. So it appears that character traits go skipping about all over the place.

The biting thing with Ryman is ongoing. He still bites and I still insist that he not. Last night we had a breakthrough. He seems to have discovered that hands can be wonderful things when you are not busy biting them. He is finally beginning to understand and that makes my life so much easier. This morning when he went to bite I said "no bite" and he looked at me quite sheepishly as if to say, "Oh yeah, I forgot". So we are making progress.

Our walk went well although it was more like going for a twirl. I just kept twirling around as Henley and Ryman spun circles around me in an attempt to play. Ryman was on leash, Henley was not. Yesterday we actually did take a walk. Again, at our training grounds, with Henley not on leash and Ryman on a six foot leash. Henley was quite full of himself and tried to "bulldoze" Ryman several times in an attempt to communicate to him just who the boss is. I was able to blow the sit whistle and distract Henley just prior to collision time and avoided injury to Ryman and myself. I ended the walk shortly after that as I felt things were getting out of hand. At home I have begun to allow them to interact for about a minute to a minute and a half. After that, they both get so wound up that I fear someone will go haywire so I break it up. Again, we are making progress.

I think the retrieving light went on in Ryman's little head yesterday. "Oh, I get it. I'm a RETRIEVER! Someone throws something and I go pick it up and run to my mom as fast as I can!" "Got it!" He did about an 85 yard retrieve on a flat road with no cover. Cheryl and the rest of the training group were very impressed with him. Everyone just loves him and they spoil him terribly.
| | |
| --- | --- |
| Ryman out training | Retrieving! |
November 29, 2009: Ryman is doing great. He is 23 pounds as of yesterday but I think he is too skinny. My vet said that with his energy level, he would probably remain skinny for some time. I am giving 3 cups a day now so I hope to be able to put a couple of pounds on him. He is so high energy that he burns off all the calories as soon as I can put them into him. He is tall and long and cute as can be. Everyone loves him. He just adores people and other dogs. He is doing well in puppy class and enjoys playtime at the end of the session. He is very brave, not much fazes this guy. He has a couple of friends in the neighborhood but his favorite is Harley, an 8 pound Yorkie/Maltese mix. Harley is allowed to roam loose so he comes over every day for play time with Ryman. They are very cute but Ryman is so darn big now that I have to keep a close eye so that he doesn't accidently smoosh Harley somehow.

Ryman is doing well on his retrieving. He has a couple of white sock "bumpers" that I made for him and we practice every day on the long line. He is pretty good about coming back but just as he gets within grabbing distance of me, he veers off. Catch me if you can. That's why we have him on a long line. Been there, done that. He likes to go crashing through the bushes so pushing through cover will not be a problem for him. As for obedience, as long as there are no distractions he knows sit, down, come, look, wait, stand and sit from down. He is very easily distracted so I usually have to wait for him to be tired and in a quiet area before trying obedience. He knows his sit whistle pretty well and is pretty good on the come in whistle as well.

He and Henley will take their first walk together today at our training grounds. They have been very cordial to eachother as they pass while one is going in or out. There is a lot of tail wagging and some play bowing from both. Henley however, is busy setting boundaries for the little guy. He will occasionally give Ryman a quick snarl if he believes Ryman is out of line. Ryman listens and usually rolls over in submission. So today is the big day. I will try to take them walking and we will see what happens.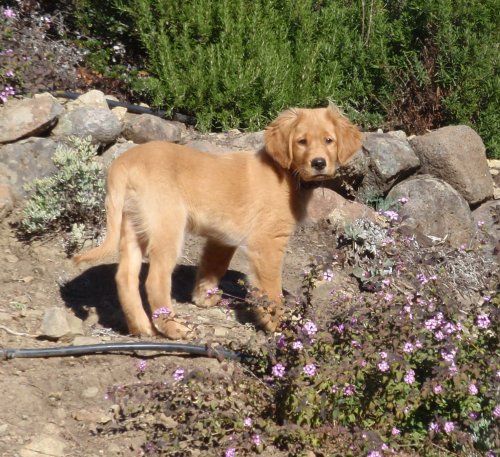 Ryman gardening, 11/25/09
November 8, 2009: I just took a defrosted duck out back and let Ryman smell it and tried to entice him with it. At first he was very interested in the head but did not try to pick it up or anything like that. So I just continued to entice him and then all of a sudden he pounced on the thing, picked it up in his mouth and proceeded to "kill" it with that classic head shaking. He then started to run toward the house with it in his mouth (it is almost as big as he is) and I didn't want Henley to see that Ryman had a duck so I pursued him and tried to take it away. Oh, and that oh so reliable "Ryman come" command went right out the window! He actually pulled back as hard that he ripped a piece of Mr. Duck off. I tried to take it away again and this time the little bugger actually growled at me! Okay, so we definitely have a duck dog! We also have a dog who thinks birds are his. This will be addressed in force fetch and I'm sure Cheryl would say that it is probably perfectly normal behavior for a puppy. So I'm very excited to see his enthusiasm but also a little amazed at the ferocity with which he was going to try to keep his "big win." He is still outside running around trying to find the duck. Perhaps we have created a "duck monster?" Let's hope so! I think he will be outstanding. He is cooperative and birdy. With the proper direction, he will be great. More on the adventures of California Ryman soon.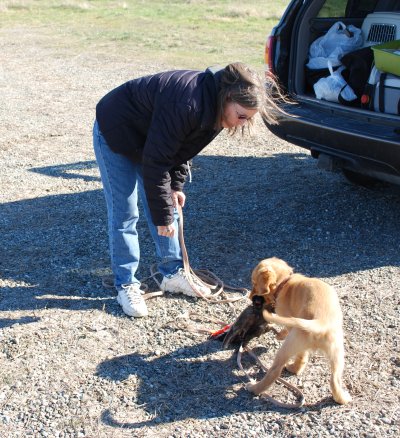 Ryman's first duck
November 7, 2009: The Wednesday after we got back from Tennessee, I went up to my private lesson with Cheryl and Henley and took Ryman along and let him run through the grass and experience some of the terrain. He had a grand time and I have to say, not much fazes him. He is very brave. I have to be careful with him because he is also quite a little leaper. So I have to watch that he doesn't take a leap from too high up.

Even though a lot of stuff has been going on here, I have been working with Ryman. He is very smart. You have to show him something about 3 times and he gets the idea. He is very reliable on sit and come (as reliable as a puppy can be anyway) and he is learning down right now. We had our first puppy class Thursday night and he took to the little Boxer right away. So they boxed away for a time and it was all very cute. I showed him each agility set up they had out just once and he proceeded to continue on several more times just like he had been doing this stuff forever. So he went through the ladder several times, shot through the tunnel several times and jumped through the tire. The instructor who is very diplomatic announced to the class that she really didn't realize that the little Golden would be so outgoing. I am able to get him settled though which is good. He is all teeth right now of course. When he realized I didn't want him biting my hands, he switched to biting my ankles, pant legs and dresses. We are working on that one too.

Cheryl really likes him and is as anxious as I am to get going on his field training. One of my friends inquired about his pedigree. She knows more than anyone I know about pedigrees and she said she was familiar with Drake as she had a friend in New York who bred to him a few times and really liked what she was getting. I didn't ask but I think she might be talking about Hilfy's breeder, Carol from Adirondac. She said she had seen Marcy and Hoya and liked them also so she was very impressed with his papers and is anxious to see him. She lives about 5 hours north so she will see him in early Spring when we have our hunt test. I am secretary for that test, she is chair.

Henley and Ryman really haven't had a chance to interact again since the first episode. When we are in the house I keep Ryman in an ex-pen and Henley likes to go up and sniff on him and wag his tail so I think eventually things will be fine. Ryman occasionally decides he's going to bark at Henley and Henley kind of skitters away because I think he thinks he will get in trouble if he barks back. Henley tries to be good, even when we are out in the field. Cheryl suggested keeping them apart for several months until Ryman gets some size on him. In the meantime, they share the same space but only when Ryman can be protected by the ex-pen. I'm sure things will be okay, Henley does not growl or act aggressive toward him. I'm just worried because Henley is so big and he is so little. And he is quite obnoxious with his playing as all puppies are.

I think Ryman might be a good candidate for a CD. He really watches me and looks up right into my eyes when he thinks he is going to get a treat or when we are learning something new. Heeling is not my favorite activity so I am determined to do better with Ryman than I did with Henley and all my other dogs.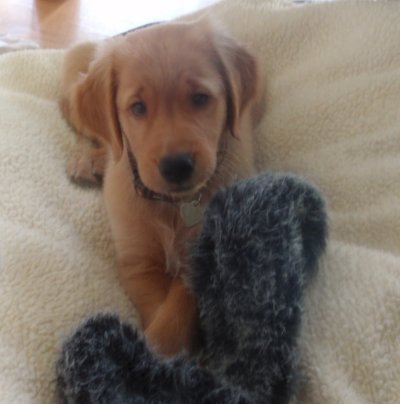 Ryman's first days at home
October 29, 2009: Well, I've had 3 intermittent hours of rest after getting back home last night at 1:15 a.m. Ryman is very good about waking me to let him out. I really appreciate that even though it interrupts my sleep. It's just plain easier on the housebreaking when they let you know they have to go. We had a very big day today. We started by going to pick up the cats. We then stopped by my office so Ryman could meet everyone and then proceeded to the vet. We then went home to find some friends waiting and so he spent the next hour or so meeting them. Then we had to go up to Suisun (about 1 hour north) to pick up Henley and then over to my friend Debbie's so she and her mother could meet Ryman. He is really a love and quite the people puppy. He really loves people! Henley seemed quite alright with him when they met (I held Ryman in my lap) but then we had a slight incident when I let them spent a few seconds together on the floor. Ryman went up underneath Henley and before I could fish him out Henley gave him what for. I grabbed Henley and chastized him and Ryman ran over to the Kitty's bed and got in. Henley seemed very upset at getting in trouble and Ryman didn't seem really fazed at all. He is not submissive to Henley, just curious. I will not let them together again for awhile. After that I held Ryman in my lap and let them sniff each other and Henley just wagged his tail and Ryman, after a short period of time seemed to want to put his paw on Henley's back in a playful manner. So I can't really tell what's going on here but it was their first hour together and Henley was pretty wound up (after spending 3 days with a couple of girls in close proximity that were in heat, I suppose his little hormones were going crazy on him) so we will have to see how this all goes. However it goes, I'm sure it will settle a little after Henley is neutered. For the time being though, I will be very careful with both of them. They both need to know how it goes - me number one, them two and three. I took Henley out and played with him in the backyard for a little while, then took Ryman out and did the same. Then I fed Henley, then Ryman.

Our trip from your house to Nashville was long but we practiced getting in and out of the box and walking on leash. We bonded a little bit and by the time we got to the airport he got in the box and seemed okay. After five minutes in the box he started shrieking but then settled down. We arrived at the airport only to find that our flight was delayed by about 2 hours. So I was four hours early and ended up sitting outside the terminal near a grassy area playing with Ryman for the next 2 1/2 hours. He then pooped himself out and laid down to sleep. I figured that was a good time to get him back in the box and begin making my way back to the security line. My flight left at 7:45. The flight crew was trying to be cheerful but you could see that ours was not the only delay of the day. So, since Ryman was asleep in the first place, I just left him under the seat. He slept the whole time. He really is quite the little trooper. He has met all kinds of people today, navigated a long flight of stairs (going up) and met Henley and another big dog. All of which didn't phase him a bit. Oh and he rode the elevator too. He is finally sleeping.... I love him dearly and hope that he and Henley will become best of friends. I will keep you posted on our progress. He is a lovely little guy.
Baby Pictures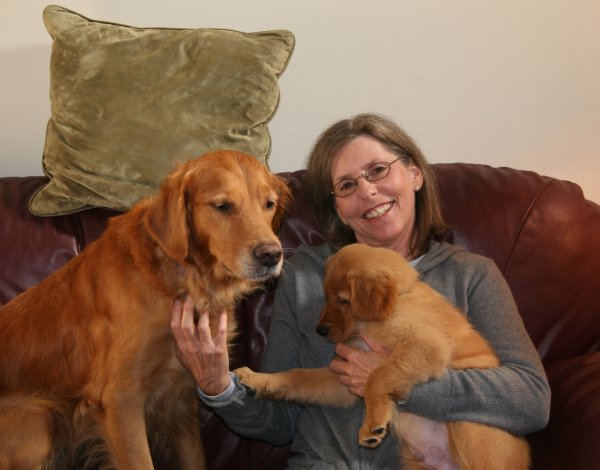 This is Ardith Osborn, who lives near Oakland, California, pictured with her new puppy Ryman and Ryman's mom Penny on October 28, 2009. Ardith's older Golden Henley is nearly finished with his Senior Hunter title, and Ryman will hopefully be following in his pawprints.

White Boy at 6 weeks, 10/11/09

White Boy, 5 weeks, 10/4/09

Exploring, 9/28/09

White Boy, 4 weeks, 9/28/09

White Boy, 3 weeks, 9/20/09

White Boy, 3 weeks, 9/20/09

White Boy, 2 weeks, 9/14/09

One week portrait, 9/7/09

Day old portrait, 9/1/09

254 Babbs Road, Lenoir City, TN 37771
Tel: 865-717-1019 || E-Mail:
This site &copy 2001-2015 by Fern Hill Farm All rights reserved.
Revised January 13, 2015