| | |
| --- | --- |
| | Crosley's Page |

Fern Hill Goldens Vs Crosley Redlegs SR581829/03 ("Crosley")
Sire: GMH HRCH UH Tidewaters Weekend Gladiator Can/Am CD WCX MH, CCA OS ("Drake")
Dam: Fern Hill Pennyroyal CDX JH NAP RE CGC TDI SR262975/06 ("Penny")
Born August 31, 2009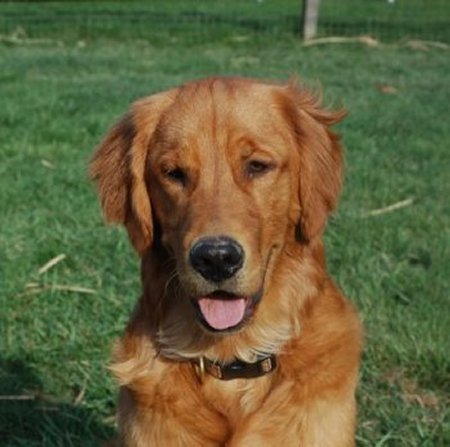 Crosley, who was known as 'Red Boy' before moving to Cincinnati with Mike and Connie Holbert, was one of the four smallest puppies at birth -- but strong and active. He grew up to be a big sturdy boy, with a beautiful red coat. He is bouncy, sweet and very playful. He loves to wrestle with his brother Wrigley who came to join the family in the spring of 2010.
News About Crosley
08/22/10: As you can see, they run the house. this is the rare time that they are not wrestling. The one on top is Wrigley.…
6/9/10:The boys are doing wonderfully. Here are some updated pictures. Crosley and Wrigley are so much fun to watch (exhausting at times :) ) Mike and I both wonder if Crosley was bored without having Wrigley to play with. I have sent the papers for both registration for Crosley and the transfer for Wrigley a few weeks back. I will follow up and let you know.
| | |
| --- | --- |
| Crosley's side view, June 2010 | Birdwatching with his brother. Crosley is on the right. |
04/25/10The boys here are doing great. In that picture you sent last week of Penny, Wrigley looks just like her, and Crosley is a clone of his dad. Hard to believe that they are from the same litter. Crosley is like a frat boy and Wrigley is a premed student.

We took them to doggie daycare on Friday. They said that every time that Wrigley picked up a toy, this other dog would come over and take it and walk away. after watching this happen for four or five times, Crosley went up to the other dog and took the toy out of his mouth and took it back to Wrigley and dropped it at his feet. They said the other dog never stole the toy again. Brothers!
| | |
| --- | --- |
| | Wrigley comes to stay! |
03/18/10: Crosley is doing great. He is in non-puppy obedience now. All the snow has finally melted and he was happy to see the ground again. He found some long lost "babies" that he had lost in the snow.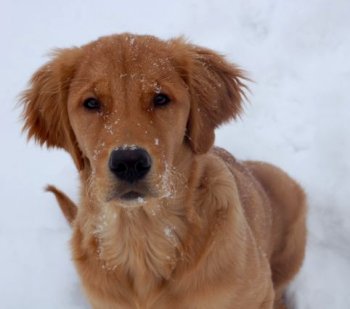 Crosley isn't sure he likes this white stuff!
12/05/09: Crosley is doing great. He seems to be a natural at learning his basic obedience from puppy preschool and is up to twenty-five pounds at his last vet appointment.
November 9, 2009: Crosley is doing well. Sleeping all night in his crate. He has his good days and bad days on housetraining. We start preschool next week for two months and will do formal obedience at 5 months. His personality is really starting to come out.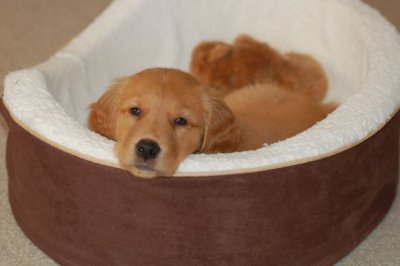 October 24, 2009: I have come to realize that the only people that would want to get a puppy are those that have never had one and those that forgot the last time they had one. He is a bundle of energy and bites everything. It has been a lot of fun watching him get more comfortable in the house and explore everything. Connie is exhausted every evening. However, I just plugged the camera into the computer and I think she has taken about 200 pictures of him in a week. I've attached a few.
| | |
| --- | --- |
| | |
October 19, 2009 He did well on the way home. When we got home, we showed him the yard and the house. He loves being outside and seeing people.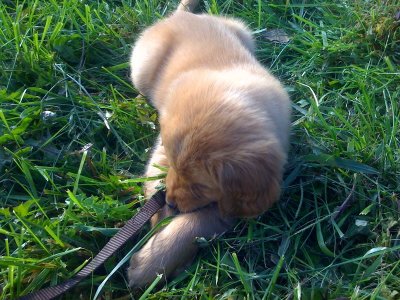 You don't have to worry about lungs on him. He was very mad about going into a crate at night while we slept and let us know his displeasure for about a half hour. He has picked up a whine when he needs to go outside and pee which is very helpful for us. Connie works from home, so they have been working on the crate being a friendly place today.

He is quite the entertainer, pouncing and hiding all over the place. We're off to the vet tomorrow for look over.
Baby Pictures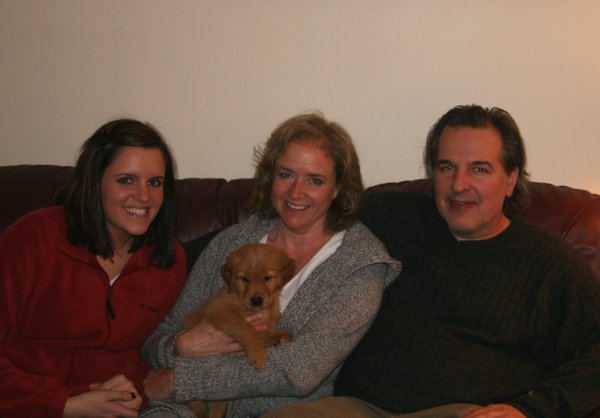 Crosley went home with Dr. Mike and Connie Holbert and their daughter on October 18, 2009. He will be a much loved family pet, and Connie is thinking of trying some obedience with him. Connie works from home, so Crosley will be fortunate to have people around him most of the time.

Red Boy, 6 weeks, 10/11/09

Red Boy, 6 weeks, 10/09/09

Red Boy, 5 weeks, 10/04/09

Red Boy, 3 weeks, 9/20/09

Red Boy, 2 weeks, 09/14/09

One week portrait, 9/7/09

Day old portrait, 9/1/09

254 Babbs Road, Lenoir City, TN 37771
Tel: 865-717-1019 || E-Mail:
This site &copy 2001-2010 by Fern Hill Farm All rights reserved.
Revised October 27, 2010