| | |
| --- | --- |
| | Jenna's Page |


Fern Hill Jenna Lenhard SR262975/07
Sire: AFC AFTCH Rosehill's Mr. Speaker MH OS FDHF CCA
Dam: Adirondac Hilfy of Fern Hill CDX OD CCA TDI CGC ASCA-CD SR017085/01
Born May 28, 2005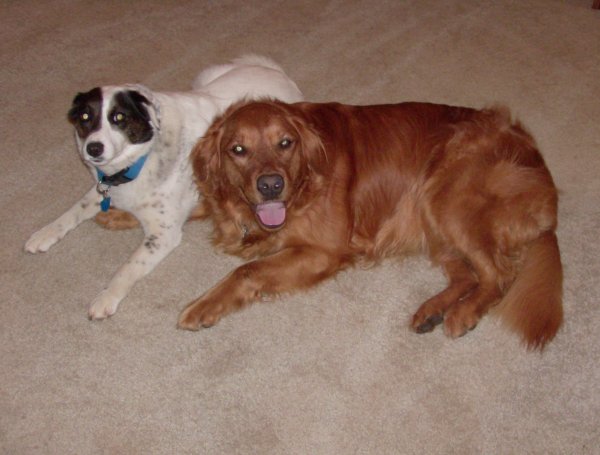 Jenna with Friend
The seventh puppy, Jenna, reminded us as a puppy of an apple-head doll with her appealing, wrinkly little face. She is a very sweet and friendly puppy, stoutly built, and a bit of a talker. She's the darkest and reddest of the pups. She went to live with our vet, Dr. Andrea Lenhard of Jackson Square Animal Clinic, Oak Ridge, Tennessee. We are happy that she is living close by. We haven't seen her often, and Andy isn't great about taking pictures, but we do hear "Jenna tales" every time we go in to the vet's.

Her puppy name was Mint, because she wore the mint green collar.


Meet Jenna
Editor's Note 2011: Jenna's owner sent me these pictures of her in May 2011. I'm not sure when they were taken. Jenna is still having a grand time at the lake and at home. She doesn't think that Andi should swim, though, and gets very nervous when she paddles around in the lake. Jenna grabs her gently by the arm and tries to drag her to shore.... swimming is only for dogs!
Editor's Note 2009: Jenna is still doing well and enjoying life as a vet's pet. She spends every weekend at the lake and goes to the vet clinic occasionally, where she donates blood from time to time for other injured or ill dogs. Andi is not a picture taker, and my visits to the vet haven't coincided with Jenna's days there and a camera all at the same time -- one of these days! She did have an interesting summer of 2008, where Andi decided to do a body trim with lots of swirls and curlicues all along her sides. It was a very strange cut, and Andi was horrifed when it took so long to grow back out. She won't do that again this year!
News from Andi Lenhard, August 5, 2006
Jenna lives with us and 2 other dogs -- Camille the old and wonderfully mannerly Golden, and Pip the little terror dog. Jenna is supposed to be learning manners from Camille and I guess she is -- mostly! The three dogs play outside all day, if they don't come in to the clinic with me, and love to get completely filthy. Jenna was nervous about going into the water for a long time, which grieved me because we spend most weekends up at our place on the lake, but just this summer she has started jumping from the shore and swimming out to where I'm kayaking. She can get on top of the kayak, which is interesting since she weighs 60 pounds and it's not all that big a kayak! She's a lot of fun, a pretty bright red, and looks just exactly like Hilfy -- beautiful!


| | |
| --- | --- |
| Jennain the Mondo grass (July 5) | Jenna sleeping (July 6) |
| Jenna stalks a bug, June 23 | Jenna, June 22 - 3 weeks, 4 days |
| Jenna outside, June 22 | Jenna, June 22 - 3 weeks, 4 days |
| Jenna, June 10 - 13 days old | Jenna, June 1 - 3 days old |

254 Babbs Road, Lenoir City, TN 37771
Tel: 865-717-1019 || E-Mail:
This site &copy 2001-2011 by Fern Hill Farm All rights reserved.
Revised June 3, 2011