| | |
| --- | --- |
| | Missy J's Page |

Fern Hill Missy J Bonner MH WC SR963786/05 ("Missy J")
Sire: AFC The Sunday Swimmer OS FDHF SR480559/03 ("Wyatt")
Dam: Fern Hill Pandemonium MH WCX OD SR679046/01
Born December 5, 2016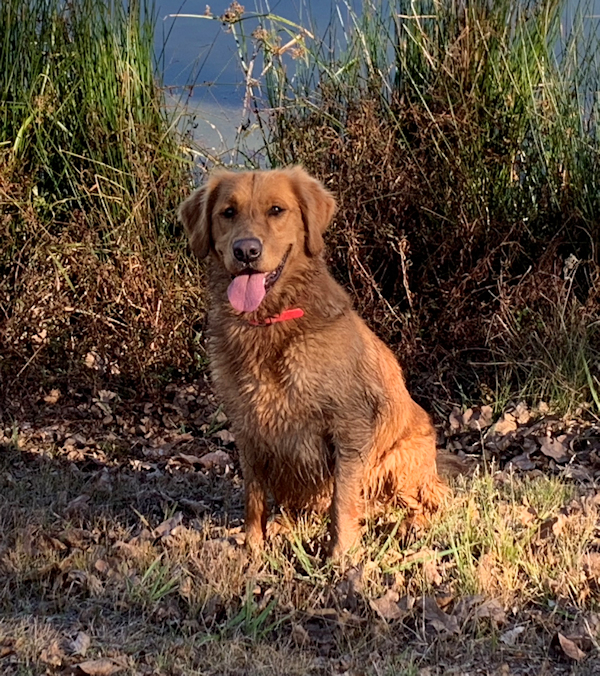 Missy J's name carries a story -- the J stands for Jackie Cochran, a WWII female pilot responsible for forming the WASP. She accomplished much in her life as a pilot, including numerous racing records and first for women in aviation, and retired as a Colonel from the Air Force in 1970. As you might guess from this, Missy J's owners are pilots! The Bonners live in Texas, travel extensively with their dogs, both hunt, and their Goldens are a big part of their life. Hunt Testing is their new hobby, and Missy finisheed her Master Hunter in early 2021. There are four puppies from this litter who have now earned that title, with another one who is a Senior Hunter and now showing in Utility obedience.

Missy J has joined the Fern Hill lineup of breeding females. She had her first litter in summer 2021 and will be bred back the same way when she cycles next -- sometime in summer 2022. We will be handling the marketing and selections for this litter, and the puppies will be sold as Fern Hill Goldens. They will be whelped and raised by Best Retrievers in Texas, who do a wonderful job with their early puppy raising program. If you might be interested in one of these puppies, please email me and ask to be put on the notification list.

Clearances
(Missy J's clearances can be verified on the OFA website here.)

CHIC #144657
Hips: GOOD (GR-124578G25F-VPI)
Elbows: NORMAL (GR-EL44190F25-VPI)
Heart: NORMAL (GR-ACA4026/28F-VPI)
Eyes: NORMAL (GR-EYE17453/28F-VPI)
PRA-prcd (Progressive Retinal Atrophy): CLEAR (Embark)
PRA-1 (Progressive Retinal Atrophy, type 1): CLEAR (Embark)
PRA-2 (Progressive Retinal Atrophy, type 2): CLEAR (Embark)
Icthyosis: CARRIER (Embark)
DM (Degenerative Myelopathy): CLEAR (Embark)
NCL (Neuronal Ceroid Lipofuscinosis): CLEAR (Embark)





Missy J's Pedigree

Missy J's Litters
Litter 11:Missy whelped her first litter of 5 puppies on Bastille Day, July 14, 2021 -- the sire is Max Q Saint Louie RN MH CCA *** VCX. The litter page, with a link to a Google photo album for this litter, is here. Missy was a wonderful mother! All puppies are now at their new homes.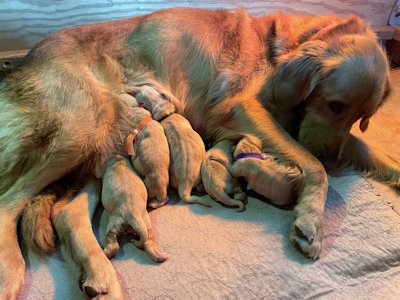 Missy J with her newborn puppies, July 14, 2021

News About Missy J:
| | | |
| --- | --- | --- |
| Missy J earned 4 Master passes during the summer and fall of 2019. After an extended break caused by the pandemic, she came back out and finished her Master Hunter title in early 2021. Quite an achievement! | | |
After getting her home, and seeing how much she enjoyed retrieving, the Bonners decided to try out the hunt test game. They have been working with a trainer, who took Missy through the basics and is working twice-weekly with Skip on his handling skills. What a pair! They have now earned their Senior Hunter title as of March 31, 2019, and are going to start Master Hunter this summer! Congratulations to all, we are so proud of you!
| | |
| --- | --- |
| | |
| Date: March 31, 2019. Missy J earns her Senior Hunter title, with owner Skip Bonner handling! | Date: March 18, 2018. Missy J passes her first Senior Hunter test |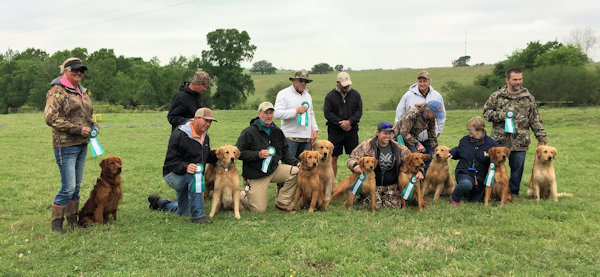 Date: March 18, 2018. Missy J earns her Working Certificate (WC) title.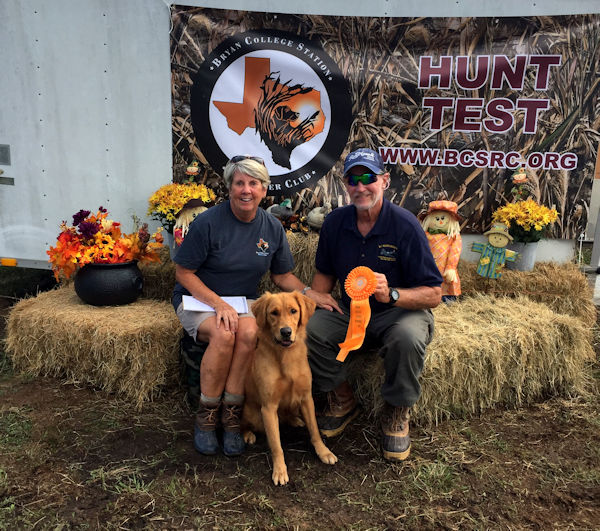 Date: October 14, 2018. Missy J earns another SH ribbon missyj101418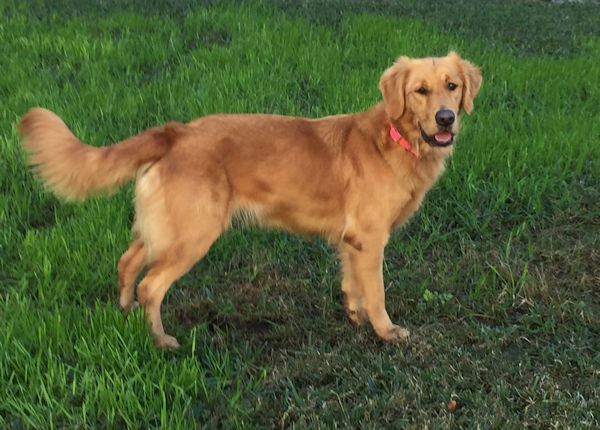 Date: December 18, 2018. Missy J at home


| | |
| --- | --- |
| Date: May 22, 2018. Missy J is recovering from a copperhead bite on her head earlier in the spring. Scary stuff! | Date: Fall, 2018. Missy J is fully recovered from her snake bite |
Baby Pictures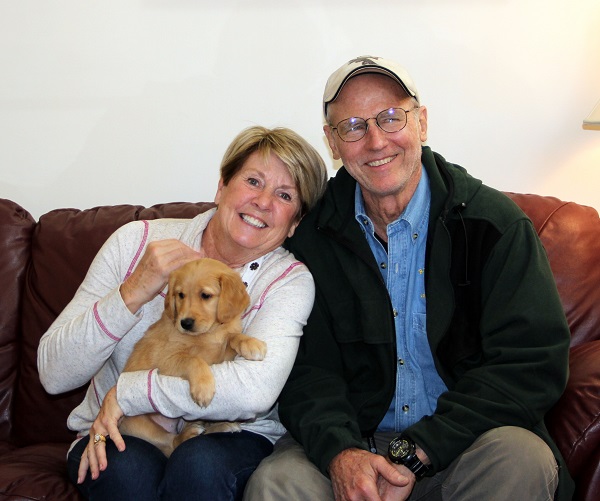 Skip and Sarah Bonner with their new Fern Hill puppy Missy J.

Missy J at 7 weeks, 1/24/17

Missy J at 7 weeks, 1/24/17

Missy J at 6 weeks, 1/17/17

Missy J at 5 weeks, 1/10/17

Missy J at 4 weeks, 1/3/17

Missy at 3 weeks, 12/27/17

Missy at 2 weeks, 12/20/16/30/09

Missy at 1 week, 12/13/17

1 day old, 12/7/16

Panda and newborn pups, 12/06/17

254 Babbs Road, Lenoir City, TN 37771
Tel: 865-300-7607; text or leave message for callback || E-Mail: edwardskc@gmail.com
This site &copy 2001-2022 by Fern Hill Farm All rights reserved.
Revised March 19, 2022