| | |
| --- | --- |
| | Zoey's Page |

Fern Hill Sunday at the Zoo MH ("Zoey") SR963786/01
Sire: AFC The Sunday Swimmer OS FDHF OS FDHF SR480559/03 ("Wyatt")
Dam: Fern Hill Pandemonium MH WCX OD OD SR679046/01
Born December 5, 2016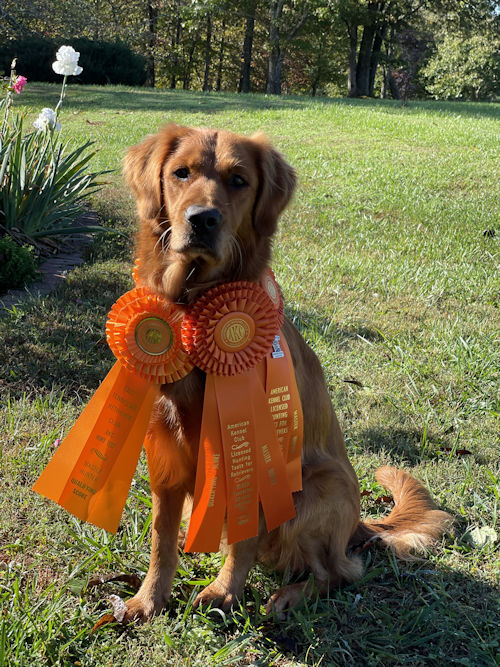 Zoey with all her Master Hunter ribbons & title pin, October 31, 2020
Zoey was the first puppy in Panda's second litter. We had five girls to choose from, but we eventually settled on the "White" (baby collar color) puppy. She is bold, confident, cute and sassy, very sweet and people-oriented, and a little bit eccentric like her Grandma Penny. In fall 2017 she won two Puppy Stakes at our retriever club trial and AKC Hunt test, and finished her Senior Hunter title with 5 passes on April 14, 2019. She immediately started working on her Master title, and had 3 passes before we took her out of training in the fall to breed her. We hoped to finish up in spring 2020, but the coronavirus pandemic intervened. She finished up at back to back shows in October, titling at the Central Kentucky Hunt Test on October 25, 2020. She passed all her clearances and is now in our breeding program.



Clearance Information || Titles || Pedigree || Litters || Album

Clearances
(Zoey's clearances can be verified on the OFA website here.)

CHIC #144657
Hips: GOOD (GR-127237G34F-VPI)
Elbows: NORMAL (GR-EL46835F34-VPI)
Heart: NORMAL (OFA GR-CA34944/31F/C-VPI)
Eyes: NORMAL (OFA GR-EYE16535/43F-VPI)
PRA-prcd (Progressive Retinal Atrophy): CLEAR (OFA GR-PRA1327/34F-PI)
PRA-1 (Progressive Retinal Atrophy, type 1): CLEAR (OFA GR-GR1-1304/34F-PI)
PRA-2 (Progressive Retinal Atrophy, type 2): CLEAR (OFA GR-GR2-896/24F-PI)
Icthyosis: CLEAR (OFA GR-ICH1165/25F-PI)
DM (Degenerative Myelopathy): CLEAR (GR-DM757/24F-PI)
NCL (Neuronal Ceroid Lipofuscinosis): CLEAR (OFA GR-CL5-2142/34F-PI)





Zoey's Titles
Master Hunter: Zoey had three passes from May through October 2019, when we took her out of training to raise a litter of puppies. She finished up those last two passes and her title at back to back weekends in East Tennessee (10/18/20) and Central Kentucky (10/25/20), after a lengthy break caused by the pandemic.


Senior Hunter: Zoey skipped Junior and went straight in to Senior, so she needed five passes to title. She completed her title April 14, 2019, at the Atlanta Retriever Club Spring Hunt Test, at age 2 years and 4 months.

Zoey's Pedigree

Zoey's Litters
Litter 12:Zoey was bred to Max Q Saint Louie RN MH CCA *** VCX , ("Louie") for her second litter, born December 28, 2021. We missed the timing on this litter, which took place late at night during the National Specialty in Florida -- not exactly the best situation for breeding dogs. She only had two puppies, both girls. The litter pedigree is here and the litter page with links to pictures is here.


Litter 10:Zoey was bred to Bravhart KC Run For The Border MH QA2 WCX, ("Jessie") for her first litter, born January 28, 2020 -- 6 girls and 2 boys. She was a great mother! We kept a girl from the litter, here and the litter page with links to pictures is here.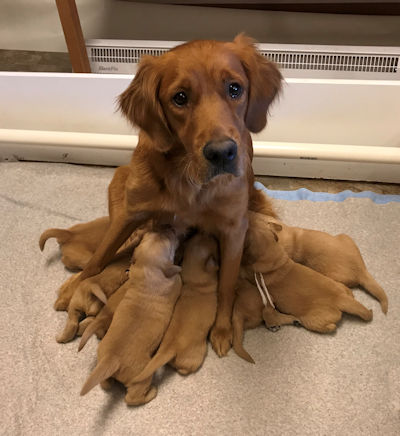 Zoey with 3-week old puppies, February 17, 2020

Zoey's Photo Album
Zoey Grows Up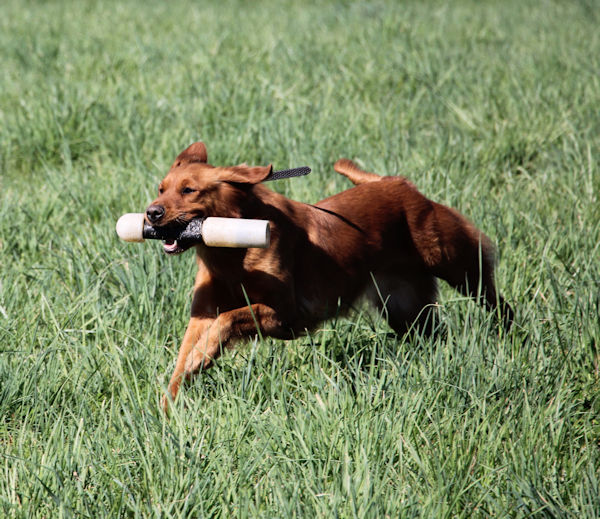 Zoey at 28 months, April 10, 2019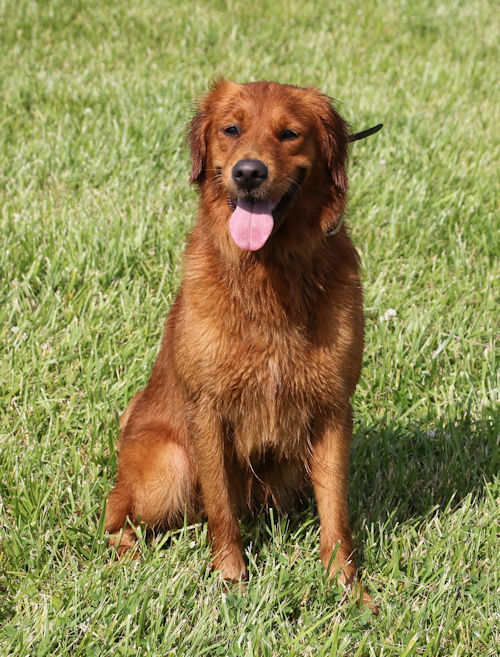 Zoey, July 15, 2019

Zoey with her little sister Py, July 13, 2019


Zoey (Right) with her littermate brother Hank, July 13, 2019


Zoey working, July 15, 2019


Zoey's still a bed puppy, July 14, 2019


Zoey in the field, October 30, 2018


Zoey and her Mom Panda schmoozing on the sofa, August 8, 2018

Zoey's invitation, July 24, 2018



Above, Zoey at nearly a year old, November 25, 2017. At left, Zoey in tall grass, 043018.




Above, Zoey at 6 months, helping with farmwork, May 28, 2017. At left, Zoey with her trainer Jody Ware, demonstrating basic puppy obedience training to a retriever club seminar. Zoey went to Jody's for training from mid-June until Thanksgiving.


Zoey adores the mondo grass, 3/05/17

Zoey learns the sit command, 3/05/17



At left: We stepped on Zoey and broke her leg on Valentine's day 2017. Above: Panda babysits with Zoey in confinement on 2/22/17. She wore the cast for two weeks and then had 6-8 more weeks of very carefully controlled exercise. Luckily, it healed perfectly without any setbacks and she is fully sound.


Zoey at 3 months


Zoey at 9 weeks, 2/11/17
Zoey's Puppy Pictures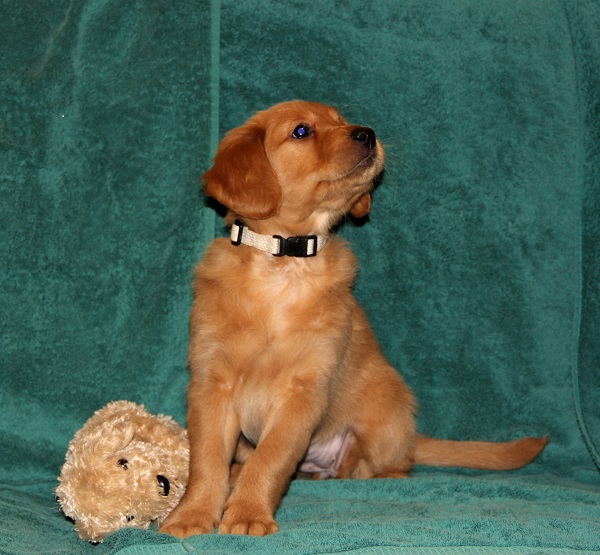 Zoey at 7 weeks 1/24/17

Zoey starts her toilet training, 1/23/17

Zoey at 6 weeks, 1/17/17

Zoey at 5 weeks, 1/10/17

Zoey at 4 weeks, 1/03/17

Zoey at 3 weeks, 12/27/16

Zoey at 2 weeks, 12/20/16

Zoey at 1 week, 12/13/16

Zoey at 1 day old, 12/7/16

Panda and newborn pups, 12/06/16

254 Babbs Road, Lenoir City, TN 37771
Tel: 865-300-7607; text or leave message for callback || E-Mail: edwardskc@gmail.com
This site &copy 2001-2022 by Fern Hill Farm All rights reserved.
Revised December 18, 2022