| | |
| --- | --- |
| | Merlin's Page |

Fern Hill RoundLake Merlin SR581829/01 ("Merlin")
Sire: GMH HRCH UH Tidewaters Weekend Gladiator Can/Am CD WCX MH, CCA OS ("Drake")
Dam: Fern Hill Pennyroyal CDX JH NAP RE CGC TDI SR262975/06 ("Penny")
Born August 31, 2009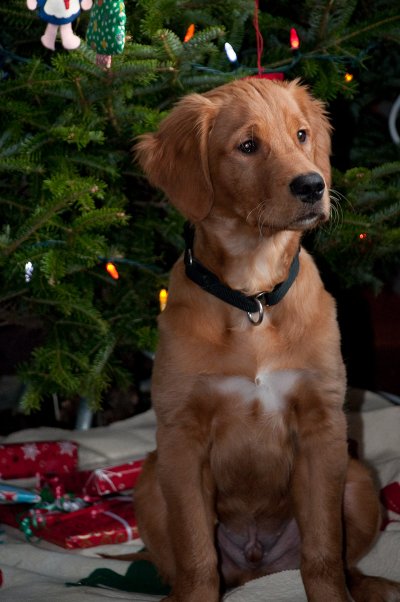 Merlin at Christmas, December 2009 (4 months)
Born first, this guy was one of the three heaviest puppies in the litter, and one of the darkest red. Penny said "Ouch!" when he was born! He has a white patch on his chest like his Dad, and a couple of white toes that seem to be vanishing as he ages. He is sturdy, charming, playful, noisy (must be Penny's sire, Mr. Speaker, coming through!) and athletic. At 3 weeks old, he was the first to learn how to climb out of the laundry basket where I stash them during box cleaning, the first to climb over the low end of the whelping box at 4 weeks old, and one of the first to make it up the big step from the entry. He was the last to leave home, and we very much enjoyed getting to spend extra time with this handsome, sweet and cooperative puppy! Now living with his new owners Fran Yardley and Burdette Parks of Tupper Lake, NY, he lives just a few miles from where his grandmother Hilfy was born. Fran and Burdette used to own Hilfy's older half-brother, so the family connection continues. Hilfy's breeder, Joan Kogut, thinks he looks just exactly like Hilfy's mother Marcy looked as a puppy!
News About Merlin
December 14, 2009: We had the BEST visit with Joan! She said he reminded her so much of Marcy! Which of course made me very happy because of the direct connection with Mac. Merlin's official name is Fern Hill RoundLake Merlin. The RoundLake is intentionally one word. We live on Round Lake and the name of our business is RoundLake Studios. so there you are! I think it is a grand name for a grand pup! YOu should see him sit, down, stay and many other brilliant things!
December 5, 2009: Merlin is growing by leaps and bounds. And learning new things every day. We have been out in the kayak 9 times, the last on December 2 which is unheard of up here! So I have been very grateful for the weather. He loves going for walks and I can tell he really knows the routine now.
| | |
| --- | --- |
| Merlin on the dock at Round Lake, 11/15/09 | Stairmaster! |
November 14, 2009: Here are some pics we have taken. Merlin is doing just great. After a couple of days going down two or three stairs, this morning, he went down the whole staircase! He is already getting very active outside, not staying by my side at all. I am a little concerned about this as I have only just begun to get him used to the leash. He does come really well when I call but I don't want to overuse that. He has discovered deer poop! I hate that because it's disgusting but I don't think it hurts him. He helped me harvest the last of the carrots in the garden yesterday and loved munching on one of them. Let's see, what else? He is learning sit and come quite well. Down will be next. He loves his crate. Today he spent a day away for the first time as I had a full day meeting here and he did really well. It means he has now totally crashed for the evening!
| | |
| --- | --- |
| Merlin pretending to be a lion, 11/08/09 | First boat ride, 11/8/09 |
November 9, 2009: Okay, so I am wondering when you had 11 of these furry beings, how you had ANY time to write us all about them! I am grabbing a lovely nap time to finally get pics off to you. What a great time we are having! It was really a nice day today, in the 60s and sunny, very unusual for Nov, so Merlin and I went for his first boat ride! He mostly wanted to lean over the side, but enjoyed several pieces of kibble which he found in the bottom of the boat. He also discovered the stem to our pumpkin and really loved chewing on that. Our visit to the vet went great and he is all set for a while. My only problem is I just want to hang out with him and not get any work done!
| | |
| --- | --- |
| | Merlin, home at last! 11/6/09 |
| Merlin on the long ride home, 11/5/09 | Merlin -- rest stop |
Baby Pictures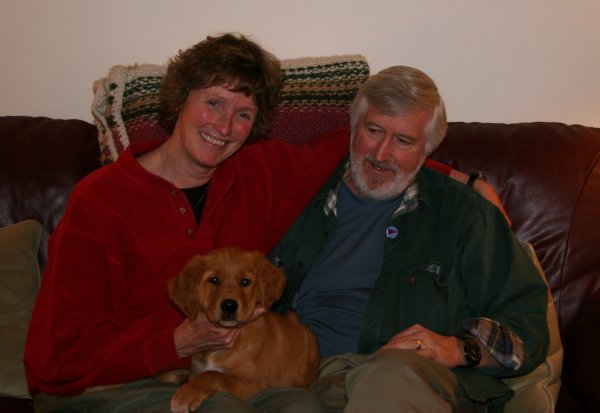 Merlin, with new owners Fran and Burdette, November 5, 2009

Limegreen at 9 weeks, 11/04/09

Limegreen, 10/11/09

Limegreen 10/11/09

Limegreen at 6 weeks, 10/10/09

Limegreen, 5 weeks 10/04/09

Limegreen, 10/04/09

Limegreen, walking 9/20/09

Limegreen, 3 weeks 09/20/09

Limegreen, 2 weeks 09/14/09

One Week Portrait, 9/7/09

Day old portrait, 9/1/09

254 Babbs Road, Lenoir City, TN 37771
Tel: 865-300-7607; text or leave message for callback || E-Mail:
This site &copy 2001-2009 by Fern Hill Farm All rights reserved.
Revised December 30, 2009