| | |
| --- | --- |
| | Cayanne's Page |

Fern Hill Cayanne Killian SR581829/10 ("Cayanne")
Sire: GMH HRCH UH Tidewaters Weekend Gladiator Can/Am CD WCX MH, CCA OS ("Drake")
Dam: Fern Hill Pennyroyal CDX JH NAP RE CGC TDI SR262975/06 ("Penny")
Born August 31, 2009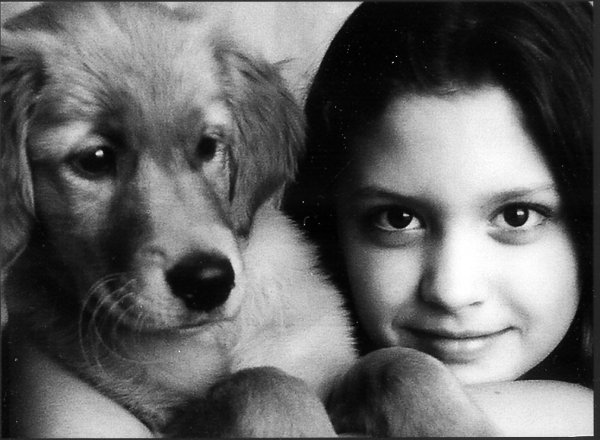 The last and the smallest of the four girls at birth, and the smallest puppy overall, Cayanne (who was known here as Forest Green Girl) was one of the most vigorous eaters. NO ONE knocked her away from the milk, or later, away from the food dish! As a result, by the time she left home, she was the biggest girl and bigger than a number of the boys as well. She was the darkest of the girls and one of the darkest overall -- we predict she will be a lovely deep red, with a small white patch on her chest. She had the cutest habit of craning her neck to see you better -- a very charming puppy, with lots of talent for obedience and hunting.
News About Cayanne
December 27, 2009: The Black and White photo on our Christmas card [see above] was taken of Cayanne and Alex at a studio, where she will take that picture and paint it ever so slightly with pastel colors on the black and white photo. Haven't gotten that back yet but very excited to see it since I had two very cute subjects to work with. Cayanne is doing well. We start classes next week to work with her on a few things. She likes to jump up and then nips at Alex's hands, legs and even her butt. I like the concept of the facility we are going to because they also board. They like the dog to come to their place and use the playgrounds and training areas so they are familiar with the place when it comes time to board. Thus the dog is calm and feels secure when they are staying there. She (Cayanne) is a very smart girl, loves the snow and is learning fast. We are in the process of getting the basement finished and can't wait for her to have a new area to run around in. She enjoys the cottage.... just loves running there freely. She is a beautiful girl and we love her so. I cannot tell you how many times I get stopped on walks and asked where we got Cayanne from. How is Penny doing and was it hard for her to adjust without her puppies around?
November 12, 2009: We apologize that we have not updated you with news of Cayanne. It has been no stop since bring her home. I can't even imagine taking care of eleven of them at once. Cayanne is doing very well. She was a little scared in the car ride home for about the first hour but then soon settled in. She is adjusting well to her new home. Doing good with potty training and knows the command "sit" already. She has had a couple of accidents in the house but that will happen with a puppy. She went to the Cottage last weekend and loved running around the property and even took her first dip in the lake. She was a little surprised at first, but romped around and thought that was fun. We had to give her her first bath and she loved the warm water. She is just a beautiful girl and we love her. Thank you again, Penny, for giving us such a precious gift! Cayanne is growing like a weed and we will send pictures soon.
Baby Pictures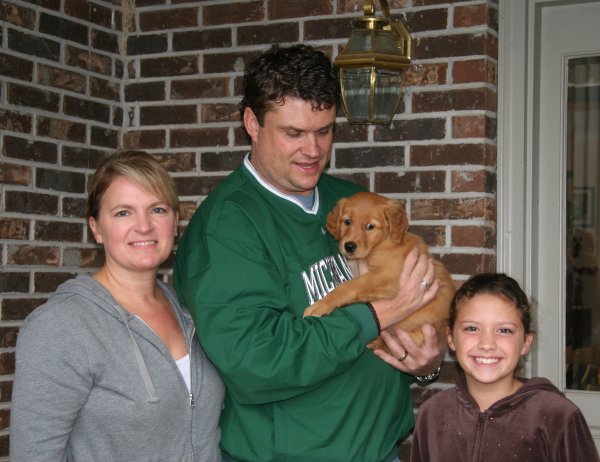 Cayanne has moved to the Chicago area with her new family, Diana and Daryle Burt and their daughter. The Burts have a summer house on Lake Michigan, so there are good opportunities for swimming and boating in her future!

Forest Girl at 6 weeks, 10/11/09

Forest Girl at 6 weeks, 10/11/09

Forest Girl, 10/7/09

Forest Girl, 5 weeks, 10/4/09

Forest Girl, 3 weeks, 9/20/09

Forest Girl, 3 weeks, 9/20/09

Forest Girl, 2 weeks, 9/14/09

One week portrait, 9/7/09

Day old portrait, 9/1/09

254 Babbs Road, Lenoir City, TN 37771
Tel: 865-717-1019 || E-Mail:
This site &copy 2001-2009 by Fern Hill Farm All rights reserved.
Revised December 30, 2009