| | |
| --- | --- |
| | Mona's Page |

Fern Hill's Mona's Midsummer Night's Dream CGC SR581829/04
Sire: GMH HRCH UH Tidewaters Weekend Gladiator Can/Am CD WCX MH, CCA OS ("Drake")
Dam: Fern Hill Pennyroyal CDX JH NAP RE CGC TDI SR262975/06 ("Penny")
Born August 31, 2009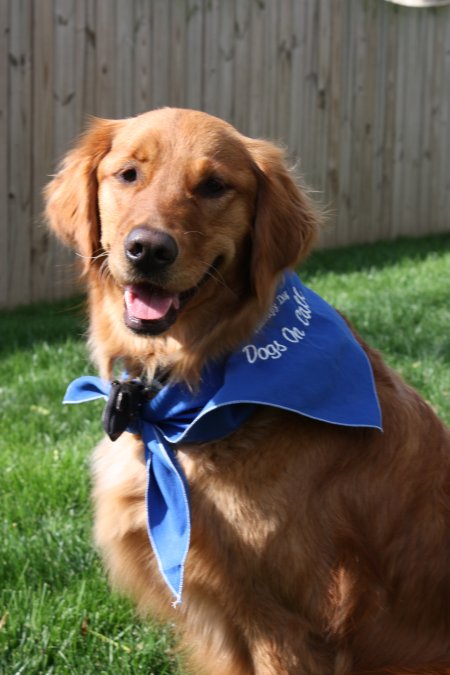 Mona, a very feminine and pretty-faced puppy, was the first to master the art of walking, and the first to notice and initiate play with the other puppies. She's a cutie! Affectionate, cooperative and outgoing, she liked to carry leaves and sticks in her mouth when we were outside. She moved to Richmond to live with Jes and is now certified as a therapy dog at the young age of 18 months.
News About Mona
04/25/13: Mona and Jess continue their therapy work at VCU Hospital while Jess continues her fourth and final year as a medical student. They were featured in an article in The Commonwealth Times on April 21, 2013. The link to the full article is here. However, since newpaper links seem to vanish over time and without warning, I have excerpted the part about Mona and Jess here. Big congrats to both of you and best wishes in your upcoming residency!
04/11/11: Just wanted to let you know that today Mona visited VCU Hospital as a 'Dogs on Call' Therapy Dog! She did great! She was gentle and loving to all. The director told me it was one of the best visits ever! Mona helped one family who was going through a very difficult time when we arrived be able to let go and they were smiling and laughing by the time we left. She was perfect, its like she knew it was her job to spread happiness! What a proud mommy I was to see Mona bring that family a little piece of home in such a difficult time. Thanks so much for breeding such wonderful puppies! Attached is a photo of Mona in her 'uniform'.
05/30/10: I just wanted to drop you a quick line to let you know Mona is doing great! She just passed her CGC test with flying colors and is now on to being certified to become a Delta Pet Partner Therapy dog. Although she can't take the test until she is one, she is already performing all the needed requirements, she is one smart cookie! In addition, she has enjoyed the start of summer with many trips to the local lakes to play. She loves fetching her bumper out of the water, I can tell it runs in the family! She is one happy, smart girl.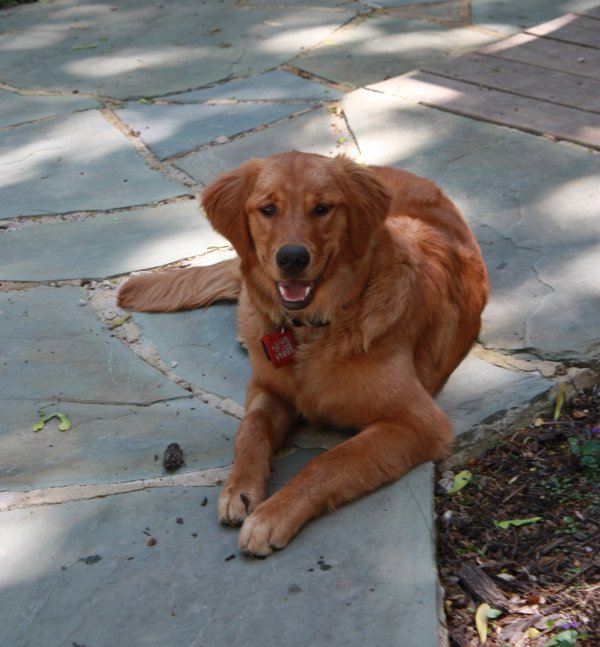 1/3/10: Hi! I hope you had a wonderful holiday season! Mona had a great first Christmas and loved experiencing her first snow! She thought it was a full service buffet! I've sent some pictures along, they always make me laugh. I just wanted to tell you I finally checked off my to do list Mona's AKC registration. We changed her official name slightly to FH Mona's Midsummer Night's Dream just in case you wanted to update the website. She is growing like a weed and has mastered the fine art of potty training (thank goodness :) and moved up to the next level in obedience school, so she is doing great!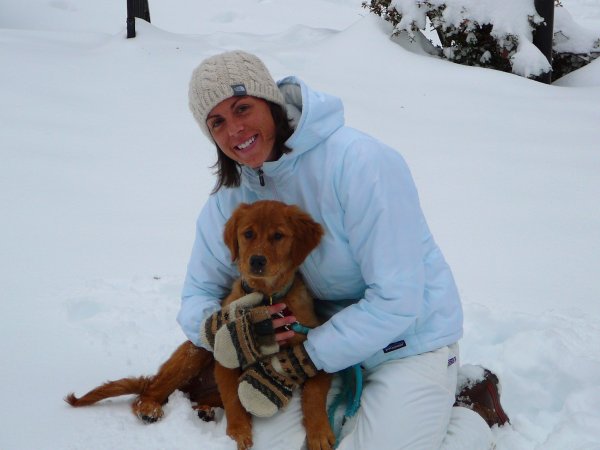 11/28/09: Mona is growing up so fast! She is learning quickly in obedience school and is loving being a part of the family. She and Oscar, our Schnauzer, are getting along wonderfully and they love to go on walks together and play in the backyard. She is a beautiful, healthy girl! Attached are some more pictures for you. I hope you had a happy Thanksgiving!
| | |
| --- | --- |
| | Mona at 12 weeks, 11/26/09 |
10/24/09: Mona is doing great! Here are some pictures of our first week in Richmond. She is growing so fast and learning quickly. She already has caught on to "sit" and potty training is going slowly but surely. But her favorite is still just carrying around the sticks and leaves in the backyard! Ahhhh the pleasures of fall! Hope your having a good weekend. Thank you so much again.

Mona at 8 weeks, 10/23/09


Mona at her new home, 10/18/09
Baby Pictures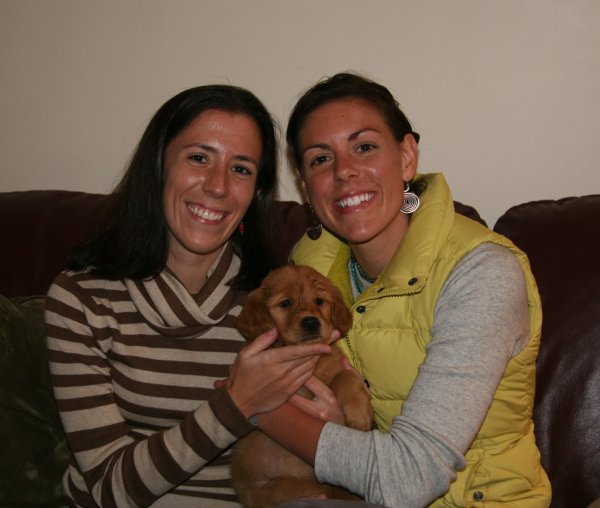 Mona, who was known here as Shellpink, now lives with Jes Hupe of Richmond, VA where she will be a pet and therapy dog and may end up getting to try out some obedience. Jes is on the right; her friend Liz is on the left and of course Mona is center stage where she is convinced she belongs!

Shellpink Girl at 6 weeks, 10/11/09

Shellpink Girl, 10/08/09

Shellpink Girl, 5 weeks, 10/04/09

Shellpink Girl, 9/30/09

Shellpink Girl, 4 weeks, 9/28/09

Shellpink Girl, 3 weeks, 09/20/09

Shellpink Girl, 2 weeks, 09/14/09

One Week Portrait, 9/7/09

Day old portrait, 9/1/09

254 Babbs Road, Lenoir City, TN 37771
Tel: 865-717-1019 || E-Mail:
This site &copy 2001-2013 by Fern Hill Farm All rights reserved.
Revised April 25, 2013