| | |
| --- | --- |
| | Callie Strub's Page |

Fern Hill Callie Theodore Strub("Callie") SS167172/04
Sire: Bravhart KC Run For The Border MH QA2 WCX ("Jessie")
Dam: Fern Hill Sunday At The Zoo SR96378601
Born January 28, 2020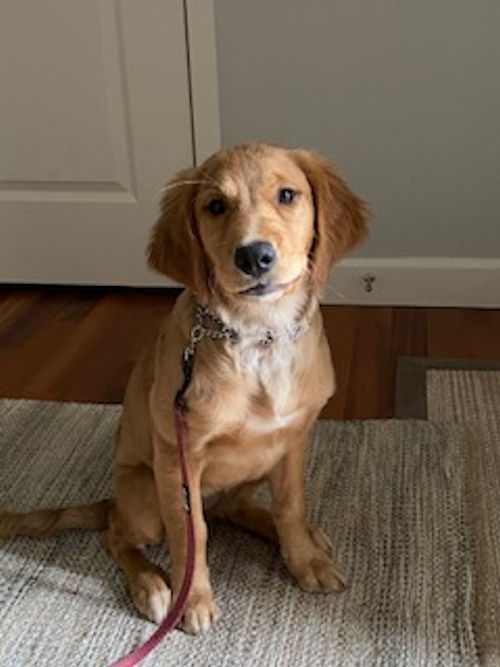 Callie Strub's 4-month portrait, May 28, 2020
Callie Strub was the fourth puppy born in Zoey's first litter, the "Green Girl". She has gone to Iowa to live with the Trip and Ellen Strub family. The Strubs previously owned a great uncle / littermate of Callie's grandmother Panda, Fern Hill Theodore Robert, who unfortunately died this past year. Callie's second name (Theodore) is in memory of her uncle. She will be doing some hunting and otherwise be an active family pet. With her sweet and spunky personality, she should do well in both roles!
News About Callie:
Email from the Strubs, 5/28/20: At four months, Callie is doing quite well. She's been thru basic obedience and starts intermediate on Saturday. She's smart as a tack, has learned quickly, all while having a bit of a sassy streak! She loves getting the morning paper and knew what to do the second or third time out. God forbid the neighbors don't get their paper quick enough, because she tries to grab theirs when we're out for walks. Current weight is 31 pounds. All in all she's a sweetheart and has blended into our family quite well. I think she'll be going for her "good citizen" certificate later this year so she can visit the hospital and local nursing homes. At least that's the direction we're leaning at the moment.
Baby Pictures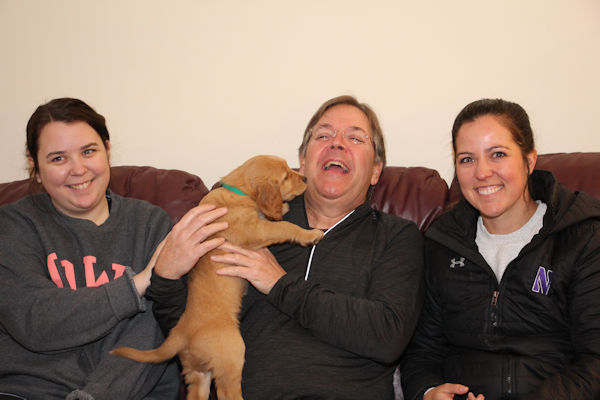 The Strub family with their new puppy Callie, March 21, 2020

Callie at 7 weeks, 3/17/20

Callie at 6 weeks, 3/9/20

Callie at 5 weeks, 3/3/20

Callie at 4 weeks, 2/25/20

Callie at 3 weeks, 2/18/20

Callie at 2 weeks, 2/11/20

Callie at 1 week, 2/4/20

Callie at 12 hours old, 1/28/20

Zoey and pups, 1/28/20

254 Babbs Road, Lenoir City, TN 37771
Tel: 865-717-1019 || E-Mail:
This site &copy 2001-2020 by Fern Hill Farm All rights reserved.
Revised May 31, 2020