| | |
| --- | --- |
| | Ted's Page |

Fern Hill Theodore Robert SR679046/06 ("Ted")
Sire: UH Trifecta's Shag-edelic*** MH CD WCX CCA VCX OS"Shag"
Dam: Fern Hill Pennyroyal CDX, JH, RE, TDI, CGC SR262975/06
Born May 28, 2011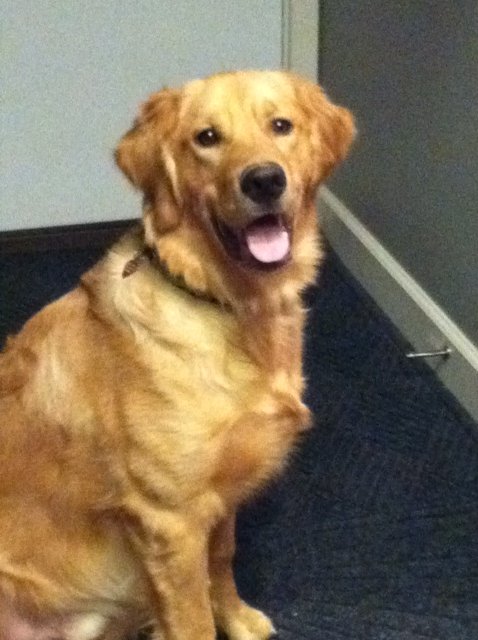 Ted is a handsome, cooperative and extremely friendly puppy. The biggest puppy in the litter, he was our son's favorite. He tested out as having terrific potential for hunting and field work, and from the first was one of the most loving pups in the litter too. He has gone to Iowa to live with Trip and Ellen Strub and their family. Trip hopes to do some hunting with him so we may get a chance to see how well he fulfills his potential. Until this summer, the Strubs also owned a 10-year old Speaker son, Bob, but unfortunately he died unexpectedly before he could meet his nephew. Ted's second name (Robert) is in memory of his uncle.
News About Ted
2/18/12: Sorry for the sparse updates. Busy household these days. Ted is doing very well. We're in week 5 of our 2nd eight week obedience classes. We'll probably do a 3rd 8-weeks and see where we're at. All the basics are down pat and so far so good with the off lead stuff. He's an unbelievable runner and generally we're worn out throwing before he's worn out retrieving. He is a whiner though if he doesn't think he's getting enough attention!
8/24/11: Ted is absolutely fantastic! Great personality & smart. Already bringing the newspaper in to Ellen in the a.m. "Attacked" the waves at Lake Okoboji & loved the water. Training classes start after the 1st of September, but he's already doing well with sit, stay and basics. Great pup and we're thrilled! We'll keep you posted.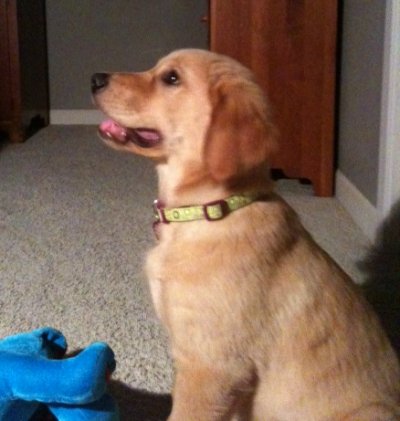 Ted at home in Iowa, 8/24/11


Baby Pictures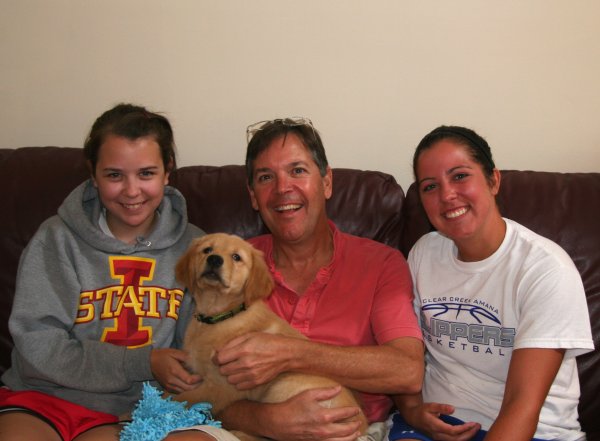 Trip Strub of Iowa and twin daughters Fran and Sarah with Ted (Green Boy) 7/31/11.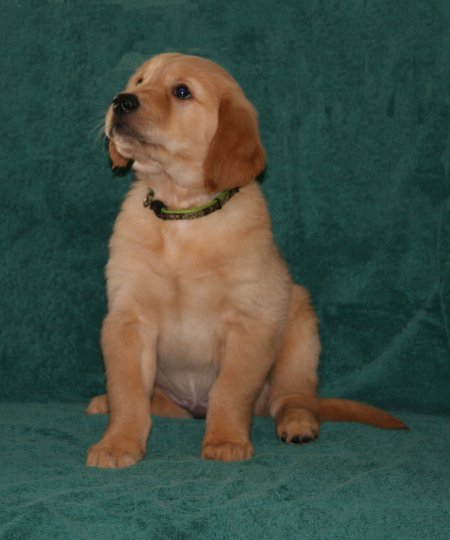 Ted at 7 weeks, 7/16/11

Ted, 7/15/11

6 weeks, 7/9/11

Ted, 5 weeks, 7/2/11

Sleepy Ted, 6/27/11

Ted and Knox outside,06/26/11

Ted outside, 6/26/11

Ted, 4 weeks, 06/26/11

Ted and friend Alyson 6/24/11

Ted at 3 weeks, 6/16/11

Ted at 2 weeks, 6/10/11

2 weeks profile, 6/10/11

1 week, 6/4/11

Ted at 1 day, 5/29/11

254 Babbs Road, Lenoir City, TN 37771
Tel: 865-717-1019 || E-Mail:
This site &copy 2001-2012 by Fern Hill Farm All rights reserved.
Revised February 19, 2012