| | |
| --- | --- |
| | Ted's Page |

Fern Hill Pilot in Command SR679046/07 ("Prince")
Sire: UH Trifecta's Shag-edelic*** MH CD WCX CCA VCX OS"Shag"
Dam: Fern Hill Pennyroyal CDX JH NAP RE CGC TDI SR262975/06
Born May 28, 2011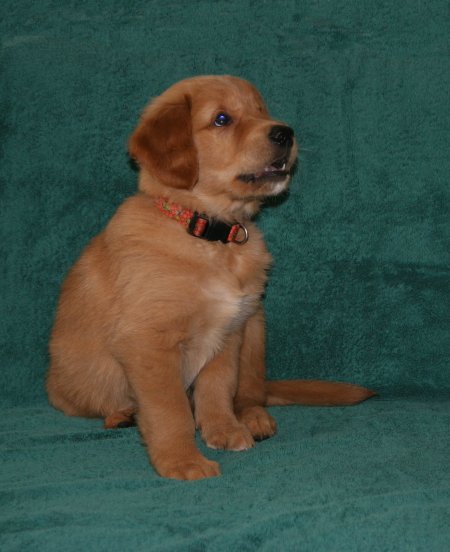 Prince is a very charming and scampy puppy with a great sense of humor and a core of problem solving ability and common sense. He has gone to the Southeastern Guide Dogs organization, where he is a candidate for their breeding colony. First, he has to successfully go through their program himself, which involves a year with a host family getting basic obedience training, followed by an intensive period of specialized training as a guide dog. If he does well in the training, and then passes all his breeding clearances, he will be retained by the school, placed with a host family, and will sire puppies that will be used as seeing-eye and other service dogs. We wish him the best of luck in this very worthwhile and challenging career! We are proud that Southeastern has chosen Fern Hill Golden Retrievers for a possible addition to their breeding colony.
Baby Pictures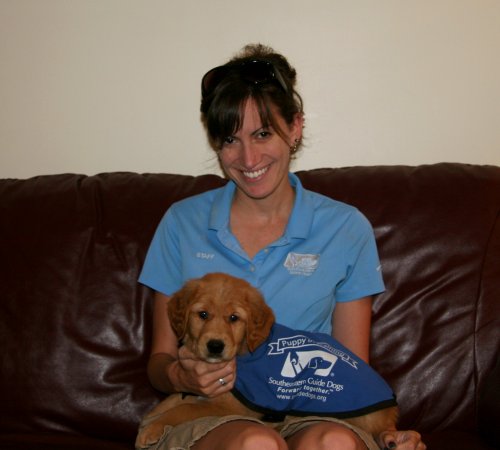 Prince with Jen Gerrity, Southeastern trainer and puppy acquisition coordinator, July 21, 2011.

Water practice, 7/9/11

6 weeks, 7/9/11

Prince at 5 weeks, 7/2/11

Prince outside, 06/26/11

4 weeks, 6/26/11

Prince at 3 weeks, 6/16/11

Kisses for Penny, 6/16/11

Prince at 2 weeks, 6/10/11

1 week, 6/4/11

Prince at 1 day, 5/29/11

254 Babbs Road, Lenoir City, TN 37771
Tel: 865-717-1019 || E-Mail:
This site &copy 2001-2011 by Fern Hill Farm All rights reserved.
Revised August 28, 2011