| | |
| --- | --- |
| | Robin's Page |

Fern Hill Robin Goes West("Robin") SS167172/06
Sire: Bravhart KC Run For The Border MH QA2 WCX ("Jessie")
Dam: Fern Hill Sunday At The Zoo SH SR96378601
Born January 28, 2020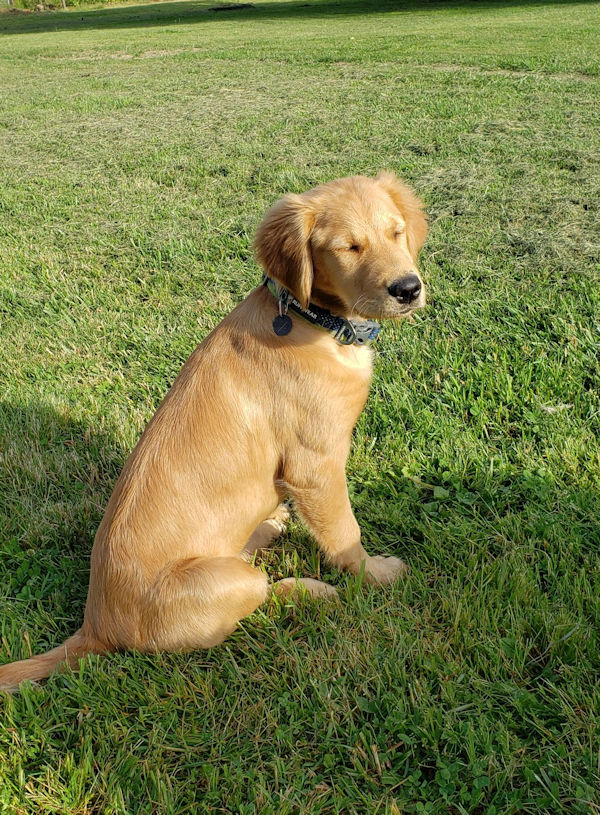 Robin at 4 months, June 3, 2020
Robin, the Mint Girl puppy, was the sixth puppy born in Zoey's first litter. We picked her out for our son and his wife, who live in Oregon along with mama Zoey's half sister Fern Hill St. Nimbus ("Nimbus&quot:). She goes west indeed! their airplane flight to come pick her up was canceled during the coronavirus pandemic, and the airlines stopped allowing puppies to be shipped. Eventually we made arrangements with a van trucking company that specializes in moving dogs -- we got the name from several pro field trainers who use them to ship dogs back and forth for training. So, at 14 weeks she finally got on the van one evening and 7 days later arrived at our son's home in perfect shape and happy with the world. She is enjoying living on their small farm and thinks this 'working from home' thing they are doing is the way life should be!
News About Robin:
| | | |
| --- | --- | --- |
| | Instant good friends! Robin with Nimbus 5/4/20 | Robin arrives at her new home and meets Aunt Nimbus, 5/3/20 |
Baby Pictures


-->

Robin Goes West -- starting her trip, 4/27/20

Robin's home for the week on her western journey, 4/27/20

Robin gets a bath before her trip, 4/27/20

Robin says goodbye to Jim

Robin at almost 2 months, March 25, 2020

Robin at 7 weeks, 3/17/20

Robin at 6 weeks, 3/9/20

Robin at 5 weeks, 3/3/20

Robin at 4 weeks, 2/25/20

Robin at 3 weeks, 2/18/20

Robin at 2 weeks, 2/11/20

Robin at 1 week, 2/4/20

Robin at 12 hours old, 1/28/20

Zoey and pups, 1/28/20

254 Babbs Road, Lenoir City, TN 37771
Tel: 865-717-1019 || E-Mail:
This site &copy 2001-2020 by Fern Hill Farm All rights reserved.
Revised June 3, 2020