| | |
| --- | --- |
| | Annie's Page |

Fern Hill's Back Home Again("Annie") SS167172/01
Sire: Bravhart KC Run For The Border MH QA2 WCX ("Jessie")
Dam: Fern Hill Sunday At The Zoo SR96378601
Born January 28, 2020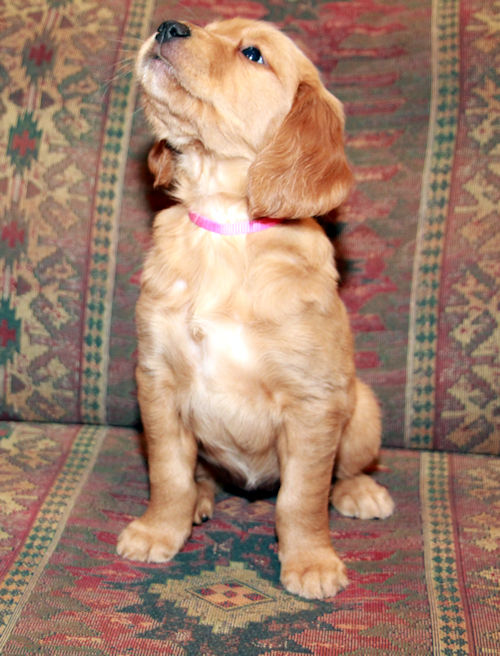 Annie's portrait, 7 weeks old
Annie was a pistol from birth! Also very outgoing and friendly towards everyone. Even as a young puppy, she was a huge fan of the water -- played in the water bucket, and was the first to go into the puppy wading pool. Her new family, John, Megan, and their five children in Texas, report that she is still amazing with her love of the water and swims like an otter. She is intended to be son Ian's first competition dog, assisted in training by John who formerly was very active in the field trial world.
News About Annie:
Email from Fred Ramsey, 5/28/20: Annie is doing great. We're working on basic obedience. She's good on sit and stay. Learning come/here and heel. She is very energetic and gets along great with Sadie (12-year old golden), two cats and five kittens. She is also curious about our sheep and cows whenever we go out. I'm probably most surprised by her swimming. She loves the water and swims like an otter. I think her registered name will be Fern Hill's Back Home Again (after a favorite John Denver song).
Baby Pictures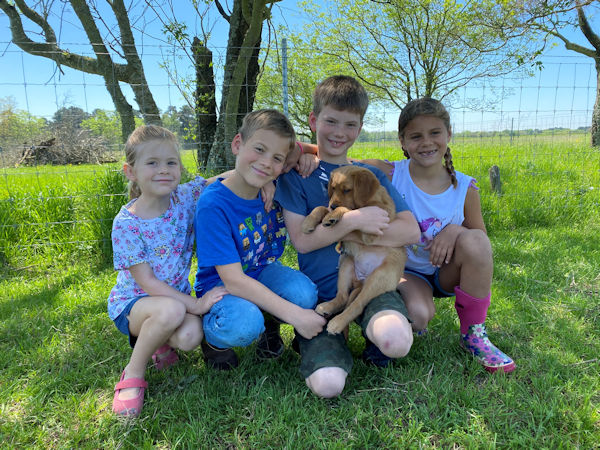 The Harris kids with Annie, 3/25/20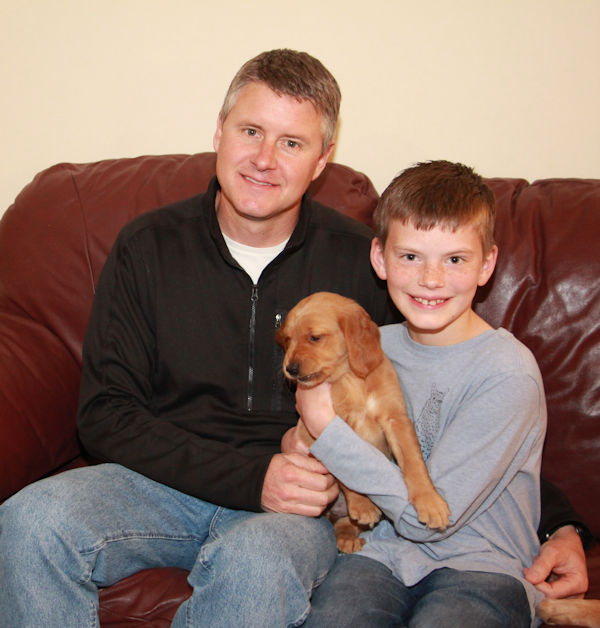 John and Ian Harris with their new puppy Annie, 3/17/20

Annie at 7 weeks, 3/17/20

Annie at 6 weeks, 3/9/20

Annie at 5 weeks, 3/3/20

Annie at 4 weeks, 2/25/20

Annie at 3 weeks, 2/18/20

Annie at 2 weeks, 2/11/20

Annie at 1 week, 2/4/20

Annie at 12 hours old, 1/28/20

Zoey and pups, 1/28/20

254 Babbs Road, Lenoir City, TN 37771
Tel: 865-717-1019 || E-Mail:
This site &copy 2001-2022 by Fern Hill Farm All rights reserved.
Revised January 7, 2022