| | |
| --- | --- |
| | Rae's Page |

Fern Hill Jessie's Girl Rae("Rae") SS167172/05
Sire: Bravhart KC Run For The Border MH QA2 WCX ("Jessie")
Dam: Fern Hill Sunday At The Zoo SH SR96378601
Born January 28, 2020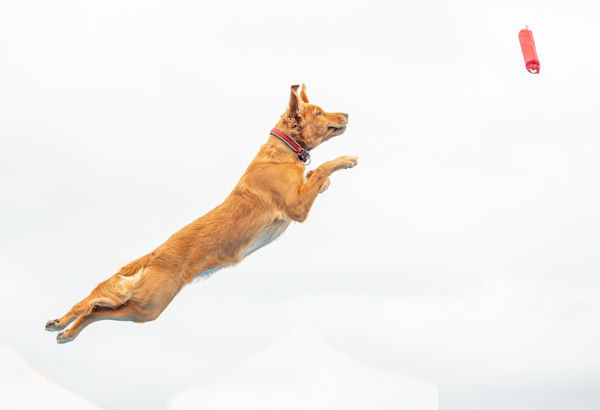 Rae winning Senior Dock Diving competitions at 7 months, August 31, 2020
Rae, the Red Girl puppy, was the fifth puppy born in Zoey's first litter. She was one of the sparkplugs of the litter, always into something and so full of zip! She has gone to Indiana to live with Fred and Brenda Ramsey and their several other dogs, where she will be trained for competition obedience, agility, and maybe some field work as well. Fred previously has worked with Schutzhunds, so this is a little bit of a different thing for him. Her titles as of winter 2021 are: SEA is Scent Work Exterior Advanced; SBA is Scent Work Buried Advanced; and SWN is Scent Work Novice. She is also a senior dock diving champion and was invited to the fall 2021 Regional championship competition but it was too far to travel. Rae has now completed all her clearances (you can see them on her K9data.com page here, and Fred and Brenda are planning a breeding in fall 2022. If you might be interested, send me an email and I will forward it on to the Ramseys.
News About Rae:
Email from Fred Ramsey, 8/3/20: Rae did great in her first Dock Diving event. She did 8 jumps over two days, averaged 15'8" and her personal best was 17'6". Rae earned her Dock Diving Senior title, jumping over novice and junior levels. It was a very fun two days. She loves the water. When we got home, she ran to the lake and jumped in. We weren't able to get many pictures because of conditions. I attached a video and picture of her first jump. Hope to get some good ones from the event photographer.
| | |
| --- | --- |
| | |
Email from Fred Ramsey, 5/25/20: Rae is growing like a weed, hopefully her body will catch up to her legs soon. She finished all shots last week. My vet was very happy with her. Her weight is about 27 pounds, lean but looks good. Her basic training is looking very good. We haven't been able to socialize much with her because of everything going on [pandemic!], but I don't see it being a problem. I finished building a dock for dock diving last week. Rae will jump off if I'm out in the water. The bumper is not enough of an incentive yet. She loves the water.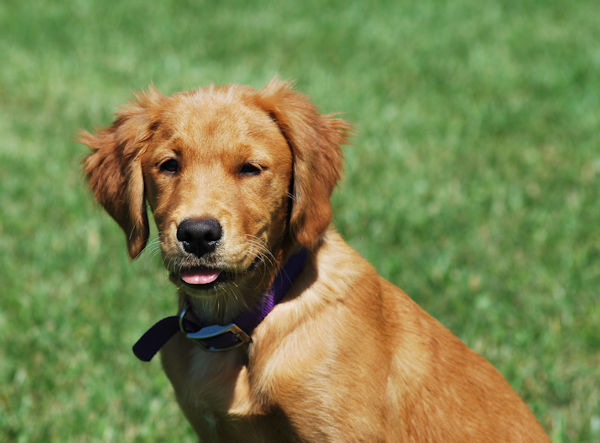 Rae at almost 4 months, May 24, 2020
Email from Fred Ramsey, 4/23/20: She is a ball of energy that loves to sleep on the couch next to me. She has great drive and attention (for short periods). She is starting to heel without jumping and mugging my hand. Rae is everything I was looking for in a puppy.

Baby Pictures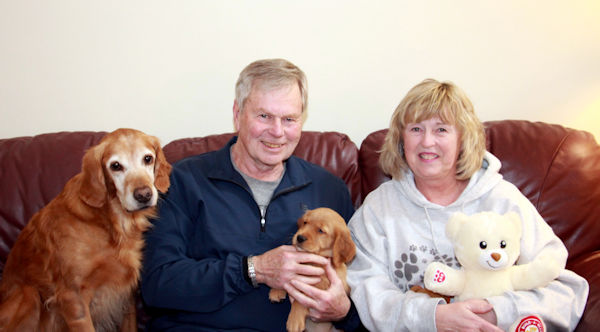 Fred and Brenda Ramsey with their new puppy Rae and grandmother Panda, March 18, 2020

Rae at 7 weeks, 3/17/20

Rae at 6 weeks, 3/9/20

Rae at 5 weeks, 3/3/20

Rae at 4 weeks, 2/25/20

Rae at 3 weeks, 2/18/20

Rae at 2 weeks, 2/11/20

Rae at 1 week, 2/4/20

Rae at 12 hours old, 1/28/20

Zoey and pups, 1/28/20

254 Babbs Road, Lenoir City, TN 37771
Tel: 865-717-1019 || E-Mail:
This site &copy 2001-2020 by Fern Hill Farm All rights reserved.
Revised November 1, 2020