| | |
| --- | --- |
| | Jude's Page |

Fern Hill Don't Let Me Down ("Jude") SS167172/08
Sire: Bravhart KC Run For The Border MH QA2 WCX ("Jessie")
Dam: Fern Hill Sunday At The Zoo SH SR96378601
Born January 28, 2020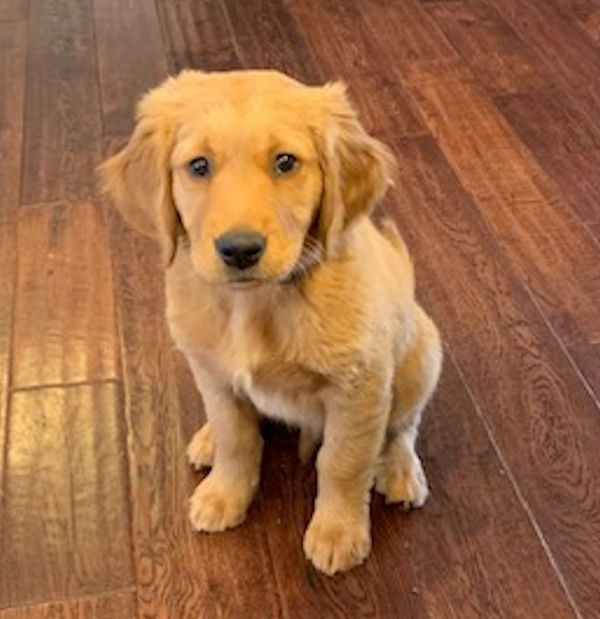 Jude at 11 weeks, April 9, 2020
Jude, the Black Boy puppy, was the eighth and final puppy born in Zoey's first litter. He was a pretty amazing guy from the first, and we are delighted that he is stying in Tennessee withe Brad Turner and family. Brad plans to compete in Hunt Tests and if Jude is good enough, in Field Trials. We are excited about this and wish them all the best!
News About Jude:
Email from Brad Turner, 5/29/20: Jude is doing great. He loves feathers and retrieving. We've been working on Obedience and yard work. He's learning everything really fast and I'm quite happy with him. The kids are smitten.
Email from Brad Turner, 4/8/20: Thought I'd let you know how well the new "brothers" are getting along. Jude is fearless?. His obedience is going really well and he LOVES duck wings! We couldn't be happier.

Email from Brad Turner, 3/30/20: Hello! We are doing pretty good. Jude has settled in. He seems to be getting the idea for the potty training. We've had a couple of accidents, but it was more our fault than his. I believe we are going with Fern Hill Don't Let Me Down for his registered name. The kids love that Beetles song, Hey Jude? Growing like a weed. Weighed 13 lbs today…

Baby Pictures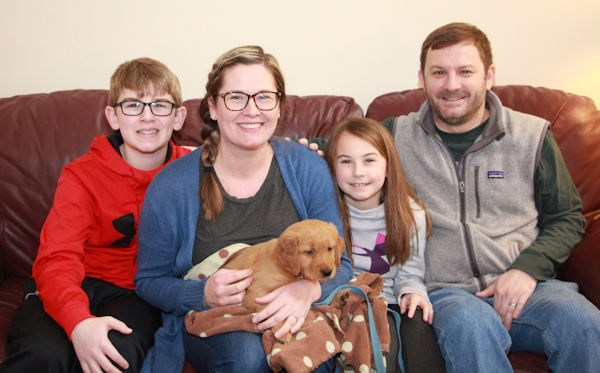 Brad Turner and family with their new puppy Jude, March 17, 2020

Jude at 7 weeks, 3/17/20

Jude at 6 weeks, 3/9/20

Jude at 5 weeks, 3/3/20

Jude at 4 weeks, 2/25/20

Jude at 3 weeks, 2/18/20

Jude at 2 weeks, 2/11/20

Jude at 1 week, 2/4/20

Jude at 12 hours old, 1/28/20

Zoey and pups, 1/28/20

254 Babbs Road, Lenoir City, TN 37771
Tel: 865-717-1019 || E-Mail:
This site &copy 2001-2020 by Fern Hill Farm All rights reserved.
Revised June 3, 2020