| | |
| --- | --- |
| | Payton's Page |


Payton Of Fern Hill SR500760/05 ("Payton")
Sire: Trifectas Repeat Performance *** MH,UD,CCA,VCX,WCX,OS,CGC,Can CD
Dam: Adirondac Hilfy of Fern Hill CDX OD CCA TDI CGC ASCA-CD SR017085/01
Born June 5, 2008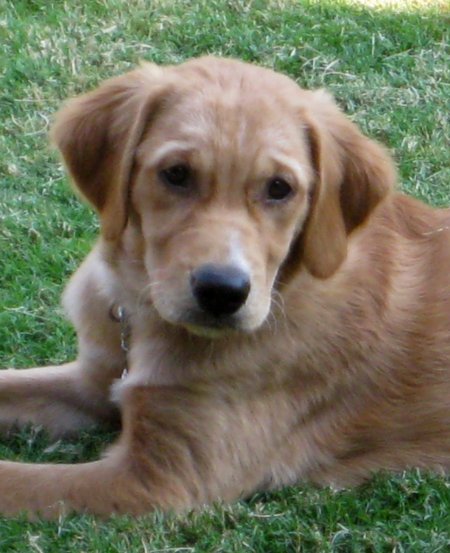 Payton at 3.5 months, 9/27/08.
The first girl born, Payton was the smallest puppy in the litter. She says she may look dainty, and have meltingly beautiful eyes, but she is feisty and didn't let the bigger kids give her any guff. She was also very fierce with the stuffed toys...and the duck wings...and she loves to swim. She has gone to her new home in Oklahoma City, where she joins her older half-sister Lis from Hilfy's first litter. She will be the special companion for the Walker's son Grayson, who was working and not able to make the trip to pick her up.
News about Payton
December 2, 2008: I have pics to send you of Payton but they are all on the kids computers. I will try and get Mac to send you some tonight. I keep thinking I will get a minute and sit down to catch you up but will take a moment now. We, and Grayson in particular, are as much in love with Payton as we were with Lis. Grayson did not want to leave her after being home with her this Thanksgiving break. She is such a sweet, sweet puppy. Still pestering Lis 24/7 but Lis loves it. Payton has joined Lis at Canine Social Club 2 days a week and seems just as active. The owners just crack up that neither of them ever crash and burn! Put Payton in her training collar for the invisible fence so we will see how that goes the next couple of weeks.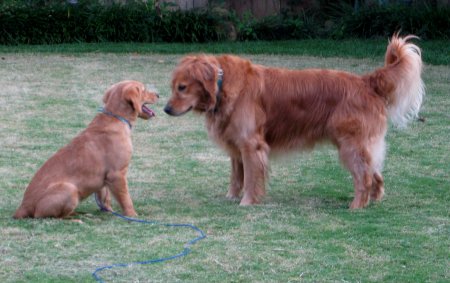 Sept. 27: Payton with big sis Lis (Speaker x Hilfy, Litter #1)
September 3, 2008: Not unlike children, a puppy left alone for only moments can get in some rather odd predicaments! Mackenzie and I were around the corner in the kitchen looking at pictures from her birthday party on the computer when I heard one of the little stone figurines by the lamp fall over. When we came around the corner we found Payton on the table. How she made it past the coffee cup and candle holder without knocking anything off I will never know. Notice the empty treat jar with the purple lid - do we think she is that smart???? Probably....

She is the most precious thing - really looks like a gangly teenager at this point. Really is stretched on her body and legs are really long, paws gigantic. The hair on her tail is unwinding and looks like maybe a little wave coming up on her back.

We nicknamed her Thumper for a while - she was really scratching a lot and her little belly looked dirty (even after her bath) so took her to the vet and he said she had a case of puppy pyroderma (skin allergies). On antibiotics and it has cleared up.

I am wishing I remembered how long it took Lis to sleep through the night - Payton wakes up between 4 and 5 am regardless of what time she crashes. We took her on a long walk with Lis last nite and I was surprised she made it. Thought maybe she'd crash for longer but it was 4:13 when she needed to go out this morning. Sometimes she will go right back to sleep and sometimes she is ready to rally.

Only problem I am having is that Lis destroys all of Payton's cute little chew toys - she is disinterested in her own which is ok because Payton loves them. Lis and Payton provide comic relief about 6 a.m. and again about 10 p.m. when we have the All Star Wrestling Match and Puppy Frenzy all rolled into one. Payton just pounces on Lis, bites her, steals a toy and then takes off running - she ducks under the kitchen table, behind her crate then runs around my island in a circle and retreats again under a chair so Lis can't get her. I'm not sure what she will do when she won't fit. Lis remains her sweet self altho I think she misses chillin' with me in the morning. She doesn't wake up with quite as much energy as Little Bit.

Again, a wonderful choice of puppies for us. Everyone here just cracks up that we now have 2 dogs when we had none for so long. I can't imagine life without them. They are really such precious gifts. Thanks for sharing your canine family with us!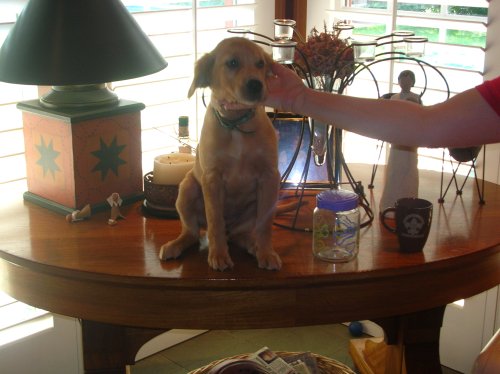 Payton climbed onto the table all by herself -- oh great!
August 19, 2008: Always find myself apologizing for being so busy but....Grayson and Payton have this love thing going on already - he thinks she is so precious, and she thinks he is too cool. She follows him around with her head up and tail wagging! That being said, Mac is her snuggle buddy, and the only one who can get her to sleep for hours (because she does). Lis is very patient with Payton who is quite the little antagonist. I'm not sure who is the biggest instigator. When one of them is chilled out, the other gets a toy and runs it right by the other's face. We have jokingly said Payton's real name should be Fern Hill's Pouncin' Payton. It has been comic relief. She will get clear across the kitchen and just take off running, jump right on Lis' back and start nipping away. I am so pleased at Lis' disposition about it - she was pretty used to chillin' with me and Mac, and that's not really an option at this point. Payton has gotten used to her crate to sleep in - in fact this last week she just goes in when she feels like crashing. She has politely taken to Lis' bed, toys, crate and food bowl if she gets the chance. She wolfs down her own food and then goes right for Lis'. Lis has had to learn to eat right when we put her food out because I put it up if she doesn't.

Grayson flew to LA to drive back with his roommate for this year so they will be in Wednesday for a few days before taking off for school. He is sad because he knows he will miss lots of Payton's growing time. I will be spending more time working here at the house so Payton can play. Vet asked that we keep Lis home from doggie daycare until Payton got all of her shots so she will be ready to get back to that. I am anxious to see if that affects her attitude towards Payton.
July 28, 2008: We made it!!! All in all we had a good trip home - a few 'flow throughs' as you called them - about the time Payton would wake up and I would pull off at the next exit she would squat - we had a pad and towels in the car just in case. I don't think Mac slept much last nite - we took the crate into the hotel but Payton really didn't like it much - no surprise. Didn't want to let her cry in the hotel so she cuddled with Mac and Lis on the bed. Mac was sweet to let me sleep since I did all the driving today.

Lis had a very nonchalant attitude about Payton the whole trip but was a little jealous we could tell. She barked at her a couple times when we got home when Payton grabbed her toy and got up on her hind legs to drink Lis's water and try to eat her food. Lis of course retaliated by heading for Payton's food and water bowl. This should be fun! Payton has already decided the fringe on my kitchen rugs looks great - so the distraction technique will be huge! Payton is truly a sweet, precious puppy - thank you!
Baby Pictures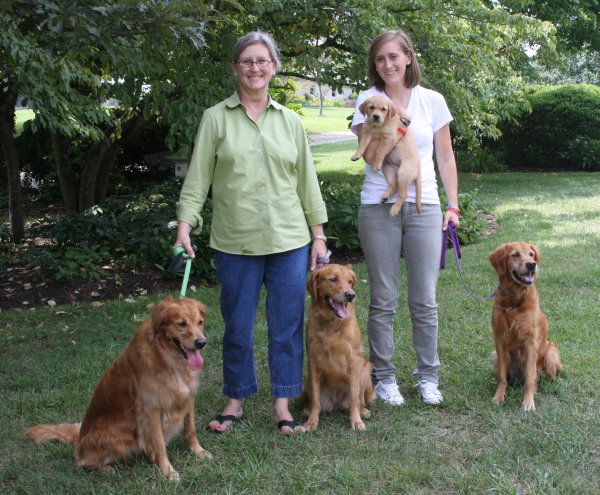 Payton with new owners Jill and Mackenzie Walker, 7/27/08. Other dogs in picture, left to right:
the Walkers' Lis (our Penny's littermate), Penny, and mama Hilfy.
| | |
| --- | --- |
| 7-week portrait, 7/24/08 | Pink's 6-week portrait, 7/18/08 |
| Pink Looks Prim, 7/10/08 | 7/10/08 |
| 7/3/08 (Photo credit: McKenzie Pearce, FTW Photography) | 7/1/08 |
| 6/24/08 | 6/17/08 |
| 6/12/08 | Pink Girl, 6/6/08 |

254 Babbs Road, Lenoir City, TN 37771
Tel: 865-717-1019 || E-Mail:
This site &copy 2001-2009 by Fern Hill Farm All rights reserved.
Revised March 26, 2009