| | |
| --- | --- |
| | Lis's Page |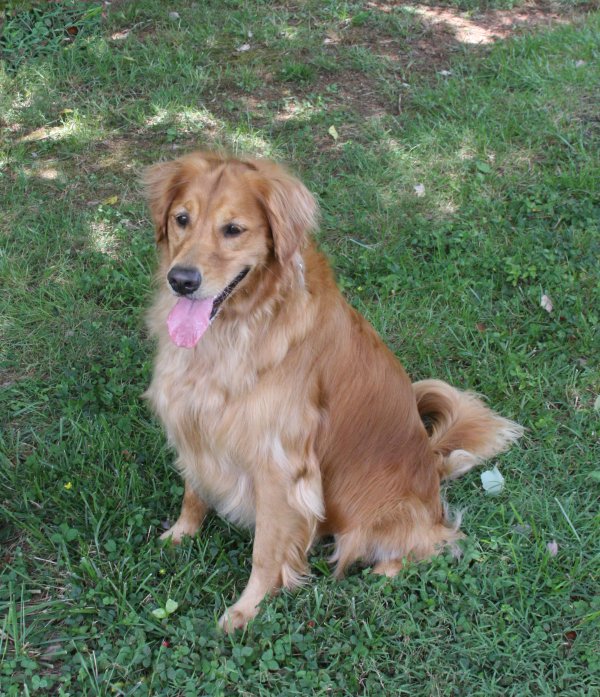 Lis, 7/27/08 on a visit to Fern Hill



Lis was puppy number 3 in Hilfy's first litter, and was originally known as "Pink" as she wore the pink rickrack. She came out in a hurry, but later took a more relaxed outlook on life. Always one of the sweetest and friendliest pups, she was one of the first to enjoy water sports -- the wading pool, the water dish..... Since she has moved to Oklahoma City, the Walkers report that she has taken up gardening. Or should I say, she takes up gardens.... she's a grass ripper like her mother Hilfy and several other puppies from this litter. As of July 2008, she has taken on the responsibility of raising her little half sister Payton, which should keep her busy for sure.







News About Lis, 2008
December 2, 2008: Payton is still pestering Lis 24/7 but Lis loves it. Payton has joined Lis at Canine Social Club 2 days a week and seems just as active. The owners just crack up that neither of them ever crash and burn!

September 2, 2008: Only problem I am having is that Lis destroys all of Payton's cute little chew toys - she is disinterested in her own which is ok because Payton loves them. Lis and Payton provide comic relief about 6 a.m. and again about 10 p.m. when we have the All Star Wrestling Match and Puppy Frenzy all rolled into one. Payton just pounces on Lis, bites her, steals a toy and then takes off running - she ducks under the kitchen table, behind her crate then runs around my island in a circle and retreats again under a chair so Lis can't get her. I'm not sure what's she will do when she won't fit. Lis remains her sweet self altho I think she misses chillin with me in the morning. She doesn't wake up with quite as much energy as little bit.

August 19, 2008: Lis is very patient with Payton who is quite the little antagonist. I'm not sure who is the biggest instigator. When one of them is chilled out, the other gets a toy and runs it right by the other's face. We have jokingly said Payton's real name should be Fern Hill's Pouncin' Payton. It has been comic relief. She will get clear across the kitchen and just take off running, jump right on Lis' back and start nipping away. I am so pleased at Lis' disposition about it - she was pretty used to chillin' with me and Mac, and that's not really an option at this point. Payton has politely taken to Lis' bed, toys, crate and food bowl if she gets the chance. She wolfs down her own food and then goes right for Lis'. Lis has had to learn to eat right when we put her food out because I put it up if she doesn't.

Vet asked that we keep Lis home from doggie daycare until Payton got all of her shots so she will be ready to get back to that. I am anxious to see if that affects her attitude towards Payton.

July 28, 2008: We made it!!! All in all we had a good trip home. Lis had a very nonchalant attitude about Payton the whole trip but was a little jealous we could tell. She barked at her a couple times when we got home, when Payton grabbed her toy and got up on her hind legs to drink Lis's water and try to eat her food. Lis of course retaliated by heading for Payton's food and water bowl. This should be fun!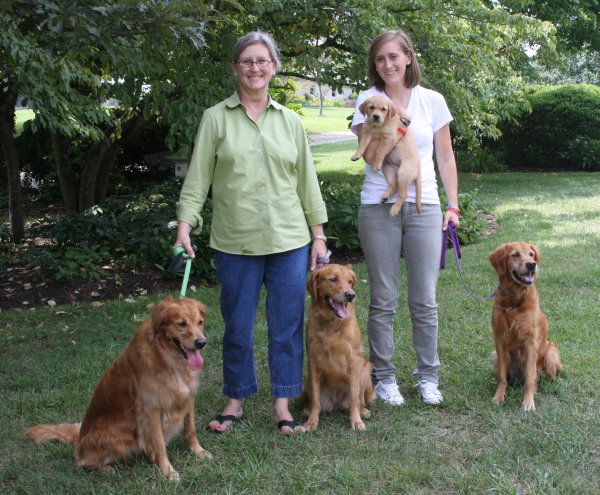 Family Reunion at Fern Hill! The Walker, Jill and Mac come to pick up their new puppy Payton 7/27/08. Other dogs in picture, left to right: the Walkers' Lis (our Penny's littermate), Penny, and mama Hilfy.
News About Lis, 2007
November 2007
Sometimes I wonder if you all are disappointed that Lis is the only just "pet" of the litter. Everyone else is working so hard winning awards...you know that Lis wins every award at our house just for being such a sweetie!

Grayson was home from school this weekend and begging for another puppy so hope sometime soon you will have puppy news! Lis really misses him - he said last nite at dinner that she is the sweetest beggar he knows. She has never been fed from the table although she has always been a napkin snitcher, but last nite she stood perfectly still with her head in Grayson's lap. He was dying....he said "Mom look at those sweet eyes and precious face." They crack me up. Especially with the cooler weather, and on the weekends, Mac loads Lis up and they go the the park and play soccer, etc. I am never sure who is more tired when thay arrive home! Mac drives a Forerunner which Lis will easily jump into anytime, but when I try to get her to hop in the back of my Durango, she pulls that helpless puppy stuff and acts like she can't get in. I have learned to just wait her out, or ask if she is ready to go play with her boyfriend, Cowboy, and that usually motivates her to hop right in.

Since the boys are gone the digital cameras are gone as well so sorry I haven't sent any new pics.


Spring 2007
Picked Lis up yesterday from the Canine Social Club where she plays, and is groomed, and she had blue bows in her hair - not sure how we all feel about bows, even if she is a girl!! John Powell is home for the weekend and it just cracks me up to see him on the floor with her. Grayson has taught her to catch Goldfish crackers mid air, and continues to have the most rapport as far as obedience goes, and Mac, well Lis is pretty mobile and very, very spoiled with her. Sometimes it seems like she has been part of the family forever - and what a sweet blessing she is.

Lis and I have been walking now about 3 miles every morning at 6 so she likes to be out and about early. She can hardly sit still after I finish my coffee while I am putting on my socks and shoes. It just kills her to have to sit at the door until I go out first. She got quite a soaking on Friday as one minute it was as nice as could be and the next minute torrential downpour, and we were still a mile from home. Glad she like to get her hair blown dry! Mac still tells her everyday how much she loves her, and that she is her best friend ever. I love to hear and watch them together.

Hadn't had her out front much since winter, and I have invisible fence just around the perimeter in the front yard. When she saw Snickers, the labradoodle that lives next door out in his yard she took off and of course, sad to say, got nuked by her collar. She was not a happy camper, but now will not go near that side of the drive. Quick learner, and Mac still can't stand the fact we have it anyway.
| | |
| --- | --- |
| Lis the Water Dog | Lis by the Swimming Pool |
News About Liss, 2006
September: Lis has so endeared herself to all of us that we really do want another golden. I have a friend who has a female named Grace that is almost the exact age as Lis. Her husband is tired of replacing garden hoses and says she needs to get rid of the dog. I actually suggested that she take Grace to doggies day out (the Canine Social Club, ha!) where I take Lis - they have anywhere from 6 - 9 goldens a day there. They just laugh at Lis hogging up the baby pools and are amazed by her energy. We can count on a mellow pup for the day following. Lis slept with Mackenzie the other night for the first time and did fine. I wanted to make sure we were past the furniture chewing stage. I keep telling Mac she still needs to watch her as at any given moment she could still chew on about anything! Lis has still been hot after the grass but not too bad with the digging anymore. We put up the invisible fence but there are several bushes she can still trim quite handily.

July: We talk often about how it seems like we've had Liss forever, and wonder why we waited so long to have a dog. That being said, it was absolute perfect timing - all three kids love her dearly and are so helpful in caring for her. I'm not sure if we had gotten her when they were younger if I would have felt the same. We have gotten the biggest kick out of my 21 year old John Powell who is Mr. Neat & Clean Freak - Liss licks on him constantly, and to see him on the floor hugging this dog is just so awesome! Although she is Mac's dog and they are truly pals, Grayson is the one who seems to command the most respect from Liss. She really listens to him when he talks to her and "performs" more consistently for him that the other 2 kids. Mac of course encourages her to jump (says its doggie hugs), lets her on the furniture and spends hours cooing and talking sweet to her. I do have pictures to send but haven't had a minute to do it yet.

We take Lis 2 - 3 days a week to play at the "Canine Social Club." Mac fell in love with all the dogs and one day asked the owner if she needed any summer help. OF course the owner jumped on that offer, so Mac worked with anywhere from 25 to 50 dogs a day. She fell in love with Liss' playmates, a golden about her age named Cowboy, who is her BEST friend, another golden named Cinnamon, the elderly, most respected golden "Ma Belle," and a black lab named Layla. The couple that owns the CSC just laugh at Liss and love her. Before she arrived there, they said they thought Cowboy had the most energy, but now they say it is too close to call. They tell us the two of them go non stop from 7:30 am till we pick them up at 6 pm. They say the rest of the dogs start pooping out in the heat in the early afternoon and will crash inside in the shade, but not Liss and Cowboy. They play the entire day, especially in the wading pools. Liss is usually still soaked when we pick her up.
| | |
| --- | --- |
| Lis chillin' | Drinking or getting cool? |
| Lis and her buddy Mac | Lis with Grayson |
February: Here are a couple pics of Lis during the late summer...We will continue to take and send more recent photos soon. We love Lis so much we might be return customers (hopefully kidding). Yard looks like a minefield and although pool is freezing, Lis still gets in whenever the opportunity presents itself.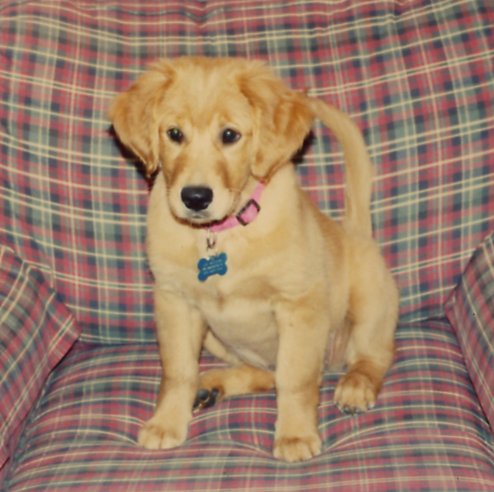 Lis at 4 months
| | |
| --- | --- |
| Lis still likes to swim. | Lis, Mackenzie, and friend |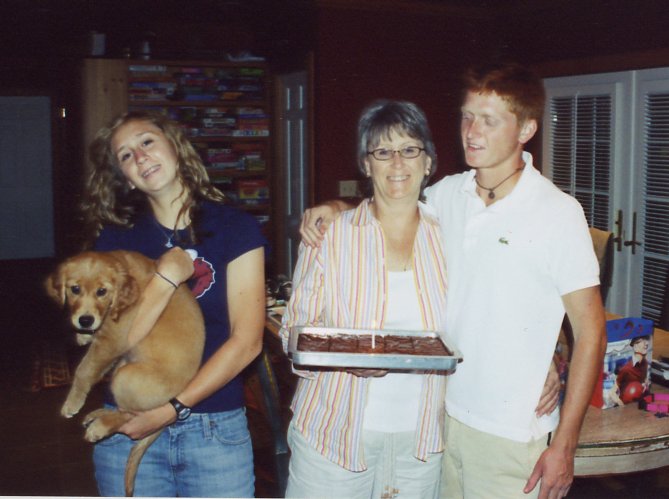 Lis with Mackenzie, Jill, and Grayson Walker
News from the Walkers, October 6, 2005
Lis weighs in at 29 pounds - her tail is unfolding, her coat is fairly curly on her back but still has puppy fuzz at head and ears as well. She definitely has Mackenzie's number - all she has to do is look at Mac with that sweet face and Mac just melts. Lis spends part of every day in the back yard where she can run and play, get in her wading pool, onto the porch to sleep in the shade, and of course dig in her favorite flower bed!!!

She finally found the swimming pool too much to resist just last week - she runs 4 or 5 laps around it and then jumps in on the stairs and splashes around for a while- gets out again and runs full speed through the yard, does a couple more laps and back in again. Her favorite toy is a stuffed duck that squawks when she bites or steps on it. She tosses it into the air and grabs it again, stops to chew on it for a while and then brings it to us to toss away.

Lis sits and shakes on command (now even without a treat as motivation). We have been working on down but she isn't quite there yet. Come works fairly well, her stay duration is about 10-15 seconds. She is totally potty trained - she even knows where her leash hangs and goes to get it when she wants to walk.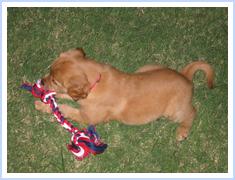 Lis at 8 weeks, enjoying her new toys in Oklahoma City.
Baby Pictures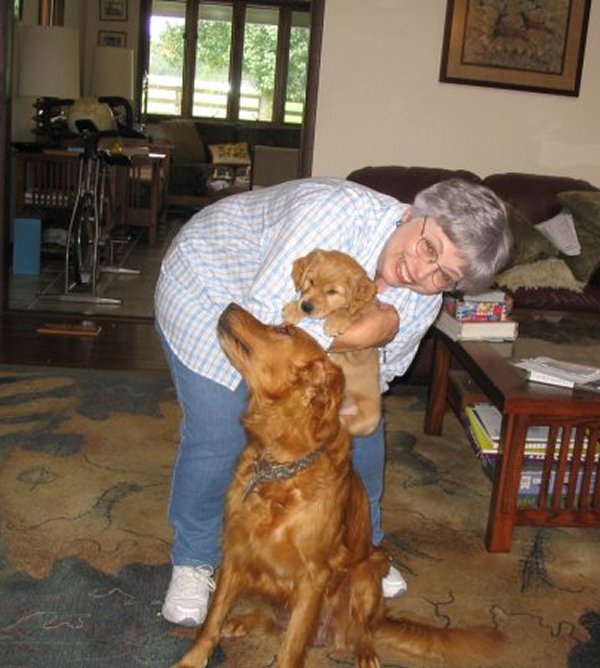 Lis says goodbye to Hilfy as she heads out the door with the Walkers' friend Carol.

Baby Pictures
| | |
| --- | --- |
| Pink, nearly 6 weeks - July 6 | Pink and McKenzie, July 2 |
| Pink explores the out-of-doors, June 22 | Pink explores the living room, June 21 |
| Pink, June 10 | Pink, June 1 |

254 Babbs Road, Lenoir City, TN 37771
Tel: 865-717-1019 || E-Mail:
This site &copy 2001-2009 by Fern Hill Farm All rights reserved.
Revised April 10, 2009