| | |
| --- | --- |
| | Athena's Page |



center>



Fern Hill Athena SR262975/08
Sire: AFC AFTCH Rosehill's Mr. Speaker MH OS FDHF CCA
Dam: Adirondac Hilfy of Fern Hill CDX OD CCA TDI CGC ASCA-CD SR017085/01
Born May 28, 2005
Height: 22" Weight: 60 pounds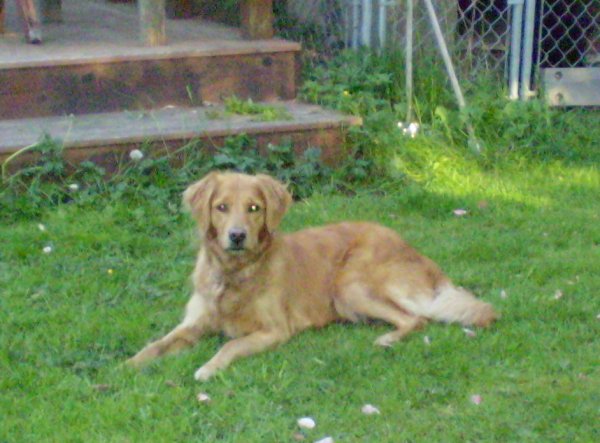 Athena Looking Regal, Fall 2007
Athena was the last puppy born in our May 28, 2005 litter. She was probably last because she was too busy doing something else and forgot to get in line! She's the most adventurous puppy from this litter, full of energy, loves to talk, and was always getting into things while living at our house. She's ultra brave -- loud noises don't phase her a bit -- she just barks back. She's always been a climber -- climbed onto a side-turned laundry basket at 4 weeks, was able to climb out of the 30" high dog pen using the sides like a ladder at 8 weeks, and the first thing she did at her new house was climb onto the table.

Because of her indomitable personality, we were very pleased that she was purchased by Quincy Vidauri in Seattle, Washington, as a future Search and Rescue (SAR) dog. It's appropriate that our most adventuresome puppy went the longest distance away -- the trip didn't bother her a bit! See updates below.

Athena's puppy name was "Lemon" for her yellow collar.
News and Pictures -- 2007
| | |
| --- | --- |
| Athena fence walking, Fall 2007 | Athena climbing the ladder, Fall 2007 |
December 18, 2007
I am still working with Athena on the Urban Search and rescue. I have had a lot on my plate. We took a preliminary test and she did good but did not pass. We need more work on the down stay out of sight, and the directionals. She is getting the hang of climbing the ladder. We know she likes to be up on things and still gets on the table if she can get away with it while I am gone. She is a wonderful addition to our family. I love her so. We will try again to pass the fundaments skills assessment this spring. Until then I am just building her confidence and letting her have fun as a good dog.

On the test, apparently, in ATHENA fashion, she sat up, stood, looked around, lay back down, stood, lay down and rolled and played on her back, then stood and waited. However, she was more than a body length from where she began.

July 16, 2007
I really will get the photos of Athena on the ladder out of my camera and to you... She is also doing really great on her search work.... Feeling pretty frisky (which I totally encourage), although I expect she would be like Penny if ever I get serious about her CD (she is so social, and loves to visit too.) I am glad, I have been taken my time, because lately she has so much more confidence. I think if I would have rushed her she would not feel so confident (She has started marking over everyone she can). But is still the sweetest thing you ever could ask for.

May 29, 2007
Athena is a kindred spirit as far as the water, mud & wet grass... She says bring it on. When going for a walk she will take herself for a dip in any kind of water, to her mothers dismay. Remember we are in the northwest & the water sits in creeks that are not flowing that fast, so she comes out thinking she smells great, rubbing her ears in the dirt, looking like a drowned rat.. I love her so....

I have been taking it slow with her, so glad I did. This weekend Athena & I visited a friend who is an obedience trainer, Athena & I both got schooled. Athena is very good at getting folks to engage, and getting quite sassy in with her adulthood...(which I am happy, as it goes hand in hand for search)... My friend advised me on how to be firm with her, yet not break her great spirit.... Oh, she takes a verbal correction so hard.... so I just pump her with sweet talk, and give matter of fact physical corrections..

She is going to make us all proud. I did get some pictures of her climbing a ladder that I will get to you soon (she is not afraid of getting up on things). I still occasionally see signs that she has been on the kitchen table.

April 2007
She is a strong happy girl, really starting to enjoy search work!!! Now that we are getting to go on the rubble and she is walking the ladders, I will get some action shots...

March 26, 2007
Athena is coming along wonderfully....I will make it a point to get some photo's of her training... She is a lot like hilfy, not to worried and very trustful.. (so nice) especially since my Chessie, is constantly on alert...

February 20, 2007
Athena is doing great, she is such a love, I am taking all training with her slow, she is doing very well with her bark work and really starting to use her nose.... She is such a love and brings great Joy to our life.. I am glad you do what you do, keep doing it, the joy you bring to those of us fortunate enough to get a puppy is amazing...
At Quincy's -- Seattle, Washington
| | |
| --- | --- |
| | |
| Pictures of Athena and friends at Pooch Play dog day care, May 2006 | |
News About Athena, November 2006
I am starting obedience training with Athena this Wednesday (really it is for me so I can learn ring form.) With the Chessie, I was just happy if he heeled near me and happened to listen at the same time.

The run away game is: The "victim" takes the dog's toy, and teases them by running into a barrel or box (to contain the scent). I then send Athena in to find the victim. When she barks, the barrel opens and her toy appears, ready to play a game of tug...... She is really progressing... I am working on getting her to engage in the tug with others. She would rather just jump and play and wiggle her cute little butt...But she is maturing and starting to really enjoy tug and barking. (Soft toys like the one she came with are her favorites.....) So we just move those skills on to rubble until eventually you do not run away or call the dogs name. They learn to use their nose, and find the human scent that is hidden. It really is incredible how they progress. However, this is simplified and it takes many many repetitions in many different environments.

We will see how getting her CD fits into my schedule too. With the dog group training, and obedience, and Military, and a 40 hour work week, time is precious....


News About Athena, October 2006
Athena and I are well....I have not been working with her as much as I have wanted as I had 4 years invested in my Chessie. Just this Sunday I certified with him in the FEMA system. So now I can put the same time and energy into ATHENA (although I know with her it will be much easier). She is always so happy to please!!!

That is not to say Athena & I have not been progressing. She has learned how to bark,(thanks to your helpful beginnings) at barrels and run away problems and does well on the rubble, and her basic obedience and manners are great (after my Chessie this is such a great pleasure for me!!) I will definitely provide more updates on our progress as we continue, and now that my goal with her brother has been accomplished. I want to show her in the ring too, and I think that is were we will focus the beginning of the year. I would love to get her CD, as I need the experience. I have never done ring things and I now she is ready to take me to that place. She is oh such a love and joy to our family!!! I am so fortunate she came my way....


News and pictures from Quincy and Athena, May 30, 2006
Birthday news: She is So sweet, she still loves to climb on anything. While visiting my sister she went up the wall climbing wall and down the slide, with the kids, not once but three times, we were not even coxing her, she just wanted to be with us. Here are some pictures from her doggy day care. She gets picked up once a week and taken to this place to play, then they bring her home tired out. The bus she rides on has paw prints and says "We let the dogs out." It is a great place. Of course, she has befriended a Great Dane. That's my girl! I am being very gradual with her training, still focusing on her brother. In July I will focus more on her. She has completed thru rally obedience, we have a ways to go before we compete, but I am confident she will do fine. Tuesday nights we go to a nearby barn and do agility. She is finally swimming in the deep end, previously she would always wait in the shallow end for brother to bring the toy back. Now she will swim on her own and has even retrieved the toy. She is been an amazing addition to our family, I can not thank you enough. Belly rubs are her favorite!!!

I took her to the vet and she was 57lbs, I have not measured her at the withers but guess she is about 22-25.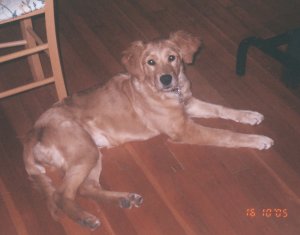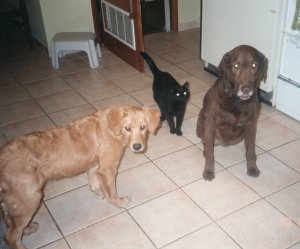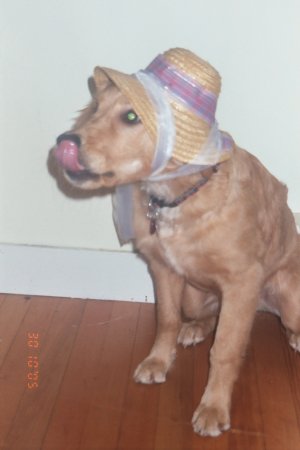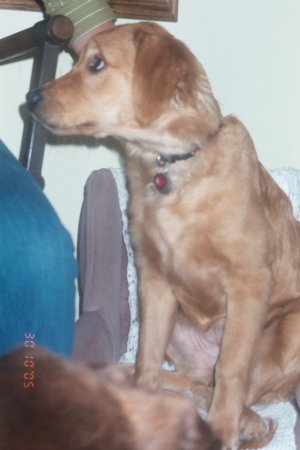 News and pictures from Quincy and Athena, November 21, 2005
Here are some fun pictures of my growing Athena. She is very well adjusted, sweet, and very willing to please. She is doing fine in her obedience classes, we are going to intermediate beginning of next year. She is also doing great, with her bark, and exposure to many different surfaces (although the top of the table is her favorite). She likes to run in the water, but has not taken to plunging in for toys (like Penny). She would rather have her big brother go get the toy while she waits standing in the shallow part then taking the toy from him when he gets close to me...

I think fall is her favorite time of year. Always a leaf to catch.....So funny watching her scamper for the leaves.....not able to decide which one to let get away....nor how long to hold on before she goes after a new one...

I can't thank you enough she is such a wonderful addition to our family... I will keep you posted on her accomplishments. At 5 months she was 35lbs. I think she is about 40 now..

Our dog group is doing a theme about family and hats that describe our pups for our Christmas party. This little hat describes her. Cute & sweet as a button...
Athena in profile
August, 2005

Athena in her new home
with all her toys
August, 2005

Athena riding in the car, all strapped in
August, 2005

Athena with her new owner Quincy Vidauri
August 8, 2005

Athena with Christina, Quincy's daughter
August 8, 2005
At Fern Hill -- Lenoir City, Tennessee
| | |
| --- | --- |
| Lemon's face, July 15 | Side view of Lemon, July 15 |
| Lemon, July 2 | Lemon in the grass, June 22 (3 weeks, 4 days) |
| Lemon, June 21 (3 weeks, 3 days) | Lemon, June 10 |
| Lemon, June 10, with McKenzie (13 days) | Lemon, June 1 (3 days) |

254 Babbs Road, Lenoir City, TN 37771
Tel: 865-300-7607; text or leave message for callback || E-Mail:
This site &copy 2001-2009 by Fern Hill Farm All rights reserved.
Revised April 10, 2009