| | |
| --- | --- |
| | Abby's Page |


Fern Hill Abby Rose SR262975/01
Sire: AFC AFTCH Rosehill's Mr. Speaker MH OS FDHF CCA
Dam: Adirondac Hilfy of Fern Hill CDX OD CCA TDI CGC ASCA-CD SR017085/01
Born May 28, 2005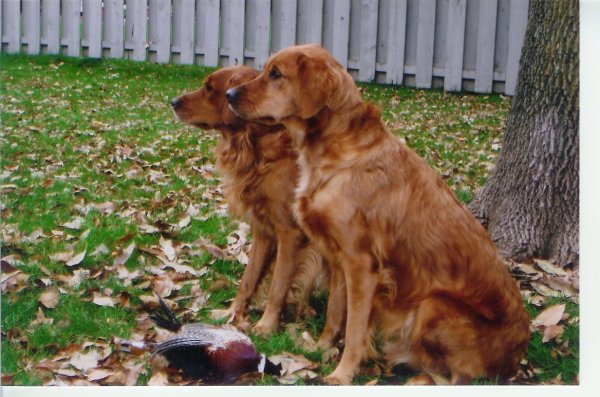 Abby with Casey, Fall 2006
Abby was Hilfy's firstborn puppy, whose puppy name was Rose because of her dark pink collar. She is a high-energy, happy girl with a beautiful dark red coat and a pretty face. She lives in Wisconsin with the Gyorog family, where she is a hunting buddy and housepet and shares the limelight with the other Goldens in the family. Looks like she's had a pretty wonderful life!


Summer 2017
John sent the following on the occasion of Abby's 12th birthday: "Abby is doing great and enjoying the beautiful weather on our deck. This is a picture from the fall. Abby with her soulful eyes is getting more table scraps, mostly small protein but occasionally a french fry. She has maintained her weight around 75 pounds and cleared her last vet check up. She goes on twice daily walks and the occasional swim. She tires out more quickly but that is true at 84 years of age. With the weather change she has moved from our bed back to her mat on the floor. She is pretty smart and likes about 15 minutes of sun on her belly and then a roll in the cool shaded tall grass. She seems very happy with her life in Wisconsin."

Christmas 2009
Abby is doing great. I think she is our happiest, cuddliest Golden! Unfortunately, no hunting trips this fall but last fall she did good -- learned a lot from Casey. We were sad to hear about Mr. Speaker. What a long, amazing life he had.

Christmas 2008
Here's a picture of the dogs looking very Christmassy during our recent 12 inch snowstorm. Abby is on the right. Both dogs love playing in the snow. Abby is doing well and is such a beautiful, happy girl. John was able to go out pheasant hunting this year. Abby really improved and did well. Casey is definitely teaching her what to do out in the field and Abby is learning from him. She was much more out in the front by herself and hunting the tree lines with her nose down. She is not gun shy at all and was very excited to get birds this year. We are still working on their hunting endurance as they are both couch potatoes during the week. [See picture below]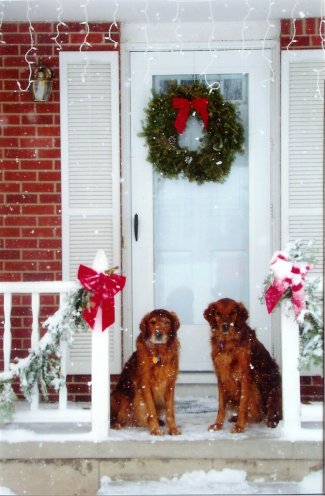 | | |
| --- | --- |
| | Here are some pictures of Abby playing in the snow. |


July 2007
She is doing great and is such a happy and beautiful dog. We recently went to one of our favorite parks on Lake Michigan and they let dogs swim on part of the beach. This time, Abby just loved the water and had so much fun leaping in the waves and swimming.

June 2007
Also can't believe that Abby is now 2. We still talk about our Tennessee adventure to come and get her. She is doing well. She is so sweet and just the happiest golden. We love her looks - such a pretty color. We are working with her training and she always wants to please. I think if I had more time, she would do great on agility testing. She loved working on that when we took her to her puppy classes. She and Casey are best buddies and keep each other entertained with wrestling and playing chase. Now that it is finally warmer, we're hoping to take them swimming at all the pretty lakes around here.

March 2007
Abby is enjoying the spring and just hanging out at the dog park. Sally and one of kids usually make it out two or three times a week. The weather has been kind of off here in Wisconsin but we are finally getting some sunshine.

I took Abby hunting at a pheasant farm in Sauk City last year and to be honest she really didn't want anything to do with the bird. I have a male golden who she has been following around and I'm hopeful this fall she starts to pick up on the game. A funny story is the guy that owns the place put a bird out with its wing banded and Abby found it which was good but as soon as the bird started to flutter she took off running back to the car. The guy put out a rooster in an area I did not see him go to so that we could get a real hunt test in. Abby followed Casey pretty closely through some tall grass and we couldn't find the bird. But on the way back Casey became really nosey around a corner and sure enough the bird popped up and I knocked it down. I would like to say on the first shot but I would be lying (we all need work). Casey raced out and got the bird about 50 to 75 yards out and I was praising him. I stopped and realized Abby was not there and turned around and she was standing right where I shot from. She was calm and not gun shy but just did not understand the rules.

She is a very pretty dog and fits in very well with our family. She does play a mean game of tug of war. We love her very much and she is a great dog. She has the best coat of fur I have ever seen and great coloring. The hunting may or may not come but I do it for recreation and it is fun to see them working.
News About Abby, October 2006
We're hunting! I took her out this weekend (2nd week of hunting) and she did great. We didn't see any birds but heard a few gun shots. She did a nice job staying close to my male and seemed to have plenty of endurance. She wasn't gun shy either.

I generally don't go out opening day because there are just way too many hunters and the pressure on the limited public land is too great. Abby did great swimming across creeks and jumping over downed trees in and around the woods. She was very birdy next to the corn fields and in the draws. She did do a full somersault running full speed and hitting some major mud with her front feet, but rebounded well and shook it off. She was just awesome coming to the whistle commands. Sally and the kids spent most of Saturday and Sunday getting the burrs out of her fur. I think that was new experience for her.

My plan is to contact a local pheasant farmer and see if I can get out either this week or next to get her some good contact. They will plant some birds in a crossing pattern and the field is not as overgrown as what I'm hunting now so she should be able to get a bird or two. I also know that DNR doesn't drop as many birds this past weekend because it is the opening day for deer season.


News About Abby, July 2006
I can't believe it was a year ago that we were in Tennessee getting our Abby! She is doing really well and is a very pretty girl - she turned out to be such a beautiful gold. She is a little bigger than Casey and not as red which we expected. She still has all her puppy energy and can be mischievous if she doesn't get enough exercise. Her favorite thing to do, (other than constantly tormenting Casey), is to go to the dog parks and just run and run. She really wants to please and will do anything for a treat. She is so loveable and still thinks she is our lap dog. Abby also still enjoys ripping up and eating various plants and small bushes in our yard! She had quite a tummy ache one weekend after digging up and eating a couple of small bushes. We were so relieved when she finally returned to her usual happy, bouncy self. It has been very hot for Wisconsin lately so the 2 dogs race into the house to try to lay on top of our floor air conditioning vent in the family room. It is so funny to see who gets there first and hogs the whole cold air vent!


News About Abby, February 2006
Here's a Abby in our latest 13 inch snowfall [See top of page]. She loves the snow and jumping into snow drifts. She also loves snacking on snowballs and ice chunks! Her coat is very thick and soft now so she didn't even notice that it was well below zero this weekend when she was playing outside.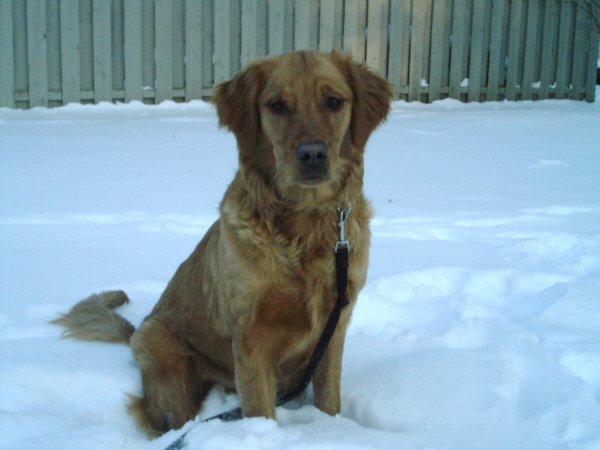 Picture of Abby, February 2006
News About Abby, January 2006
Abby is doing great - so sweet, happy and very busy! She and Casey are pretty much the same size. She is about 55 pounds. Her coat is a very pretty dark gold with her face just a little lighter. Her coat isn't very long but it is thick and soft for our Wisconsin winters (even though it has been very mild this January). It is mostly straight with just a slight wave down the middle of her back. Casey's coat was always so red and very wavy so Abby is more similar to our other goldens that we had.

Not much training this winter other than basic work with her at our house and yard although she is very happy to do anything for a treat! She and Casey keep busy playing tug of war and wrestling. Abby is very strong and will drag Casey around the room as they are playing tug of war. Abby is also very content destroying our backyard now that all our snow is long gone! Our only plans for this spring will be to try to get some grass to grow again.

Our son had to do a presentation speech for school so he filmed Abby eating, playing, obedience work etc. As he was 'editing' the video on our TV, Abby saw this and just stared and stared at the TV as she was watching herself and Casey. She even jumped up and was trying to look behind the TV. It was so funny watching her trying to figure it out. I didn't think dogs noticed what was on the TV but she was fascinated with it.


News from the Gyorogs, November 21, 2005
Abby is doing well. She is still growing and not much smaller than Casey now. She has a pretty gold coat now and such a sweet face. Just found another puppy tooth on the kitchen floor today so she still must be losing those.

Abby loved her beginning obedience class. She is such a pig when it comes to food - I've never seen a dog gobble her food so fast so she was thrilled to go to class where I would keep rewarding her with treats. She was pretty wound up at the few classes because she knew everyone there is walking around with pockets of treats. But all of a sudden 2 weeks ago, it really seemed to click with her and she was doing much better. The teacher always ends the class with a fun agility course for the puppies and Abby loved that! She did amazingly well at the jumps, tunnel and ramps at the last class. If I only had more time...

Like Penny, Abby also plays with her water dish. She paws at the water, seems to try to bite at the water and, in general, just splashes it all over the place. She still is in the terrible chewing stage: Emily's glasses, my new shoes, library books, etc. I'm going to try to put our Christmas tree up this weekend so not sure how well she'll behave with that. We've had just a little snow already and we had fun getting Abby to chase snowballs.


News from the Gyorogs, October 12, 2005
Abby is doing great. Long and skinny and has a funny mohawk down her back where her adult fur is coming in. Looks like she will be a pretty color. She still thinks she is a lap dog for the kids and loves to be petted. She is a very happy and content puppy but she is also at the very mischievous stage. She just chews up everything. - I unfortunately just found the second library book that she has ripped up. We are working on training and she is doing pretty well - she is such a pig about food so she'll do anything for treats. She and Casey are best buddies and play and wrestle all the time. They also tease each other with their toys just like a brother and sister!

The U of Wisconsin Vet school sponsored an annual 2 mile Dog Jog a couple of weeks ago to raise money so we took both dogs. It was a gorgeous day and they had hundreds of dogs and dog owners there. The boys ran the 2 miles together with Casey and came in 2nd for the under 18 group. They got medals and Casey got dog treats so all were happy! Emily and I walked the course with Abby and she just happily trotted along for the 2 miles. She loved all the attention (and slept great the rest of the day!).




Abby at Fern Hill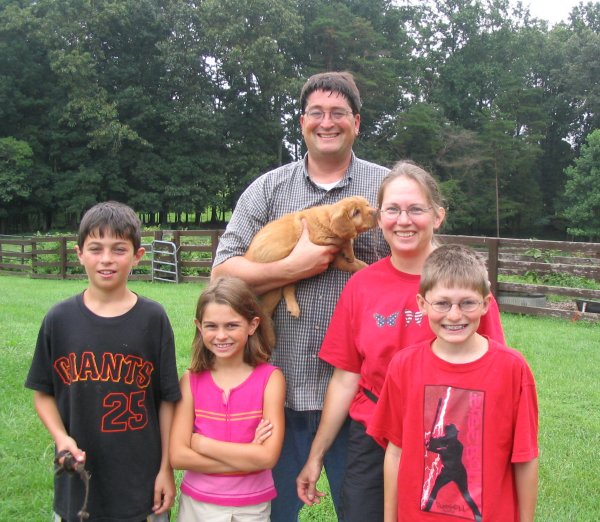 Abby (formerly Rosie) goes home with the Gyorogs, 7/15/05
| | |
| --- | --- |
| Sleeping puppy, 7/6/05 | Abby and Jim, 7/4/05 ( 5 1/2 weeks old) |
| Abby outside, June 23 | Ryan and Abby, June 21 (3 weeks, 3 days) |
| Abby, June 10 (2 weeks) | Abby, June 1 (3 days) |

254 Babbs Road, Lenoir City, TN 37771
Tel: 865-717-1019 || E-Mail:
This site &copy 2001-2017 by Fern Hill Farm All rights reserved.
Revised September 1, 2017