| | |
| --- | --- |
| | Halleigh's Page |


HRCH Fern Hill's Pocket Change WC SR500760/09 ("Halleigh")
Sire: Trifectas Repeat Performance *** MH,UD,CCA,VCX,WCX,OS,CGC,Can CD
Dam: Adirondac Hilfy of Fern Hill CDX OD CCA TDI CGC ASCA-CD SR017085/09
Born June 5, 2008

Born last, and a surprise as we were only expecting 8 puppies, Halleigh came out just ten minutes after her brother Huntley. She was the darkest of the three girls in this litter, and the middle one in size. She has a particularly beautiful head and like all of them, is very cuddly and sweet. She is very birdy and is enjoying life with owner Sue Jensen of Maine, who does AKC and UKC hunt competitions, hunting, and uses her as a pickup dog for tower shoots. In the summer of 2011, Halleigh passed her first two Senior Hunter tests. She will need five passes to title, however, since she went straight to Senior without stopping for Junior. In 2012, Sue and Halleigh concentrated on UKC testing and on September 9, 2012, they earned the prestigious Hunting Retriever Champion (HRCH) title. Until August 2011, Halleigh shared the spotlight with Sue's other Golden, Bianca, who was a Sprint daughter ant therefore Halleigh's great aunt (Hilfy's mother is also a Sprint daughter). We were very sorry to hear of Bianca's death from kidney failure.
News About Halleigh
September 10, 2012. Editor's note: Sue sent text messages on the 8th and 9th with the good news about her passes and her new HRCH title, and then the following email came on the 10th with all the details!

So very proud of the little girl and still in a state of shock we actually titled :) She saved my butt yesterday due to a dumb handler error I made lining her up to pick up the last mark of the land triple. When she came back from the 2nd mark, she told me she wasn't sure where the third one was so I lined her up. The second I sent her I realized I didn't have her lined up well at all. I had to handle her and she took every one of my casts but apparently *I* didn't mark the bird well either and it took a bit to put her on it! It was our club's test so I don't think I had 4-5 hrs total of sleep all weekend. By Sunday I was wiped and it showed at that point.

Both tests had breaking birds and by God she stayed steady...she was absolutely beside herself, but steady! At one point, when we were on the honor bucket yesterday, the working dog had crept quite a ways out on the mark closest to Halleigh and me. His handler kept trying to re-heel him and the dog wasn't having any part of it. Ever have one of the blocks of time that's really only seconds but feels like forever?? Apparently Halleigh did, because she kept swinging her head back and forth between the working dog and the mark with a 'If you need me to go get that bird for ya, just SAY THE WORD!!' The look on her face was absolutely priceless!!

The Region Rep came up to me both days and told me what a nice job she did and how she was the only dog 'to do exactly what she should have done' in a couple of specific instances involving the diversion bird Saturday, and the breaking bird Sunday.

So that's the scoop!!! I can't believe we reached our goal. Onward to finish her Senior next year and who knows from there! :) We might give obedience a whirl at some point.
June 7, 2010. Editor's note: On June 5, I got a text message on my cell phone that read: "HR Fern Hill Pocket Change WC!", but I had to wait till the 7th to get the details! HR (Hunting Retriever) is a UKC Hunting Retriever Club (HRC) title that is roughly equivalent although maybe just SLIGHTLY less difficult than an AKC Senior Hunt title. Still, it is definitely not an easy thing to get an HR title on a dog at such a young age! For a full explanation of the UKC program, click here and scroll down the page a bit till the text starts.

Well, the girl done a great job thanks :) What a hoot to title her on the litter's birthday! I got the title bath of all title baths (it's an HRC custom). Anyone who titles gets at least one 5 gallon bucket of ice water poured over them at the tailgate dinner. Eric (one of my training buddies) had apparently asked them to hold me up long enough for him to get a bucket and he hid...I never saw him coming. He threw the whole bucket full RIGHT IN MY FACE!!!!! Between the 3 buckets of water, there wasn't an inch of me that wasn't sopping wet from head to toe!!! :) I think that's everyone's favorite part, except for the person getting it.
May 25, 2010.
In the Seasoned test, there's a walkup and diversion required. They can be on either land or water and both can be on the same series (Saturday my diversion was on the way back from the memory bird on the land double and Sunday it was on the way back from the land blind...both days, both the walkup and diversion were on the land series). The land series has a double mark and a blind. The water series has a double mark and a blind. I think the distances are a little shorter than AKC's Senior Hunt test. I was brought up in a hunting family so the idea of true hunting scenarios and using guns is VERY appealing to me. Most of the women new to HRC are VERY intimidated by the gun at first but it doesn't take them long to get comfortable with it. It adds quite a twist to all that goes on at the line and the dogs get highly charged by the gun :) I'm definitely gonna try to put a WCX on her if Penobscot holds their GRCA event in September.
HRC requires 4 passes to TITLE in Seasoned. But we're doing the points system toward an HRCH that requires 100 points to title. Because she's earned 10 points in Started, she only needs 40 points to qualify for her HR (Seasoned) title. I've said to Jill [training partner] many times that I feel bad that Halleigh's UKC points don't go toward Hilfy's OD :( I'm hoping to at least watch a Senior test this summer and am using Seasoned as a stepping stone. We still have lots of work ahead of us this year to get to where I could say I'd be confident enough to enter her. There's a HUGE jump between Seasoned and Finished so I'll be looking for some games to play in the meantime and it may very well be SH :)…
May 3, 2010.
Jill snapped a few pics after training Sunday of the redhead and the blonde ;) It was 84 (!!!) and a little humid yesterday so they were VERY happy to get into the pond for water marks. Jill's little girl is "Ice" (Neversink's Northern Ice Jewel) or more affectionately.... N'Icicle. She's a hot potato!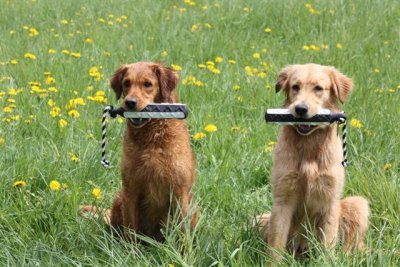 Halleigh was laying in her crate with her head on her front feet and her ears perked right up yesterday afternoon, and I told her she was THE cutest damn thing on 4 legs :) She has SUCH a sweet and beautiful face. My nextdoor neighbor has said, more times than I can count, that H has the prettiest face she's ever seen :) They bring their dog up to visit her every day and keep a close eye on her (she works from home and her husband is retired). She calls or emails me at work if they think anything seems even slightly amiss at my house, cuz "We have to protect the favorite girl in the 'hood."
February 2, 2010.
My little hothouse flower -- She's been living with me too long!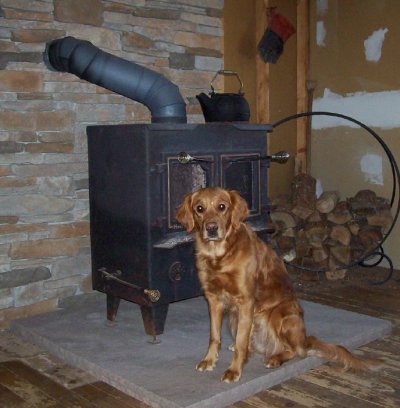 December 25, 2010.
Merry Christmas to you! I had to write to share that Halleigh and I got invited to a last minute shoot yesterday. There were only 3 of us handlers and 7 gunners at this one. And boy did we have the jackpot station this time. Halleigh brought in 53 birds....pheasants, chukkars, and hungarian partridge....and she did fantastic! She was just as excited and ready to go on the 53rd bird as she was on the first :) It was really a great opportunity for her and she loved every minute of it. She's getting SO intense marking the birds. It was raining birds so lots of them fell when she was out at another mark...it REALLY went a long way to re-enforcing the teamwork and confidence that when I to send her blindly, there really is a bird out there. She had an absolute ball and I'm VERY proud of her! :)
At one point she had hard hunt in the deep snow for a very live rooster pheasant who had hunkered down in a bush. When she came back she had him by the tip of his tail feathers. He had both feet planted on the dashboard so to speak, claws scratching across the crust she whole while she's pulling him backwards toward me. She kept looking over her shoulder at him as she was pulling him along like "Here's the deal rooster...I'm tired and I've been polite, but...I have ways of making you cooperate."
I love watching them bring in a big bird. There's nothing like watching a dog bring in a goose! They're HUGE!!! Listening to geese calling is one of my absolute favorite sounds in the world. They come up the river next to my house during the spring and fall migration and there's nothing like lying in bed in the early morning when the windows are open and listening to the geese and loons :) Heck, I'm just learning to get a remotely decent sound out of the duck call, never mind attempting the goose call LOL! It's all quite an art and I'm not the best student. I practice in the car on the way to or from work. It's interesting when the windows are open and people can hear me!
December 22, 2010.
I was just talking about the different dog personalities and how you have to train around them with my friend Eric last week. His first dog (who he just lost in November) was a golden he trained for upland and waterfowl. His lab is the first one he's trained for competition. He's done it all on his own and has had NO help from anyone with this dog and I'm very proud of him. I've trained with him for the last 3 years. His dog is impressive and turns heads at tests. He's got a natural ability with dogs and the natural talent to analyze things and break it down for the dogs. He and I work well together and we both care not only about getting to the end, but more importantly, the means we take to get to that end. I had said to him that working with Halleigh is SO different from working with Bianca. Bianca just wants to work...in the majority of cases, a "good girl" means absolutely nothing to her in field work, whereas Halleigh will turn herself inside out for a "good girl." They are 2 totally different dogs.
We only have about 8" of snow but it's topped with a heavy crust so training on marks has come to a screeching halt. I've done some ling blinds (100 yards +/-) with Halleigh and she handled well but she's still in the infancy stages of blind drills and work so I don't do many. And now with winter here, I wanna cry that we've had to lose all the momentum that we just got going in late fall. About the only thing I'll be able to do with her this winter is some drill work :( and we'll have to revist blind work all over again in the spring. Winter bites!!!!
Glad you have Callie back for snuggling during the holidays! Callie and Halleigh are definitely related in the lap dog department. I couldn't ask for a better temperament... she's an absolute cupcake.
November 22, 2010.
Halleigh's been giving real duck hunting a try this fall and she says she likes it lots except for the dead tail part :) We've been limited to Sunday training because of deer season but she's been smoking her marks this fall and making great strides. I'm so disappointed we have to lose the momentum for winter :(
October 28, 2010.
My girls -- Bianca and Halleigh. The quality is less than great...cheap camera!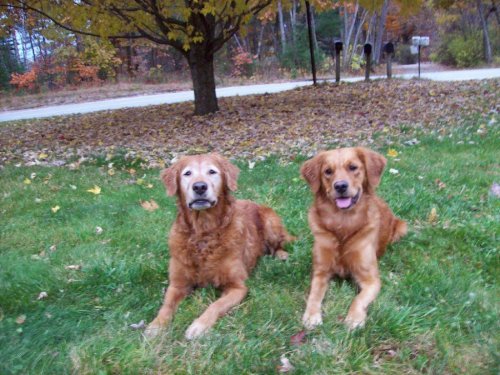 October 4, 2009. Fern Hill Pocket Change WC!!!!! She did an awesome job and earned every inch of it today...her momma's very proud of her! :) She pounced on her pheasant flyer and was one of the only ones who didn't bank run on the 2 water marks. Atta girl Halleigh!!!!! She struggled a little bit with her memory bird on the land double. To her credit, we've done some angle back throws but this one was very deep AND the throw was a crappy arc against an extremely dark tree line. She worked herself thru it and I was very proud of her :) What a great end to the season........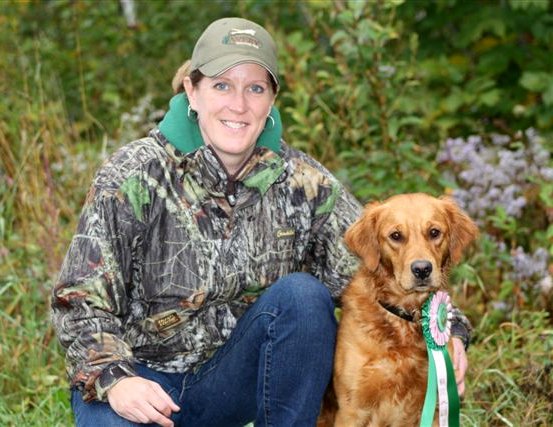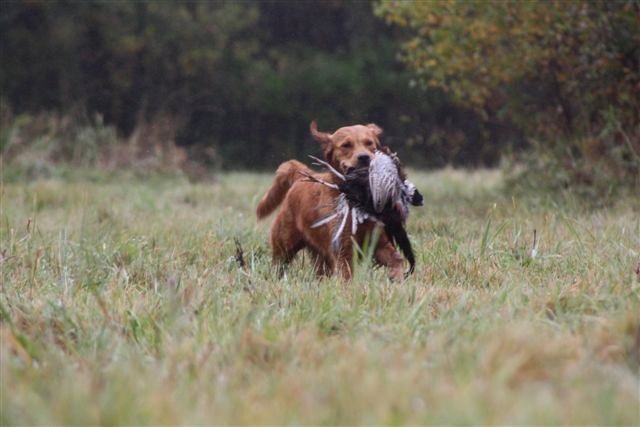 Photo credit: Jill Jordan-MacLean



September 28, 2009. Will let you know how Halleigh makes out on Sunday at the WC. All fingers and paws are crossed. She did her first tower shoot Saturday. She was SO excited. She squeaked and danced off and on the whole time, and got royally cheesed off when I sent Bianca and not her LOL! And you should have seen her marking those birds as they flew overhead!!!! I'm pretty sure she'd like to go again :) She got to bring in a few cripples too so it was a good day for her.





September 23, 2009. I did a couple of blinds with her yesterday at the event we went to. I should NOT be doing any in the field just yet but I had her watch my friend drop/plant the bird and then sent her. Her line was flared out a bit but I let her roll and then sat her. A split second after she sat, she winded the bird since she was only about 5-6 feet to the left of it, so she took my OVER beautifully :) Gotta love stinky ducks and the wind being in her favor LOL! Couldn't have set her up to succeed any better if I'd tried! :) We're headed to a pheasant shoot Saturday and then on 10/4 I entered her in a WC so wish us luck! :)




Professional photographs of Halleigh taken at the September 21, 2009 hunt test by Jeremy Kezer



September 14, 2009. Halleigh had a good weekend....she got her 2nd Started pass and was test puppy on Sunday. She made her mama proud :) I purposely didn't enter her in our Sunday test because only 2 Started passes count toward an HRCH (we're aiming big :) If I don't feel she's tuned up enough for Seasoned level by our May tests, I'll probably finish off her Started title at that point.





September 14, 2009. Halleigh had a good weekend....she got her 2nd Started pass and was test puppy on Sunday. She made her mama proud :) I purposely didn't enter her in our Sunday test because only 2 Started passes count toward an HRCH (we're aiming big :) If I don't feel she's tuned up enough for Seasoned level by our May tests, I'll probably finish off her Started title at that point.





September 14, 2009. Halleigh had a good weekend....she got her 2nd Started pass and was test puppy on Sunday. She made her mama proud :)





September 3, 2009. You'd be interested to know that Halleigh is definitely related to lap-dog Callie.... I went for a hair appt the other night and the little nut crawled up, and sprawled out, in my lap and took a snooze while Karen was rinsing the color from my hair at the sink...of course not until long AFTER she had appropriately schmoozed everyone else there. The spoiled brat is welcomed most everywhere since she's cute and well behaved :)





August 25, 2009. Halleigh got quite a round of applause and many compliments for her little self (from the gallery) at our August training day :) I shot AND we had birds, so she was appropriately wound up and broke on 2 of her 3 marks. They were very impressed with her level of control at her age with just a verbal SIT and recall after she broke :) I honestly don't think I've ever used the collar on her for sit since we did conditioning months ago (and I definitely have never used it at line), but she's got a SPANKING sit, both verbal and whistle. She plants it. Even with the distraction after breaking on 2 of the marks and getting recalled, she still stepped on both of them when I finally did send her :)





July 22, 2009. I gotta tell you Karen....this little dog scares me sometimes!!!!

I had an incident a month or so ago where she was on her way back to me from a fun bumper and was about 15 yards of so away from me. I was merely *considering* sitting her and damn but what she stopped dead in her tracks and SAT!!!!! I realized I was staring a little more intently at her than usual at that point and she picked up on it.

Took her out the other night to start pile work with her. Threw a couple of fun bumpers for her before we started....was standing with my hands on my hips waiting for her to return (hands pointed backward mind you, and I don't believe I've ever stood that way around her in any shape or form) and the little turkey SAT on the way back in!!!! It scares me to think she's THAT sensitve to my body l anguage :)





July 22, 2009. I gotta tell you Karen....this little dog scares me sometimes!!!!

I had an incident a month or so ago where she was on her way back to me from a fun bumper and was about 15 yards of so away from me. I was merely *considering* sitting her and damn but what she stopped dead in her tracks and SAT!!!!! I realized I was staring a little more intently at her than usual at that point and she picked up on it.

Took her out the other night to start pile work with her. Threw a couple of fun bumpers for her before we started....was standing with my hands on my hips waiting for her to return (hands pointed backward mind you, and I don't believe I've ever stood that way around her in any shape or form) and the little turkey SAT on the way back in!!!! It scares me to think she's THAT sensitve to my body l anguage :)





July 20, 2009. Okay, we've had a horrible hay season this summer so the cover has provided some GREAT opportunities to push Little Dog on her marks. Yesterday I sent her on a 125 yard single from no cover, thru a wall of 1.5 - 2 foot high cover about 20 yards long, into a pond and out the other side, then up a hill to the mark in no cover....fun things like that :) We also did a 150 yard mark, sent from no cover, angle entry thru the very edge of the corner in a tilled field, out the other side and uphill to the mark. She's been doing awesome! She also did a 200+ single on mowed field with lots of contour where she lost sight of the mark in places (and I lost sight of her once). She loves the game!!!!





June 12, 2009. We've been VERY busy this summer even though we had 26 days of rain in June. Halleigh is still loving the game :) I just started introducing simple doubles with her and we're almost done collar conditioning (she's not thinking that's nearly as much of a fun deal as marks are ;) but she's handling it well despite my lack of knowledge and experience with the collar). Went down to a training group done by the woman who did the seminar I attended in May and got more positive feedback from her on what I've done so far, so that was encouraging to hear. I honestly was expecting her to tell me I needed to go back and re-visit a few areas of CC :)

She's blown her coat so is a bit naked right now but still as cute as a button! :) If I had a dime for every time she repeatedly gets called cute...I could have retired for my birthday at the end of this month LOL! She's just a little sprite...54 lbs. I expect she'll fill out a bit more in the next year but I'd be surprised if she goes much over 55-57 lbs...PERFECT size in my book!





June 12, 2009. Here's the little red dog at the Guns Up Test.




| | |
| --- | --- |
| | |
May 25, 2009. Halleigh got her first Started pass today! She did a fantastic job and earned every inch of it :) She had a beautiful land test Saturday but her water marks were horribly ugly. Today her land was great AND she really came thru with confidence on the water series. I'm VERY proud of her :) They ran in reverse order Saturday ...water first. She's MUCH stronger on land so if it had been in the usual order, she would have had time to get in a good run on land first. Sunday I also took her for a long walk between land and water and I think that helped. I haven't had much time this week to get her out for her long walks/runs like I usually do. It's been drive home from work, throw her in the car and get to the training grounds 45 mins away, then take her out for a few marks. She does MUCH better iat this point/age getting down to business on retrieving if she's getting routine play/exercise on a daily basis. I'm sure another year older will have her ALL business from the get go :)

There are tests down in NH next weekend and although I wasn't planning on going, my friend is contemplating it, so I may very well enter her if he's willing to shuffle Halleigh and I to Started so we could try for the 2nd pass. That's the last set of HRC tests around New England until my club test in September. She needs 4 passes for a HRC 'Started' title so she'd have 3 more to go. At this point I'm not sure if I'll finish her SHR title or just use the points from 2 passes toward HRCH points(Hunting Retriever Champion). I don't know if I'll have what it takes to get her there, but we'll find out and that's what we're aiming for!!! I'm pretty certain she's got what it takes...it's me I'm not confident in. But I have lots of people who can help us get there and are willing to help so it'll be fun!!! :) I'm seriously hoping by our test in September she'll be ready for Seasoned. Time will tell.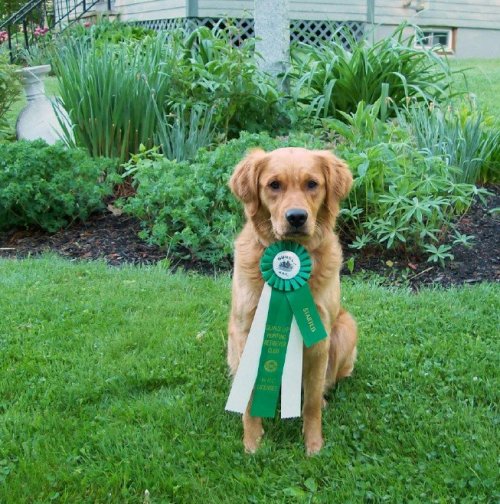 Halleigh with her 'Started' ribbon



March 16, 2009. My friend snapped some training pics of Halleigh and me yesterday... We still have snow, but these pics are from a place about 50 miles south of us.




| | |
| --- | --- |
| | Bumper Work, 3/16/09 |
February 9, 2009. We're almost thru force fetch but can't wait until spring to start doing good marks again! We've been out a bit this winter but the snow is so bloody deep. Here's a few pics of the girl. My friend captured cold, hard evidence that I truly didn't wuss out on force fetch!!! I was dreading it quite honestly, since I never did Bianca, but Halleigh's one VERY quick study and has kept an outstanding, happy attitude thru it all :)
| | |
| --- | --- |
| Training in the frozen northland, 2/9/09 | |
Happy Howlidays! December 24, 2008: Halleigh is doing great. She's hit the 6 month old "question authority" stage. Can hardly wait for the one that circles around again at about a year and a half! She spent the day yesterday playing with my neighbor's 110# GSD. She looks like a flea compared to him ;) She has several GSD friends she plays with and every one of them is awesome and gentle with her.
November 16, 2008. Halleigh had an exciting day today. Bianca re-injured herself so couldn't do a full tower shoot. I figured since I was already there, Miss Halleigh-pants might as well get some gun exposure. Up until today, most of her exposure consisted of sitting in the car at the test in September and a tower shoot last weekend. I worked my way up about 20 yards at a time and by the 3rd rotation, she was right in the thick of it all and lovin' it :) She didn't get to do any retrieves since I invaded stations that were already occupied but she got to play with several birds, got lots of gun exposure and watched the other dogs retrieve. I had one gentlemen who kept saying "look at that head, she's beautiful" and then asked me on the way out if you still had any pups left from her litter ;)
I'm not sure what she was digging for when she got into the mud in the pics I sent you. She just loves to dig. I had to dump the sand out of her pool last weekend so it wouldn't freeze so she's finding other ways to pursue her digging fetish apparently. I will say, if ever I doubted she was all golden, after all the dead frogs, snakes and mice she's found to roll in on our walks this week, I no longer have ANY doubt LOL! She even found, and rolled in, a dead mole at the tower shoot today! Little idgit.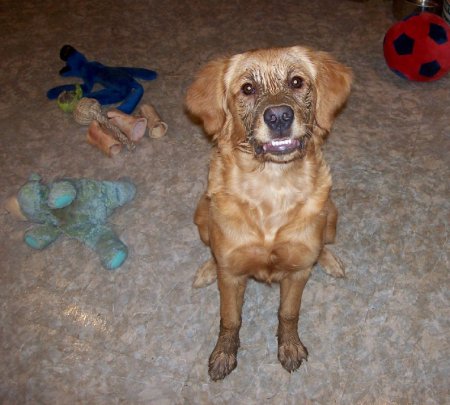 Playing in the mud is SO MUCH FUN! 11/15/08

| | |
| --- | --- |
| You can see her curly coat and overall build at this point, 11/8/08 | 5 month portrait, 11/9/08 |
November 1, 2008. I took her with me to a friends for a Halloween get together last night. She did so well, I was SOOOO proud of her. All those people and kids (with toys she wanted VERY badly). Not to mention all the food within nose reach. She's such a treasure Karen.....I *suppose* I'll keep her LOL! Thanks once again for such a beautiful, sweet little girl!!!
October 31, 2008. Halleigh's doing SUPER on obedience. I think I'm going to sign her up for class the end of November, just for distraction purposes. She's got a play date this weekend with her new puppy friend who is a month younger than she is. The two of them typically rough house for a couple of hours and have a ball chasing each other. Nothing like having someone your own age to play with :)
She's going to keep me on my toes retrieving. She's got lots of go, but coming all the way back appears to be the issue at the moment. She'll come 90% of the way on her own and then wants to run off with the bumper. I put a check cord on her and boy is she a feisty little twink!!! She hasn't caught on yet that her reward for bringing it back is that I'll throw another one ;) Bianca caught onto that pretty quickly when she was a pup. Hopefully that will pass soon. I suspect her teeth are bothering her a bit as she seemed to have issues with the hard bumper last night so I switched to the canvas one and she held it much better.
Will try to snap some updated pics of her this weekend. She such a CUTE little thing! Too cute for her own good actually ....it's a little hard to be tough on her when I need to :)
October 24, 2008. Halleigh is doing GREAT!!! She's such a sweet ittle thing and such a GOOD little girl. She's still a peanut, little feet and LONG legs, but all proportionate to her body at this stage. She weighed in at a little over 29 lbs about a week ago. Most of her adult teeth are in, with the exception of canines. That little face couldn't possibly get any cuter!!!!!!
She had her first encounter with a live duck the other day. It was great to see her natural instinct kick into high gear. I bought her a couple of 4 shot Bumper Boys for an early Christmas present so she's in business now!!!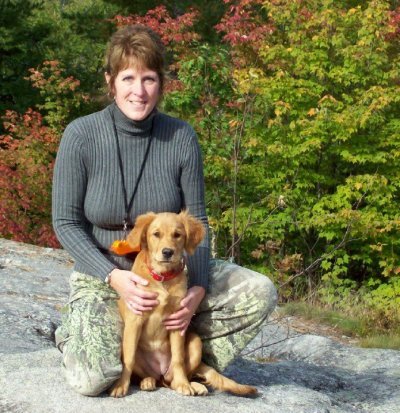 On a walk in the Maine woods, October 5, 2008



October 5, 2008. With bad weather setting in we'll be way behind you in field training by spring. We've got plenty we can work on this winter but having to put marking on hold scares me a little. We'll get there though! My training partner is convinced she'll "smoke Started" next summer. Halleigh and I have plans to prove him right! :)




| | |
| --- | --- |
| Halleigh looking cocky, October 2, 2008 | Halleigh's 4-month portrait, 10/2/08. |
September 26, 2008. Callie and Halleigh are definitely related! Halleigh likes to bite the leash too but she's getting better and better about it. I didn't get to go training because of the rain from Tropical Storm Kyle and our pheasant shot got canceled yesterday. I'm bummed but I got a lot of inside stuff done that's been neglected during nice weather. I just took Halleigh out to do some heeling and finish practice for a few minutes and as I thought, she figured finish out this weekend.
September 26, 2008. I taught Halleigh the "come-in" whistle and sit whistle a few weeks ago. When I took her training with me last weekend, she started to get distracted after she picked up the bumper. I whistled her in and she whipped her head around and came flying back to me, so that came in handy to get her focus back on returning to me. She's doing beautifully with obedience. Her sits, fronts, come in's and heeling are snappy and she's got returning to heel from a front position 95% figured out. It's so much fun at this age to watch the expressions on their face while they try to figure things out.
September 10, 2008. Thought I'd take a minute and send a Halleigh update. She's been very busy :)
I took her with me to my club's HRC tests 2 weekends ago to get used to the sights and sounds. She got a ton of compliments on what a great puppy she was the whole weekend. I purposefully parked her where she got exposed to lots of action, people and dogs and she took it all in while I worked a winger. And of course, that cute face launched a thousand smiles. One British gentleman was quite smitten with her and asked me about her breeding. "She's a BONNY one!" he said :) On Sunday, he threatened to take her home with him.
She went to her first training session with me last weekend and marked several bumpers on land. She's a quick study, did an awesome job and is getting more and more confident in the water each time (thanks to my friend's lab who teased her unmercifully with a bumper). I gave her a fresh drake a couple of weekends ago (which was darn near as big as she is) and she curled her tail up over her back and strutted off with it. She's a BEAUTIFUL, SWEET, little girl all wrapped up in a little bit o' attitude.... just what I ordered :)
She's going with me to a pheasant shoot this weekend so she can experience those sights and sounds from a distance. We'll also be training again this weekend, so I'll try to snap some pics and get them to you next week.
September 10, 2008. I weighed Halleigh this morning and she weighs 21 lbs on the nose but she is definitely ALL legs! :) I thought from the beginning that Callie might be stocky, will be interesting to see the difference between them. Halleigh's paws are smallish but are very proportional to the rest of her build. She's just too darn cute for words! She knows sit, verbal down, hand signal down, shake paws, sit whistle, and come in whistle. She actually heels fairly well off leash for short periods too. The field side of the breed is so sharp...it's so much more fun to work with them :)
One of my co-workers gave me a treat ball when I got Bianca. It releases treats as they roll it around. I fill it with cheerios before I leave in the morning and she goes NUTS pushing it around the kitchen :)
September 7, 2008. Halleigh is awesome! She's SUCH a sweet little girl! She's gotten to that fun stage where she wants to check out whatever I'm doing to make sure she doesn't missing anything :) Several people have made comments about being amazed and impressed with how adaptable she's been since day one. And of course, that face stops everyone, everywhere, every time :)
She's discovered the dropped apples and pears under my fruit trees and she makes a beeline for them whenever she goes outside with me. I watched her try to climb the pear tree when the supply on the ground ran out, even though she knew there were apples under the other tree! She's also discovered that "helping" me (un)stack firewood is a great source of entertainment and an endless supply of things to climb and chew on :)
She weighs just over 19 lbs as of last week when I checked and the new coat coming in on her back looks like it might have some wave in it. She's gone on a few short hikes with me to a local place with a panoramic view of the White Mountain range. I hope to have some pics of us at the top of the mountain for you soon...I'm waiting for the leaves to turn so you can enjoy some fall foliage in the background :) The nights have been very cool here so the colors should be brilliant this fall and some of the trees are already starting to turn.
August 11, 2008. The Brat has stolen my heart :) Right now she's on a mission to drag all her toys out of her ex pen and out the pet door. She's a smart little bugger! Only took me holding the flap open for one exit and one re-entry and she was an old pro at it. She's quite proud of herself when she comes in....she skids around the corner and comes barreling down the hall like her hair's on fire :) I'm working half days this week to help the transition (probably for me more than her!) Took her for a walk right before I left this morning to tire her out. She seems happy in her ex pen while I'm gone so I feel much better about that :) I can't wait until the Pirahna stage is over!!!!
August 7, 2008The little pirhana has had quite a busy day today. She went for a walk this morning and then up to visit Dr. Mike (who thought she was as sweet as can be). Then she went up to play with the neighbor's Aussie, then some more play time with Bianca. Needless to say, the word of the day is NAP :) She seems to like riding in the car and is quiet as a mouse. And I've gotta tell you, if her little sniffer works HALF as good on birds as it does on food....WOW!!....we're good to go!!!!!
August 5, 2008 Good morning! Halleigh has settled in like she's been here all along. She met my neighbor this morning before he went to work. We just came in from a marathon playtime in the yard and chased the puppy bumper a bit. That little tail hasn't stopped wagging since she got here! :) She's a little pistol! No accidents, she actually went and sat by the door earlier when she had to go out....good girl! I finally got around to taking the towel out of the crate you shipped her in. It was wet, but not soaked. Funny thing was, she wasn't wet at all when I took her out at the airport.
I think we're contemplating a nap....we just dragged the kitchen rug back to our crate :) If the sun comes out today, I'm going to take her down to the river for a swim later.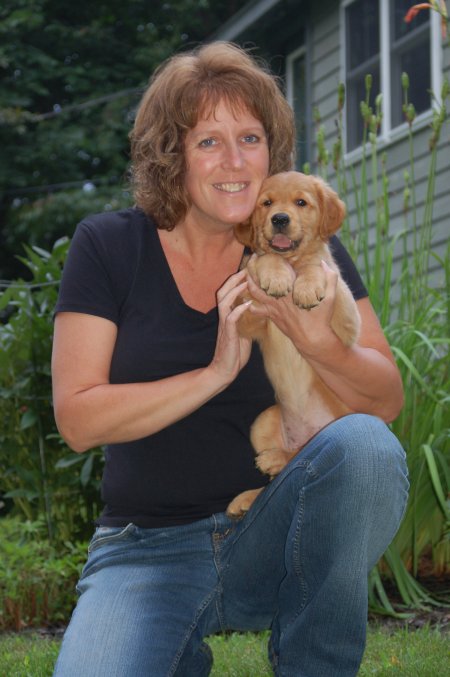 Halleigh with new owner Sue Jensen, 8/5/08.
August 4, 2008 Note from Karen: We shipped Callie to Sue in Maine today. She was supposed to go Friday, but Delta canceled the flight. The plane was late leaving Knoxville after we dropped her off at 5 a.m., and as a result she missed her connection in Atlanta. It took quite a while to find this out, and a lot of phone calls to Delta's Pet First service. They were very helpful and sympathetic (Sue and I were both frantic), and assured us that Delta's cargo terminal in Atlanta was air conditioned so she was not melting somewhere in the 96 degree heat with no food and water. She finally arrived in Maine that evening, 14 hours after we dropped her off, and Sue called to report that she was just fine. The people in Atlanta must have taken her out of the crate and played with her, fed and watered her, as she was clean, happy, and not hungry or thirsty. A scary day all in all, but it turned out OK in the end!
Baby Pictures
| | |
| --- | --- |
| 7-week portrait 7/24/08 | Laughing it up --7/24/08 |
| 6 weeks! 7/18/08 | 7/10/08 |
| Portrait 7/10/08 | 7/1/08 |
| 7/1/08 | 6/24/08 |
| Motoring, 6/24/08 | 6/17/08 -- too sleepy to show her open eyes! |
| 6/12/08 | White Girl, 6/6/08 |

254 Babbs Road, Lenoir City, TN 37771
Tel: 865-717-1019 || E-Mail:
This site &copy 2001-2012 by Fern Hill Farm All rights reserved.
Revised September 11, 2012