| | |
| --- | --- |
| | Huntley's Page |

Fernhill Huntley Barksdale SR500760/08 ("Huntley")
Sire: Trifectas Repeat Performance *** MH,UD,CCA,VCX,WCX,OS,CGC,Can CD
Dam: Adirondac Hilfy of Fern Hill CDX OD CCA TDI CGC ASCA-CD SR017085/01
Born June 5, 2008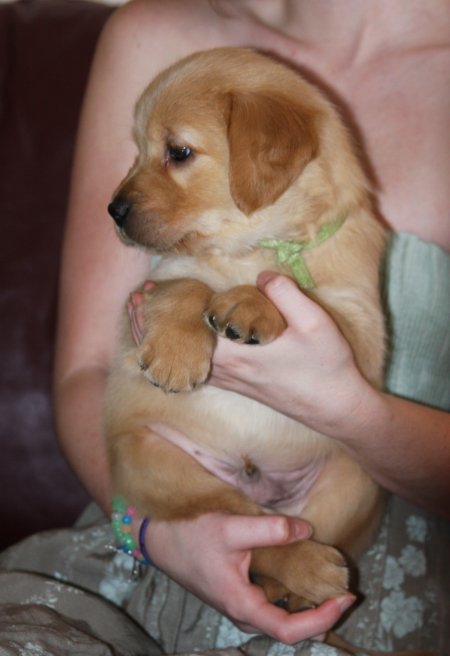 Huntley's 6-week portrait, 7/18/08.
Huntley was born next to the last. He was the lightest red puppy in the litter, with a very smooth and sleek coat and a gorgeous head -- he was my daughter's and husband's favorite boy. He is demented about duck wings, adores splashing in the water, and wants to go chase ducks for a living. Luckily for him, his new owners, Keene and Elizabeth Brodnax of Atlanta, think that's a great idea too. He joins the Brodnax's other Golden Preston, who is one year and one day older than Huntley.
News about Huntley, 2009
January 10, 2009
Huntley loves sleeping in what we consider a rabbit position, so the other night we gave him Pierre Lapin ("Peter Rabbit" en francais) to cuddle. Adorable!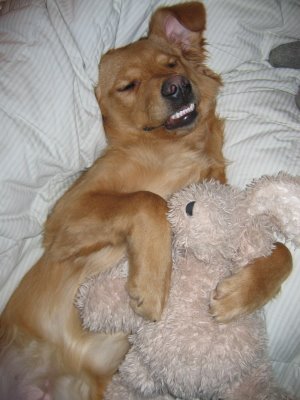 News about Huntley, 2008
December 28, 2008
AFter all the festivities of Christmas, Keene and I packed up the dogs to take them to see a couple of homes near us. The first had over 75-80 inflatable decorations in the yard; Huntley especially is very visual and just kept taking it all in.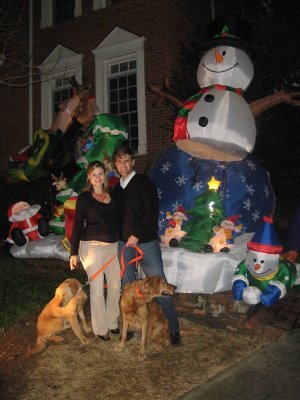 December 23, 2008
Merry Christmas from the Meadow Valley Hunds, Preston Henry and Huntley Barksdale -- "It takes more than one bad moment to make Santa's naughty list, right?"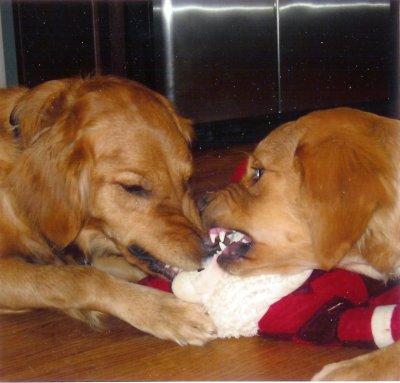 Preston (left) and Huntley (right)
December 20, 2008
Our very sweet across-the-street neighbors just brought over our baby's first Christmas gift. The dogs have been casually sniffing it out, but we don't think it will take long before Huntley tests it out to see if it's the right size for him.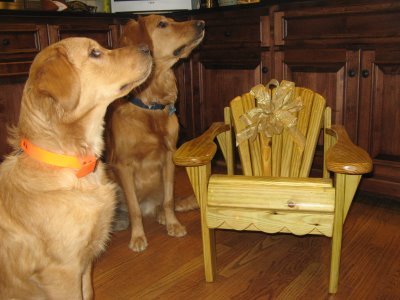 November 23, 2008
Preston & Huntley here. We went to Daddy's family's farm today; supposedly they had a Brodnax Family Farm Day back in 2006, but that one doesn't count because we weren't there to enjoy it. Keene's brother and his family came up from Vidalia, and we picked up our nephew Johnathan (it was a tight squeeze in the back of the Volvo, so Huntley just sat in Johnathan's lap). Keene's grandparents even came up, so they got to see what adorable puppy dogs we are.

All the people ate lunch, and then the real fun began. Mommy drove all of us in the Kubota (top photo) through the trails at the farm, and then we went swimming. Huntley is still learning to love the water like I do, but as the third picture shows, he started to pick it up. Then they let us play in the creek, which is shallow water and much more Huntley's style. Next, we played with Daddy while he drove around on the four-wheeler. Finally, we got baths from Daddy, and Mommy dried us off next to the heat of the butane gas heater! We had so much fun, we slept the entire drive back to Atlanta.
Huntley and Preston at Brodnax Family Farm Day, November 23, 2008
October 25, 2008
We took the boys up to Chesapeake Farm, Keene's parents' farm outside Dawsonville, GA, this weekend. This was Huntley's first trip up there, and they certainly made the most of it. They went swimming in the pond and the creek (this was also Huntley's first experience with water, but we think he'll take to it quite nicely). They also got to romp around in the pasture and meet the horses. We had such a fun time.
Huntley and Preston at Chesapeake Farm, October 25, 2008
Sepember 26, 2008
Wag-a-Lot, the doggie day care where we send Preston every couple of weeks, had a back-to-school night on Wednesday. Even though Huntley isn't old enough to stay at Wag-a-Lot yet, the staff was kind enough to say that we could certainly bring "Preston Henry's brother" to the party. They had a blast sniffing the other dogs, being petted and adored by every person there, and trying to steal from the food displays.
Huntley and Preston at Wag-a-Lot, September 26, 2008
Sepember 26, 2008
Huntley is doing well and he too eats everything, but you would think that we are starving him because of the way he acts at his three meals. We are having a devil of a time housebreaking him. I am sure it is because Preston and he play so hard and then he just sneaks off for a moment alone.
Baby Pictures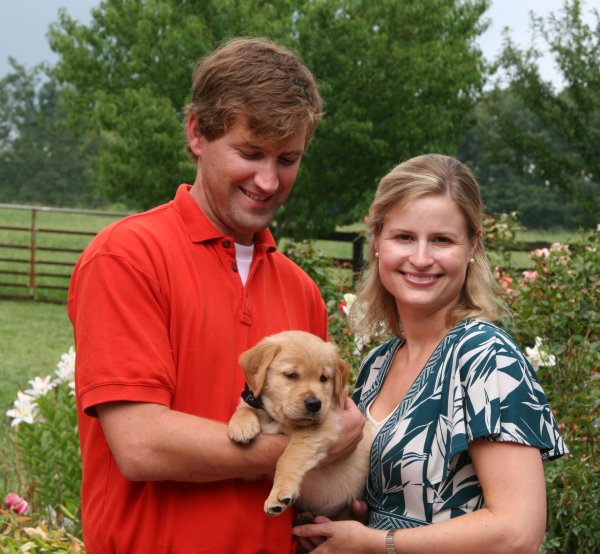 Huntley with new owners Keene and Elizabeth Brodnax, 7/26/08.

7-week portrait, 7/24/08

7/10/08


6 weeks! 7/18/08

7/10/08

7/3/08 (Photo credit: McKenzie Pearce, FTW Photography)

7/1/08

6/24/08

Ryan with Lime Green puppy, 6/17/08

06/17/08

6/12/08

Lime Green Boy, 6/6/08

254 Babbs Road, Lenoir City, TN 37771
Tel: 865-717-1019 || E-Mail:
This site &copy 2001-2009 by Fern Hill Farm All rights reserved.
Revised March 25, 2009