| | |
| --- | --- |
| | Trooper's Page |


Fern Hill's Big Red Trooper SR368103/04
Sire: AFC AFTCH Rosehill's Mr. Speaker MH OS FDHF CCA
Dam: Adirondac Hilfy of Fern Hill CDX OD CCA TDI CGC ASCA-CD SR017085/01
Born August 3, 2006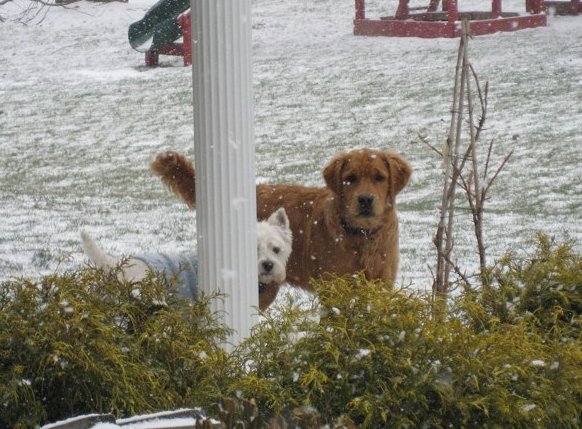 Trooper and buddy Jack in the snow, February 2007
Trooper, who was born second, was the darkest puppy in the litter, with a wonderful wrinkly face that looks just like Hilfy's when she was a puppy. He was first into the wading pool, and always one of the first at the gate when people come to see him. He was the least vocal puppy in this litter -- he can bark & growl with the best of them, but usually doesn't. He had the most adorable habit of standing on his hind feet with his front paws tucked against his chest, and leaping up towards you -- a really good ploy for getting picked up and cuddled! He has gone to live with Mark and Tracy Preston of Ohio. They have 3 kids, 2 cats, and a Westie, so he is busy and has lots of friends to play with.
News about Trooper, July 2008
Our whole family has been so enjoying all of the sweet, sweet updates on Hilfy, penny and the puppies! I can tell you that we (especially katie) have been squealing with delight with each and every picture!
Mr. Trooper has been more affectioned than ever as a result of these sweet pictures! we love his brothers and sisters! I apologize for not being very communicative with you lately. Our lives have been rather complicated... but suffice to say all is well with Troop. He is THE most affectionate and loving boy we have ever had. our Tyler was very sweet, but Trooper is without question the best...ever! we are grateful for him! Jack has taken the back seat...but they work this all out between themselves quite naturally and nicely.
As for the vaccination and neuter article...i appreciate this information. We have opted not to neuter. We didn't with our last Golden and we plan on keeping him intact as long as possible. Our Westie, on the other hand, needed to be neutered...whew! Very necessary.
Please give our love, hugs, and kisses to Hilfy, Penny and all of the sweet puppies! And thank you so much for the emails and pictures!
News about Trooper, August 2007
Trooper is so cool! He is so full of love. He's still jumping up and on people. We are working with him in earnest, but he is determined to love people with his WHOLE body. Very sweet.

I don't have weight data or height until we come back from vacation in two weeks. He has definitely capped off. In fact, he is a very picky eater! Odd.

Anyway, all is very well. He's getting better with the water. He dunks his head and retrieves without issue. But, it took lots and lots and lots of treats for him to do this. He's too funny.
News about Trooper, Spring 2007
May 6, 2007. I contacted the local G.R. Club today to get Trooper field training. He really loves to work and I just can't stand looking at him and not giving him what he needs to be the best Golden boy he can be. Hopefully they'll have something coming up soon. Their website stated that their last training was in March.

April 21, 2007. At this point, Trooper is stalky..not heavy. His bone structure is thick. I believe he still has more growing to do height wise. I'm betting his weight will stabilize. He eats twice a day, but he doesn't go for it with gusto. So, he's not overeating. I limit his treats for training with the exception of a nightly stuffed kong or thick bone.

Everyone who meets Trooper says how special, beautiful and wonderful he is, and I couldn't agree more! He is just THE best, loving, sweet, affectionate, krinkly faced puppy we've ever owned. We would love to come and visit you, too so you can see him and hug him.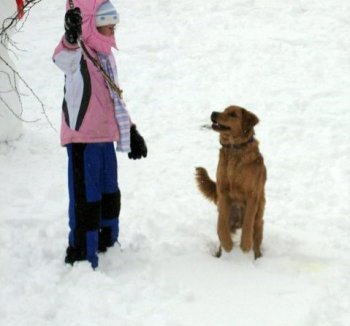 Playing in the snow, February 2007
News about Trooper, December 2006
Trooper will take any stuffed animal at this point. So, the kids are constantly on guard. Trooper has been funny about getting Jack in trouble, too. When he has his rawhide in the same room with Jack he takes it and plops it in front of Jack. Then he barks his head off until I intervene. Jack likes to take his stuff and it makes Trooper angry. So, he sets him up to get in trouble. It's really too funny! They're just kids with fur! ;-)
News about Trooper, November 2006
Trooper has earned his Pee Masters Degree! Yay! So, we're able to let him play more around the house. However, that gets quashed when he starts to chew everything in sight. Then, he's back in the kitchen chewing on his toys and my chairs and door. ;-)

The girls and I had a good laugh this morning on the way to school. The topic was if we could rename Trooper based on his personality now, what would his new name be? The suggestions were funny! 1. Sir-Licks-Alot
2. Barky
3. Floppy
4. Digger
5. Jaws, and my favorite,
6. Chew-Dogga
News from the Prestons, October 2006
| | |
| --- | --- |
| Slurp! | Hi Mom |
| Playing with water | Meeting the horse |
Trooper is quite the pistol these days! I love him so much, but I can't let him lick my face anymore because he likes to eat cat poop. Yuck! I take him out on leash now so I can control it, but it's nasty. He really keeps Jack busy, too. Tug-of-war is the game of choice between the two of them, and when Jack wins the war, Trooper gets mad and he'll bark, pounce and growl at Jack. He does this with anything Jack has that he wants. It's too funny.

His leash training is coming along. He's much better at it when Jack is not around. His "sit," "stay" and "down" are going very well. He loves to work for the dried liver treats. I have been working with him a little on fetch and retrieve. He will bring the ball back knowing I have a treat for him, but when I'm simply throwing the ball he won't bring it back. He likes to chase the ball, however. So, he'll get it.

His potty training is still work in progress. He goes to the door occasionally. But, all-in-all, he's much better as a puppy than Jack. No offense to the Westie, but Terriers are takers, Golden's are givers. Tropper really wants to please us, he's just too much of a baby right now to "get it." He gets distracted easily and is just too interested in playtime to care about anything else.
News from the Prestons, September 2006
| | |
| --- | --- |
| Look what I got! | Mmmmm, delicious! |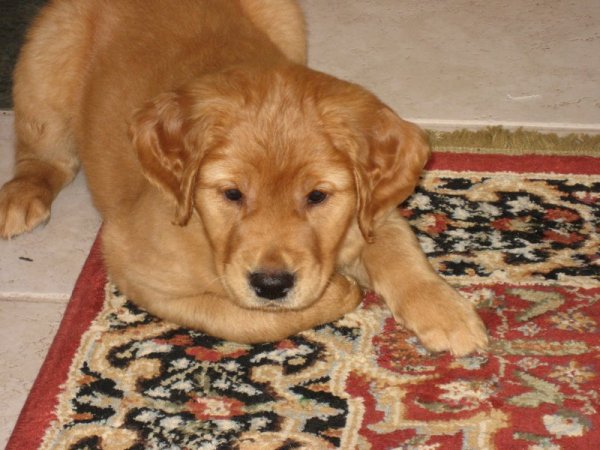 Trooper at home, September 26, 2006
We're home now. Apple was really, really good in the car. Every time we stopped he would do his business. He ate and drank just fine. He did whine a bit, sometimes a lot and sometimes he just kicked back. We held him for about 2 hours of the drive and he was great. All-in-all, we kept saying, "What a trooper he is." And now we have his name...Trooper. He is such a lovey!

We are doing very well. We are getting our routine down and Trooper is enjoying our Westie Jack and Jack is enjoying Trooper. They tussle at night and it is so much fun to watch! Jack really enjoys this play time, and Trooper is instigative to say the least! :-) We go for a walk every day around 4. Trooper is getting used to it, but today he was more tired than usual. He's growing like a weed! It's amazing. Right in front of us, he's so much bigger! I am going to take him to the vet tomorrow just to weigh him and introduce him to the crew. His actual shot visit is next week. I'll let you know how much he weighs.

He is THE best dog. I'm not sure, but can you tell we're happy? ;-)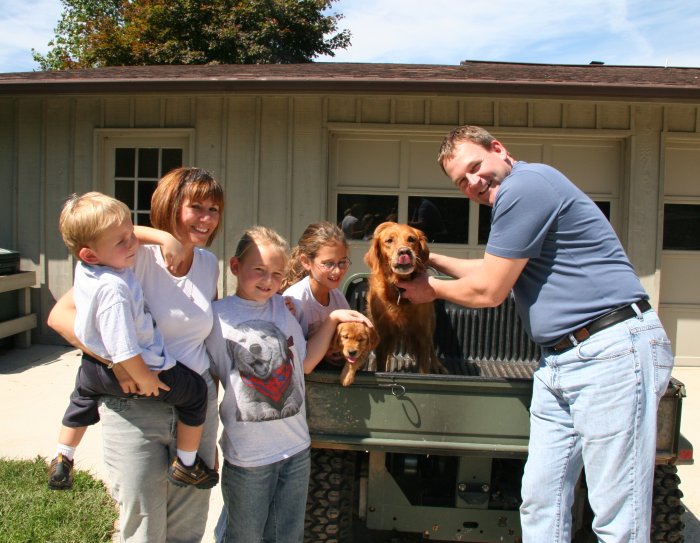 Apple, now "Trooper" and Hilfy with the Prestons of Columbus, Ohio -- Ready to go home!
Puppy Pictures at Fern Hill
| | |
| --- | --- |
| Trooper, all ready to go | Apple leaving the wading pool 9/8/06 |
| Apple explores the world, 9/2/06 | Bite that cup! 8/27/06 |
| Apple the Fierce, 8/27/06 | Apple puppy with eyes, 8/18/06 |
| Apple, day 4 | Apple boy, one day old 8/4/06 |

254 Babbs Road, Lenoir City, TN 37771
Tel: 865-717-1019 || E-Mail:
This site &copy 2001-2009 by Fern Hill Farm All rights reserved.
Revised April 9, 2009