| | |
| --- | --- |
| | Cash's Page |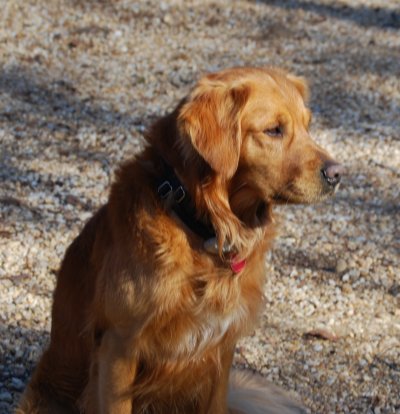 Cash, Fall 2008
Last, lightest, and loudest, the puppy we called Orange waited for nearly two hours after Banana was born to make his appearance. He was a scrapper and loved to tussle with his brothers, but he was also very sweet and cuddly with people. He loves to lie on his back, and he LOVES to eat. He's very self-confident and likes to explore. He is extremely birdy, crazy about the water, and likes non-stop activity. He is making his new home with Tom and Katie Thagard and their three sons from Birmingham, Alabama, where he is known as Fern Hill Johnny Cash (Cash for short). Tom goes hunting almost every weekend at a nearby lake, so Cash has an ideal life!
News about Cash, 2009
January 4, 2009. At last....pictures of Cash. He is awesome. Best dog ever. Thanks for sharing him with us.
News about Cash, 2008
December 29, 2008. Cash is doing great as the fourth son in the Thagard family. Fantastic dog. Went duck hunting and dove hunting this morning. Sleeps in the bed with my middle son Gene every night. My wife Katie thinks he is the best dog of all time. Pictures hopefully to follow soon as he is one good looking animal.
February 16, 2008. Just wanted you to know that Cash has turned out to be the greatest dog in the world. Smart, intelligent, muscular, good looking (very broad head and shoulders) and sweet. Looks very much like Mr. Speaker to me. Due to all of our small children, we have not had an opportunity to get Cash any "degrees" but he is really one of the best dogs I have ever had. He sleeps in the bed with my middle child just like a human!
News from the Thagards, 2007
July 7, 2007. Here are a couple of quick pictures taken this weekend. You will notice that one is taken in the same location as one of the puppy pictures on his website. Shows how much he has grown. We love him a lot.

June 9, 2007. Cash is doing great. He is a wonderfully bright and gentle family dog. He is very big as well. He is a bright spot in our life. Katie will try to send pictures soon. You will not recognize him, but he looks like his pa.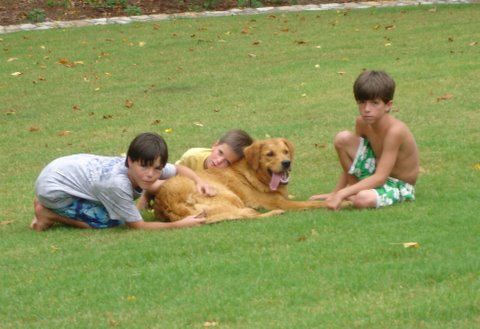 Cash and Friends, June 2007
| | |
| --- | --- |
| Cash at the Thagard's lake house | |
News from the Thagards, 2006
December 18, 2006. Cash went on his first dove hunt this past weekend and made a fine showing. He was well behaved. He sat by me the entire time. Showed no fear of guns (I had not exposed him to guns yet) and made two fine retrieves. Once he found the birds, he was VERY excited and VERY aggressive but has an exceptionally soft mouth and did not damage the birds at all. Finally, he has exceptional social skills and interacted well with the 8-10 other dogs on the field. All in all, a very good day!
November 18, 2006. We could not be happier with Cash. He is completely housetrained. He will go to the backdoor and scratch to be let outside. He is completely crate trained. He is retrieving dummies effectively. He sits, stays and comes on command. In fact, last week I got him to sit from 40 yards away and take commands. He is working on heeling. That is his biggest challenge due to his enthusiasm. He is a wonderful outside dog and a wonderful inside dog. He is calm and gentle with the kids. He only chews on his toys, and he really loves all of us. He is growing like a weed, already more than 30 pounds. As you can tell, he is a Thagard 100%. Thanks for sharing him.
October 6, 2006. Thanks to Katie's efforts, Cash is now sitting, staying and coming. He is fetching a retrieving dummy for fun when he wants to. He is about 90% leash trained. No more house accidents. He is very communicative, and he and Katie now speak to each other fairly fluently. Boys are learning LOTS about dog training and puppies! It is good for everyone involved.
| | |
| --- | --- |
| It's a long way down! | Cash and friend |
| Cash at the lake, 10/1/06 | On the dock 10/1/06 |
October 1, 2006. It has been a wonderful week with our puppy. He is fairly well crate trained. Has only relieved himself in the house 2 times. Amazing. He slept 8 hours in the crate last night. He is about 85% leash trained, having attended 4 football games and 1 soccer game (at which he was swamped in love and attention by the children). He is socializing well with children, adults and other dogs. He began sit, stay, come kindergarten today. I will let you know how that goes.
Puppy Pictures at Fern Hill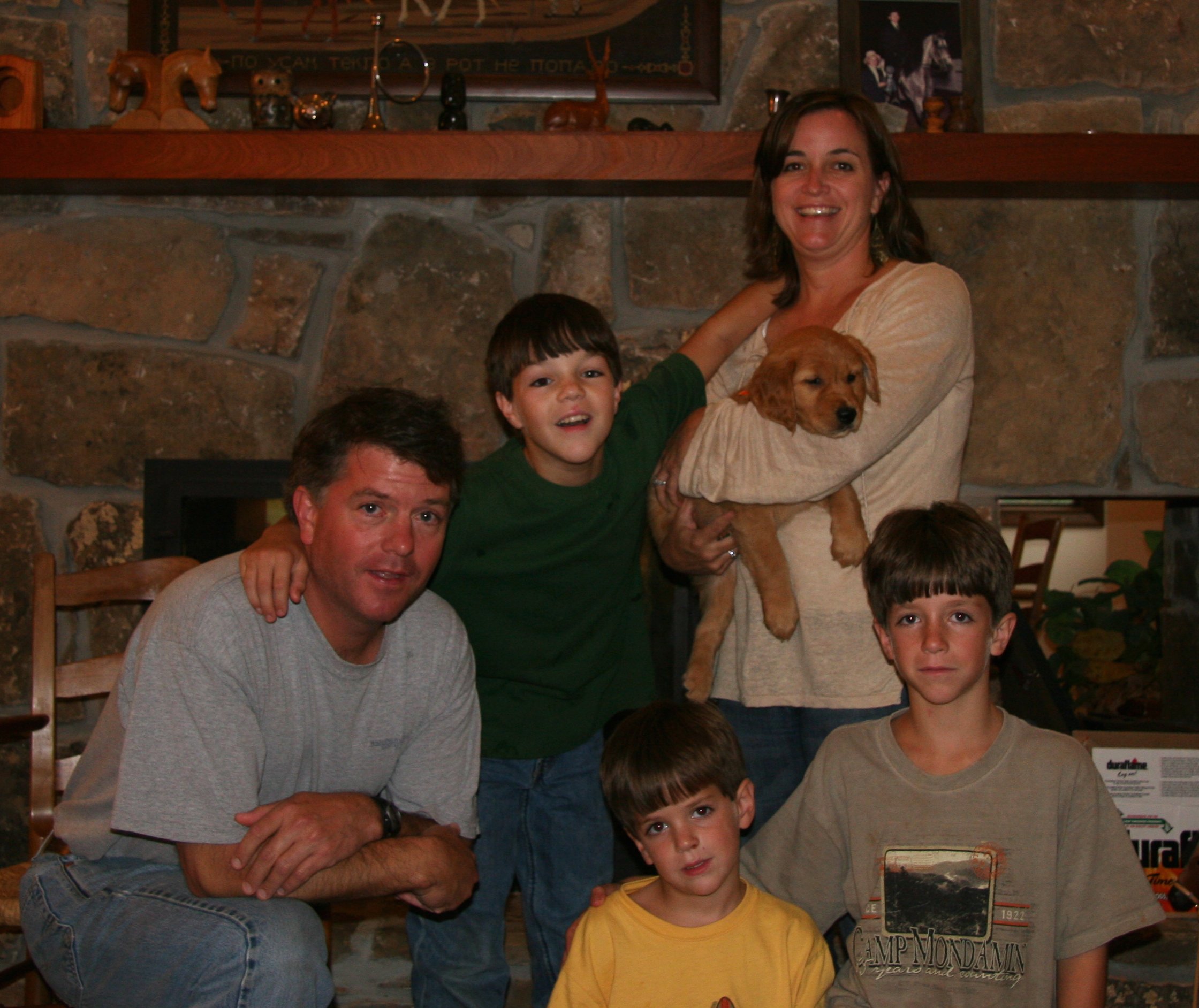 Cash (Orange) with the Thagards.

Orange's going home portrait, 9/23/06

Orange explores the fish pond, 9/8/06

Orange comes to say hi, 9/8/06

Orange in a hurry, 9/2/06

Orange at 3 weeks, 8/25/06

Orange lying on Banana, 8/9/06

Hilfy pillow and Orange, 8/7/06

Orange, 8/7/06

Orange boy, one day old 8/4/06

254 Babbs Road, Lenoir City, TN 37771
Tel: 865-300-7607; text or leave message for callback || E-Mail:
This site &copy 2001-2009 by Fern Hill Farm All rights reserved.
Revised April 9, 2009