| | |
| --- | --- |
| | Remi's Page |

Fern Hill xxx("Remi") SS167172/07
Sire: Bravhart KC Run For The Border MH QA2 WCX ("Jessie")
Dam: Fern Hill Sunday At The Zoo SH SR96378601
Born January 28, 2020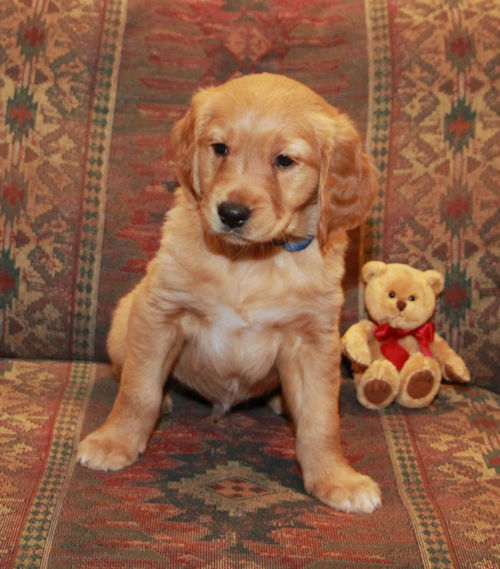 Remi at 7 weeks, March 17, 2020
Remi, the Blue Boy puppy, was the seventh puppy born in Zoey's first litter, and the first boy. We were getting worried! He was a big, handsome puppy who showed good early talent and a nice, loveable personality. He has gone to Missouri to live with Bruce Miller and family, where he will be trained for competition hunt testing. Bruce has trained several other dogs to the Master Hunter level.
News About Remi:
Email from Bruce Miller, 6/1/20: Remi has been doing great, he is a pleasure to be around and full of personality although a handful to be around at times. I run him on bumper retrieving which he loves and delivers to hand which is shocking to me, as he is the first dog that I have to do this without training. He also has an excellent nose. Have introduced him to water twice now. The first time was too cold and he didn't want to go in at all. The 2nd time, last weekend, the water was much warmer. He was pretty timid but finally did get in the water and did paddle a little. So we will keep working on that one.
Email from Bruce Miller, 4/23/20:Things for most part are going really well with Mr Blue Boy. His official call name after "heavy" internal family debate is Remi - short for Remington in my mind. However my wife thinks its short for Rembrandt or some other notable artists I have never heard of.

Remi is a great dog and his nose is unbelievable, He spends his time sniffing out things in the yard, who knows what he is looking for, but he definitely has a knack for investigating things of interest. He managed to find a pile of bird feathers in our 3 acre yard so he definitely has interest in finding birds. I do know I left some treats in my sweat pants in a pile in a corner of a room he has never been in. Sure enough he managed to explore a new room in the house and home in on the exact pocket under a pile of other clothes! He also retrieves to hand almost perfectly. For some reason he prefers tennis balls vs canvas dummies but not too concerned about it. He also will come if I soft whistle to him - that is shocking to me, since I never have had a retriever do that natively! We also have started working on basic obedience commands this week as well. He is a fun little guy to be around. He also is getting along great with our 4 year old black lab, Chief, and pays tug of war, wrestling, and full blown running surprise attacks on Chief all day. Pretty excited about the prospects of him being a great hunting dog and getting AKC titles.

Baby Pictures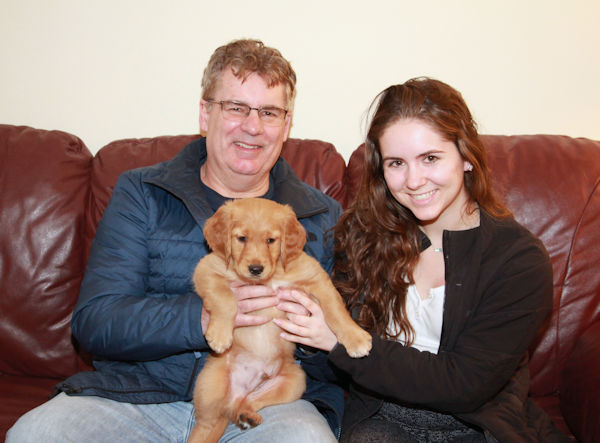 Bruce Miller and daughter with their new puppy Remi , March 22, 2020

Remi at 7 weeks, 3/17/20

Remi at 6 weeks, 3/9/20

Remi at 5 weeks, 3/3/20

Remi at 4 weeks, 2/25/20

Remi at 3 weeks, 2/18/20

Remi at 2 weeks, 2/11/20

Remi at 1 week, 2/4/20

Remi at 12 hours old, 1/28/20

Zoey and pups, 1/28/20

254 Babbs Road, Lenoir City, TN 37771
Tel: 865-717-1019 || E-Mail:
This site &copy 2001-2020 by Fern Hill Farm All rights reserved.
Revised June 3, 2020