| | |
| --- | --- |
| | Kepes's Page |

Fern Hill Kèpes Arany Sugar ("Kèpes") SS034389/04
Sire: AFC Topbrass Hawks Red Wing MH CCA ("Red")
Dam: Fern Hill Pandemonium MH WCX OD OD SR679046/01
Born January 24, 2018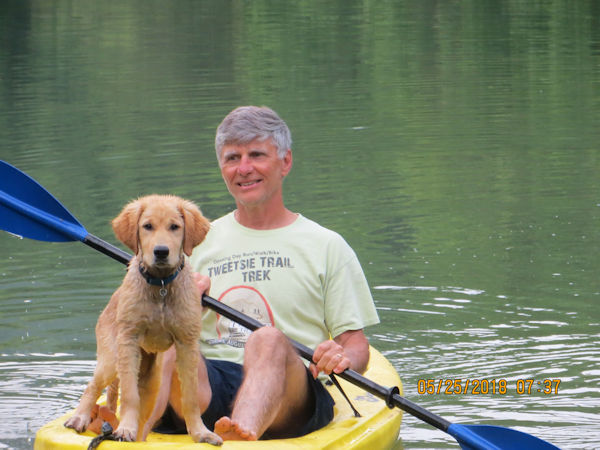 Kèpes and Peter enjoying a boat ride, May 25, 2018
Kèpes (pronounced 'Kay-pesh', a Hungarian name meaning capable and agile) was the alpha female in Panda's third litter. She was so smart, and so beautiful and big, and you could just look at her eyes and know that she knew just how special she was. From the first, she reminded me strongly of her great-grandmother Hilfy, our foundation dam, who was a very special dog indeed. Kèpes went home to a special family who live only about an hour away from us -- Peter and Mara Torok. She is learning field work, and learning to be obedient, and Peter tells us that she is turning into a very lovely and cooperative girl indeed. Peter is hoping to train and compete with her in hunt tests.
News About Kèpes:
2018
| | |
| --- | --- |
| Kèpes at the swimming pond, 6/2/18 | Kèpes explores her new home, 3/20/18 |
Baby Pictures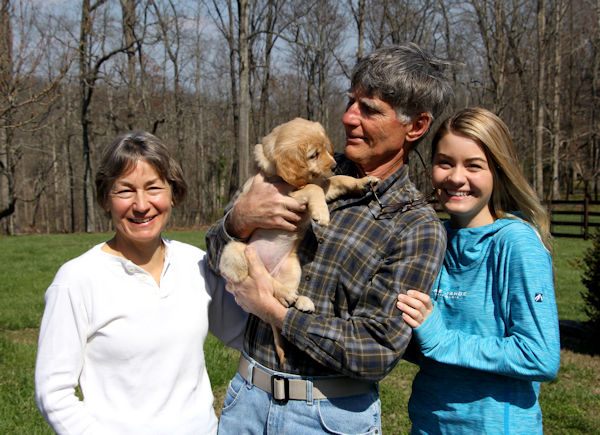 The Toroks with their new puppy Kèpes, 3/15/18

Kèpes at 7 weeks, 3/14/18

Kèpes at 6 weeks, 3/07/18

Kèpes at 5 weeks, 2/28/18

Kèpes at 4 weeks, 2/21/18

Kèpes at 3 weeks, 2/14/18

Kèpes at 2 weeks, 2/7/18

Kèpes at 1 week, 1/31/18

Kèpes at 1 day old, 1/25/18

Panda and pups, 1/31/18

254 Babbs Road, Lenoir City, TN 37771
Tel: 865-300-7607; text or leave message for callback || E-Mail: edwardskc@gmail.com
This site &copy 2001-2018 by Fern Hill Farm All rights reserved.
Revised November 22, 2018