| | |
| --- | --- |
| | Sedona's Page |


Sedona Sunrise of Fern Hill SH WCX CGC SR418868/04 ("Sedona")
Sire: AFC AFTCH Rosehill's Mr. Speaker MH OS FDHF
Dam: Adirondac Hilfy of Fern Hill CDX OD CCA TDI CGC ASCA-CD SR017085/01
Born March 26, 2007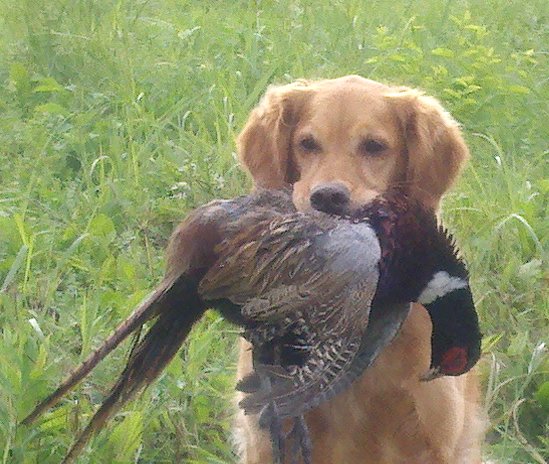 Sedona at four years (Fall 2011)
Last, lightest, and the only girl in our third and final Speaker x Hilfy litter, the puppy we called "The Pink Princess" came out immediately on the heels of her older brother Hunter. Bold, beautiful, and cuddly, she loved to mix it up with her brothers. Even as a puppy she had a very regal bearing -- she knew she was special! She is birdy, likes to retrieve, and loves to trash the flower beds. She makes her home with Diane and Tom SanFilippo who live in the country near Buffalo, New York. She joined their other goldens -- her Aunt, Adirondac Summer Time CGC TDI CD SH WCX (Hilfy's littermate) and her Uncle, Adirondac Sundance CGC CD SH WCX (Hilfy's half brother) -- who have now passed on. In the summer of 2015, she was joined by her great-niece Fern Hill Sunlight on the Creek ("Shimmer"), who she is now working to civilize. Surrounded by family, she is enjoying her home life as Diane's special baby and glamour girl, as well as her careers in hunting, hunt testing, and obedience work.



Clearance Information || Pedigree || Titles || Album & News

Clearances

Heart clearance: NORMAL (OFA GR-CA 15175/18F/C-PI)
Eye clearance: NORMAL, CERF GR-41171-2008-18
Both parents genetically clear for PRA-prcd (Progressive Retinal Atrophy)

Pedigree

Titles
GRCA Working Certificate Excellent (WCX): summer/fall 2015, 2 separate passes
AKC Senior Hunter (SH): summer 2014, 4 passes
AKC Junior Hunter (JH): September 6, 2008, 4 passes in 4 tries
GRCA Working Certificate (WC): August 2, 2008
AKC Canine Good Citizen (CGC): March 21, 2008

Sedona's Album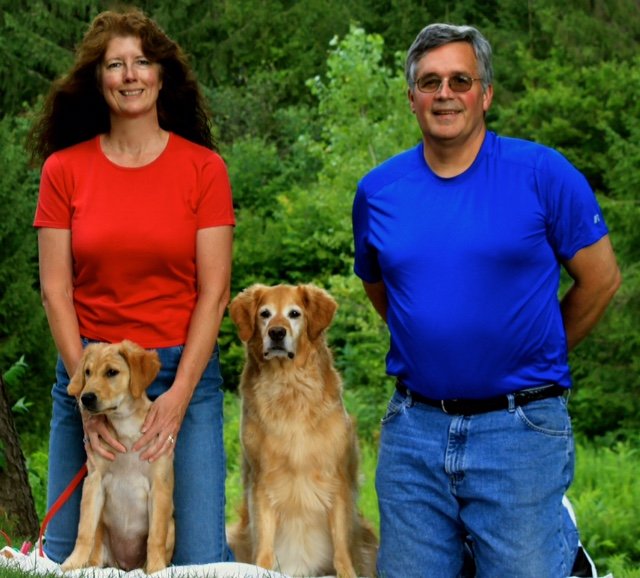 Date: September 2, 2015. Great family picture -- Tom, Diane, Shimmer and Sedona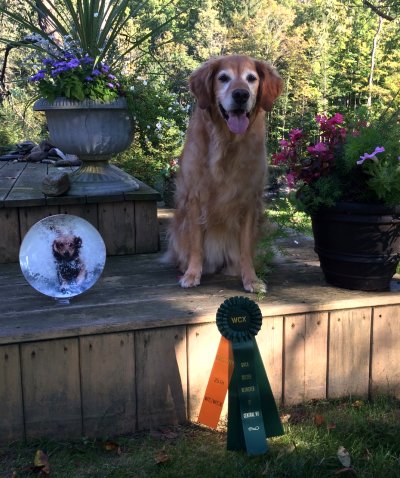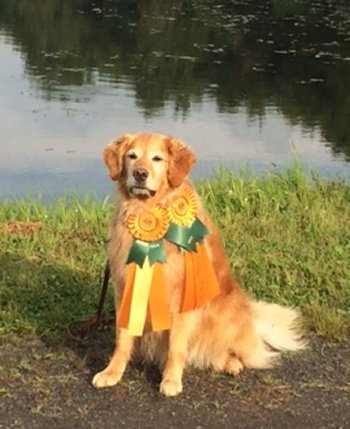 Sedona with her two most recent titles: Left, WCX trophies, fall 2015; Right, Sedona's SH ribbons, July 2014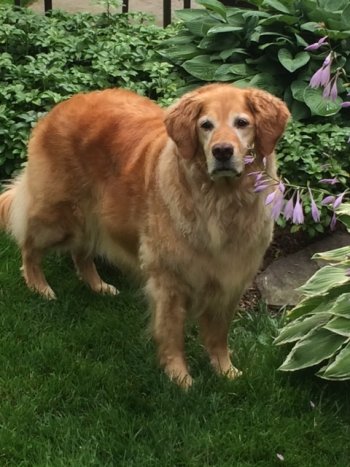 Sedona at home, 2014 and 2013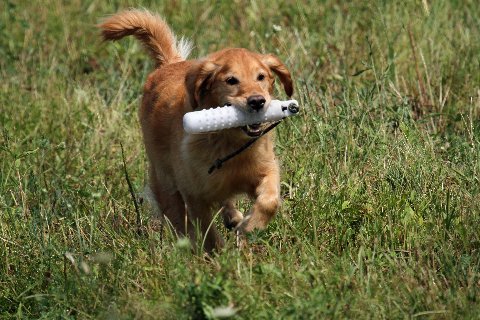 Sedona training, August 2012
January 11, 2009. Sedona continues to be SUCH a LOVE ... and wickedly smart... making up her own games of hide and seek with her toys... acting all startled when her rubber ducky squawks .... and she knows she put it UNDER her fleece then laid on it... so then she must attack... kill it and place its dead corpse in her water bowl... wait for it to attempt to get away again (in her mind) then pounce yet again... all this goes on in the evening in her ex-pen (when i can no longer take her theiving, and lock her up!)
News and Pictures, 2008
December 17, 2008. Your sweet little "Pink Princess" stretched herself onto the counter, grabbed a dinner plate and pulled it to the edge of the counter where she proceeded to lick all the coffee cake crumbs off the plate... I have to admit, when i peeked around the corner.... it was soooo darn cute. Shoulda had the camera!!! Oh also.... she did manage to do this in several "quiet" attempts... shes a sneaky little b-i-t-c-h.... But she is SOOOO Perfect, the thieving I guess I'm going to have to learn to live with.



December 2, 2008. We have about 15" of snow and got about 5 more last night. We are due for another 3-5" today. Sedona LOVES the snow... luckily it does not stick to her at all... even when she goes swimming in the creek, like she did again yesterday and then rolls in the snow, the ice and snow just falls off of her. Chasing snowballs is the dogs' favorite thing. Summer JUMPS and catches them! Sedona tried that once (to be like auntie) but when it broke and exploded in her face she decided to not do that anymore... she is a master at digging them out of the snow where they land and of course Sundance is all about getting EVERYONES snow balls, not just his own. Tom goes to one end of the yard and I go to the other (about 150 yards apart) and I say "Where's daddy?" and they run to him, then I go hide and they come find me, then he hides... we go back and forth like that about 6 or 7 times till they are pooped out.
| | |
| --- | --- |
| | |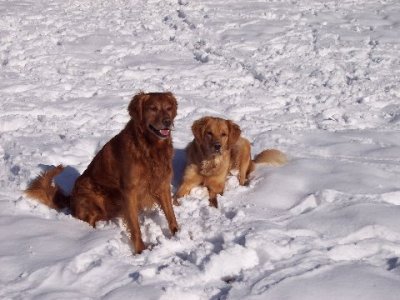 November 17, 2008. Last night we finished up our "Skills" class... it's just a class that I took to get Sedona out of the house one-on-one with me. It's intended as a transition class for folks who have taken all the companion classes and may want to move to competition type classes. Sedona is amazing. The teacher said she was the STAR of the class however that's easy for her because I have competed in the ring, so I know the footwork etc. (not that I do it right all the time...haha). She is doing a lovely Flip Finish to the left and we're working on the around finish. Her fronts are perfection but I'm having difficulty with the Stand... She wants so desperately to please that when I give the signal for stand she stands, downs, sits in one motion... so we're just working on popping up to stand and that's it right now. She can't seem to stay still when the teacher comes near her (little miss social butterfly!) so we are working on that too. She's doing a fantastic DROP though... and im working on that at a distance so hopefully it will be easy to incorporate into the recall.
November 1, 2008. YOUR DOG is awful!!!!!!!!!! Today in the field where we always go and run, they spread some nice HOT stinky fresh manure just across the road. Sedona took off with Sundance (her protector) in HOT PURSUIT.... Needless to say I had to RUN across the field, across the road and there she was, rolling happily in steaming hot POOP!!!! So... she came home and got a bath!!! she was not too happy. Sundance at least came back when called, but Sedona had NO INTENTION of listening to me. Then when she did come back it was just to say Hey mom... really great stuff over here... and take off again. Luckily I grabbed her but really, the damage was done! Should have taken a picture of her all green and black.
If you could have seen her face! I'm running across the field and yelling to her... her little blond head pops up on the other side of the road down in the culvert and she's just covered in splotches of black poo... and she's looking at me like "how did you get way over here? I ran so fast and there you are... Hmmm?" And I'm thinking ... Oh my god where is she.. is she in the woods... (after all, it's bow season for deer here and turkey season.... AHHHHHHH!). She stuck her nose in the air on that scent and was gone and Sundance just ran right alongside of her ... till he got to the road and thought "Gee, mom is screaming my name... I wonder... hmmmm.... " he turned around and got one look at me. Tom was running back to the truck to drive up to the road, so Sundance sees me running at him and Daddy running away from him... he abandoned his little precious Poop-Ball in about 2 seconds! But yes... it was a race to see who could get there first and believe me, I could see the little "cartoon bubble" over Sundance's head... I'll get HER to go over there, I'll check it out then leave her there... she'll get in trouble, I get to be the 'good boy' and she'll 'GET IT'... GREAT PLAN!
Her thick fur is STILL WET this evening. She's in her pen right now... will not leave anything alone tonight .. the dishtowl, dishcloth, shoes, papers, plastic bags from the cupboard... Mommy is D-O-N-E.... TEE HEE.... She is so darn cute!
October 5, 2008. Sedona and I went to SKILLS class tonight. She did so well... Teacher took her as demo dog and she only looked back at me a couple times... did everything she was asked to do... She is so pretty and sweet... (and a HANDFUL!!!)...


| | |
| --- | --- |
| | |
Sedona and Uncle Sundance on a wander through the fields, October 2008



September 7, 2008 Well... we did it again. Sedona absolutely SMACKED the land marks in today's test at 45 and 90 yards each.... and in some tall cover... about 1 1/2 foot tall alfalfa... AND she was dog #1 to boot... (it's always tough being the first dog). She did great water marks as well. On her first water mark the duck sank... I had a hard time seeing it in the ripples on the water. She launched out there turned and came back but I didn't say a peep. I just stared at the duck. She almost got back to shore and thought... wait... I need to get a DUCK! And out she went, motored right to the spot. The 2nd water mark she launched so far and high the gallery all went "Ooooo!!" I guess she was trying to make up for the heart attack she gave me on the first one. Through it all her obedience has been impeccable. She came back thru some tough weeds on the last retrieve but she (unlike all my other dogs and the other contestants) does not stop to shake till she gives me MY bird. Then stares at me and the judges with those enormous dark eyes and just bats her lashes... what a DIVA!
Here's a photo of us from Saturday... with her TITLE ribbon and one with the judges, Clarence Klaus (possibly one of the most highly respected AKC judges alive) and Joe Smithberger. It was a great weekend in PA. Saturday night I was able to have dinner with Carol Lantiegne and celebrate with her all the ribbons her 3 SH dogs received and one of her pups Adirondac Artemis also titled in JH today. It was a banner weekend for these wonderful dogs... But I must say... None are more beautiful than Sedona Sunrise of Fern Hill, CGC WC JH!!!!!



Pictures from the Greater Pittsburgh Golden Retriever Club AKC Hunt Test 9/6/08
| | |
| --- | --- |
| Sedona & Diane with the JH ribbon | Clarence Klause, Diane, SEDONA and Joe Smithberger |


September 6, 2008
Sedona got her Junior Hunter title today in Pennsylvania!!! She was awesome on the land marks and just as good in the water, which involved a difficult cast where the bird was on dry land and the dog had to swim across the pond, get the duck, then swim back across the pond. The judge was very complimentary about her performance and everyone talked about her stunning good looks. Pictures to come soon! She will be running again tomorrow but this is just for fun -- she only needed four tries to get her four passes! ....

August 2, 2008
Sedona passed her GRCA WC test today in Syracuse. She did a great job. I will have a full account and photos forthcoming. Several photogs were there... I also got a shot of just her and I with the judges for your website. when they forward to me I'll send on to you.

I'm beat... time to walk the doggies and go to bed. BIG thunder/lightning/deluge rainstorms in between sunny sections... it was an exhausting day... left at 6am and got home at 945 pm....

July 20, 2008
Sedona went 2 for 2 this weekend at the WNYRC Hunt Test.. .considering Mom and Handler was also the Hunt Test Chairperson.. it was a good thing we didn't embarrass ourselves. Saturday was an extremely warm and humid day but Sedona kept her cool and Sunday was ... for the most part, POURING RAIN but didn't dampen her spirits even if Mom was SOAKED! Sedona did a very nice job both days. No hesitation getting the birds or leaping in the water. I think she's decided she likes this "game" a lot! Only one more to go....!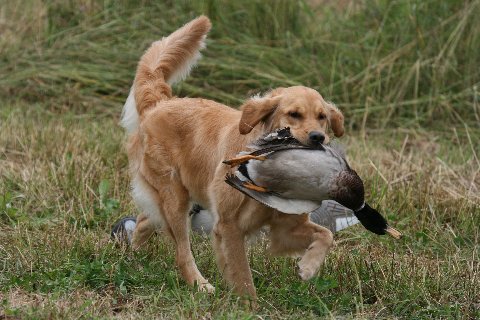 ONE DOWN AND 3 TO GO!!!!!!!!!!!!!



July 13, 2008
Today was Sedona's FIRST AKC Junior Hunter test and she was AWESOME!!!

Honestly Karen, she was stunning. She was very energetic ... pulling to the line but got under control when I asked it of her. I did not want to correct her and make her first test 'no fun'. So I let her do HER thing.... and boy did she. Sat like a proper lady at the line, let me remove the leash and hold her collar without bouncing all over the place. Was completely fascinated by the 'live flyer' a BEAUTIFUL FAT Mallard Drake (see pix below). Nailed the mark and the 2nd bird was angled through one row of tall cover which she blasted through without a thought. Lovely deliveries to hand both times. A lot of dogs will hold the duck but drop their heads so you have to reach down, she holds it up for me as if to say "Here Mom, look what I brought you!" Probably comes from all the FRONTS I do in Obedience with her.

Water was not fun, only because we had a horrible line of thunderstorms blow through preceded and followed by just horrendous downpours. We were in the holding blind and we were next, both of us drenched and lightning flashed. Immediately the test is stopped we all ran for our cars, Sedona staring longingly at the pond as if to say... "HEY... What about my ducks?" We sat in the truck for about 1/2 hour then the thunder/lightning passed and we went back out. I must admit her blind manners are NOT GOOD... She tries to peek around, over, under... she wants to do this big time. She did two great retrieves in some very weedy water and was one of only a few dogs that delivered the bird prior to shaking off (we've been working on that). So many young dogs drop the bird to shake then it's hard to get them to pick it back up... so we just decided we'd avoid that by coming out of the water running to mom and sitting.... then shaking.

I was SOOO proud of her and I'm so blessed to have gotten her! I am even more glad that I followed my instincts with her training. You can go 'by the book' and what the experts say or you can read your dog. With Sedona things were, and are, VERY touchy. She is much more sensitive (not soft) than my other two. After we did some retrieving for a while and I asked her to 'fetch' a bumper she dropped, she didn't understand. So that is when (and only then) did I put her on the bench and force fetch her... 4 days 2 sessions a day and SHE'S GOT IT... Any more and her reaction would be one of dismay at my stupidity... She is a brilliant little girl and I think is coming into her own realization that she's MY teammate and she is now secure in my love for her. She puts her paws on my shoulders and literally wraps her front legs around my neck and she'd stay there for an hour if I let her.

Anyway. Sedona is an awesome puppy. She marches to her own drummer that's for sure, and the trick is... for ME (well, all of us really) TO LISTEN and figure out the right beat for them.


April 7, 2008 -- editor's note: While we were in New York this past week breeding Hilfy, we had the very great pleasure of having lunch with the SanFilippos, who brought Sedona along. We were thrilled to see her and took LOTS of pictures. At one year old, she is stylish, very pretty, sweet, and fast as a rocket. Thanks so much, Diane and Tom!


| | |
| --- | --- |
| Sedona greets Karen (4/4/08) | Sedona, looking ladylike (4/4/08) |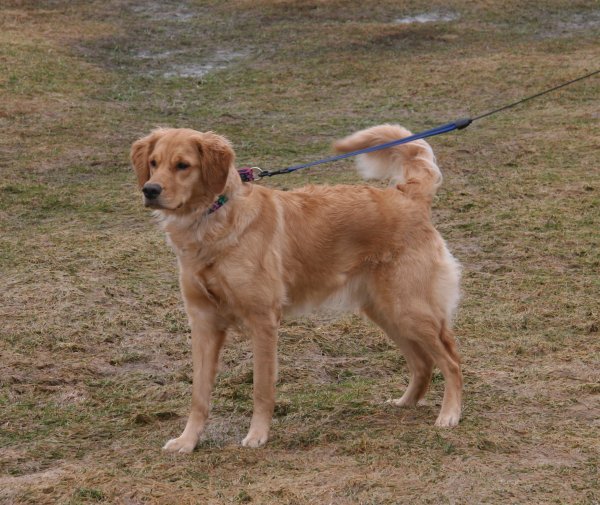 Sedona at one year (4/4/08)



March 21, 2008 Well, she did it... she has her first title after her name.... be it ever so humble. She passed her CGC test ...one week before her 1st birthday!!! yipee... She was a good girl. Lot of sniffing on the floor on the loose-leash walking and the greeting a friendly stranger with dog, her handler (me) messed up and sat her too close... I re-did that exercise and she did perfectly. She did very well at the sit for petting and grooming etc... which I was surprised because she is such a wiggle butt. She is such a lovely lovely girl. So sweet... and apparently she loves me a lot too... she and Sundance were horsing around and he bit her... she yiped and then jumped in my lap and snuggled with me. Sedona is just soft and cuddly and warm... I have to be careful to not SQUEEZE her to death!!!

February 16, 2008 Sedona is AWESOME... she is a piece of work and a lovely lady. Doing well in cgc class and who knows. might even pass the test. If it wasn't so frozen I could get her out to meet and greet more people and she'd behave better on the sit for petting etc....

She went into heat at 9 1/2 months ... not much, just minor spotting. She acted like an idiot for a couple of days beforehand, wouldn't retrieve a bumper for anything. Acted tired and lethargic for a few days after that, and did a lot of licking. Over in about 2 1/2 weeks...


| | | |
| --- | --- | --- |
| Sedona, nearly 10 months (1/13/08) | | January 13. MAN... does she look like Speaker (with Hilfy's eyes). She has MAJOR fur on her hind legs... Tail fur is thick and straight...only curls are on her butt/hips and its more like two old-fashioned duck-tails combed into her fur. Sedona is a BIG GIRL... as tall as her aunt Summer who is a large golden herself. |



Christmas 2007. Left to right ... Summer (Hilfy's sister), Sundance (Summer & Hilfy's younger 1/2 brother) and SEDONA... the white puppy! Note: NO ORNAMENTS on the bottom 3 feet of tree... the tree is in these 'horses' raceway around the house! No need for garland or tinsel either... with golden tail hair stuck in it!

August 2007. Hi, just got back from a quick trip to Vermontville to visit with Joan Kogut [breeder of Hilfy, Summer Time, and Sundance]. She LOVES Sedona, is so impressed with her and how wonderfully adaptable she is. Sedona was polite and respectful of all the dogs... all 8 of them (as Buddy was there too... a pup from [Hilfy and Summer Time's half sister] Xena's litter that DWARFS ALL of our dogs in size). Sedona played and joined in when she could, hung back and out of the way when she wasn't wanted... She was wonderful. Joan and I went up to their farm yesterday with all 7 dogs and by the time we caught up to the dogs at the pond... Sedona was out there swimming in circles with all the big dogs... Pooh and Xena were trying to teach her how to catch frogs and she was the epitome of SWAMP COLLIE at the end... looked more like a flatcoat than a golden with how black she was... then we did an assembly line back at the farm house... I rinsed each dog, handed off to joan who chamoised them off...

Sedona grew at least 5lbs and 3" each way while she was up there, the crate that fit on the way up, DONT FIT NO MORE!!!! Thankfully her new crate arrived over the weekend with her camo waterproof crate pad :-) as well as the panels to add another run to the 3x9 kennel runs in the basement so she is being upgraded to BIG GIRL status.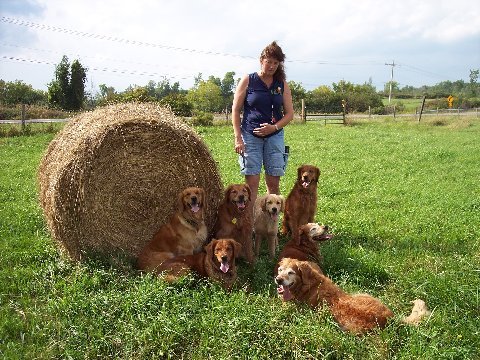 The Golden Horde -- left to right, aunt Brandi, aunt Xena, aunt Summer, Sedona, uncle Sundance. Laying down cousin Misty (front) and grandmother Marcy (in back).

Sedona with her grandmother Adirondac My-Tee Marcy MH,CDX,WCX,Can WC,OD,CCA,TDI,CGC after a long swim

Playing in the pond with Aunt Brandi (AFC AFTCH Push Comes to Shove x Marcy)

Sedona between grandmother Marcy and aunt/best buddy Summer Time
July 2007. Sedona is doing Awesome. She and Summer are still best buddies except when she gets too close to Summer's kennel when her food is down... then she snarls for real. Gotta leave for puppy school soon. Yesterday we drove up to Carol's [Adirondac Kennels] in Syracuse, got some training in with the big dogs. Sedona didn't want to go in the pond. All she wanted was to eat MUD at the side of the pond!!! She is a SEASONED traveler. Also took her up to Jack's campsite (he was up for the weekend fishing in a tournament on Lake Ontario so he could see her. He said Sedona is MUCH taller and longer than her brother Hunter and Hunter is bigger boned.

Sedona is amazing. As gorgeous as Summer Time is (her face and expressions just melt me), Sedona is going to be even more of a STUNNER. She is so beautiful. Tonight is puppy school graduation... Hoping to get some good photos. She's going to be tall and long like Summer, Hilfy & Penny and looks like some very interesting shading and colors. You know I like the RED dogs but darn it if she isnt winning me over to the lighter color. She is just perfection. Even Sundance has decided he really likes her. And such a GOOD pup. She plays rough with the rough dogs in class and is gentle and sweet with the little skittish pups. Its a golden trait for sure but she excels at it.
June 2007. She's a real pistol that's for sure, YES her legs are getting long and I noticed about 3 days ago her tail is getting whispy feathers and so are her legs! Her feet were huge, then she grew into them and now they are huge again! She and Summer are the best of friends, they play and fight and chase each other around the house. Sundance wants to get in to it but he steps back... I think from that first day when he corrected her and I freaked and yelled at him. He seems afraid to be near her. But he plays with her outside... running around her in circles and hyping her up.

She thinks any surface is hers to explore, Tables... ...woven coasters are her favorite thing. Trying to teach her NO but that doesn't always work -- she just runs faster! She is now leaping from the recliner chairs a full 4 feet to the sofa. She tears around the room and from 5 feet away LEAPS... you'd swear she was a flying squirrel! She does this for a while around 9:00 at night, then then the rest of the time shes a smart wonderful loving adorable baby girl. She went to 3 stores with us today and the vet. The vet is totally enthralled with her. She weighed 25.2 lbs ... lean mean fighting machine and her LEGS.. holy cow...


| | |
| --- | --- |
| Playing with Aunt Summer | Down Stay at Puppy Class |
May 15, 2007
Sedona is growing by leaps and bounds. I got my "puppy smarts" back and last night around 10pm ran her little butt ragged then took her outside then into the crate she went... slept for 6 hours straight, in fact I WOKE HER UP this morning. I like to get them out of the crate before they fuss so they dont think fussing is what gets them out. She went into the toy bin and pulled out the ONLY TWO TOYS that Summer and Sundance play with all the time. They are now hers under the kitchen table. She also absconded with Sundance's blue fleece blankie... His BINKY we call it... he drags it everywhere and rolls on it etc... I think that's why she likes it ... it smells like him (she fancies Sundance).... so that went into her bedtime kennel.

Monday she could barely climb the steps up the deck into the kitchen and this morning, she is leaping up each level!!!! She went to work with me today and was passed around all over ... everyone LOVED her. Thought she was the most beautiful sweet well behaved pup they had ever seen, we then went to my girlfriend's house where she promptly passed out on the floor and slept while we had lunch and then slept the entire drive home. Now she is terrorizing everything she can in the house but we've learned how to sit for a treat and she's learning great marking skills by playing kibble-toss on the kitchen floor.

May 22, 2007
Is just wonderful... She stayed in her crate alone today (FIRST TIME) and I came home to a sleeping puppy, with a dry a nd clean crate!!!!!!!!!!!!!!!!! I am so very impressed with her. She is just wonderful and will end up being a total stunner I'm sure. She's starting to get a 'grown up' strut to her walk and of course she already has the Hoya/Hilfy/Summer prance! We're going to take her out for a long walk now but she has totally settled into her new routine. (and basically has us wrapped around each toe on each paw!!!!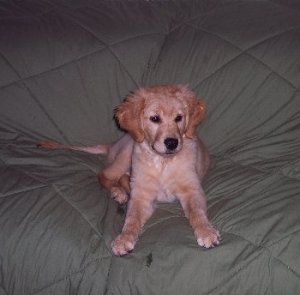 Sedona's Princess Pose, at home in NY

Puppy Pictures at Fern Hill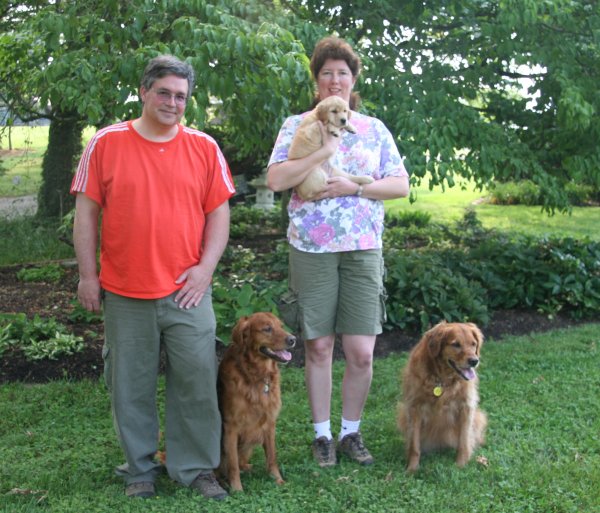 Sedona with new owners Tom and Diane Sanfilippo, and their other dogs, Sundance and Summer, 5/13/07. Special thanks to Diane who helped me administer Puppy Aptitude Tests for this litter!
| | |
| --- | --- |
| Sedona's 6-week portrait, 5/5/07 | Diane and Sedona, 5/13/07 |
| Sedona on her way to the barn, 5/10/07 | Sedona meets Dedo in the entry, 4/26/07 |
| Sedona explores the patio, 4/25/07 | Sedona munches a leaf, 4/20/07 |
| Sedona's first trip outside, 4/20/07 | Sedona tests the limits, 4/18/07 |
| Sedona kisses Big Sister Penny, 4/18/07 | Sedona looks fetching, 4/18/07 |
| Sedona with Ryan and Penny, 4/15/07 | Sedona at 2.5 weeks, 4/13/07 |
| Sedona stands off two of her brothers, 4/12/07 | Sedona tries to figure out this walking thing, 4/12/07 |
| Sedona visits with family, 4/8/07 | Pink with eyes, 4/6/07 |
| Pink chews on Ryan's thumb, 4/4/07 | Pink at 5 days, 3/31/07 |
| Penny meets her little sister, the Pink Princess 3/31/07 | The Pink Princess, 12 hours old 3/26/07 |

254 Babbs Road, Lenoir City, TN 37771
Tel: 865-717-1019 || E-Mail:
This site &copy 2001-2015 by Fern Hill Farm All rights reserved.
Revised September 29, 2015