| | |
| --- | --- |
| | Chilli's Page |


Fernhill's Sizzlin' Red Hot AX AXJ CCA SR418868/02 ("Chilli")
Sire: AFC AFTCH Rosehill's Mr. Speaker MH OS FDHF CCA
Dam: Adirondac Hilfy of Fern Hill CDX OD CCA TDI CGC ASCA-CD SR017085/01
Born March 26, 2007
Height: 23-1/2" Weight: 69 pounds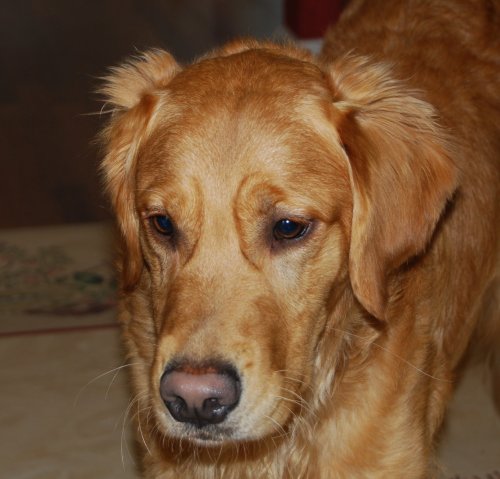 Chilli on his first birthday, 3/26/08
Chilli was the second born and the smallest puppy. His puppy name was Chili Pepper, and his new owner has kept Chilli as his call name. He earned his nickname not only because of his red collar ribbon, but because from a very early age he showed his spicy, rascally temperament. He is charming, way too cute for his own good, cuddly and just a little opinionated. He was the first one walking and shows signs at a very young age that he is both athletic and quick. He has an incredible prey drive, loves to retrieve, and loves to walk under your feet and eat peonies. He went to live with Sandy and Tim Farr who live near Atlanta, Georgia, where he is learning obedience, hunting, and agility -- Sandy enjoys training when her work schedule permits, and with him, the sky's the limit. The Farrs also have two other Goldens, Danny and Burberry, and often keep their son's Westie. In 2014, Sandy and Chilli got serious about agility and went from untitled to Agility Excellent and Agility Excellent Jumpers in less than a year and are now competing in Masters. During this same time, Chilli also passed the prestigious Certificate of Conformation Assessment.
News about Chilli, 2009
April 18, 2009, Editor's Note: Sandy has taken the lead in putting together occasional field training lessons with Lorie Jolly (Owner of the illustrious Mr. Speaker). We went to the one in April and it was a huge thrill for me to see Hilfy and four of her puppies all together at the same place! In addition to Sandy's Chilli, Paxton, Ryley, and our Penny were all there. Pictures below are of Chilli and Sandy during this session.
3/10/09: It is coming together for Chills and me. His drive has really kicked in and he is loving it and his mom is finally getting it together. We are back up to working on right and left back casts. Lori's training sessions once a month are really helping us a lot!
News about Chilli, 2008
12/14/08: Chilli and I spent Sat. at Lorie's and oh my do we have some work to do. We have gotten tough with Chilli on obedience on Lori's advice and he is responding well. No more greeting me by jumping all over me and when we tell him to sit or down or whatever the command, he has to do it since he absolutely knows the commands and maintain until told to release. We've backed up with some of the drills since his mom had made some errors and needs to relearn things. She is such an amazing trainer. I really wish she was closer so I could get with her a lot more often.
11/8/08: We are having so much fun at agility. I absolutely love, Jan, our instructor. Chilli is doing fabulously and today we got to run and play with some of the other dogs afterwards which he enjoyed. He certainly is a momma's boy though because he kept coming back to check on me. At the same time he is a social butterfly and loves everyone.
It was quite funny though because he has never been on a dog walk nor had a springer spaniel that was there and while they were playing, the little springer decided to go up and walk across the dog walk. Chilli watched her and then decided that if she could do it, so could he so up he went and walked up across and back down like he had done it before. Then Jan gave Chilli such a wonderful compliment. She commented that she really was more in to the little dogs but she really liked Chilli. She commented about his wonderful personality and his gorgeous face.
Thanks for my sweet boy!
| | |
| --- | --- |
| | Chilli, 10/25/08. Lori and I agree that his head looks more like Hilfy's except he has Speaker's eyebrows! |
10/21/08: On Sunday, Chilli went to his first foundation agility class and he had a great time. I REALLY liked the instructor! She is very good! Chilli actually had a private lesson since the instructor had to reschedule Saturday's class and no one else responded to her e-mail to find a time that would work for everyone so we got to pick.
Right now we are working on, I think they're crossovers. We come around a barrel and then we will keep moving down to something smaller until we can come around the pole of a jump. We will also start working on coming across a small board and making sure our back feet hit the board and stay there until we are ready to come off to make sure his feet hit the contact zone. He's not suppose to go on any equipment and it will be like that for quite a while.
10/11/08: We went to the Atlanta Golden Retriever Club picnic and they had dock diving there. The first time, Chilli went up the ramp and back down the ramp into the water. He was suppose to come back out using the ramp but he had other plans and came up over the side. He wasn't too crazy about it since it was different from the lake, but we did that again and he was warming up to it and got the hang of using the ramp to come back out. So he got pretty excited about it then and so we took the plunge and jumped off the dock. He LOVED it!! Then he was crying to jump back in and almost took me with him a time or two.
I don't think the field training thing is coming to happen through the club, but there is a group outside of the club that is trying to put something together - lots of Speaker kids. Chilli starts agility classes next week. He was supposed to start today but he went dock diving instead. The instructor has challenged me to teach Chilli to go backward through the ladder. No problem:) I have him walking backwards with the clicker and you will like this -- we are using Beep Beep for the command since there is already a back command in field. We will add the ladder in the next couple of days.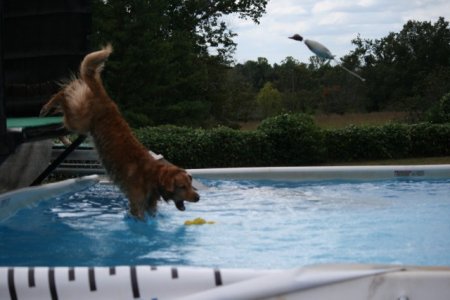 Notice that he was distracted by the toy floating in the water and missed the docken flying through the air!



10/3/08: Chilli and I have been getting training in almost every morning and every evening during the work week. We hope to start an agility class in the next couple of weeks and we are going to the Canine Ranch next weekend with the golden retriever club. I've run into a couple of ladies that I think we are going to try to get together and do some training in some various things as well.





7/27/08: Chilli went in yesterday to see Dr. T and he is doing great of course. We ran titers so we should have those back next week. He weighs 69.3 lb so I suspect he is still the smallest in the litter. Good things come in small packages. Also realized I hadn't snapped any photos of him lately so I included a few of those plus one of Boo with his tennis balls.


Chilli and Boo, 7/27/08



6/18/08: Well, Chilli has decided he is a mouser. Last night he caught what we thought were 2 mice although now I'm not so sure and they may have been baby rats because I woke up to a rat on my bird feeder this morning. About training, we're getting some in but not tons. I would really like to get into some agility as well since he just seems like he would do extremely well at that as well.





5/9/08: Chilli does great at his training when I have a chance to do it. Things are definitely slowing down at work so hopefully we will have a chance to get into a routine. He has developed a little attitude when it comes to ice cubes and he will growl anyone away if they come too close to his cubes.





3/26/08: I can't believe Chilli is a year old today. Here's a couple of shots of Chilli with one of his birthday presents. Boo is attempting to get it, but Chilli has no intentions of sharing. He got a soft frisbee too that I think he will enjoy.



Chilli with birthday presents and jealous friend, 3/26/08



3/22/08: Chilli did the cutest thing last night. He has s toy duck that he has become rather attached to. I was sitting by the fireplace last night and hebrought his toy over to me and just stood there so I just gave him a "drop" and he let me have it. I then realized he wanted to do his fetch, hold and release thing with his stuffed duck so we did a few and he came back for more. He loved it! I normally take him down to the basement each morning before I go to work and do some work with his bumpers but I guess he decided he wanted more. When he was done, he was quite content, climbed up in the chair and promptly went to sleep. He is definitely Mr. Personality.





3/15/08:As you may have heard, we are having some very nasty weather today. About an hour ago, we had lots of hail and the look on Chilli's face was priceless when he looked out the window at it was coming down. He LOVES ice cubes and he looked over at me as if to say WOW, there is a giant ice cube maker in the sky. This is great! Leave me out there! Here's a picture of him taken a little earlier today, all round-eyed.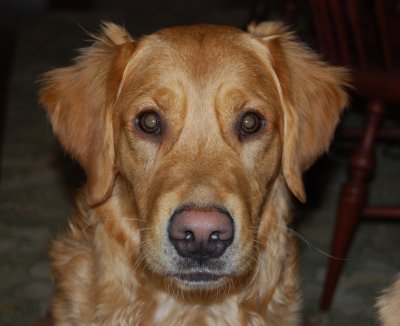 2/22/08: Chilli did the cutest thing last night. He has s toy duck that he has become rather attached to. I was sitting by the fireplace last night and hebrought his toy over to me and just stood there so I just gave him a "drop" and he let me have it. I then realized he wanted to do his fetch, hold and release thing with his stuffed duck so we did a few and he came back for more. He loved it! I normally take him down to the basement each morning before I go to work and do some work with his bumpers but I guess he decided he wanted more. When he was done, he was quite content, climbed up in the chair and promptly went to sleep. He is definitely Mr. Personality.
2/9/08:Chilli and I went to an agility thing put on by the golden retriever club. Chilli had a blast! He had to say hello to everyone--canine and human. Now I knew the club was very much conformation oriented, but was shocked to see that it is 99.5% that way. And they were all brushed out and trimmed just perfect and then there was Chilli being just a dog and loving every minute of it. After just about everyone had left, one of the instructors came over and took Chilli and said it was nice to see a golden that could move so beautifully. She liked Chilli a lot. He is wiped out right now and is sound to sleep.
1/13/08: Chilli had fun today with a real pigeon. I'm trying to get him to hold it in his mouth which he is getting but he would really like to tear the feathers out. Boo just sniffed it, but Danny thought he had died and gone to heaven. He immediately took it and ran a short distance before he dropped it.
News about Chilli, Fall 2007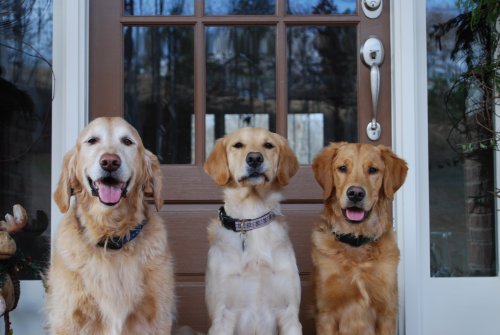 Christmas Day: Merry Christmas from Danny, Boo, and Chilli!

December 2:We put the tree up today and Chilli has been bringing me ornaments throughout the evening. Now they are tired. Here's a picture of Chilli by himself, then one of him and Boo together and as you can tell they are best buddies. I missed a couple of good shots a few minutes later when Chilli put his front legs over top of Boo.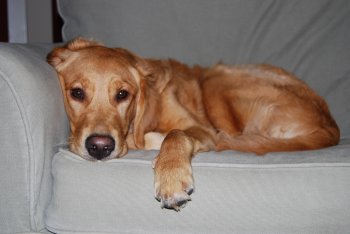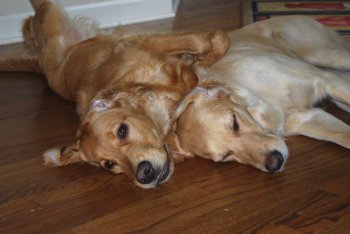 November 10: And Chilli, my sweet boy. Well he is so very adaptable. You know most people only get that one special dog that makes a huge impact on their lives. I think I am very lucky because I seem to have gotten more than one. Chilli is so incredibly bright that sometimes I can see him thinking. He has been refusing to bring back marks lately and he will run out full speed to get it, Stop, think about it, turn around and look at me and then you can see him thinking I don't think I want to get that right now. We're working through that now. He has been starting to cuddle with us on the couch and often climbs in bed with us for a while. This morning I slept in and about 6:15am Chilli had decided he was not waiting any longer to eat. He came over to me and began barking. He has personality plus and can he jump. It is incredible how high he can jump. I can not tell you how much I absolutely adore and love this guy.

October 22: Chilli just got back the vet. He is legal now that he just had his rabies vaccine. We just need to do a lepto in a couple of months. That's the one I really dread but since he is going to be in the field it will be a good idea. He weighs 48lbs now.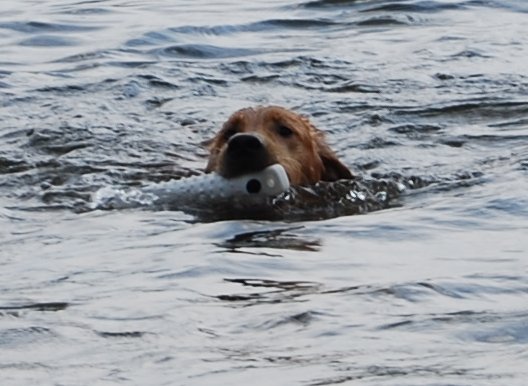 October 17: Chilli took to the water like a duck. Right in and immediately began swimming. Took a few strokes with his feet above water and then got the hang of it within seconds. He leaps through the water like a dolphin and always made sure he got the bumper. He has a great take off to go after the bumper. Next time I may see if he will jump off the dock. Have the feeling that won't be a problem. Chilli always made sure he got a bumper even if he had to swim to someone else and take it from them, although Danny got tired of that and refused to give his up. We did have to keep Chilli on a long line since he would run to keep the bumper away from anyone else. Danny the mother hen though, kept grabbing the end of the long line to bring him back in.

October 15: Chilli and I have been working on RH and LH over casts and he is doing quite well although we haven't attempted to go from food to bumpers yet. Yesterday we started on the RH and LH back casts and he caught on pretty quickly to that to0. Still working on the hold until asked to drop but that will come with time. Discovered there is a nearby state park that has a lake that I hope to get him to in the next few days.

October 10: I have started puppy casting with Chilli and in a little less than 2 weeks, we should be able to start into the mini T drill. He is also doing well with his fetch, hold and drop, and marks. He is gaining a lot of confidence and lately I haven't noticed anything he is afraid of.

September 17: Chilli and I had an awesome weekend. It was somewhat last minute, but we drove up to meet with Lorie Jolly and do some training. She is incredible! We intend to get together with her as often as necessary to do the field work. She does not use a force fetch and her dogs are incredibly awesome. It was a lot of fun working with them and experiencing their drive and work ethic first hand. Chilli had a blast. He loves birds, dokkens and is not afraid of gunfire and when he wasn't training he hung out with his Dad. Speaker is an very sweet soul and he and Chilli enjoyed playing together.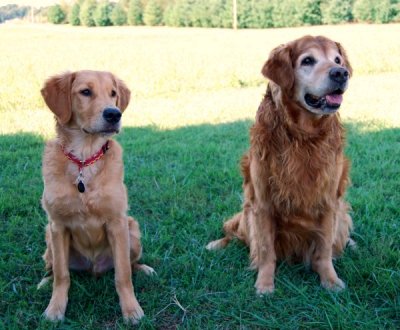 Chilli with his sire Speaker, 9/15/07
News about Chilli, August 2007
August 3
My daughter took the boys out to play on the slip and slide today. She attempted to teach Chilli to slide and of course we didn't get any pics of it since he decided to slide after we were cleaning up (I think it was just an accident but pretty cute). Sara absolutely adores him and he her. He is so funny and I wish I could capture some of his antics with the camera, but by the time I would get the camera he would move. Today he was sleeping on one of the dog beds all stretched out with his head hanging off the edge and his tongue sticking out. And every now and then I won't see him get up and leave the family room and if I go into our bedroom, he will have climbed up onto our bed and be asleep. A couple of times he has climbed onto the couch and Burbs will be standing beside it and Chilli will jump onto his back. He has even gotten Danny to start playing again. They play tug or chase each other and occasionally they wrestle.

August 13
A little feistier Chilli is emerging. The past couple of days he has decided he likes to get into the trash sitting in our office, jump off the back of our chair in the family room, and put his feet up on the kitchen counter. He loves to snitch the laundry now, too. I guess you could say he is becoming a typical golden. His legs are getting longer again, too. I can barely pick him up anymore.

We have been trying to head up to the playground each morning and play on the equipment which seems to be building his confidence. It is also helping by getting him out by himself without the other guys. We usually try to do a few retrieves in a grassy area nearby and walk around the area just to see what is going on. Lots of good distractions such as golf carts, golfers, tennis players and other people and dogs. His nicest retrieve though was this afternoon in the backyard. He ran out and fetched his dokken, brought it back and delivered it to hand. It was a beautiful retrieve!

You described Chilli's personality perfectly. He is not timid towards people at all and has this little prance and almost a growling noise he does as he approaches anyone which is really cute. He may always be a little timid towards new situations although he's not doing too bad either. Sometimes it's good to think before you leap. He really has a fantastic personality and even getting into the things he is doing now is not bad. He is very good about releasing things when I give him the "drop" command except for any paper he has shredded and is chewing.

Chilli weighed a whopping 35.4 lbs at the vet today!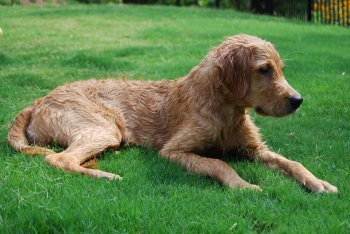 After swimming, 8/2/07
News about Chilli, July 2007
July 8
Chilli is doing great with his training. He has a VERY strong sit and does a nice heel and sit front. Down is only if a piece of food is there and we are having some issues walking on a loose leash (collection). We hope to change that in the next couple of weeks as we switch around collars. He is now old enough to switch to a volhard collar to do some very light corrections to get his attention. We will use the flat collar for agility. We are going to start tracking and will use a harness for this. He will have different equipment including leashes for each type of training so he knows what is expected and what he is going to be doing. Retrieval work is going pretty well although the last couple of days he has been refusing the fetch command with the dumbbell. I need to think it through and think if I am giving him some signal that I shouldn't be. He does a sit on whistle command and I hope to start hand signals in the next week.

His coat is beginning to get darker so it is now splotchy in color. I sent his AKC papers in -- his registered name will be Fernhill's Sizzlin' Red Hot. His little temper shows up every now and then but is nothing serious. He now growls at Danny if he walks too close to his food bowl which is just too funny because Danny does back off even though Danny is the alpha. Burberry and Chilli play constantly.

Lately, Chilli has gotten really attached to the drapes in the family room. We call them his blanky. Hopefully this week we will be working on a place board. Chilli has to maintain the sit on it with distractions so we will try for a picture on it. Should be a good test for him although we will do it in the back fence in case he doesn't maintain as his recall off leash is not good. Also I do all off leash training on leash until I am 100% sure he will listen to the command.

Chilli will be going in for his last shot this week so I'll let you know how much he weighs now. He is a sweetheart and we are enjoying him so much. He now crawls up on the couch with us.

July 15
Chilli was so funny last night. We went for a walk down a different part of the golf course and there was a lot of area in the rough along the edge of the path so I let him walk off the path and run through the long grass/weeds and he was like a kid in a candy store. He couldn't get enough of it.

July 17
Chilli seems to be growing like a weed especially his legs which seem to keep getting longer. He just got back from the vet where he had his very last distemper parvo shot. Glad those are done and he weighs 31.4 lbs. He is also teething right now so we're not doing a lot of retrieving since his mouth is sore. He just got his 2 top front and now his bottom front are coming in and his gums are pretty swollen by his canines. He is doing fabulous on his obedience work and LOVES the water or at least his wading pool. Our other golden, Burberry lays down in the pool and Chilli puts his face under the water so he can bite Burbs' leg. Now that he is vaccinated we hope to get him to the lake soon to do some real swimming.

July 30 (email to other puppy owners from this litter)
Chilli is teething now as well and is chewing and eating anything he can get his mouth on. I think he is swallowing his baby teeth as so far I have not found any on the floor. He probably weighs close to what Sedona does now as a couple of weeks ago when he received his last distemper/parvo he was a little over 32lb. and he looks as though he has temporarily quit growing upward with his legs which did look like stilts and is right now filling out some. His coat is coming in wavy. Don't know if that is from Hilfy or Speaker or maybe both. He is quite the little talker as well. Lorie told me she taught Speaker to whisper as well so we may try that, too. He is a social butterfly and loves people and other dogs. He brings lots of smiles and gets lots of attention anytime we take a walk or go somewhere.

He is doing awesome at his obedience work. His strongest command right now is sit (I don't use a stay command) and I can come out full length of the leash and put a little pressure on it and he will maintain. He will also sit on the whistle and we no longer have to chain the command. We have also added distractions and the majority of the time he does maintain. Down is his weakest command and I expected that although that is improving quickly as we switched to a snap around puppy collar for training. We have also started with him maintaining on a place board. Hopefully in a couple of weeks we will be the point where we can put on the long line and begin the off-leash work and getting better at the hand signals. We have temporarily stopped formal retrieval/fetching training due to his teething as his mouth is quite tender and Lorie suggested just doing some fun retrieves with very soft items. We had hoped to get together with Lorie for some field training in August, but we have decided to hold off until his mouth isn't as tender. We hope to start into some agility training instead and some tracking. Hopefully, we will find a free morning before the dew burns off soon to start the tracking. I have the feeling he will love it as we have taken him for walks in the woods and through tall grasses and he usually has his nose to the ground. He also has this new thing where he comes running towards something and then he just leaps into the air. Hopefully this will carry over into his water entries because it will be awesome if he does.

He isn't always the bravest little guy, but we continue to introduce him to new things and situations and he is doing great at adapting. Hopefully we will get him to the lake in the next week or so. He adores the wading pool we have and will put his face under and bite on our other golden's foot underwater.

Ok I've gone on enough about our little Chill pill, but he is just an incredible little guy. Can't wait to hear from the rest of you guys!


| | |
| --- | --- |
| Listening, 7/10/07 | Looking down the hill, 7/10/07 |
News about Chilli, June 2007
June 8
Thought we would let you know how our sweet boy is doing. He is such a joy! He has decided that 5 am is a good time to get up and since he sleeps through the night we let him, but we don't feed him until around 6:30 or 7:00 just in case he thinks he would like to sleep in. He is essentially housetrained and doing extremely well on his obedience work. You touch that treat jar and he comes running and ready to work even if he is sleeping. He is always carrying something in his mouth and Burberry is quite okay with that unless it is one of his tennis balls although Burberry hasn't quite figured out what to do about it. We are working on the fetch, hold, release in your book Lorie and we use the paint rollers and a puppy bumper I have. He loves the agility tunnel and the water. Tim and I laugh all the time because you said he was opinionated and had a little temper which he does, but he is one of the most laid back golden puppies we have ever encountered. He has understood from Day 1 that Danny is the alpha. I think Chilli will be number 2 in line with Burberry being the bottom guy and Burberry doesn't mind because he is enjoying playing with Chilli every day.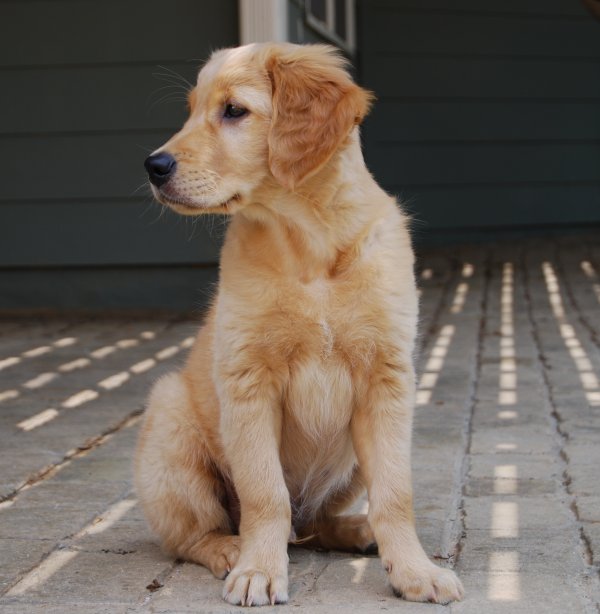 Chilli's 10-week portrait, 6/12/07



June 23
Chilli is doing great! He isn't always the bravest little guy and he relies on the big guys for back up, but we sure do love him. For instance the other day behind us in the woods an old tree fell. As soon as we began to hear the crack of the wood, Chilli took off and hid behind a bush unlike the other guys. It was actually pretty cute! He has mastered going down the steps now so it's nice since he is almost too big to carry down now. I can't believe how fast he is growing. Pretty soon I won't be able to pick him up which I will miss. We found some dumbbells which we are using and we now have bumpers to work with. Lori Jolly has given us something to work on, too. She is wonderful in helping us!



A cozy sleeping place, 6/22/07

Bath time, 6/23/07

Naptime on the air conditioner vent
News from the Farrs, May 2007
5/16/07:He did well last night for his first night away from his littermates and mom. I laid on the floor by the crate because he had a hard time and let us know he definitely wasn't happy. Once I laid next to the crate he settled down. I got some sleep and actually more than I expected. Karen, he is soooo sweet! He can put up quite a fuss when he is not happy. We have been working on the recall this morning and he is doing very well. Housetraining he is doing fabulous!

Danny is very gentle with him. Burberry turns out to be quite jealous and has become very possessive of his toys. We have even heard him growl for the first time, but I don't think that is going to last for long.

5/15/07: All I can say is what a doll! We arrived home about 5pm and he was an angel on the trip back. He has had a very busy evening. He has checked out the backyard, played with Burberry and Danny and met his "cousin" Simon. Simon thought that since he was bigger than Chilli, he had the upper hand. Wrong! Chilli is definitely Speaker's son as Chilli told him he was not putting up with that. The boys showed him the agility tunnel but he decided not to try it this evening--too much going on. Right now he is sound to sleep on Tim.
| | |
| --- | --- |
| Chilli at his new home, 5/15/07 | Chilli with stick, 5/15/07 |
Chilli at Fern Hill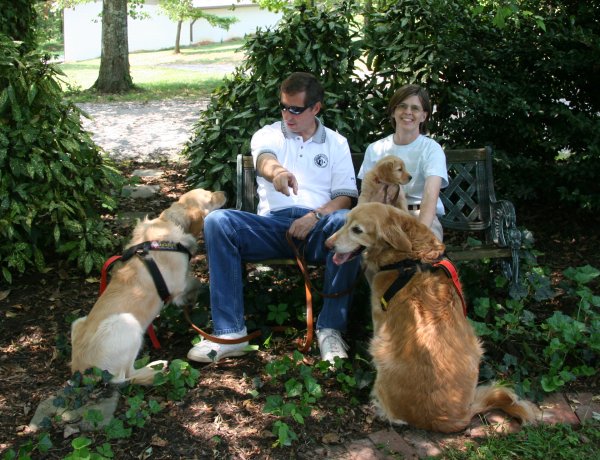 Chili with his new family -- Tim and Sandy Farr, and their other dogs, Burberry and Danny, 5/15/07.
| | |
| --- | --- |
| Sandy and Chili, 5/15/07 | Chili on the way to the barn, 5/10/07 |
| Chili examines a tree, 5/10/07 | Chilli's 6-week portrait, 5/5/07 |
| Chili explores the patio, 4/25/07 | Pounce! 4/25/07 |
| Chili's first trip outside, 4/20/07 | Chili the Upright, 4/18/07 |
| Ryan and Chili, 4/15/07 | Chili's portrait, 4/13/07 |
| Red boy's naptime, 4/4/07 | Red has eyes! 4/6/07 |
| Red Boy, 5 days old 3/31/07 -- where'd Mom go!??! | Red Boy, 12 hours |

254 Babbs Road, Lenoir City, TN 37771
Tel: 865-717-1019 || E-Mail:
This site &copy 2001-2015 by Fern Hill Farm All rights reserved.
Revised April 27, 2015