| | |
| --- | --- |
| | Reilly's Page |


Reilly Aceofspies of Fernhill SR418868/01 ("Reilly")
Sire: AFC AFTCH Rosehill's Mr. Speaker MH OS FDHF CCA
Dam: Adirondac Hilfy of Fern Hill CDX OD CCA TDI CGC ASCA-CD SR017085/01
Born March 26, 2007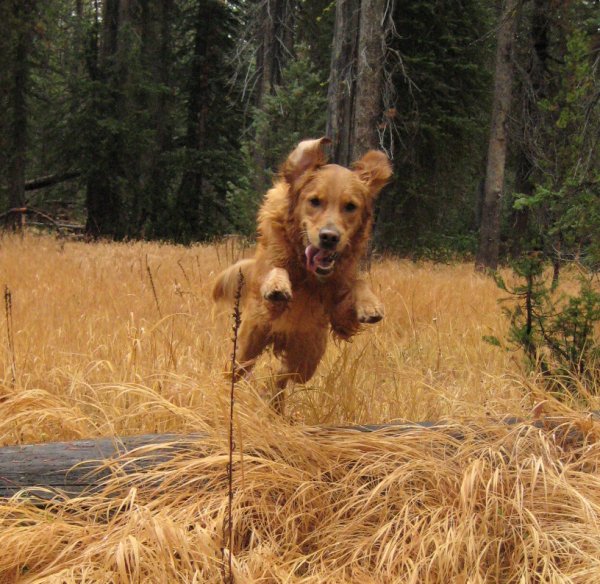 Reilly in Minnesota, Fall 2008
Reilly was the firstborn and the only one with the tiny little "Hoya Stripe" on his forehead (which, like Hilfy's, vanished by the time he was 8 weeks old). His puppy name was "Boy Blue" and from the first he was a (slightly) calmer and very sweet puppy. He was special friends with Hunter and the closest to him in size and build. Because he was flying to Boise, Idaho to live with Erik Carlson and Jennifer Bremer, he had to stay with us an extra week, as puppies can't fly till they are at least 8 weeks old. We really enjoyed having him around for the extra week, and he cheerfully went up to the barn with us twice daily for feeding chores, played with Penny and Hilfy, and did his best to get acquainted with our grouchy 15-year-old Australian Shepherd. I'm afraid we spoiled him rotten....


News about Reilly, 2009
February 25, 2009: Sorry that it has been a while. We have been busy! I will write you a much more complete email later this week, but I wanted to chime in real quick and let you know that we are all doing great and Reilly is sound as a pound. We moved back to Minnesota in October for work and things have been great in the mid west. We really need another dog...
News about Reilly, 2008
January 18, 2008: Reilly has turned into a very nice young Golden. He really is a very very happy and fun loving gentleman, the same natural attitude that he has had since being a young pup. Reilly and Jen have been doing a fantastic job at obedience school the last couple of months. In another 3 weeks he will be ready for rally training that starts up this spring. He spends time with some of his friends and is always encouraging play. He is at such a high level of social intelligence that you can see him keep his group of friends from getting too aggressive with one another and he always keeps the fun rolling. Reilly also shows great heart when playing with smaller dogs and puppies, although he is still able to challenge them to a healthy game of play with a bit of teasing. It is a pleasure to watch him at these times. Of course all things being balanced in the world, he has turned out to be a world class digger. We have been able to keep it in check but it always lurks just beneath the surface waiting for an opportunity to show itself.

I have been fortunate to have worked the majority of the winter from home, so we have been lucky to have spent a ton of time together during the day. Walks have been more structured as of late with school and all (Jen doing more then the lions share on that end), but we look forward to more time off leash in the hills after training is over.

Every morning he wakes us up with a big wide wagging tail, squeaky toy in mouth, a fun loving low groan. He goes back and forth from Jen's side of the bed to mine getting pats on the head and morning hellos till we are up and moving around. Such a great way to start the day with a happy golden waking you up. He really is a happy, obedient, healthy, handsome, and more than a bit mischievous Golden Retriever. Every time I look at him I think, we really picked the right line.

Oh ya, the more toys he has in his mouth at one time, the better. He is now large enough to hold two and is aspiring for three. He has learned to put his nose through the hole in his frisbee so he can pick up his stuffed duck. Will try to get a pic of that.

note -- these pitcures are about six weeks old. He has filled out a bit, turned a little more red and has many more curls as well. Surprising how much he changed in a short time. We will have new shots shortly... I promise.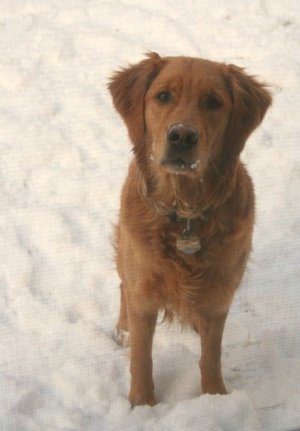 Reilly at 10 1/2 months, January 2008
News about Reilly, Fall 2007
November 24, 2007.I have yet to side down and write the tales of Reilly as of late, but wanted to let you know that he has been registered and fixed. He is several days post op and doing splendidly well. He is still much the charmer, only every day he has more and more personality and depth. A ton of fun. Reilly is named "Reilly Aceofspies of Fernhill" I know it is silly, but we are silly. That is actually the BBC series that he was named after.

We are thinking about getting another golden... it is hard not to have a cohort for old Ace of spies around. I think a better name for him would have been Ace of Pies to tell ya the truth.

October 24, 2007. Let me tell you that Reilly is doing wonderfully. Still a bit of a trouble maker, but a loving friend none the less. Here are some photos that i would like to share with you and I will sit down and write up his latest adventures when I have a moment. Oh, by the way he is doing an overnight with fiends (two corgis) for a little big dog growth time. Also we made him this stellar bed with memory foam. Boy does he like that (Living the life of Reilly, Ha!). I am out of town on business but when I get back in I will take him to the vet to get weighed as well. Oh, last thing, we took him out on a Human Society fund raiser walk with about 2000 other dogs. He loved it! Also included are Sun Valley pics and the walking Hills by our house.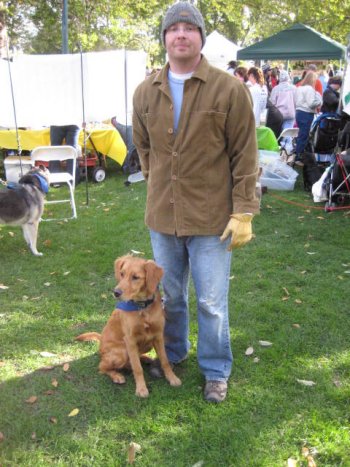 | | |
| --- | --- |
| Walk in the Boise Foothills | |
| | |
News about Reilly, August 2007
We are really trying to do right by him. I have been with him all time since he arrived except for a few movies and a couple nights out with friends. It has been fortunate that I was able to work out of the house this entire time( he often sits on my feet when I am at the desk). I will be headed to LA for work next week and I know I am just going to be bummed without seeing him during the day. He is even going to have to be boarded for a day as well. I know this will actually be good for him.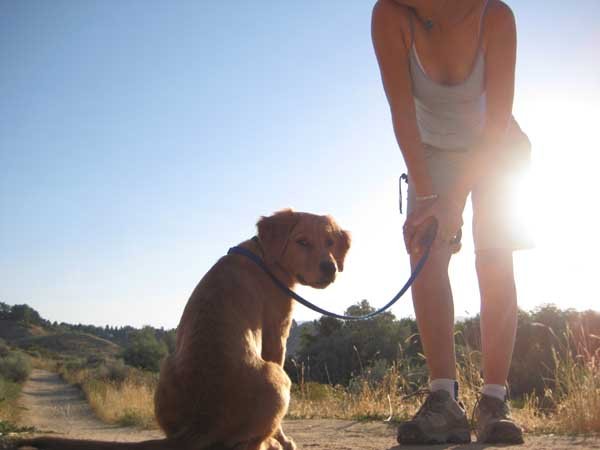 Reilly - a walk in the sun, 8/1/07
News about Reilly, July 2007
July 8
Reilly LOVES running through the tunnels at the play ground. He can do it so fast it will make your head spin. Jen has him going down the slides, the BIG slides, and we can hardly get him to leave the park. He will jump back up on the slide and refuse to move. He is a lot of fun and has a personality that is just a charm. People stop to tell us all the time what a good looking dog he is, and how he has the temperament of an older wiser dog, often in a serious tone. Reilly just smiles it off, and then goes into a wild little puppy mode.

July 31
I know you all are used to "Thats a great looking dog." Had no idea we would be hearing that so often.

Reilly is becoming more dynamic all the time. Jen and I take him every where we can, and many place's we can't -- why leave him behind? This last weekend we took him on some mellow white water rafting. After a quick rapids and a stop to swim he finally realized what the day was going to be all about and dug right in. Soon he was walking along the edge of the raft to make sure everything was ship shape. What a riot. He loves to swim, and is motivated to retrieve what ever it is that has been tossed in the creek. The three of us will go jump into the river hear in town to cool off from the summer heat. I will swim out into the swift moving water of the Boise river and he will be right behind me, both of us will shoot down stream and pop out onto the shallow water. He will do it a few times till we need to warm up from the freezing water. So very brave... all the time.

He has now had his first camping trip as well. Jen dragged us up to the Payette National forest last week were he got a chance to do some more hiking off leash. He sticks with us very well, partly do to a technique we use when walking him up in the hills near our house. If he gets too far away and can't see us, we turn and walk the other way and hide. When he doubles back to find us we jump up and give me many hugs and treats. This has helped him keep one eye on us, while still letting him know we love him. He was good guy sleeping in the tent with us, but thought that the rules changed about the bed when we got home. He was a little disappointed and a confused about the camping, non camping rules. The only that was a little irksome was trying to keep him away from the cow pies, we would turn around and there he would have a dung frisbee in his mouth. That puts an end to kisses real quick.

Last night he graduated from puppy school. There was a mini track and field event for fun at the end. He won both of the obedience relay races he was in, and took first place in both of the musical chair/ sitting events. We were very proud to say the least even though they won't go on his permanent record. We decide to start rally obedience and after that agility as well since he has already started on his own. Up at the local play ground Reilly loves to go on the slides. The little ones that are 5 feet he just runs down, but the big ones that are 10 feet with a twist he takes a breath. Again, not just no fear, but pure enjoyment. But, I think he is a little smaller then the rest of the crew by a few pounds.


| | |
| --- | --- |
| Swimming, 7/8/07 | Reilly at the playground, 7/8/07 |
News about Reilly, June 2007
June 6
Reilly is getting big! He is weighing in at 16 pounds. He is retrieving everything, Frisbees, tennis balls, sticks... all the time! He really loves it, and we do as well. He is a very loving puppy who we are having a stellar time with. Walks several times a day, several play sessions, and a lot of time in the yard together. He has been up escalators and in elevators. To the farmers market and Home Depot. Splashing in the Boise river and playing in the wading pool in the back yard. He has had friends over and meets many other dogs in the neighborhood on walks, and as they pass by our front yard as well. Many times stopping in to play. We are trying to make his world a fun place to learn and explore. He is a pleasure to introduce to people for he is such a gentleman and friendly soul. you should see all the kids go silly for him at the ice cream parlor up the street.

Now, this is all good news above, but I have had to keep myself from trading him for magic beans on more than one occasion. It is the nippy thing; it can sometimes grow into a issue still. I know that he is a puppy and that is what they do, but he is starting to get a bit of an attitude about it on some occasions. We have been replacing whatever he is biting with a bone or a chew toy. We have also used a stern no when he is jumping and nipping when we are walking in the yard. He is such a happy guy and so motivated to do work for food and for affection, we just hate it when he gets all worked up and wants to be in a biting session. Puppy school starts up again next monday so we are going to get a chance to talk with the teacher with Reilly.

June 10
He is getting long and is starting to look like a young dog already. Geez, he is growing up too fast. I am excited to see him turn to a darker red , though not at the cost of him growing out of his puppy body.

People really love him, we take him everywhere we go but have to plan it a little depending on if we have time to stop every ten feet to let someone pet him. We have been able to keep people from getting him to snap and getting them to keep their finger out of his face and mouth. He has been challenging Jen a little this week, but that is sorting it self out fine. Yesterday we went on some errands and left him home for he has been alone so little. It was kinda hard to be with out him. We spend a lot of time together and we have kinda bonded... a lot. Thanks again for letting us bring Reilly into our home. We sure love him.


| | |
| --- | --- |
| June 22, 2007 -- Reilly on a walk | |
News about Reilly, May 2007
| | | |
| --- | --- | --- |
| | Reilly and Jen on a hike, 5/28/07 | Same hike, exploring the jungle |
May 29, 2007: We all went up into the hills of Boise and took a little hike this weekend. Reilly had a blast being a part of the pack. He got some time off the leash and followed close to the heals during the walk. It was so fun to see him working to keep up with us and smiling all day long.

This week we have had learned; house training, sit, come, down, Leash walking, off leash walking, and all are going very well. The retrieving is still only about 75% of the time but is fun for all. We are going to start to expand on this base now in week 2.

We have puppy class tonight so he will get a chance to see some friends and get some play time in, then tomorrow Franky the bulldog is going to come over and run him around the yard. We also have several goldens in the neighborhood that he has had a chance to meet, and hope to have him spending time with them as well.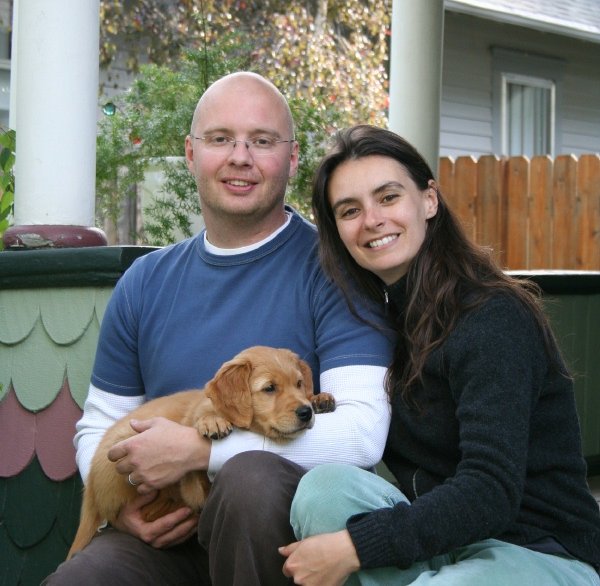 Reilly with new owners Erik Carlson and Jen Bremer, 5/21/07 in Boise, Idaho.


We are having a great time with Reilly. Last night he slept very well and we only got up once to let him out. He may not have needed it, so tonight we are going to try to make it all the way till morning. He has only had one accident in the house and that was within the first fifteen minutes of arriving at his new home here on the first night. He is doing a great job on his walks, keeping up and not pulling on the leash, nor falling behind too often. There has been a little bit of mouthing and biting, but we realized we have not been stopping play enough, so we have changed our approach in dealing with it and should have it under control in the next couple of days... we think. Here are some pictures of Reilly at his new home.
| | |
| --- | --- |
| Reilly with Erik, 5/23/07 | Reilly and his new toy, 5/23/07 |
| Playing in the yard, 5/23/07 | Reilly asleep, 5/22/07 |
Reilly at Fern Hill
| | |
| --- | --- |
| Another 6-week portrait, 5/5/07 | 6-week portrait 5/5/07 |
| Reilly with a bone, 5/3/07 | Reilly running full tilt boogie, 4/24/07 |
| Scratch! 4/24/07 | First trip outside, 4/20/07 |
| Blue's cool new toy, 4/18/07 | Portrait of Blue, 4/13/07 |
| Blue boy has visitors, 4/8/07 | Blue puppy blinks, 4/6/07 |
| Blue boy at 5 days, 3/31/07 | Blue Meets Big Sister Penny, 3/31/07 |
| Our daughter has a weird sense of humor... | Blue boy, 12 hours |

254 Babbs Road, Lenoir City, TN 37771
Tel: 865-717-1019 || E-Mail:
This site &copy 2001-2009 by Fern Hill Farm All rights reserved.
Revised March 27, 2009