Pegasus Tech Menu
What's New at Pegasus Technologies?
Contents of This Page
April 27, 2012

2012 Update
Like many other small and large companies, the recession that began near the end of 2008 had a major impact on Pegasus Technologies. One of the more devastating blows was the sale and eventual bankruptcy of one of our major clients during the recession. We were finally forced to RIF two of our employees in early 2010 -- a hard time, as our employees are like family -- but afterwards things did begin to pick up a bit. We have acquired several new major clients, have developed a couple of new wireless modules that can be incorporated into OEM designs, and have completed a number of designs for other clients that are now in production. Most exciting,we have developed expertise in designing and producing High Frequency (HF) and Very High Frequency (VHF) driver amplifiers and control panels for cyclotrons used in physics experiments and in the production of medical radioactive isotopes. Our designs are in use around the globe! For more information about our work on cyclotrons, please see our Cyclotron Page.

So, we are proud that we have weathered the storm and are still here to provide top-quality RF design expertise in a number of areas. Give us a call -- you'll be glad you did!
July 9, 2009

Pegasus Design Wins Two Major Awards
In conjunction with the Palmer/Wahl Instrument Group, Pegasus Technologies designed the electronics for their new Digital RTD Food Processing thermometer, the DST600. We are pleased to announce that this product has now won two prestigious design awards: Processing Magazine's "Breakthrough Product of 2008" and Frost and Sullivan's 2009 Product of the Year award. The DST600 is a trustworthy Alternative to Mercury-in-Glass thermometers and is ready in time to meet the anticipated FDA-required change to non-mercury thermometers. Our congratulations to Palmer/Wahl for these awards!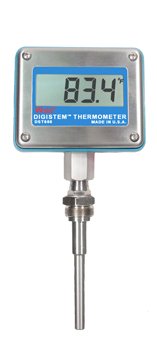 September 9, 2008

Partnership Agreement with Telesensors
For several years, we have been working off and on with a local engineering services company named Telesensors. We are pleased to announce that we have now entered into a partnership arrangement with this company. In addition to basic product design and development, project management, and manufacturing services, Telesensors specializes in mixed-signal ASIC, wireless, and sensor applications. Working together on selected projects, this partnership will significantly enhance the capabilities of both companies. For more information about Telesensors, click on their website (link at left) or download a PDF capability sheet.



July 7, 2008

Pegasus Adds Design Bureau Capability
In conjunction with our subsidiary Design Sources, we are pleased to announce that Pegasus Technologies now offers Design Bureau capability with two of the leading electronic design software packages available on the market today.

We are an offical EMA Design Automation Service Bureau using the latest Cadence Allegro Design Software, and are We are also listed as an Altium Service Bureau using the latest Altium Designer PCB design software with the Extended Feature Set. Addition of this capability substantially adds to the quality and breadth of the services that we offer to help you get your products to the marketplace!






January 1, 2008

Bira Goes to Chicago
How can you keep 'em down on the farm? We are both pleased and sorry to announce that Bira Dhillon has taken a position with Motorola in Chicago and has left Pegasus Technologies effective the end of 2007. Since starting work here right after graduation, she has learned a tremendous amount and we will miss her expertise in digital design, primarily VHDL design for FPGAs. She finished up all her ongoing projects before leaving, and left everything so well documented that transition has been a snap. Thank you, Bira, and best wishes in the big city!


October 18, 2007

New Software Engineer
Steve Floyd joined Pegasus Technologies February 1, 2007, and gives us a new dimension in Windows-based, web-based, and embedded software development. Steve graduated with an MS in Computer Science summa cum laude from the University of Tennessee in 1993. His BS in Computer Science (magna cum laude) was also from UT back in 1985, and he had several years of work experience between the two degrees. Most recently, Steve worked for EPRI PEAC Corporation in Knoxville, TN, a 150-employee engineering services firm, where he served in various roles including Applications Manager, IT Manager, and Senior Information Technology Specialist. Welcome aboard, Steve!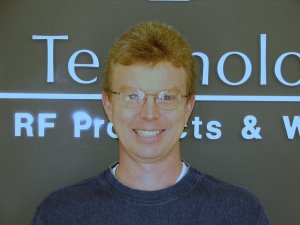 Steve Floyd in the Pegasus lobby



You can read more about Steve on our Staff Page.

January 15, 2007

Goodbye to Brad
We are both happy and sad to announce that Brad Duncan, our Senior Firmware Engineer, will be leaving us to devote full time to his own business. Brad was the first Pegasus Tech employee other than Jim Pearce, our President, and has been with us since 2002. For several years, Brad has also operated (on a part-time basis) Educational Outfitters Knoxville, a franchise company offering school apparel and general machine embroidery services. The business has grown by leaps and bounds since Brad took it over, and the time came when he had to make a decision to sell it or to work there full time. Brad will continue work with Pegasus as an associate on an as-needed basis when his schedule permits.

We'll miss you, Brad, but we wish you all the best in your business!

November 30, 2006

Staff Changes at Pegasus Technologies
We are pleased to introduce three new members of Pegasus Technologies' professional staff who came on board during 2006.

Larry Boyd is a Senior RF Design Engineer. We were very pleased to snag him from Siemens Medical Solutions - Medical Imaging, where (among other duties) he was responsible for the design of various electronic systems, particularly the RF section, of an 11 MeV proton cyclotron for medical isotope production. He graduated from the University of Tennessee in electrical engineering and has a wealth of experience in HF radios, RF, and digital RF/video. He started work on November 1, 2006.

Phil Austin is managing the start-up of Pegasus's manufacturing efforts. He has many years of experience as the manager of several manufacturing engineering programs of electronic components/systems, and is busy setting up computerized systems for us, coordinating with contract manufacturers for production runs of Pegasus' designs for clients, and handling prototype construction. He has a BS in Mechanical Engineering from the University of Tennessee - Knoxville, and worked most recently as the manufacturing manager for ORDELA Inc., in Oak Ridge, TN. Phil started work here in February 2006.

Balbir Dhillon (Bira) graduated from the University of Tennessee with a Masters in Electrical Engineering in December 2005, and also has a BS in computer science. She worked as a graduate assistant at the Oak Ridge National Laboratory for a year, and we are delighted that she has joined us as a circuit design engineer. Bira started work in March 2006.

On a sad note, we are very sorry to announce that Jim Stevenson, who has been with us since 2004 as a firmware/software engineer, died suddenly and very unexpectedly in October 2006. We miss his sense of humor, his broad knowledge about almost everything, and all the good work that he did for us.

You can read more about our new employees on our Staff Page.

June 9, 2005

Meet our New Staff Members
We are pleased to introduce two new members of Pegasus Technologies' professional staff.

Darryl Roe is a Senior Firmware Engineer. He comes to us from Texas where he was working for the past ten years on firmware designs for several companies in the Houston area. His BS in electrical engineering is from the University of Texas at Austin, where he specialized in communications and control. Welcome aboard!

Eric Myers, our new RF Circuit Design Engineer, has a BSEE from Georgia Tech and 12 years experience in RF hardware design in the Atlanta and Knoxville areas. Much of his work has been in our core areas, design of wireless industrial control and monitoring systems. In addition, he has some CATV work and satellite/antenna design experience. We are delighted to have him on our staff!

You can learn more about them on our Staff Page.

April 20, 2005

Pegasus Technologies moves to new building
On Thursday and Friday, April 14-15, 2005, Pegasus Technologies moved into our new building in the Roane Regional Business and Technology Park. This new building will house all our corporate, administrative, laboratory, and electronics design facilities in a single location. Our new address is 108 Pawnook Farm Road, Lenoir City, Tennessee 37771. Our new phone number is 865-717-9339 and fax is 865-717-9904. We are very excited about the move -- the new building is state-of-the art and has much more space to spread out and grow!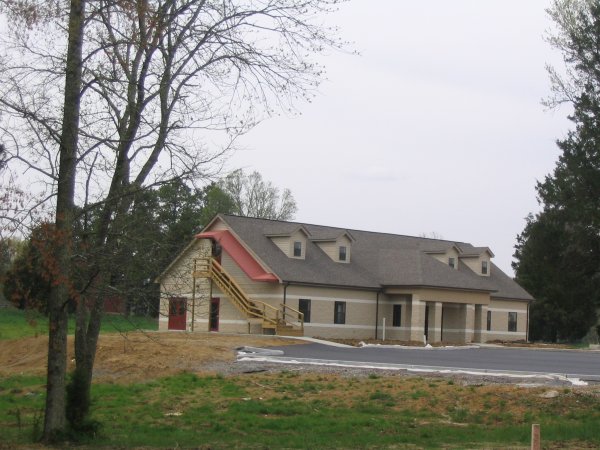 Pegasus Technologies' new building
January 27, 2005

Pegasus Technologies signs partnership agreement with Palmer-Wahl Instrumentation Group
On Monday, January 24, 2005, Pegasus Technologies and Palmer-Wahl signed an agreement for developing a suite of new wireless instrumentation measurement products. Palmer-Wahl is one of the oldest and most respected names in industrial temperature, pressure and humidity instrumentation. Originally founded in 1924 in Cincinnati, their home offices are now located a short drive over the mountains from us in Asheville, NC. We look forward to a long and productive relationship with this well-respected company!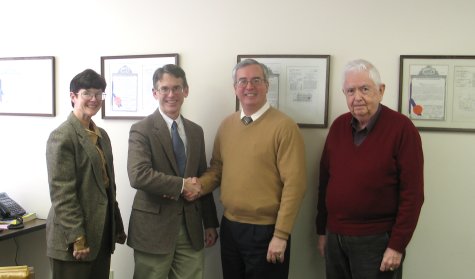 Karen Edwards & Jim Pearce, Pegasus Technologies; Steve Santangelo & Bob Kenyon, Palmer-Wahl
July 7, 2004

Pegasus Tech is Moving!
After several years of working out of a variety of small offices (all at the same time), we are pleased to announce that we will soon be moving to a permanent home. We have just concluded a deal for leasing a building that will be constructed in the Roane Regional Business and Technology Park, near Knoxville and Oak Ridge, Tennessee. This office will be built on a beautiful 4-acre parcel in a scenic and campus-like area of the park. We're working with architects now on the design of the building, and anticipate moving in around mid-March. Are we excited? You bet! Just wish we didn't have so much stuff to move!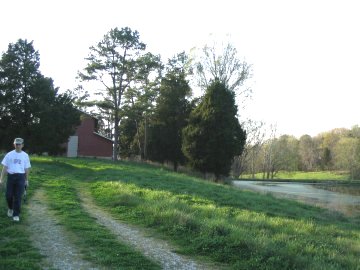 Pegasus Technologies' New Home Site
June 30, 2004

RF Module News
After an extremely busy winter and spring, we've made some major changes to our RF module lineup. Most importantly, we've slashed our prices again, and are grateful to all our customers who have made this possible. Also, for those of you looking for a low-power version of the PTSS2003, we've added two new modules that may just fit the bill. These modules offer exceptional battery life and ultra-cool operation, with 10 mw output power. Available in an FCC-certified 902-928 MHz version and an ETSI-tested 868 MHz version, we've just completed the final testing and are ready to go with your orders. At the same time, we have discontinued carrying the PTRF modules. For those of you looking for a 433 MHz version, one is under development, but we don't have an availability date established yet.

As always, if you would like some help customizing one of our modules or would prefer a custom design, please contact us and we'll be more than happy to discuss the details of your project with you.



October 13, 2003

Secure Checkout Now Available in our RF Module Store
We've just added a secure Shopping Cart to our RF products page. With this new feature, you can purchase our RF modules and accessories quickly and efficiently. We can accept either Mastercard or Visa in a secure environment. Now you can make purchases without the trouble and inconvenience of trying to catch one of us on the phone and dealing with wire transfers, COD checks, or prepayment worries! Of course, if you have questions or want to discussing customizing one of our modules, please contact us and we'll be more than happy to discuss the details of your project with you.



September 3, 2003

New RF Modules for Sale
In addition to the PTSS2003, we now offer a variety of other RF transceiver modules for sale. These modules are available in the 905-928 MHz, 866 MHz, and 433 MHz frequency bands, and are all based on the excellent XEMICS XE1202 transceiver chip. For more details on available modules, prices, and purchase information, please see our new RF Sales page.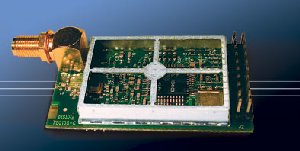 PTRF modules
August 3, 2003

Canadian Certification on the PTSS2003
The PTSS2003 is now certified for Canada! On July 25, Industry Canada awarded the PTSS2003 approval number 4635A-12240. This means that an OEM who integrates these modules into their products will not need to do "intentional emitter" testing for the Canadian market. The PTSS was earlier granted FCC modular certification. Currently, PTSS2003 modules are only available in the 902-928 MHz band, but models for the 866 and 433 MHz frequencies are under development.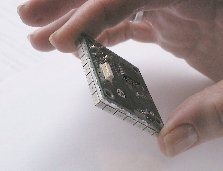 The PTSS2003 is only 1.7" x 1.5" x .35"
July 3, 2003

New Lower Pricing on the PTSS2003!
We are pleased and excited to report that increased production efficiencies and sales volume has enabled us to reduce the prices on our PTSS2003 FCC-certified transceiver. For the new prices, send an email to sales@pegasustech.comor call Jim Pearce at (865) 717-9339.

For more details about the PTSS2003, see the News bullet farther down this page.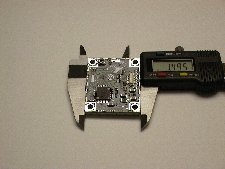 Small size makes this module suitable for a variety of applications
February 25, 2003

Simplify Your Wireless Design with this Versatile, FCC-Certified Transceiver Module
Pegasus Technologies and XEMICS today announced the release of the PTSS2003 902 - 928 MHz Transceiver at the Wireless Systems Design Conference in San Jose, California, where it will be on display through February 26, 2003. This revolutionary module features the versatile XEMICS ultra-low-power XE1202 transceiver chip for frequency hopping spread spectrum data transmissions, an embedded TI MSP430 microcontroller, the smallest form factor available, and low power consumption. FCC modular certification will greatly speed up the time necessary to incorporate wireless capability into your product! A Developer's Kit for this module is also available. See the full press release for more details.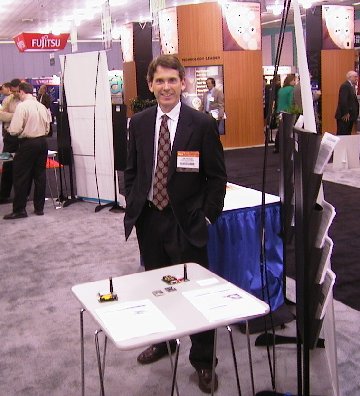 Jim Pearce at the Pegasus Technologies display in the XEMICS booth
February 23, 2003

FCC Grants Modular Certification to the PTSS2003!
Today the FCC granted certification to Pegasus Technologies' nifty new PTSS2003 902 - 928 MHz Transceiver. Look for our press release on the 25th for more information!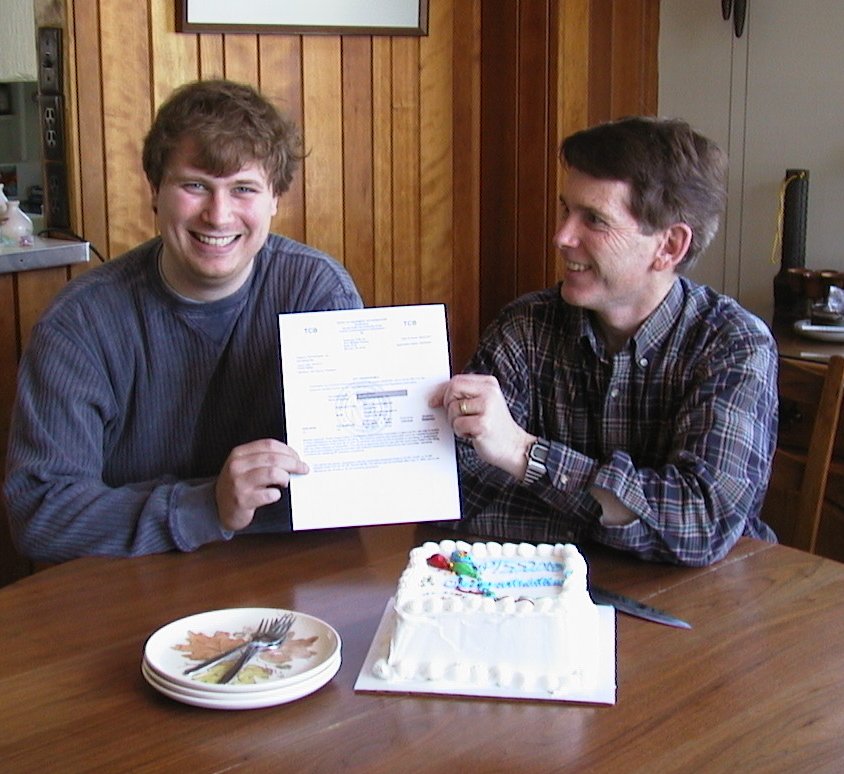 Lead Firmware Engineer Brad Duncan and Pegasus Tech's Director Jim Pearce celebrate the FCC certification of the PTSS2003
February 21, 2003

Pegasus Technologies and XEMICS in Partnership!
We are very pleased and proud to announce that we have joined in partnership with XEMICS, a privately owned fabless semiconductor company with headquarters in Switzerland and a worldwide sales and customer support network. Under the terms of this partnership, XEMICS will refer customers to Pegasus for UHF transceiver modules and custom RF design services, and Pegasus will name Xemics as a partner for wireless semiconductor products to Pegasus customers. On request of Pegasus customers, Xemics is willing to offer products direct or through its distributors. Both parties will support referred customers who do business with us on joint products.
September 24, 2002

Meet our Lead Firmware Engineer
Pegasus Technologies, Inc. extends a warm welcome to our newest employee, Brad Duncan. Brad has a wide range of experience in embedded systems programming, ASIC design, digital logic design, and programming. Brad also has quite a bit of experience and training in Lab View® programming. This was interesting to us, but we didn't think this particular experience would be used much at Pegasus Tech.

Then, on a Wednesday afternoon not long ago, our President, Jim Pearce, was talking with a client. The client was harried because he was trying to finish up a Lab View® program that he needed to run a demonstration at a trade show the next day, and he was having trouble getting the program to work. Jim remembered Brad's experience with this software, and mentioned it to the client. "Can you send him over?" was the response.

Luckily, the client was only a 40 minute drive away -- so we could, and we did. By 8:00 p.m., Brad had found and fixed the client's Lab View® problems. The client was relieved and happy to get the demonstration ready for performance the next day.

Pegasus Tech may not always be able to save the day as dramatically as this, but we will sure try. If you have RF or wireless designs that need to be developed or fixed, — or Lab View® programming — please give us a call at 865-717-9339 or email us at sales@pegasustech.com today!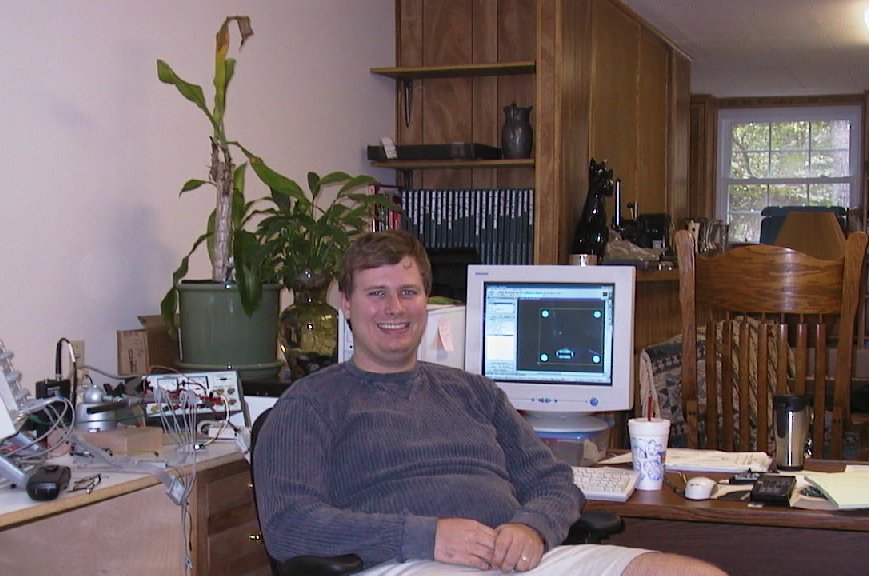 Brad at work
August 20, 2002

Pegasus Technologies Incorporates
We are pleased to announce that, as of August 14, 2002, Pegasus Technologies is now Pegasus Technologies, Inc. Formerly, we were a division of Pegasus Consulting Corporation, but as we have continued to grow, it seemed more appropriate that we "spin off" our RF design and consulting services into a separate company. Pegasus Technologies, Inc. will continue to provide expertise in RF, wireless, and advanced electronic design to our clients. In addition, we plan to begin selling our own RF modules soon, using the outstanding new Xemics XE1202 RF transceiver chip. Look for an announcement on this in the near future!

Meanwhile, Pegasus Consulting Corporation will continue to provide webmastering services for both Pegasus Technologies and for SSS Online, the entity that owns this website, as well as offering consulting services in safety management systems, procedures and standards management, technical editing, training, and related areas.


Click on one of the subjects on the menu bar to the left to find out what Pegasus Technologies can do for you!

Explore SSS Online for RF and SS Information!


Tel: 865-717-9339 || FAX: 865-717-9904 || E-Mail: Pegasus Technologies
Pegasus Technologies, Inc. is a Tennessee Corporation.
This site copyright © 2000 - 2012 by Pegasus Technologies, Inc. All rights reserved.
Revised 5/17/12