Pegasus Tech Menu:





Contact Us






What Pegasus Technologies Can Do For You!



Frequency hopping spread spectrum (FHSS) is the basis of Bluetooth and other low-cost spread spectrum applications. Its constant envelope modulation allows for high efficiency power amplifiers. If you're not familiar with this technology, click on the image below for a tutorial.

At Pegasus Technologies, we can help you exploit spread spectrum for commercial products. In addition to our custom design services, contact us about our available RF transceiver modules and designs, which can greatly reduce the time necessary to incorporate wireless into your products. These modules are available in a variety of frequencies for different worldwide markets. Some of these modules are certified by the FCC and Canada, which greatly simplifies the approval process, too. Best of all, these modules are customizable for a wide range of applications.

Whether you need a complete custom design, a drop-in module, or assistance in customizing our modules or modifying an existing design, our award-winning design staff and our up-to-date development laboratory facilities are dedicated to helping you with new, cost effective designs.

Call us today for help with that project you're thinking about!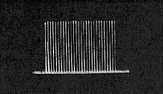 Spread Spectrum ABCs
Pegasus Technologies CAN DO that new project for you, economically, efficiently and RIGHT the first time!
Some of the things we can do for you include:
Designing, developing and testing custom hardware and firmware.
Development and troubleshooting of cyclotron RF controllers.
Providing ready-made RF modules that can get you wireless in a hurry.
Customizing our proven RF modules for additional capabilities.
Integrating off-the-shelf components into workable systems at low development cost for proof of concept and trial tun projects.
Mentoring, Training, "Sanity Checking" and Feasibility Checking.
Simulation, Modeling, Prototyping or Design Reviewing.
Testing of components or complete systems.
Antenna design and pattern measurement.
System Comparison / Competitive Analysis / Trade-off studies.
Customized Training / Educational materials.
Marketing and Market Niche studies.
Market size estimation, analysis and trends.
Technical Due Diligence studies.
Invention Analysis / Proof of Concept.
Assistance in Patent / Intellectual Property -- Patent Disclosures
Claims Evaluations and Expert Witness services.
We're here to help! If you need solid technical support or the aid of an experienced design / development team -- CALL ON US!


Tel: 865-717-9339 || FAX: 865-717-9904 || E-Mail: Pegasus Technologies Contacts
Pegasus Technologies, Inc. is a Tennessee Corporation.
This site copyright © 2000 - 2012 by Pegasus Technologies, Inc. All rights reserved.
Revised 5/14/12