What's New
Part 1
Updated 8/11/98
---
[SSS Online's New Look]
[Harris' Rebuttal to our PRISM Chipset Leasons Learned Article]
[SS Evaluation Board and Software Comparison]
[Of Wireless Microphones and Things]
[About The Capacity of a DS Spread Spectrum CDMA Cellular System]
[Past What's New Pages]


---

SSS Online's New Look
SSS Online Gets New Face, Features and Feel!
SSS Online Winner of 18 WEB Site Awards!
Including Starting Point Magazine "Hot Site"
SSS has recently put on a brand new face. Perhaps some of you have been surprised, amused or even stunned by the changes that are taking place here. I hope that the changes have not caused anyone more than a little bit of head scratching!
We've also won a couple of WEB Site awards, so far, for our efforts! We are proud to have been selected for these awards and we certainly thank the organizations that thought we were worthy of them. We plan to keep improving this WEB Site and anticipate winning even more awards. Stay tuned to see what happens in this arean.
We have made the visible changes to simplify navigation around our site, help our pages load faster and make this site less confusing for newcomers. We have added several major new features and navigation tools to make everyone's life easier in using SSS Online. The most notable new feature along this line is our left hand "yellow" navigation bar. This bar will appear on most of our pages as an aid to jumping around our site and to provide a uniform navigation interface. I hope you like it and use it!
Some of our other new features include:
SSS Online Forum
Chat Room
Updated Guest Book
Updated Comment Logbook
Updated Map Page
New Keyword Index Page
New SSS Online Recent Changes Page
Navigation Bar SSS Site Search Form on almost all pages
New Links, WEB Search and Free Stuff pages directly clickable from almost any page
Weekly Feature, Software Spotlight, Hardware Spotlight and SSS Showcase pages directly clickable from the Welcome Page and the left hand Navigation Bar
Added Welcome Audio message and the Real Audio Player download support directly available on the left hand Navigation Bar
Go to EDTN! and EDTN LINKS inset Nav Box in the left hand Navigation Bar
Introducing RF/SS Page
Welcome Page
Menu Page
Introducing RF/SS Page
Spread Spectrum Scene Online magazine has been online on the Internet now for two and a half years! As you can see, we have been updating, refining and adding new content and new features since the first of this year. We now have several paying commercial advertisers for our home page rotating banner ads. We also have completed a "partnership deal" with EDTN whereby we will be running ads for them and their advertising sponsors and we will receive income and substantial other benefits from the CMP Publishing Group and EDTN, LLC. These two new events have given SSS Online new sources of income and have demonstrably shown our prestige and presence on the WEB.
Please drop us an email or leave a comment if you would like to share your thoughts, suggestions or ideas with us on how to improve SSS Online and thus serve you better!
---

SS Evaluation Board and Software Comparison
RF/SS has now had the "pleasure" and experience of using the four different Evaluation Boards from the four major SS IC vendors (Harris, AMI, Sirius Communications and Stanford Telecom). This short note will highlight some of our experiences with these boards, give our opinions about these boards and try to compare these boards in as fair a light as possible.
Harris
The current leader of the pact in this field, Harris Semiconductor, is the only SS chip vendor offering a complete solution for DSSS radio design (see our companion article: Harris PRISM Chipset Lessons Learned) -- in fact they have development boards not only for the HSP3824 baseband processor IC, but for virtually their entire wireless line.
The picture below shows the PRISM chip set development platform in use at RF/SS.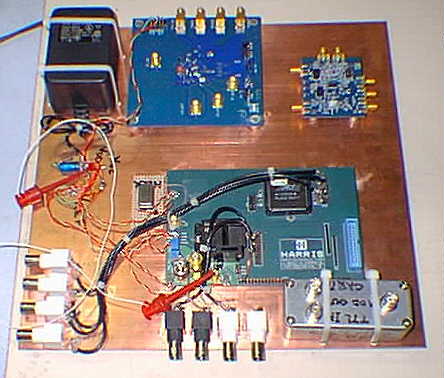 RF/SS Harris PRISM Chipset Development Platform consisting of Eval Boards for HSP3824, HFA3524 and HFA3724 ICs. We also have mounted an outboard Master Clock Oscillator, BPSK modulator, AC power supply and TX / RX / Baseband I/O BNC connectors on this 12" x 12" platform.
The PRISM evaluation boards all have hardware, software and documentation that is excellant. The Harris field engineering and rep organization is also very helpful. In fact, Harris' support is top notch for this product line.
With the kind of setup we put together in the picture, we can do any number of tricks with the three Harris PRISM evaluation boards we used. Both baseband and IF loopback testing is possible with this setup. In addition, it is easy to add outboard RF up and down conversion to actually generate and / or receive DSSS signals at any RF frequency you want. In fact, I think this setup gives almost unlimited breadboarding flexibility to the use of the PRISM chipset. With both the baseband chip and the dual PLL chip connected to PCs, it is possible to completely vary center frequency, IF frequency, waveform, protocol and many other system characteristics under computer control -- AND without hardware changes!
Overall I'd say that Harris just cannot be beat in all categories with their PRISM DSSS products.
Of course, their baseband chip is limited to PN codes 16 bits long or shorter (and thus have rather limited processing gain). So it is not a panacea for all SS new product needs. Nevertheless, it is the BEST that is available now!
AMI
We just received our AMI DEV043 development kit. Thus we haven't yet been able to completely evaluate this one yet. But here are our first impressions:
Like the Sirius evaluation kit, this one uses two PCBs, one for inside a PC with an ISA bus and another PCB containing the AMI SX043 IC and its support circuitry. The kit comes with almost no documentation. The software AMI furnishes with this kit is in a word cryptic!
The default AMI setup uses a nominal 100 kbps data rate with a 31 bit long PN code at about 3 MChips per second forming a baseband DBPSK signal that is looped back from TX side to RX side on the board. There are a few test points and jumpers available for experi- mentation, but felxibility seems not to have been a design goal in this evalaution board. I have found this evaluation board difficult and rather cumbersome to use. It is not user friendly and it's not really designed to help the designer with integrating a new design based on the SX043 IC.
Of the lot, AMI has done the worst job, in my opinion, of making a useful SS evaluation board. For instance, upon loading the AMI software on a PC, the user is presented with a mostly blank screen with just a prompt for input. Typing "HELP" gets the user a one screen canned list of possible commands. To make the eval board do anything, one of the several canned script files that AMI supplies must be loaded or you must individually load / set each and every register in the SX043 by hand. If you have a C compiler handy (because AMI furnishes some source code) and are a dedicated C programmer you can probably make heads or tails out of all this software -- but to us general purpose baseband/RF/system folks, this software leaves me very cold!
AMI has some other documentation available on the WEB to help the SS deisgner, but the most useful document, AMI's "Spread Spectrum ICs USER's Manual" is only available by contacting AMI or one of it's reps.
Sirius
Earlier this year Sirius loaned us a complete PMCM development system for our evaluation of their SS baseband chips. This system consists of two PCBs, one ISA board to be mounted inside a PC and an external board containing their SS chip and a TI TMS320 DSP chip, plus other miscellaneous circuitry and I/O.
This evaluation kit has a host of features and capabilities. In a nutshell, it transmits and receives a DS spread narrowband baseband data signal at an IF of about 10 MHz. The software and tutorial supplied with this kit is excellant. The software provides loads of capabilities for system customization, experimenting with various system parameters and allows users to view signals at various points throughout the SS modem's circuitry. Experimentation with the board is however, limited if the user is not willing to dig into the TI DSP software. In other words, waveform changes are difficult (or nearly impossible) without DSP firmware change and many modem subsystems are implemented in DSP code and cannot be changed (or even have parameters changed) without digging into the DSP code. Source code in C is supplied for the basic functions used in the eval board, but for anything more you are on your own!
The supplied Sirius documentation is very good and extremely thorough in describing the board, its operation and providing some background information. However, many details and fine points in the design are either glossed over, not mentioned or just plain left out. Perhaps one of the problems is that my English version of this documentation is obviously translated from some other language (French or Flemish, I don't know which).
While the hardware and software are detailed, thorough, and complete, this evaluation kit has little application to a real world WLAN or other DSSS design problem -- it is just too scaled down in data rate, chip rate and overall capability to be useful for other than training and gaining familiarity with the Sirius SS chip product line. I just cannot see how this evaluation kit helps a designer with a real world design problem.
Sirius has now obsoleted the PMCM kit and replaced it with the ASTRA evaluation kit. Perhaps this kit will be better designed to actually help the system designer with a real design.
The picture below shows Sirius Communications PMCM development Platform PC Boards.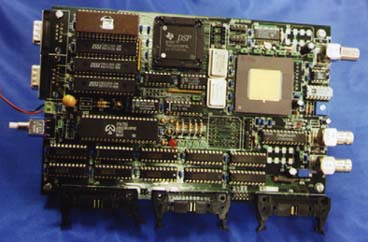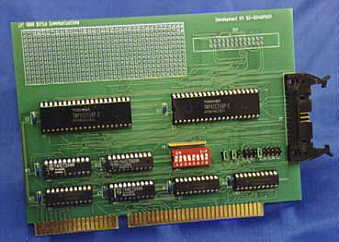 Stanford Telecom
Apparently STEL's old running mate and second source for the STEL-2000A IC, ZILOG, has now obsoleted the part and is no longer offering it or its development board for sale. To me this is truly a shame -- this WAS the only SS chip around that had a second source! It seems that conservatism and the comfort one gets from a second source IC vendor is a thing of the past!
The picture below shows the STEL-2000A development platform in use at RF/SS.

RF/SS STEL-2000A Development Platform in 3.5" high rack panel enclosure. This box contains the STEL / ZILOG STEL-2000 evaluation board, master clock, IF modulator, IF amplifier & quadrature splitter, as well as a serial I/O port to a PC for system setup and control.
Two and three years ago the STEL-2000A was a real workhorse chip for us. We did several new SS designs using this flexible, but hard to use chip. The chip can be used for regular or diffential encoded BPSK or QPSK and it can accommodate PN code lengths up to 64 bits (or 18 dB of processing gain). The chip also has a true implementation loss on the order of 1 dB or less -- it is thus very good at the job it is was intended for.
The eval board comes with two nice paperback books for documentation. It also includes a couple of diskettes of software that you will need to run the evaluation board or program the chip. Changing the canned setups furnished with the eval board is tedious at best -- you have to re-do a batch-like file containing a Hex image of internal regfister setup you want loaded into the chip, "compile" it and finally download it into the chip itself! After doing this a few dozen times, it becomes pretty simple, but the first few times -- watch out!
I've said before that that you need a PhD in comm theory to program this chip -- the reality is not quite that bad, but it is very confusing and is filled with pitfalls! It took us over six weeks to our development platform up and running at a new IF frequency with different chip rate, PN code and AFC disabled. STEL was very helpful just as we were about to give up with the chip (only after we threatened a law suit)!
With our STEL development platform we are able to do baseband and IF loopback with or without added noise and we can run complete bit error versus C/N or Eb/No curves. These capabilities as well as the very computer (PC) programmable nature of the eval board make for a very flexible and useful development environment. After the very steep learning curve on this system, we can now change a setup for a completely new waveform at a new IF frequency in a matter of less than half an hour. Waveform changes can be done in a minute or two. I still very much like this chip and I sincerely hope that at least Stanford Telecomm continues to support it!
Overall Comparison:
The comparison matrix below is our bottom line on these evaluation boards -- you be the judge on what's important to you! And remember, "Caveat Emptor!"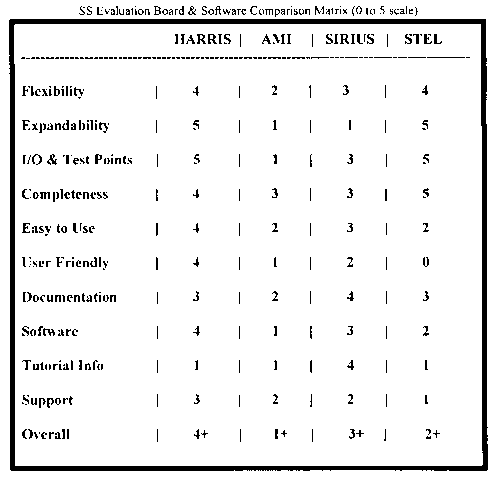 ---

Of Wireless Microphones and Things
We get lots of inquiries about wireless mics. People seem just fascinated with this technology. Consumers seem to have an insatiable demand for Kareoke devices and other wireless personal audio gadgets. This strong interest has forced us to start the development of a series of products that satisfy FCC Parts 15.247, 15.249 and 74.8XX.

We have chosen to develop three classes of wireless mic designs:



(1) Simple, cheap, one or two RF channels, with good analog audio.

(2) Mid range, synthesized multi-channel, with very good analog audio.

(3) High end, synthesized multi-channel, Spread Spectrum, analog or digital audio.

The manufactuting cost (BOM in 1000 unit quantities) of the transmitters range from the $15 to about $125 for the wireless mic transmitters -- the companion receiver manufacturing costs range from about $27 to $175. Of course, the features like number of channels, audio quality, antenna diversity and spread spectrum jam resistance / processing gain have a big effect on these unit costs. We mention these costs here just to illustrate the range of capability and product performance range that we are considering.

We've had inquiries from potential clients wanting us to develop this entire range of products -- however, the problem always seems to be the total development cost! Thus we are going to change our marketing / sales tactics for this new series of designs!

All of these designs will be available on a licensing / royalty basis with minimum up front, non-recurring costs. For example, a complete design package for the simplest two channel, analog audio, Part 15.249 915 MHz, short range low power unit runs under US$10,000 plus a negotiated per unit license fee (perhaps in the US$2.00 per unit range - depending on quantity). This design package includes complete schematics, Bill of Materials, PCB layout source files, artwork files and Gerber files plus theory of opertion and other documentation. We also include up to two days of on site training here in our labs, with the design package. Additional design support by telephone, FAX, Email or plant visit is available as needed on a time and materials basis.

The schematic of our simplest, single channel wireless mic transmitter design is shown below. This design almost could not be simpler -- it uses one varicap, one transistor, one IC, a handful of "passives" and a tiny 1 inch x 3 inch (2.5 x 4.5 cm) PCB. Several choices are available for antennas with this unit, including 3 inch and 6 inch "rubber duckies," PCB loops and other tiny designs.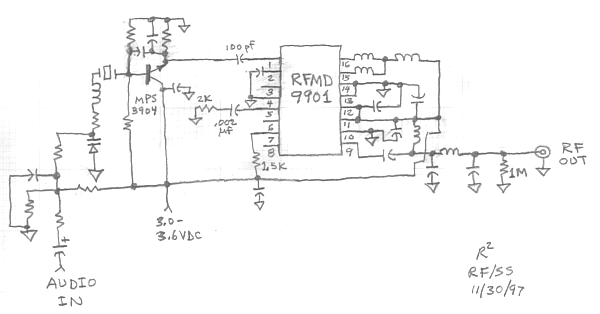 RF/SS Ultra Simple 915 MHz Low Power Wireless Mic Schematic.
Thanks to RF MicroDevices, the RF9901 is a great little part! In the schematic above, the RF9901 acts as a times 64 frequency (and FM deviation) multiplier for the single transistor VCXO. Thus the crystal is in the 14 MHz frequency range using a fundamental, AT-cut crystal. The FM deviation only needs to be a fraction over 1 kHz peak at 14 MHz to give 75 kHz peak deviation at 915 MHz. Thus our simple VCXO only needs to pull the crystal a small amount and this can be done with quite good linearity and low audio distortion.
Thr RF output from the RF9901 is about -2 dBm into 50 ohms -- a pretty good match to the FCC's Part 15.249 rules maximum radiated power. The RF output from the RF9901 feeds a low pass filter then an ESD protection resistor to ground.
As for performance of this simple system -- the achievable range is easily 50 to 100 feet indoors. Audio quality is quite good -- Sinad of 42 to 46 dB in a reference FM receiver at 75 kHz deviation -- bandwidth of 20 Hz to 15 kHz -- distortion below 0.5 %. So you see here what such a simple circuit can do.
We also have a companion wideband FM receiver design available for this little transmitter. Its a little bigger than the transmitter, takes a little more power and can have carrier or tone squelch added if desired, as well as antenna diversity. Full details are available if you are seriously interested in licensing this wireless mic project.
Our other designs for wireless mics are in the works, if you would like to sign up for one of these designs (or get more detailed information), just give us a call or send email!
---

About The Capacity of a DS Spread Spectrum CDMA Cellular System



By Kizito Tshilumba Kasengulu
Berocom Inc., Montreal, Canada



ABSTRACT: I explain and give an expression for the cell capacity of the uplink in the ideal case of perfect automatic power control. I give the reasons why we need strong power control, its relation to the near-far problem and the cell capacity. I finally give a second expression for the cell capacity of the uplink where I consider the bandwidth efiiciency factor, the voice activity factor, sectorization and express the imperfect automatic power control by a factor Cp. I also discuss adaptive automatic power control used to fight the power control error with a compensation factor.





Download the full article in .pdf format (300K).
---

Read Spring 1997 What's New Pages (4/1/97)

Read Spring 1996 What's New Pages (4/29/96)

Read Winter 1996 What's New Pages (1/17/96)
---
In October 2000, this website was purchased by SSS Online, Inc. and is managed by Pegasus Technologies. For more of the best information on RF/Spread Spectrum and wireless, press one of the buttons below: