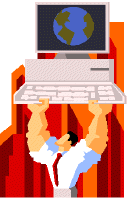 SSS Online is Your SS, RF & Wireless E-zine!

Topical Menus:


This site is managed by:

Pegasus Menu
Contact Us
Search:
Leave a Comment
Sign our Guestbook




Visit our Sponsors:















Topical Menus:


Topical Menus:


Topical Menus:

Spread Spectrum Scene Online
Read the Newest Issue of SSS Online!
Volume 7 - Number 3 -- Fall 2001
Page 3
October 30, 2001





Review our Previous Issues





Please send any comments and suggestions on this issue to:


Review of the AADE LC Meter

-- By Jim Pearce, Pegasus Technologies

I finally have an instrument that I have wanted for many years: An LC (inductance and capacitance) meter. Yes, my digital multimeter (DMM) has a capacitance measuring function, but it is not really satisfactory for the very-low picofarad capacitors that one uses every day in RF design. And, of course, the DMM has no capability of measuring inductance. The HP — no, errrr Agilent, LCR meters are just too expensive for occasional use.

There are some inexpensive capacitance meters out there that are slightly better than a DMM but they still cannot measure inductance. As a result, many engineers, and practically all hobbyists, have not had the luxury of being able to measure inductors. Before surface mount inductors were the norm, most schematics labeled coils by the number of turns, the size of wire and the diameter of the form since no one could measure the beasts!

Well, I recently came across the L/C Model IIB meter made by Almost All Digital Electronics (AADE) and after using it in the lab for a week I am in love! This meter is quite inexpensive and simple, but amazingly accurate and useful.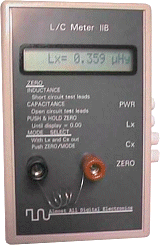 The AADE L/C Meter IIB



It measures capacitors with a resolution of 0.01 pF and inductors with a 1nH resolution. A simple push of a button cancels out the residual capacitance or inductance of the test leads and then you are ready to make measurements.

If you make a simple jig out of a small piece of bare copper clad PC board material you can easily measure surface mount components. I was able to measure 0402 sized capacitors this way!

The real beauty in this meter, though, is its ability to measure inductors. Just for fun, I measured a toroidal inductor from a junk computer power supply. The L/C Model IIB read 5.132 uH. I then removed one turn of wire and measured again. The inductance was now shown as 3.876 uH. Not only did I measure the inductance of an unknown coil, but I could also find the permeability of the core.

Another neat function built into the L/C IIB is the "matching" mode. You can use this mode to make one inductor or capacitor match the value of another one. You read the value of the first component and then the meter reads the difference between that value and the value of the second component. This difference is displayed either in absolute units (pF or uH) or as a percentage.

While this meter is not traceable to NIST standards, AADE claims an average accuracy of 1% and has test data to prove it. Considering that most components sitting on my bench have 5% or worse tolerance, this meter can easily classify stray parts into standard values and even differentiate them within a single standard value.

I have saved the best for the last. This meter is priced at only $129.95 in assembled and tested form. For you students and hobbyists, a kit version is available for only $99.95, and the complete instruction manual is available online. Shipping and handling is a bargain at $4.00 for the US and $10.00 internationally.

You can purchase one of these by visiting AADE's website. If you get one of these, please email me and tell me if you like yours as much as I love mine!



Specifications of the L/C Meter IIB



Description: The L/C Meter IIB is a hand-held, digital inductance / capacitance meter with a four digit display, featuring automatic ranging and self-calibration.

Maximum Resolution: 1 nHy / .01 pF

Range: .001 uHy (1 nHy) to 100 mHy (most units measure to 150 mHy) .010 pf to 1 uF (most units measure to 1.5 uF), with automatic ranging

Accuracy:
1% of reading is typical (Typical means the average error of 83 different components compared to:

HP4275A digital L/C meter (test frequency 1MHz) for components ranging from .1uHy to 1mHy and 2.7pf to .068uF
B&K 878 digital LCR meter (test frequency 1KHz) for components ranging from 1mHy to 100mHy and .1uF to 1.6uF

L/C Meter II is characterized for hobby or non-critical commercial use
Self Calibrating
Error Analysis: 7/18/2000 error analysis against HP 16470A standard Inductor set
Display:
16 character LCD display module
Four digit resolution
Direct display in engineering units (ie: Lx= 1.234 uHy / Cx= 123.4 pF)
jumper option to display pF, nF, uF (ie: 10 nF instead of .01 uF)
Operating modes:
The following modes are sequentially selected

READY MEASUREnMODE - measure Lx or Cx and display in nano units when applicable
READY MEASUREuMODE - measure Lx or Cx and display in micro units (ie: .01000 uF instead of 10.00 nF)
READY MATCHnMODE -

first measures your reference component Lz or Cz and displays it's value in nano mode
measures subsequent components, Lx or Cx, and displays the difference (Lz-Lx) or (Cz-Cx) in nano mode

READY MATCHuMODE -

first measures your reference component Lz or Cz and displays it's value in micro mode
measures subsequent components, Lx or Cx, and displays the difference (Lz-Lx) or (Cz-Cx) in micro mode

READY MATCH%MODE

first measures your reference component Lz or Cz and displays its value in nano units
measures subsequent components, Lx or Cx, and displays the percentage difference

(Lx-Lz)/Lz*100 or
(Cx-Cz)/Cz*100 as percent.

range is -100% to +9999%
maximum resolution is 00.01%

L/C Meter IIB zeros out stray inductance and capacitance by storing their values in RAM and subtracting them from the measured values. It can zero out any value in it's range allowing longer test leads and slightly improved accuracy over L/C Meter II.
L/C Meter IIB works by measuring the shift in frequency caused by inserting an unknown into it's oscillator tank circuit. A PIC16C61 micro-controller measures the frequency before and after. It then computes the value of the unknown using a floating point math package and displays the result on a 16 character intelligent LCD display.
L/C Meter IIB will NOT measure inductors designed for 60 or 120 Hz applications such as power transformers, filter chokes or motors. The minimum test frequency is about 20KHz and these devices have enormous core losses at that frequency.

Related Pages on SSS Online:
Tech Notes & Tips
Design Tools


Return to Contents

Review of Jigsaws Galore, Version 4

-- By Karen Edwards

Editor's Note: We've had games on our site for years, but we're now expanding a bit and reviewing games as well. We will put these up on our Game Reviews Page with links to the game listing in our Games Index, but we thought we'd announce our new service here with our very first review.

We have a panel of game testers that runs the gamut of age, gender, and gaming likes & dislikes:
Your Webmaster, a "mature" woman who loves puzzle-type games, crosswords, logic problems, and other brain teasers;
The Director of Pegasus Technologies, a similarly mature man who enjoys relaxation games including the Lara Croft series, but only if there is some degree of puzzle-solving involved;
a 14-year old boy who loves the electronic shoot-em-ups and has the fastest mouse finger this side of the Mississippi; and
an 11-year old girl who likes the more quiet, contemplative type of games, especially ones with interactive graphics.

So, if you Game Creators have a game you'd like our opinion on, please contact me We'll give ratings from 1 to 5 stars, along with some things we particularly liked (or disliked) about the game, our opinion on suitability for various audiences, and contact information. Our first review is provided below:


Jigsaws Galore! Version 4
October 25, 2001


Billed as the "Ultimate Windows Jigsaw Player/Creator," Version 4 of Jigsaws Galore has a lot to offer to the computer gaming world. There are a variety of images, and best of all you can make any picture into a jigsaw. You can pick the shape of the pieces, from standard to weird; pick the number of pieces, and change the 3D thickness. The program makes a satisfying "thwock" when the pieces go together, and you have a number of options for arranging pieces on "trays", around the edge, or in grid patterns. Easier modes of play present the pieces in the orientation they will go into in the puzzle; for more advanced play, the pieces can be oriented in any direction and the program has relatively easy ways to rotate them.

This game is fun for the whole family. The display is visually appealing, with easy-to-use tools, fun cheats (but our testers couldn't quite figure out what the program considered as cheating), and a variety of contrasting or complementary background colors. The background music feature was particularly appealing to our 11-year old girl tester; I found it annoying but the default is "off" so that's not a problem. There are only a few downsides to this game --
It can be addicting. We're having trouble getting the 11-year old to do anything else :)
The resolution, even on a fairly high-end monitor, is not as good as hard-copy puzzles for differentiating shapes and color variations.
It would be nice if there were a two-or-more player mode.

The Upsides more than make up for these little nits. All three of our testers agreed that Jigsaws Galore is by far the best computer puzzle game we've played, and awarded it a five-star rating for Family Fun.

Note: We tested the full CD-ROM Gold version of this program, which comes with 192 jigsaws and two bonus games. You can get a fully functional 30-day evaluation version with 10 jigsaws supplied directly from Gray Design Associates (Check out his site for other entertainment and educational programs). The game requires a Pentium Processor, 32MB RAM, 4 MB Hard Disk Space, High Color or True Color Windows Setting, a Mouse and Sound Card, and runs on Windows 95/98/ME/NT4.0/2000.

Designer information:
David P. Gray
Gray Design Associates P.O. Box 333
Northboro, MA 01532
email: David P. Gray


Return to Contents

Jobsearch Notes
-- By Karen Edwards
About four months ago, SSS Online revamped our job listing pages. We now offer a free job listing service for companies and recruiters who are looking for technical people, managers, and support staff. We also offer a resume posting service for people who are looking for jobs in the wireless/RF or general electronics area. Both of these pages have attracted quite a lot of interest, and we usually have several dozen "fresh" job postings.
Along with these new pages have come a number of questions from people who are interested in getting a job in this industry. In one of my past lives I was a personnel manager involved in technical recruiting for the Department of Energy for about 18 years, so I've taken to providing some advice to people when asked (and sometimes when it's obvious they need some help!) Below is one of the answers that may be of some general interest, as it was from a graduating senior in college and many of our readers are students. If you have specific questions, please send them to me at .
Congratulations on your upcoming degree. I know how frustrating it can be job-hunting when the job announcements all say they want 5 or more years of experience.

Many companies have separate programs for college recruitment, and don't do job postings for such positions. I suggest the following: (1) register with your college placement office and interview there (if you haven't already done that); (2) write some of the companies that have interesting-sounding jobs, tell them you're an upcoming fresh-out, and see if they have entry-level jobs to fill.

You might also do some things to pump up your resume, and your experience. If you're interested in RF, I suggest you get your ham license if you don't already have it. Many, many RF engineers are in the amateur radio hobby, and might serve as a source of job leads as well. You might also follow up a line of research and write a paper for publication. There are lots of places, such as SSS Online, that would be happy to publish an interesting article on an RF topic -- wouldn't pay you anything for it, but the experience is good, it adds to your resume, and you get kind of a kick seeing your words in print.

A final word -- remember that your resume will likely be screened by an English major or other liberal-arts type person before it gets to the technical people. Be sure to have your resume edited by a friend that's good at wordsmithing to make sure it will pass that kind of review.

Good luck, and I hope you land a good one!


Return to Contents



Spread Spectrum Scene Online is managed by Pegasus Technologies. We can help you get your quality RF products to market!


Meet Pegasus Technologies!


Tel: 865-717-9339 || FAX: 865-717-9904 || E-Mail:
This site &copy 1995-2009 by SSS Online, Inc. All rights reserved.
Revised January 30, 2009