Pegasus Tech Menu





Contact Us



Resume: Eric A. Myers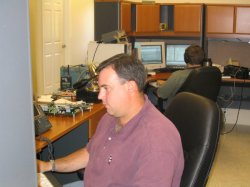 Professional Experience:
Pegasus Technologies, Inc.
108 Pawnook Farm Road, Lenoir City, TN 37771
May 2005 - Present: RF Engineer.

Design, layout, troubleshooting, testing, documentation, and production support for a variety of RF/digital/analog circuits and projects.

American Magnetics, Inc., Knoxville, TN
September 2000 - April 2005: Electrical Design Engineer.


Project Manager for industrial 4-wire capacitance based point switch for liquid level measurement. This job involved being the hardware design engineer along with coordinating all of the other tasks required to complete the project, including mechanical design, costing, marketing and sales literature and safety approvals.


Lead Design Engineer for industrial 2-wire transmitter using HART communications protocol. This project involved creating a circuit that had a microprocessor, measurement circuit, LCD display, and communication protocol while using less than 3.1mA.


Designer of Printed Circuit Boards for cryogenic instrumentation. Design, program, and implement automated test system.

CTI, Inc., Knoxville, TN
November 1998 - September 2000: Systems Engineer.

Designer of electronic subsystems used on Positron Emission Tomography (PET) equipment including: Control circuit for linear needle position, Logic Converter, Position Encoder. Trouble shoot and modify various systems used on Cyclotrons including: RF Controller, Magnet Controller, various power supplies, motor controllers.

Scientific Atlanta, Atlanta, GA
August 1995 - November 1998: Senior Electrical Engineer.

Designer of RF circuits used in CATV distribution amplifiers including: Amplifiers for forward and reverse path applications, Diplex-Filters, RF signal directors, 3-state switches. Experience using test equipment for amplifier design including: Temperature chambers, Spectrum Analyzers, Oscilloscopes, and Network Analyzers.

Georgia Tech Research Institute
September 1988 - August 1995: Student Assistant (Co-op)

Designer of several microwave components developed for use with a proposed vehicular- satellite communication system; simulated various types of antenna systems, including phased arrays and parabolic reflectors; built a prototype beam-forming network for a microstrip spiral antenna.
Education:

BS, Electrical Engineering, Georgia Institute of Technology, 1993.




Tel: 865-717-9339 || FAX: 865-717-9904 || E-Mail: Pegasus Technologies Contacts
Pegasus Technologies, Inc. is a Tennessee Corporation.
This site copyright © 2000 - 2012 by Pegasus Technologies, Inc. All rights reserved.
Revised 05/14/12