Eight years after introducing the world's first PC telecom simulator, Tesoft has ported its award-winning TESLA software to Windows 3.1 and Windows 95. At a desktop price, TESLA 2.0 offers the latest Windows features such as tool and status bars, balloon and hypertext help, clipboard, color graphics, fonts and color printer support. Tesoft backs its products with a 30-day satisfaction guarantee.
TESLA lets you simulate modems, synthesizers, spread spectrum and other telecom systems at the block diagram level. It supports nonlinear, mixed analog and digital time simulation. Spectrum analysis is also included.
Simulation begins with drawing a block diagram using OrCAD Capture for Windows. (Netlist entry is also supported.) TESLA exploits the Windows environment to offer seamless integration with OrCAD Capture. For example, you can switch to Capture with one keystroke and change the diagram. When you save the change and switch back, TESLA automatically updates the system being simulated.
The Windows interface is also used to full advantage to display results graphically. After a simulation, you can plot spectra, waveforms, BER test results, eye-patterns and logic analyzer style graphs. Multiple plot windows can be open on the screen along with the OrCAD block diagram. Plot windows remain active. You can zoom-in by drawing a box with the mouse. Convenient panning and cursor readout controls are also provided. After plotting a graph that you want to keep, making a hardcopy, clipboard copy or graphic file is just a menu-click away.
The new Windows interface features are the main additions in this version of the simulator, but there have been important improvements in other areas as well. You can now set important noise parameters such as C/No, Eb/No, C/N or temperature directly. Spectrum analysis resolution has been increased by a factor of sixteen. One handy new feature lets you specify units when entering model settings. For example, the oscillator model recognizes 63 variations of units for power level. So you can enter a level as 0dBm, 1mW or .6324Vpp and all will result in the same setting. A new Modeling Wizard feature simplifies the process of adding new blocks to the simulator. You can use the feature to drop-in an equation, to add blocks from the TESLA BBS or to create their own new blocks. TESLA for Windows remains compatible with block diagrams, netlists, macros and simulations saved from previous versions.
Simulation Example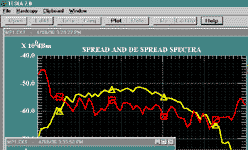 The example simulation shown in the figure is a 100kb/s FSK spread spectrum transmitter and receiver operating at 918.4MHz. The chipping rate is 1Mb/s. Multipath interference is included. Half of the bandpass spread spectrum is shown at the right. The center frequency is at the left axis, where the multipath notch suppresses the area around the carrier frequency. The de-spread half-spectrum is also shown.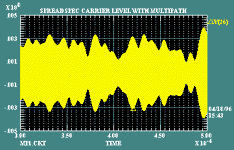 Although the multipath notch has removed a large portion of the center of the signal, the carrier envelope holds up well...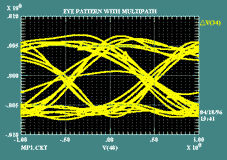 ...and the eye pattern shows usable data. A 100kb/s FSK simulation without spreading showed no discernible eye pattern.

The conclusion: TESLA 2.0 for Windows easily models complex transmission effects such as the ones which give spread spectrum an advantage in multipath transmission.

Requires Windows 3.1 or 95. Includes a 30-day satisfaction guarantee: full refund less shipping. Price: $995-1999, depending on options; Delivery: Two weeks ARO.


Tesoft, Inc.
205 Crossing Creek Ct.
Roswell, GA 30076
Phone: 800-631-1113
FAX: 770-664-5817
Intl: 770-751-9785
E-mail: Formerly tesoft@tesoft.com Web: formerly at http://www.tesoft.com

OrCAD is a registered trademark of OrCAD, Inc. Windows is a registered trademark of Microsoft Corporation.





Back To Contents