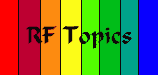 SSS Online's RF Topics

Topical Menus:


This site is managed by:

Pegasus Menu
Contact Us
Search SSS-Mag

Custom Search
Leave a Comment
Sign our Guestbook



Visit our Sponsors:







Spread Spectrum Scene

Radio Frequency STUFF




Welcome to the Spread Spectrum Scene Online RF STUFF area. We are here to help you solve Wireless Problems! On this page, we provide a number of astoundingly practical links related to RF. Why not try a few?




Page Contents

Spread Spectrum Scene Online is managed and maintained by Pegasus Technologies. Click on our logo below to find out more about our RF, Wireless, and advanced digital/FPGA design consulting services. We can help you get your quality RF products to market!



Visit Pegasus Technologies!

Reference Books on RF Available for Purchase

Click on a Title Below for a Direct Link to Purchase





Explore SSS Online!



Tel: 865-717-9339 || FAX: 865-717-9904 || E-Mail:
This site &copy 1995-2009 by SSS Online, Inc. All rights reserved.
Revised March 4, 2009