| | | |
| --- | --- | --- |
| | | Spread Spectrum Scene |

Until the 1995 FCC airwave auctions, PCS (Personal Communication Systems) and PCN (Personal Communication Network) systems were mostly futureware, and were seen as possible competitors to cellular systems. Nowadays, they are virtually synonymous and most end-users don't know the difference. PCS is the term given to wireless phone services that provide extended mobility (cellular concentrates more on highways) and additional services such as text messaging, fax capability, video display, etc. Like cellular, PCS relies on a number of fixed antennas to blanket an area of coverage. PCS operates in the 1850-1990 MHz bands.

Several technologies are used for PCS in the United States, including Time Division Multiple Access (TDMA), Code Division Multiple Access (CDMA), and Global System for Mobile (GSM) communication. GSM is more commonly used in Europe and elsewhere.

Find out more about this growing field with the info and links provided below.
Contents of This Page
PCS and Cellular Frequency Allocation Chart
Online PCS / PCN Resources
Reference Books on PCS / PCN Systems
Related Topics on SSS Online
Search This Site or the Web


Shop at Spree.com!



PCS / Cellular Frequency Allocation Chart
The chart below is archived on this server for your convenience and because links have a habit of disappearing; if you want to read some of the best writing about wireless anywhere, go to the source: International Engineering Consortium.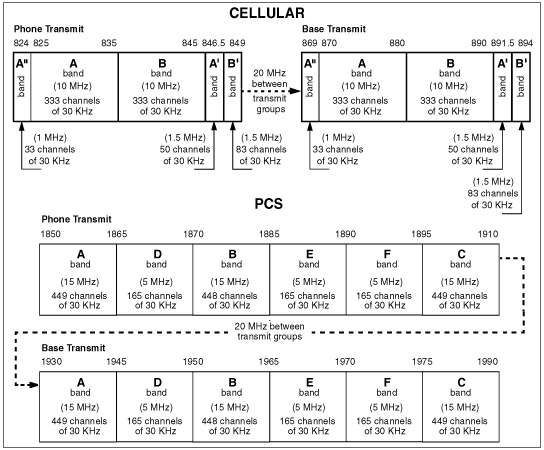 Back to Contents
Online PCS / PCN Resources
Read IEC's Online Tutorial about PCS. (Good introduction that describes the underlying technology as well as the services PCS provides and a comparison with cellular systems).




Read ICUCOM's ACOLADE IS-95 CDMA Library Description
(with a Great intro to IS-95 in the first few pages).


"GSM Sets the Standard for PCS Mobile Communications" white paper By Ted Pollard, Director of Sales, Absolute Time Corporation, 11/8/00


Papers and Conference List on Wireless and Mobile Communications from the Faculty of Electrical Engineering, Mathematics, and Computer Science, Technical University of Delft, The Netherlands.


Wikipedia's introduction, brief but informative.




QUALCOMM -- Technology whitepapers


What-is.com's PCS Definition -- A nice extended definition from 2006 that explains the difference between PCS and regular cellular.




The FCC's Newest Telecommunication Glossary -- A great aid in deciphering those "buzzwords." (~390K)




Growth of Personal Communications Devices, a short technical article by RF Microdevices, 1995. (~9K)


Contract Telecommunication Engineering's Home Page - They Also Have Great RF Path & Radio Propagation Simulation Software & Free Demo Downloads!




ERICSSON's Recent Whitepapers on PCS Subjects
Back to Contents
PCS / PCN Reference Books
Click on a Title Below for a Direct Link to Purchase
| | | | |
| --- | --- | --- | --- |
| | Satellite Personal Communications for Future-generation Systems: Final Report , by Enrico Del Re, Laura Pierucci (Editors). Hardcover: 208 pages (March 22, 2002). | | Wireless and Personal Communications Systems (Paperback), by Vijay K. Garg & Joseph E. Wilkes. Paperback - 250 pages (October 2000). |
| | Understanding Digital PCS : The Tdma Standard (Artech House Mobile Communications Library), by Cameron Kelly Coursey. Hardcover - 352 pages (January 1999). | | Cellular/PCs Management (Telecommunications), by Paul Bedell. Hardcover - 400 pages (March 26, 1999). |
| | IS-95 CDMA and cdma 2000: Cellular/PCS Systems Implementation, by Vijay Kumar Garg. Textbook Binding - 422 pages 1 edition (December 9, 1999). | | CDMA IS-95 for Cellular and PCs: Technology, Applications, and Resource Guide , by Lawrence Harte, Roman Kikta, Daniel McLaughlin. Hardcover - 300 pages (June 25, 1999). |
| | Gsm and Personal Communications Handbook (Artech House Mobile Communications Library) , by Siegmund Redl, Matthias Weber, Malcolm W. Oliphant. Hardcover - 544 pages (May 1998). | | Practical Cellular and PCS Design (McGraw-Hill Telecommunications Series) , by Clint Smith. Hardcover - 650 pages 1st edition (January 15, 1998). |
| | Applications of Cdma in Wireless/Personal Communications , by Vijay K. Garg, Kenneth Smolik, & Joseph E. Wilkes. Hardcover - 360 pages (October 25, 1996). | | Cellular and PCS : The Big Picture (McGraw-Hill Series on Telecommunications) , by Lawrence Harte, Richard Levine, Steve Prokup. Hardcover - 400 pages (June 1, 1997). |
Back to Contents

Related Topics on SSS Online
Click on some of the links below for more information related to PCS:
Back to Contents
Search This Site or the Web
Back to Contents

Spread Spectrum Scene Online is managed by Pegasus Technologies. We can help you get your quality RF products to market!

Meet Pegasus Technologies!

Tel: 865-717-9339 || FAX: 865-717-9904 || E-Mail:
This site &copy 1995-2008 by SSS Online, Inc. All rights reserved.
Revised September 5, 2008