| | | |
| --- | --- | --- |
| | | Spread Spectrum Scene |

Global Positioning System (GPS) Stuff
GPS, or the Global Positioning System, offers a real-time position fix with an accuracy of 3 to 100 meters on a 24 hour per day basis. It also offers a way to determine time to a precision of better than a few hundred nanoseconds almost anywhere on the surface of the earth.

The GPS system consists of a constellation of 24 satellites. These satellites orbit the earth at an altitude of about 10,900 miles and at an inclination of 55 degrees. This orbit translates to an orbital period of 12 hours. The orbits are distributed around the earth in such a way that at least 6 satellites are always visible from virtually any point on the surface of the earth. This provides a means of precisely determining the position of the user in longitude, latitude, and altitude. These are capabilities that are revolutionizing many areas of life -- including entertainment. See our new section below on Geocaching!




Also see our SS Applications Page for several interesting articles about GPS.

For information on ultra-wideband and its possible interference with GPS,
see our UWB News Page.

Basic GPS Information
Back to Contents

Some GPS User Equipment Suppliers
GPS Solutions Online Database, from GPS World

Back to Contents

Peter Dana's Site
GPS is the widest used application of Spread Spectrum -- period! Peter Dana, formerly of the University of Texas at Austin and now at the University of Colorado, has compiled a comprehensive GPS information site: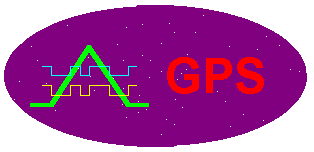 Peter H. Dana's GPS Website
Back to Contents

Time and Frequency Hot Links
Back to Contents

Notes, Articles and Papers
Back to Contents

Books on GPS Technology
Click on a Title Below for a Direct Link to Purchase
| | | | |
| --- | --- | --- | --- |
| | Introduction to GPS: The Global Positioning System (Artech House Telecommunications Library), by Ahmed El-Rabbany. Hardcover - 230 pages 2nd Edition (August 31, 2006). | | Global Positioning System : Theory and Practice, by Bernhard Hofmann-Wellenhof. Paperback - 426 pages 5th edition (October 6, 2006). |
| | Understanding GPS : Principles and Applications (Artech House Telecommunications Library), by Elliott D. Kaplan (Editor). Hardcover - 726 pages 2nd Edition (November 30, 2005). | | The Global Positioning System & Inertial Navigation , by Jay A. Farrell. Hardcover - 340 pages (December 31, 1998). |
| | Global Positioning System: Theory and Applications (two volume set), by Bradford W. Parkinson (Editor), James J. Spilker (Editor), Penina Axelrad, Per Enge. Hardcover - 1413 pages (January 1, 1996). | | Fundamentals of Global Positioning System Receivers: A Software Approach, by James Bao-Yen Tsui. Hardcover - 258 pages 1 edition (May 19, 2000). |
| | Global Positioning Systems, Inertial Navigation, and Integration, by Mohinder S. Grewal, Lawrence R. Weill, Angus P. Andrews. Hardcover - 400 pages Book&Disk edition (December 2000). | | Vehicle Location and Navigation Systems (Artech House ITS Series), by Yilin Zhao. Hardcover - 345 pages (April 1997). |
There are lots of other titles -- follow the link below and search on " GPS" or "global positioning system" for more!
Back to Contents

Geocaching -- a hot new sport using GPS
The sport of geocaching (a form of high-tech treasure hunting) is rapidly catching on internationally, with caches in more than 180 countries. All you need to participate is a GPS device and a sense of adventure. We've tried it and we love it!

Below are links to some of the best sites to help you locate the latest caches in your area, find out how to hide your own cache, and information on how to get started in this fun and exciting sport.



Back to Contents

Tel: 865-717-9339 || FAX: 865-717-9904 || E-Mail:
This site &copy 1995-2008 by SSS Online, Inc. All rights reserved.
Revised September 4, 2008