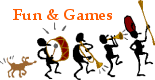 SSS Online is your RF, Wireless, and SS Source!

Topical Menus:
This site is managed by:

Pegasus Menu
Contact Us

Search
Leave a Comment
Sign our Guestbook

Visit our Sponsors:

Spread Spectrum Scene
The SSS Online Jokes Page
Selected Joke Links


Online Jokes from Pegasus Technologies



The Comedy Lab's JOKES.COM

The EE Compendium's Fun page -- engineering jokes, funny EE fonts, and more!

Musical Instrument Jokes (All kinds, from strings and woodwinds to pop)

JokEc -- Jokes about economics and economists

Science Jokes from Joachim Verhagen

Aha! Jokes: Thousands of clean jokes, funny pictures, cartoons, funny audio, funny videos, and random humor.

The-Jokes.Com

Lots of Jokes: Has both clean and dirty jokes in hundreds of categories, plus a chat room and discussion forum.

Rodney & Cathy's Joke Page

The Jokes Gallery --Huge archive of free jokes, categorized in over 20 categories.

Profession Jokes -- Jokes about the professions of the twenty-first century: programmers, mathematicians, physicists, engineers, doctors, lawyers, accountants, psychiatrists, and more.



Dilbert Comics

A #1 FREE Horoscopes
Click on a topic below to explore SSS Online:

Tel: 865-717-9339 || FAX: 865-717-9904 || E-Mail:
This site &copy 1995-2008 by SSS Online, Inc. All rights reserved.
Revised July 25, 2008