| | |
| --- | --- |
| | Spread Spectrum Scene |

This is page two of our game reviews -- slightly older stuff! The table of contents below includes all reviews, and the links in the first column will take you back to page 1. If you like, you can go there directly by pressing here. You can get back to page 2 from there by pressing any of the links in the second column.
Games Reviewed






Related Pages on SSS Online

JD's Miracle Software: Miracle Arcade Games Collection
by Ryan Pearce
March 10, 2002







My sister and I reviewed three games from this collection from the the Miracle Arcade Games Collection, which was developed by JD's Miracle Software. Like all arcade games, they're kind of mindless, but that's the whole point, isn't it? Info on each game is given below:
Megamaster Ball: Hey, it's Pong!! But man, what a good-looking Pong! In this game, you move a small platform to bounce your ball into bricks, which vanish. Sometimes you get bonuses (shamrocks or slowdowns) or sticks of dynamite which will blow up and hurt you. Bam! Ouch! Another life gone! It's amazingly satisfying for such a simple game. Lots of levels, each with lots of bricks in different colors and patterns. The music is cool, too. Three stars on this one.


Spacebrick Shooter: Wow, this is an arcade game, what more can I say? Oh wait, it's an arcade game with extremely gorgeous graphics. You are an extremely detailed space ship that for some reason is out to destroy every brick in the galaxy without the brick falling on you. You get different weapons as you progress through levels. It's a great stress reliever for a short period of time, but then you realize you're wasting your time. This is my sister's favorite of the three games, and mine too! Four stars for the pretty pictures.


Sprinky: Uh ... I couldn't make it past the second level on this one. I just couldn't see the point. In this game, you're a spring with eyes and a pea shooter, and your object is to kill "bears" (they look like the Pillsbury Dough Boy) and collect balloons while you jump from hummock to hummock in midair. The graphics are very simplistic, and the first two levels look exactly the same except for a little screen door in midair on level two. It may get more complicated in later levels -- there are 40 or so. It's probably a good game for younger kids, and my sister, who is 11, liked it more than I did. Two stars.
Note: the demo version can be downloaded on our Games Page. For the full version (cost $9.95), contact the designer, Mr. Jairam, at info@jdsoftware.nl or go to Softpedia. The programs run on Windows 9x-ME-NT-2K-XP, and recommended system specifications include a -16 bit soundblaster pro or compatible sound card; pentium 166 mhz or better; 32 mb ram; and 3 mb free hard disk space.
Back to Contents

Hardwood Card Series
December 8, 2001






We reviewed a trio of Silvercreek Entertainment's fantasy/medieval card games — Hardwood Solitaire II, Hardwood Spades, and Hardwood Hearts. These games all feature drop-dead-gorgeous graphics, music, 3D cards that flip and turn when you play, and a variety of card decks to choose from.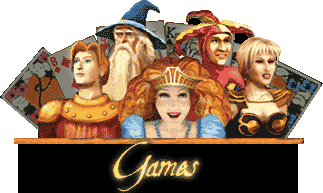 The full version of Solitaire, which can be purchased through the link above, has 12 different solitaire games, including some I've never played before. Game play is crisp, there are two different difficulty levels, an easy-to-reach and easier-to-understand rules section that get you playing new games quickly, MIDI music and Playlist that can be easily turned off, and interesting cardplaying sound effects. It's a visual delight — the card decks are really beautiful and far outshine any other computer card game our testing panel has ever played. When you win, there's a nice bounce effect. This game does not seem to have an automatic finish when it becomes apparent that you've won (or at least, we couldn't find one). That's nice in a way, as it is closer to real card play, but it does slow the game down a bit.

Spades and Hearts have the same card decks, music and sound options, easy rules explanations, as Solitaire. You have a variety of fantasy characters, both beautiful and gruesome, that can represent your character and your opponents. Both can be played solo, or you can go online and join other aficionados. A cute enhancement is an online chat feature and the ability to "foom" your opponents — give them a kiss or send a lightning bolt their way. Our preteen thinks these games are "really hot!".

Note: Shareware version allows 30 days free trial, limited play thereafter. Purchase from Silver Creek Entertainment. Requires Pentium 166 above, 32 MB Ram, 11 MB HD.
Back to Contents

Fitznik 1.00
November 15, 2001



I would have written up the review of this game last week, but I've been too wrapped up playing it! This game from Dexterity Software and Screaming Duck Software is a clever puzzle game similar to my favorite Game Boy game, Godzilla (boy, did I just date myself, or what!). In Fitznik, you're a two-legged Golden Retriever wandering around an ancient lost city gathering keys and gems and eating dog food. You have to dodge nasty spiders and avoid flame spitting snakes, and you can't pull out your Uzi and blow them away. The game does not require arcade-style reflexes, which make it suitable and lots of fun for gamers who don't spend every spare minute with their mouse pads and joysticks. Much of the game involves sliding boulders around, not only to reach new locations but also to block fireballs, trap spiders, and build bridges over puddles. It takes brainwork!

There are 63 levels in all in the full version (I'm still working on Level 34). There is a general progression in difficulty, where later puzzles build on skills you develop on earlier levels, but each gamer will find some levels easier than others.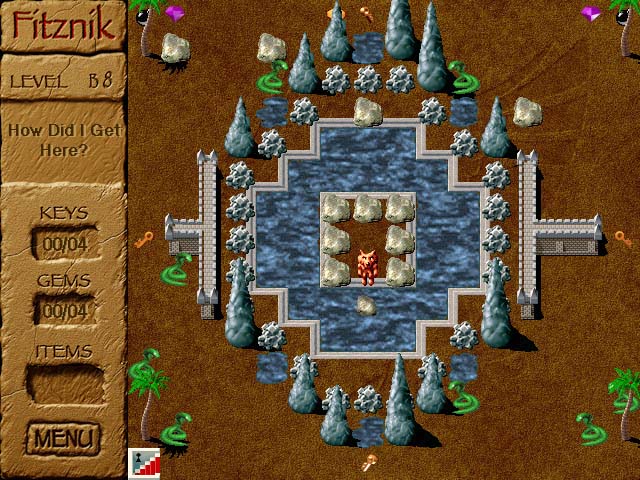 Screen Shot of Fitznik Level 33
The game is very easy to learn, so you can begin play almost immediately and learn as you go. The graphics are attractive and very crisp (the screenshot above has been compressed both in size and resolution). I particularly like the menu screens, which look like inscribed rocks. These screens use a very attractive flaming mouseover accompanied by a subtle "whooshing" sound that adds to the polished "feel" of the game. The background music is not irritating (a miracle in itself), and there is a lot of humor in the game -- from the Screaming Duck Rampant impressed in the sandy floor of each level, to the quiet slurping sounds when Fitznik is eaten by a spider, to the screen messages you get at various points. I do have two minor nits --
There is no save in a level. If you get eaten, you have to start the level all over again -- and it can be a real drag pushing those rocks for the 20th time!
There are no "hints". The full version comes with a cheat for showing you the solution, but sometimes all it takes is a tiny little hint.
Our whole panel of testers is thoroughly enjoying this game, and we recommend it highly! It gets a unanimous 5-star rating (althought the teenager would still prefer to find an Uzi on some of the levels!).

Note: We tested the full version with 63 different game levels, which is available for $19.95. There is also a shareware demo version (see link below). System requirements include Windows 95/98/ME/2000/XP, 166mHz, 32MB RAM, a 10MB hard drive space, and DirectX 5.0 or later.

Contact Information:
Steve Pavlina
Dexterity Software
Email - steve@dexterity.com
URL - http://www.dexterity.com
Phone - +1 (818) 341-5133

Back to Contents

Jigsaws Galore! Version 4
October 25, 2001


Billed as the "Ultimate Windows Jigsaw Player/Creator," Version 4 of Jigsaws Galore has a lot to offer to the computer gaming world. There are a variety of images, and best of all you can make any picture into a jigsaw. You can pick the shape of the pieces, from standard to weird; pick the number of pieces, and change the 3D thickness. The program makes a satisfying "thwock" when the pieces go together, and you have a number of options for arranging pieces on "trays", around the edge, or in grid patterns. Easier modes of play present the pieces in the orientation they will go into in the puzzle; for more advanced play, the pieces can be oriented in any direction and the program has relatively easy ways to rotate them.

This game is fun for the whole family. The display is visually appealing, with easy-to-use tools, fun cheats (but our testers couldn't quite figure out what the program considered as cheating), and a variety of contrasting or complementary background colors. The background music feature was particularly appealing to our 11-year old girl tester; I found it annoying but the default is "off" so that's not a problem. There are only a few downsides to this game --
It can be addicting. We're having trouble getting the 11-year old to do anything else :)
The resolution, even on a fairly high-end monitor, is not as good as hard-copy puzzles for differentiating shapes and color variations.
It would be nice if there were a two-or-more player mode.

The Upsides more than make up for these little nits. All three of our testers agreed that Jigsaws Galore is by far the best computer puzzle game we've played, and awarded it a five-star rating for Family Fun.

Note: We tested the full CD-ROM Gold version of this program, which comes with 192 jigsaws and two bonus games. You can get a fully functional 30-day evaluation version with 10 jigsaws supplied directly from Gray Design Associates (Check out his site for other entertainment and educational programs). The game requires a Pentium Processor, 32MB RAM, 4 MB Hard Disk Space, High Color or True Color Windows Setting, a Mouse and Sound Card, and runs on Windows 95/98/ME/NT4.0/2000.

Designer information:
David P. Gray
Gray Design Associates P.O. Box 333
Northboro, MA 01532
email: David P. Gray

Check out our Fun Links
Back to Contents

Spread Spectrum Scene Online is managed and maintained by Pegasus Technologies. Click on our logo below to find out more about our RF, Wireless, and advanced digital/FPGA design consulting services. We can help you get your quality RF products to market!

Meet Pegasus Technologies!


Tel: 865-717-9339 || FAX: 865-717-9904 || E-Mail:
This site &copy 1995-2008 by SSS Online, Inc. All rights reserved.
Revised July 26, 2008