Volume 5 - Number 2 -- Winter 1997
Updated 5/11/98
[New Products -- SS Baseband Chips]
[TAPR's FH SS Radio Design Details Released]
[Interesting Wireless LAN & SS Articles]
[Harris' Rebuttal to our PRISM Chipset Leasons Learned Article]
[Harris PRISM Chipset Lessons Learned]

Part 1
SSS is proud to bring you our fourth online issue!


New Products
Highlights of the Latest Crop of SS Baseband Chips
In the last several months a number of new and interesting SS baseband chips have appeared on the market. We haven't yet been able to try out all of these, but they look rather interesting and are definitely worth further investigation.
The quest for the ultra-cheap, ultra-simple SS radio is still on -- the market seems to be there -- will one of these chips be able to capture a lion's share of this untapped wireless market?
I firmly believe we are still years away from an integrated Single Chip SS radio -- but improvements in both the baseband and RF ends are coming along nicely, as these chips show. Don't forget there is also an existing crop of baseband chips out there for Cordless Telephone use -- maybe one day soon someone will really come up with a low cost UNIVERSAL Baseband DSSS chip -- we are still waiting!
If your company has a new chip or chipset product that we have missed or that you feel should be included here, please email us with some more information.


Intellon SSC R400 RF Network Interface Controller
Features: middot; Implements EIA-600 (CEBusa Standard) Data Link Layer (DLL) and Radio Frequency (RF) Physical Layer middot; Advanced Spread Spectrum Carrier technology middot; Standard CEBus channel and extended channel operation middot; Integrated DLL processor and RF transceiver middot; 8-bit parallel host processor interface middot; Full 32-bit CEBus node address space supporting device, system and group codes middot; Supports all Data Link services: addressed/unaddressed unacknowledged /acknowledged middot; Data Link, Controller/Router, and Monitor modes middot; Minimal components required for RF communication interface middot; 44 pin PLCC package
Introduction
The Intellon SSC R400 RF Network Interface Controller is a low cost implementation of the EIA CEBus Data Link Layer and Radio Frequency (RF) Physical Layer. The SSC R400 provides the Data Link Layer core controller and Spread Spectrum Carrier (SSC) baseband transceiver. A host controller is used with the SSC R400 to perform high-level application and network management functions.
SSC R400 Description:
The SSC R400 processes a baseband peer-to-peer RF network signal. It receives chirps at the baseband frequency of 4.2 to 6.3 MHz and converts them into symbols. These symbols are decoded into bytes that compose the packet data. The packet data includes the control field, address fields, and the information field. The Data Link Layer inside the SSC R400 determines if the packet should be accepted based on the address fields. If the packet is accepted, the SSC R400 notifies the host microcontroller that a packet is in the receive buffer ready to be copied up to the host. The host microcontroller issues a packet read command that causes the data to be transferred to the host. The host may now process the packet as needed by the application. When the application needs to transmit a packet, the host issues a packet transmit command along with the data bytes that compose the packet. The SSC R400 encodes these bytes into symbols. The symbols are converted into chirps that are up-converted from baseband to the transmitting frequency.
Click Here For More Information on Intellon's SS Products


Probe Science Inc.'s QFC001 SS Modem IC
Description:
The QFC001 is a full featured Spread Spectrum Modem IC with interfaces for a companion RF Transceiver. This device provides a highly flexible foundation for frequency agile Direct Sequence Spread Spectrum communication applications. Incorporation of PSI's QFAST™ Spread Spectrum Modem Technique makes the QFC001 particularly well suited for implementing high speed burst data systems. The QFC001 is supplied in an 80 pin TQFP package
Applications:
FCC Part 15.247 Spread Spectrum Devices Wireless Data (WAN/LAN) Cordless Telephony Wireless Intercom Devices Packetized Data Modems.
Features:
Implements PSI's QFAST™ Spread Spectrum Modem Technique.
Directly Interfaces to Transceiver I/Q ports.
Provides all drivers and registers to interface with SST-00X Series Transceiver.
Minimal External Support circuitry.
On Chip Reference Oscillator
Power Down Provisions with Sleep Timer Output.
All Clock Generation and Recovery is performed on chip (Half Duplex Synchronous Modem)
Selectable Modes permit a variety of data rates and chip-to-bit ratio options.
Programmable PN generator variables
Separate, Programmable Whitener Technique.
Low Power CMOS
Click Here For More Information on Probe Science Inc.'s SS Modem IC


AMI Adds New SS IC's
American Microsystems, Inc. (AMI) has added several NEW SS ICs to their popular WavePlex family of wireless integrated circuits.
The 70 MHz Modulators / Oscillators represent the latest offerings in the expanding WavePlex family.
AMI has not been very good at keeping their WEB site up to date with these new product releases, so you will have to call them or their local rep to find out more about these exciting new parts.
For more information on AMl's capabilities, write to American Microsystems, Inc., 2300 Buckskin Road, Pocatello, Idaho 83201, or see their WEB site at:
http://www.amis.com


TAPR's FH SS Radio Design Details Released
Well TAPR has really done it this time! TAPR is sponsoring a really BREAKTHRU new FHSS design in a radio designed for Ham radio use. Details and breadboard photos were released at TAPR's annual DCC bash recently.
For lots of interesting info and details on this great project go to:
http://www.tapr.org/tapr/html/taprfhss.html
I'm truly impressed by the highly professional level of effort this project represents and hope that TAPR can pull this off. This design will be truly state-of-the-art in all ways and will most certainly take Ham Radio out of the "Dark Ages."
I only hope this project does not drag out too long before an initial release and that the kit's cost stays affordable (perhaps under $1000)?


Interesting Wireless LAN & SS Articles
We've come across a number of very interesting and useful articles relating to some of our favorite subjects, recently on the WEB. The following links will take you to the best of the current crop. Take a look!

"Wireless Promised LANs Still Elusive"

"Spread Spectrum Technology"

"The Cook Report -- Wireless as an Internet On-Ramp & Local Loop Bypass"


Harris PRISM Chipset Lessons Learned
INTRODUCTION:
Having just completed our third radio design with this great chipset we feel we have learned a few things about this very nice chipset. Sure we learned these things the hard way, but sometimes these lessons are the best ones and are remembered the longest! In this article we'd like to share some of this experiences and help you avoid some of our mistakes.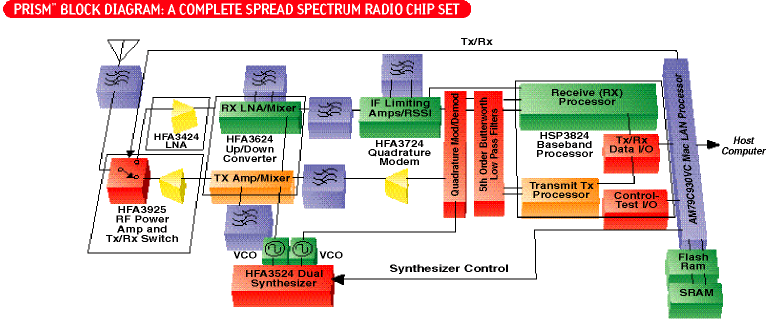 In two of three of these designs we used only selected parts from the growing PRISM lineup -- in the third however, we used five of the six of the chips in the basic PRISM chipset. All three of these new designs were done for clients and all essential design details are their proprietary property.
THE "CORE" CHIPS:
I firmly believe that Harris has done an outstanding job only with the following three chips:
(1) HSP3824 Baseband
(2) HFA3724 Half Duplex IF Modulator / Demodulator
(3) HFA3524 DUAL PLL
These three chips form the "Core" of any design with the PRISM chipset, anyway. Any design based on these Core chips can up and down convert the TX and RX IF DSSS signals to any desired operating RF frequency, at any power level and receive sensititvity desired, with or without the other PRISM chips.
We bought evaluation boards from Harris for all their Parts in the PRISM chipset. We used these boards extensively and tried to "copy" most features of their design for our own PCB layouts. However, we never could get the HFA3624 to play properly in BOTH transit and receive. This part seems to have just too much functionality in one part. It also seems to be very difficult to use, with mutiple VCC and ground pins along with separate enables for TX and RX. We could get the part to TX and then it would oscillate all over the map in receive. When quieted down to receive, it lost too much gain! Even though it worked OK in TX, it's dynamic range and linearity in frequency conversion and amplification of the DSSS signal was far from what it should be (and did not even meet specs). I recommend that you stay away from this part! Do its function some other way -- use separate NEC up and down converters or find parts from RF Microdevices or TRIQUINT that do this job better -- you'll save yourself a lot of headaches, if you do!
We recently received a very interesting and useful email from Harris Semi concerning the HFA3624. Here is what they had to say:


Dear Spread Spectrum Scene,

Thank you for the review of the Harris Prism Chip Set in the Volume 5 - Number 2 --Winter 1997 issue of the Internet Magazine entitled "Harris PRISM Chipset Lessons Learned." I would like to respond to a couple of the issues raised.

The HFA3624 RF/IF Converter evaluation board layout has been optimized to maximize performance of the chip and was used extensively in the evaluation of the part. This layout placed discrete components very close to device leads and minimized trace lengths and parasitics. When used with this fixture the device performs quite well, meeting all specifications and having no observed oscillations. However, the requirements of the PCMCIA board environment and surface mount component pick and place machine ground rules place limitations on how close to device leads or each other chip components can be placed. Harris' PCMCIA reference design uses a 6 layer PCB with top layer dielectric thickness of only 4 mils. Thin traces are required to minimize parasitic capacitance to the buried ground layer, but this introduces trace inductance.

The bottom line is that on several different PCMCIA board layouts, the HFA3624 Down Converting Mixer has oscillated. A solution to this oscillation is to add a series 22 ohm (0402) resistor close to the leads of pins 23 and 24, the Receive Mixer IF outputs. The problem is that the IF output transistors are meant to operate at the IF frequency, in this case 280 MHz, but are in fact wide band transistors and some units oscillate near 2xLO or 4.2 GHz. The series resistors provide isolation to external parasitic loads at 4 GHz. At 280 MHz they appear as a small resistance in series with a high impedance current source resulting in negligible performance impact. This fix has been verified on several different designs and work quite well.

Bob Rood
Wireless Applications
Harris Semiconductor
March 17, 1998

Even the HFA3924 RF Power Amplifier / Antenna Switch IC is far from perfect! If you try to keep spectral sidelobe regeneration to a minimum, the maximum power output that can be obtained from this part with a DBPSK or DQPSK signal is on the order of 75 or 80 milliwatts! We spec'ed our sidelobe regeneration levels by noting the -20 dB (or 99%) bandwidth of the DSSS drive signal and then allowed the RF PA to increase this by a maximum of 10%. This is equivalent to keeping IM levels between 27 and 30 dB down. The HFA3924 is also hard to ground and bias. Every part we tried required "tweaking" the three negative bias voltages for the stage drain recommended currents. Lot's of companies are building GaAsFET power amps these days, both in MMIC form and discrete. I still prefer discrete GaAsFET designs for power levels over about 100 milliwatts, because you can optimize overall performance better with a discrete design. However, the medium and higher power MMIC devices are coming along. Be careful on some of these designs, however, because they may not operate well or with enough linearity on a DSSS signal. The Pacific Monolithics PM2107, for instance, is great for CW or constant envelope modulations, but it is very touchy if you want linear operation and minimal DSSS sideband regeneration.
The HFA3424 LNA is an OK part -- it is just not very spectactular! It has only 12 to 15 dB gain, rather limited dynamic range and a not so great 2.3 dB noise figure. There are lots of better LNAs out there at equal or better prices, to boot! Take a look at Samsung's newest GaAsFET LNAs for some real performance in this slot!
In summary, stay away from the HFA3424, HFA3624 and the HFA3924. If you do -- you'll save a lot of time, trouble and money.
CONCLUSION:
Harris did a great job on the Core chips. I have heard that the 3724 and 3824 are their own designs. I have also heard that the 3524 came from the the National Semiconductor "Platinum" series of PLLs. The remaining chips seem to have been specially developed by outside companies for Harris. Nothing personal Harris, but I think you should stick to what you do best -- perhaps you should even make public deals with other companies who have skills complementary to Harris' strengths. That way your chipset can be sold exactly for what it is: a collection of parts from several manufacturers.
Aside from these details, the Harris PRISM chipset is very good. It is well supported by Harris. The evaluation board (see our companion article: SS Evaluation Board and Software Comparison) hardware, software and documentation is excellant.
Keep up the very good work Harris -- it really is appreciated! Try the PRISM chips, they are some of the best devices out for any DSSS application.
If you have any questions, suggestions or need some help with your Harris PRISM design just call on us at RF/SS -- we're here to help!
For more information on the Harris PRISM chipset, contact Harris directly:

Harris PRISM Chipset Introduction
Harris' PRISM Chipset

In October 2000, this website and the copyright to all editions of Spread Spectrum Scene Online was purchased by SSS Online, Inc., and is operated by Pegasus Technologies. For more of the best information on RF, Spread Spectrum and wireless, press one of the buttons below: