| | |
| --- | --- |
| | Spread Spectrum Scene |

SSS Online News Archives: 2000
Return to Old News Index
||
Go to Current News
SSS is Under New Ownership!
October 25, 2000
We are pleased and proud to announce that this website has been purchased by SSS Online, Inc. of Tennessee. We plan to continue SSS's tradition of bringing you the best in RF and spread spectrum engineering news and information. Our heartfelt thanks and best wishes to Randy Roberts, SSS's founder, who has decided to spend more time enjoying the beach and mountains and traveling to exotic places. Randy has agreed to stay involved with the website during the transition period, and he will also be involved in some of Pegasus Technologies' consulting work on an ongoing basis.
Who are we?
SSS Online, Inc. is a new company formed for the purpose of maintaining this website. There are three of us that will be involved in this effort:
Jim Pearce: our head guy. Jim is also the Director of Pegasus Technologies, Inc., a consulting company specializing in RF and spread spectrum applications. Jim met Randy Roberts through this website, and collaborated with him for several years on a variety of electronic projects.


Danny Simpson: Danny has been working with Jim off and on for nearly 20 years at several different companies. Danny specializes in signal processing and analog-to-digital conversion. He is now associated with Pegasus Technologies.


Karen Edwards: our webmaster. Karen will be the person responsible for making all the changes and updates, so if you have any problems and concerns, she's the one to yell at!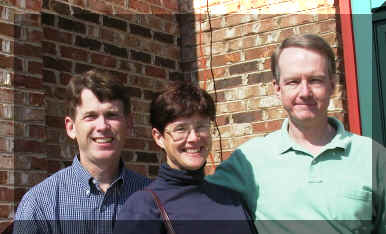 Jim, Karen, and Danny staring at the sun...
What plans do we have for Spread Spectrum Scene Online?
We are committed to continuing Randy's tradition of providing interesting and up-to-date content on matters of interest to the RF and spread spectrum community. Before we turn our attention to updating the technical content, we have some housekeeping to do -- and our first effort will be to mend broken links, change contact information throughout the site, and improve site navigation. Then we will work hard to begin updating technical information by reviewing new components and equipment, and providing some new tips. Finally, we will make some changes to the format to make the information easier to read and more attractive.

Please be patient with us as we make these changes. This is a very large and complex site, and it will take some time to fully update it all! If you have any suggestions, dreams, criticisms or complaints, please don't hesitate to send us an email () or leave a Comment. Please share your thoughts, suggestions or ideas with us on how to improve SSS Online and thus serve you better -- Remember, we are HERE TO HELP and SERVE YOU!

ALSO...if you have any technical articles that would be of interest to our readers, please contact our Webmaster for information about publication in SSS Online.

Tel: 865-717-9339 || FAX: 865-717-9904 || E-Mail:
This site © 1995-2008 by SSS Online, Inc. All rights reserved.
Revised November 17, 2008